Living in Dallas: 7 Pros and Cons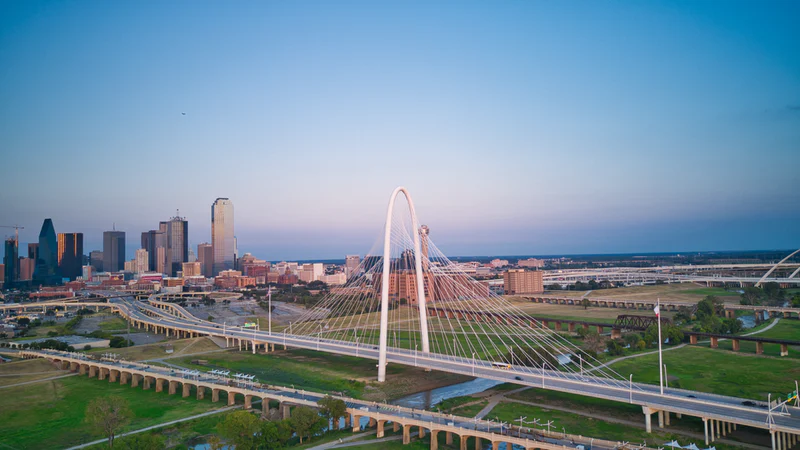 There are very few cities with all the benefits that living in Dallas, Texas, can provide. Dallas county is attractive to virtually all ages, and over the past decade, it has been one of the top destinations for young professionals.
Dallas, Texas, is hip, artistic, family-friendly, business-savvy, and more rolled into one massive metropolitan. In this blog post, we're going to cover the pros and cons of living in Dallas, so you can make the decision that's best for you, whether you are staying for a short amount of time or looking to put down roots, including:
Pro: Cost of living
Con: The traffic
Pro: Electrifying art, sports, and entertainment
Pro: Diversity
Con: Spread out
Pro: Food, drinks, and experiences
Pro: Parks system, preserves, and green spaces
Let's get started!
Pro: Cost of living
The national average cost of living has gone up across the U.S., but the Dallas area and the major Texan cities continue to have some of the lowest total living costs. This can be attributed to lower-cost energy, local food sources, minimal regulations, and vast spaces that make building new homes and developments much cheaper.
Here's how other cities compare to Dallas in terms of cost of living:
New York City: 84.3% more expensive
Los Angeles: 70.6% more expensive
Boston: 59.6% more expensive
Denver: 26.7% more expensive
Miami: 12.8% more expensive
Chicago: 5.2% more expensive
Austin: 5.1% more expensive
Do note that Texas does not have a state income tax, so that will also help you keep some cash in your pocket!
Con: The traffic
When over 1 million new people move to your city over a decade, you will likely run into some traffic problems with your commute. We already highlighted the expansiveness of Dallas's city, which means the majority of the population depends on either their car, ride-sharing, or public transportation like Dallas Area Rapid Transit (DART) to get around. Compared to other major cities, the traffic problems in Dallas aren't necessarily all that bad, but compared to the majority of smaller cities and the rest of Texas, Dallas has the worst-congested highways. However, if you're traveling to Dallas to work remotely, you can plan around the business traffic patterns, or rely on DART public transportation.
Pro: Electrifying art, sports, and entertainment
No matter what type of entertainment you enjoy or what kind of art you appreciate, Dallas has everything you need. Since its founding, the city has been involved with music and art, and you can hear everything from smooth jazz to honky-tonk country rock. Enjoy the arts district, including Uptown, Highland Park, Trinity Groves, and Deep Ellum. The downtown district is also home to the AT&T Performing Arts Center.
If you're a content creator, you'll get lots of inspiration from the Dallas Arts District, one of the nation's most elaborate and most-visited city art districts. If you're looking to study and appreciate art during the day and beat the heat, the Dallas Museum of Art and the Crow Collection of Asian Art are great places to visit.
If art appreciation isn't your thing, there's a good chance you'd rather watch some live competition in one of the many sports arenas located in the city and surrounding metro. Football is life for many Texans, and when living in the Dallas-Fort Worth area, there's a good chance your fall weekends consist of watching Friday night high school football, Saturday college games, and the Dallas Cowboys on Sundays. Other sporting event opportunities include local rodeos and professional baseball, Mavericks basketball, hockey, and soccer.
The surrounding Dallas area also offers plenty to do and see. Check out our guide for the best weekend getaways from Dallas!
Pro: Diversity
In modern history, the Texas city of Dallas has historically been prominently white non-Hispanic, but times have changed. Over the past few decades, the state's demographics have been shifting, and the city comprises roughly 48.3% White, 28.2% Hispanic, 16.8% Black, and 6% Asian.
Texas Hispanics are expected to become the majority of the metro area population within three decades. This increase in diversity is occurring all over Texas and, with diversity creating a melting pot of new ideas and opportunities.
Con: Spread out
When Dallas is compared to other major cities, one of the major differences people recognize is the large area that Dallas has to serve and govern. The land is a lot cheaper in the great state of Texas, and this has contributed to a big city that has expanded more horizontally than many of the other large cities across America. Depending on who you ask, this can be considered a pro or a con. The city of Dallas is roughly 343 square miles, so choosing the neighborhood that fits your needs will be important. There are also many suburbs to choose from, such as Plano, Irving, or Richardson.
Pro: Food, drinks, and experiences
With so many cultures interacting in a big city, you are bound to have great food, drinks, and experiences. Dallas is one of the best places in the world for smoked BBQ and authentic Tex-Mex dishes, and you won't find too many residents that skip Taco Tuesday or an opportunity for some good BBQ.
Two favorite Mexican eateries in Downtown Dallas include Taqueria la Venta (which has a great patio), Wild Salsa, and Meso Maya (which is an awesome brunch spot). If you're looking to experience some Tex-Mex history, head on over to Mariano's restaurant in East Dallas to have a frozen margarita at the restaurant that invented the frozen margarita machine. If you're craving the best BBQ in Dallas, check out Lockhart Smokehouse, Pecan Lodge, or the award-winning ribs at Baby Back Shak.
Not in the mood for Mexican and BBQ (gasp!)? Dive into the Dallas Seafood scene at S&D Oyster Company.
Pro: Park system, preserves, and green spaces
Dallas has one of the country's best park systems, and it's only getting better. The Dallas-Fort Worth metro area is built along the Trinity River, and the Trinity River Corridor Project is a park project that will eventually be 10 times the area of New York's Central Park.
They say everything is bigger in Texas, and across the state, they have some of the biggest urban parks in the world. The Dallas Park System is one of the largest in the nation and includes 397 parks and over 20,118 acres of green space.
If you like fishing, kayaking, or just getting out on the water, Dallas is one of the best spots to call home. The city park system maintains 17 lakes, including Bachman Lake and White Rock, the latter of which is in the Lakeside community close to downtown.
There are endless outdoor spaces you can enjoy, such as:
60+ miles of trails
45+ recreation centers
230 playgrounds
170 basketball courts
100 volleyball courts
250 tennis courts
Six golf courses that the park system manages.
Fair Park, a National Historic Landmark, is home to the most extensive collection of Art Deco buildings in the world. Turtle Creek Park is the site of ancient artifact finds dating back 3,000 years ago. Trinity River Conservancy is the largest urban park in the nation and includes the largest urban hardwood forest in America at 6,000 acres.
Dallas residents and visitors can also enjoy the Dallas Arboretum and Botanical Garden adjacent to White Rock Lake and the Dallas Zoo. If parks, arboretums, and the zoo aren't enough nature for you, you'll be able to visit the 21 preserves that are around the city.
Moving to Dallas?
When weighing the pros and cons of living in Dallas, the pros greatly outweigh the cons. This city and its surrounding suburbs are a great place to live, and with the help of Landing, your move can be stress-free and on your terms.
No longer do you need to be stuck in long-term lease agreements. Landing is reinventing apartment living with an easy approval process, allowing you to join a network of thousands of furnished apartments across the country. Find a furnished apartment in Dallas today with Landing.