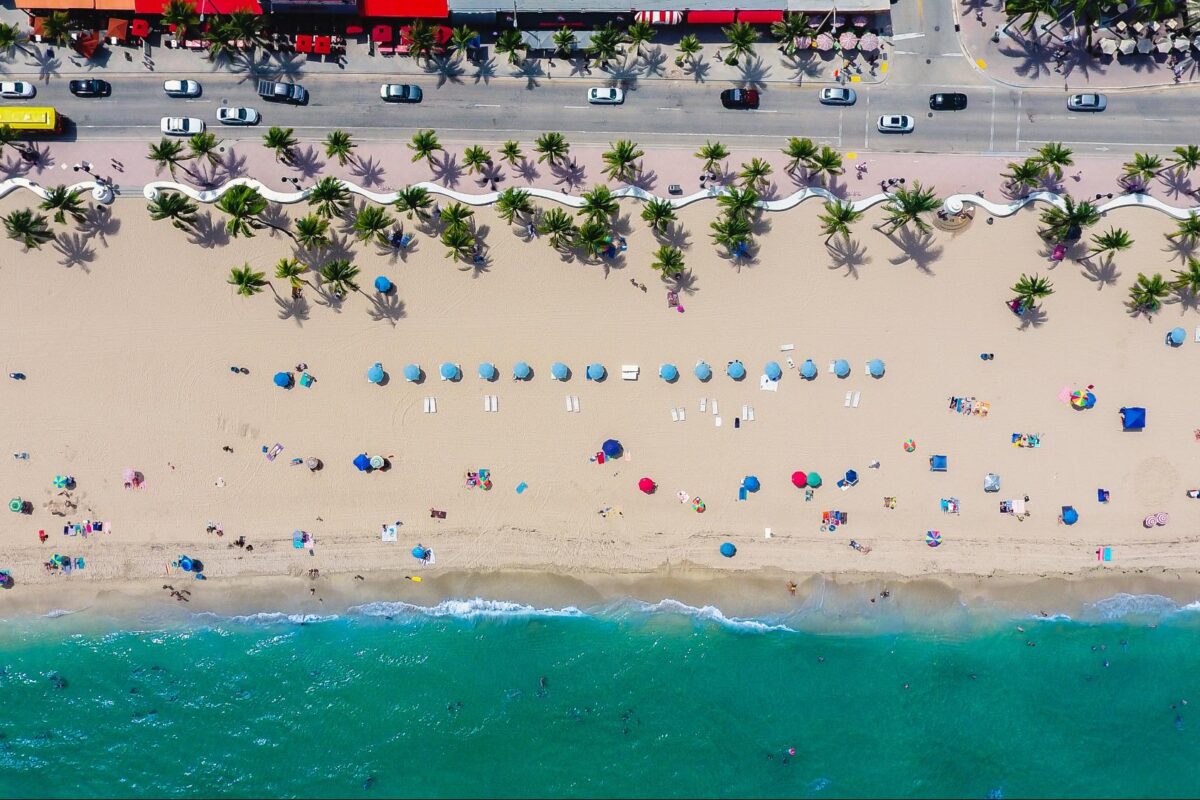 Pros and Cons of Living in St. Petersburg
Ocean views, neighboring metro areas, and an unbeatable arts scene? In St. Petersburg, you can have it all and more.
Located right on the Gulf of Mexico, this midsize Florida city has cosmopolitan-level culture mixed with gorgeous subtropical nature. It's no wonder Condé Nast named it one of their Top 10 American Cities in 2020.
But, like all cities, St. Petersburg might work better for some home-seekers than others.
From weather to waterfront property, let's go over all the living in St. Petersburg pros and cons:
Pro:

Tampa Bay access

Con:

Classic Florida weather

Pro:

Beach life at your fingertips

Con:

Tourists

Pro:

Renter-friendly

Con:

Cars are top priority

Pro:

Excellent arts & culture scene

Con:

Lack of nature hikes
Pro: Tampa Bay access
Think of St. Petersburg as a package deal—you get three cities for the price of one!
St. Petersburg is part of Tampa Bay, a tri-city metro area along the Gulf of Mexico shore. Its perimeters include Hillsborough County (which holds Tampa) and the peninsula Pinellas County (which holds Clearwater and St. Petersburg). Overall, the population adds up to over 3 million residents.
The best part? Each sister city is just an hour's drive away. For a quick day trip or a fun night out, St. Petersburg residents have two alternatives ready to go. Let's explore some of the highlights that each nearby locale has to offer:
Tampa
Take the Howard Franklin Bridge over the bay waters, and you'll hit downtown Tampa. This neighboring city is slightly larger and busier than St. Petersburg, giving you plenty of activities to fill a sunny afternoon. Here are some of the best stops that locals love:
Clearwater
Due north of St. Petersburg, you'll find a quieter sister-city with breathtaking beaches. If you want a full scope of the peninsula, take a look at Clearwater's best sights and attractions:
Clearwater Beach

: From jet-skiing and boogie boarding to strolling and sun-tanning,you can do it all on the soft sands of Clearwater Beach. A thin island right off the city's coast, this beach is laid back yet filled with activities for all to enjoy. Between swims, catch the tastiest Grouper fish tacos you'll ever eat at

Badfins

.

Pier 60

: An extra-long pier stretching out from Clearwater Beach,

Pier 60

is part fishing paradise, part park and playground. You can catch Spanish mackerel, redfish, flounder, and more right from the pier, while families can enjoy kid-friendly evening events and a killer sunset view.

Mini Golf:

It's time to up your putting game—mini-style. Bond with coworkers, friends, or even a first date as you navigate one of Clearwater's many twisty courses, like

Congo River

,

Captain Bligh's Landing

, or the

Celebration Station

.
Con: Classic Florida weather
In this case, one person's con could be another's pro. But if you're not a hot weather person, St. Petersburg probably isn't your dream home.
On average, the subtropical climate in St. Petersburg keeps things balmy, sunny, and humid. Winter months hit Fahrenheit temperatures in the 60s, while summers get high into the 80s and even 90s. And, while things stay dry in tourist season (December to May), the humidity peaks in summer.
Compared to other Florida cities, St. Petersburg is relatively storm-free. The Sunshine City has an average of 361 clear-sky days. Additionally, the last hurricane to directly hit the city was in 1946, so you'll likely be safe from any major disaster.
Pro: Beach life at your fingertips
Always dreamed of starting your day with a fresh view of the beach? In St. Petersburg, it's more than a possibility. Take advantage of the city's beachfront with these local mainstays:
St. Pete's Beach

: Take a quick drive over to St. Pete's Beach, a seven-mile-long public park complex along the waterfront. This thin island is right off the city's west edge, with all the pearly white sands, excellent waves, and chic restaurants you could ask for.

Fort De Soto Park

: Escape to paradise with Pinellas County's largest park system,

Fort De Soto

. Made up of five connected islands, this park is home to Florida's natural beauty, filled with mangrove trees and hundreds of bird species. It's also the perfect site for a quieter, more secluded swim.

St. Pete Pier

: Need a swim-free waterfront alternative? Head downtown and walk out to

St. Pete Pier.

This local hangout has 26 acres of shops, eateries, parks, and

gorgeous

Tampa Bay views. Beautiful public art displays like the Bending Arc already make it a worthwhile visit.
Con: Tourists
Like all beautiful Florida cities, St. Petersburg attracts tourists—and who can blame them? The warm weather, beaches, and lively arts scene make for an attractive getaway. But for some residents, the beach and restaurant crowds might be an annoyance to your lifestyle.
Luckily, the tourist season mostly extends from December through May. And for many locals, the visitors provide essential business and keep the city alive and healthy.
Pro: Renter-friendly
With plenty of condo buildings and seasonal businesses, St. Petersburg is a renter-friendly city. For newcomers, this is a great way to feel out the city culture before making a permanent move. Not to mention, property taxes are high in St. Petersburg, and renting is an easy way to avoid that.
Need some help with your search? Browse Landing's furnished apartments in St. Petersburg. We've got options across the city's best neighborhoods, from colorful Historic Uptown to residential Bayview.
Con: Cars are top priority
There's no getting around that St. Petersburg is a car city. From Northeast Park to Greater Pinellas Point, it can get a little packed on I-275. In fact, most locals make it a practice to avoid rush hour traffic if they can.
However, there are a few public transportation options for those interested. The Pinellas Suncoast Transit Authority offers bus lines crossing from Palm Harbor all the way down to South St. Petersburg. Just keep in mind that buses will face the same traffic as all cars.
Pro: Excellent arts and culture scene
Tucked away in West Florida, St. Petersburg is hiding one of the country's most innovative and vibrant art scenes. Between its seven distinct art districts, you can find unparalleled painting collections, art festivals, and live entertainment. From museums to pride parades, here are the top sites that make St. Petersburg a creative haven.
Museums and galleries
Whether you're staying for a month or a year, St. Petersburg's acclaimed museums will keep you busy. Head to the Waterfront Museum District for a world-class tour of visual art, including:
The Dalí Museum

: An architectural masterpiece itself, the glass-covered

Dali Museum

is a sight to behold. And inside, you can find the world's largest collection of the surrealist artist's mesmerizing work. Explore over 2,000 paintings, sketches, and sculptures that helped Salvador Dalí define a generation's creative voice.

Chihuly Collection

: With its 20-foot pink crystal sculpture at the entrance, the Morean Center's

Chihuly Collection

is hard to miss. It's a welcome sign for a magical, rainbow-colored world that waits inside—the world of Dale Chihuly. Explore the artist's signature sea creature-esque sculptures in this experience of a museum.

Museum of Fine Arts

: Since 1965, St. Petersburg's

Museum of Fine Arts

has served city residents with world-renowned artist works. Roam the hallways and admire its Georgia O'Keeffe paintings, pristine sculpture garden, or rotating new exhibits.
Parades and festivals
With such agreeable weather, St. Petersburg is never short on outdoor celebrations. Catch some annual local favorites throughout the year:
MLK Jr. Parade (third Monday of January)

St. Petersburg Fine Art Festival (February)

Firestone Grand Prix Motorsports Festival (early March)

Tampa Bay Blues Festival (early April)

Mainsail Art Festival (April)

SHINE Mural Festival (late July)

St. Petersburg International Folk Fair Society Festival (October)
LGBTQ+ culture
St. Petersburg has long been a center in Florida for queer pride. For the past seven years, the city has earned a perfect score on the Human Rights Campaign's Municipal Equality Index—and it shows in the city's culture!
Every year, St. Petersburg throws Florida's largest LGBTQ+ pride event, PrideFest. With charity runs, parades, live performances, and other family-friendly events, it's a celebration for the whole community to enjoy! Additionally, all queer-identifying community members are free to utilize Metro, the city's LGBTQ+ welcome center.
Con: Lack of nature hikes
As you know, Florida is a peninsula, which makes St. Petersburg a peninsula on a peninsula. Due to the fact that this city is surrounded by beaches, there's not much in terms of extended hiking trips.
While you can take a ferry across the water to reach some nature reserves and enjoy peaceful walks, if you're someone who loves taking long hikes over mountaintops, this city won't have much to offer in this category.
Land in a great St. Petersburg apartment
If you don't mind the tourists or crowds, living in St. Petersburg can give you the chance to reap the benefits of everything this sunny city has to offer. If you're looking to rent an apartment here, Landing offers furnished apartments in St. Petersburg, complete with flexible leases, concierge service, seamless transfers, and all the amenities you need to feel happy and comfortable in your new city. Browse Landing's available apartments in St. Petersburg, or contact us to learn more.