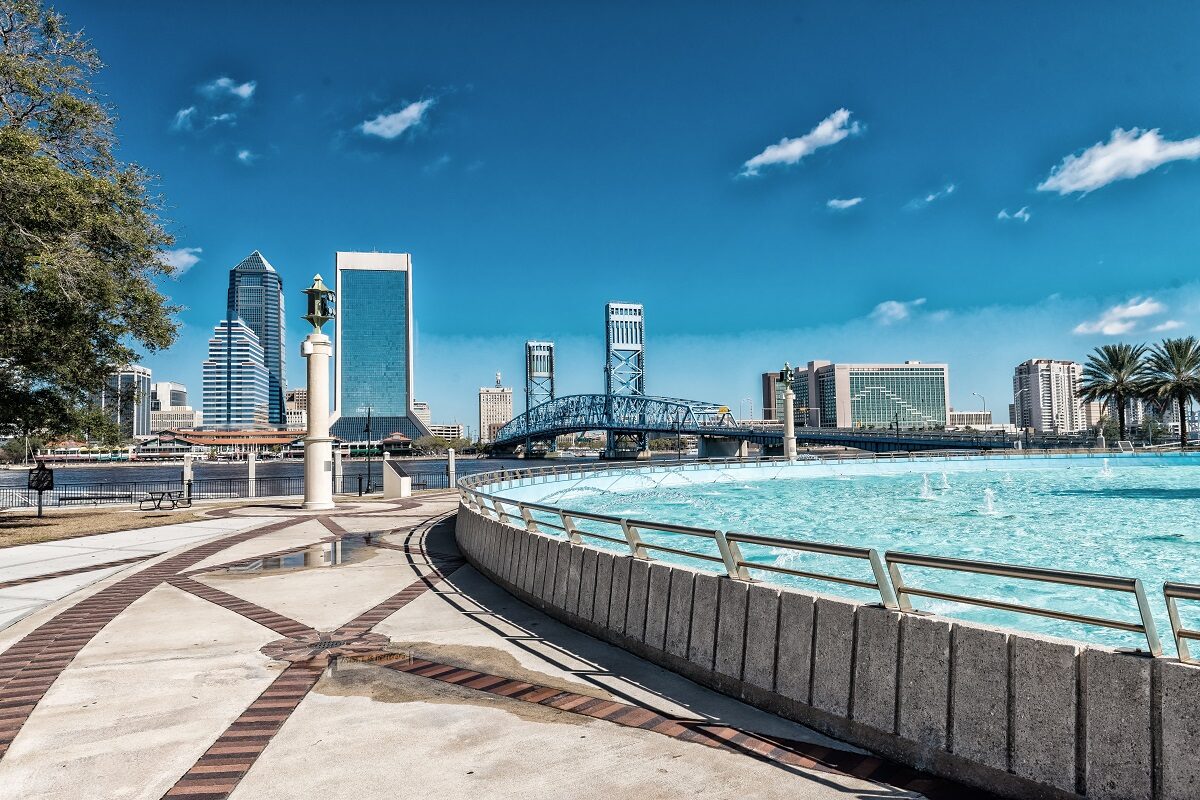 A Complete Guide to Moving to Jacksonville
From its stunning beaches and magnificent parks to its sunny weather and diverse neighborhoods, it's easy to see why Jacksonville, FL, is one of the country's top 25 best places to live. But, before you rent a UHaul, there are a few things to know about moving to Jacksonville.
To help find your perfect Jacksonville home, Landing has the ultimate guide for relocating to Jacksonville, including:
Jacksonville 101
The best neighborhoods in Jacksonville
Weather and climate
Transportation options
Jobs and industries
Food, art, and recreation
Let's get started!
Jacksonville 101
Consider Jacksonville the cultural meeting point of its neighbors—a combination of the American South and sub-tropical Florida. All of these influences give this capital city a distinct vibe that's more youthful and vibrant than most Florida beach towns.
Before moving, you should know these basic facts about Jacksonville as a city:
City size: By land area, Jacksonville isn't just the largest city in Florida—it's the largest city in the continental USA. The entire city stretches over 840 square miles!
Population: Jacksonville is both the biggest and most populated city in Florida, with over 890,000 residents. Also, the average age of residents skews lower than most of the state—36 years for Jacksonville, compared to 42 years for all of Florida.
Environment: At its heart, Jacksonville is a waterfront city. Between the Atlantic Ocean coast and its many rivers, you can explore up to 1,100 miles of shoreline and 22 miles of beaches. Jacksonville also has the nation's largest urban park collection, with over 80,000 acres of gorgeous forests, marshlands, and wetlands.
The best neighborhoods in Jacksonville
Jacksonville has over 500 neighborhoods. If you're new to the area, it'll take some time getting to learn each area's distinct personality. To help narrow your location options, here are some of the best Jacksonville areas:
The Westside: A collection of several neighborhoods, the Westside is a hot Jacksonville area. Formerly a strip mall destination, it now boasts cute boutiques and popular eateries that bring trendy urban activities to its spacious suburban tranquility.
The Beaches: There's only one spot for the wave lovers in Jacksonville—the four beaches. Far north sits the highly desirable and tight-knit Atlantic Beach, an excellent spot for golfers. Neptune Beach is the most residential and laid back, while Jacksonville Beach is the largest, most crowded, and most affordable. But, if you want to splurge, Ponte Vedra has gorgeous homes and even more beautiful private beaches.
San Marco: Hop east across the St. Johns River, and you'll hit the lively Little Italy of Jacksonville. San Marco has a distinctly eccentric and youthful vibe, with plenty of LGBTQ+-friendly institutions and beautiful 1920s architecture.
Riverside Avondale: Travel south down the river, and you'll find this highly coveted Jacksonville area. With its historic homes, some of the best restaurants in Jacksonville, and artsy communities, the Riverside Avondale district is popular for young professionals who love a view.
Springfield: As Jacksonville's oldest neighborhood and city center, Springfield is just hitting its comeback. Beautiful century-old homes and easy proximity to all locations make this neighborhood a great choice for busy professionals and families.
Weather and climate
There's a reason why there are so many fun things to do in Jacksonville. The Sunshine State is a popular retirement, wedding, and vacation destination, with year-round warm temperatures and clear skies. In Jacksonville alone, residents get an average of 270 sunny days per year.
However, there's more to Jacksonville's weather than pure sunshine. From seasonal shifts to storms, Jacksonville's climate can change at the drop of a hat.
Temperatures and seasons
In North Florida, the weather has more range than in Miami or Orlando. You can expect these seasonal weather patterns while living in Jacksonville:
Winter: 56.7°F average, low rainfall
Spring: 69.4°F average, low rainfall
Summer: 82.2°F average, medium rainfall
Fall: 72.4°F average, high rainfall
A typical Jacksonville summer is much longer than most. Hot and humid weather extends from April to September or even October. However, the winter months drop down to jacket-wearing temperatures.
Extreme weather events
Every rose has its thorn. For Florida residents, the tradeoff for year-round sunshine is potential extreme weather. While not quite sub-tropical, Jacksonville still experiences the fallout of typical Florida storming, like:
Lightning: Florida holds the title for most lightning strikes and deaths across all U.S. states. Most Jacksonville residents know that lightning means seek shelter—not stay to watch.
Thunderstorms and rain: Ironically, the Sunshine State holds the No. 1 spot for thunderstorms. Out of the top 10 US cities for thunderstorms, Florida has eight. Luckily, that count doesn't include Jacksonville, but the city still has an average yearly rainfall of 50 inches. Load up on umbrellas, rain boots, and a decent raincoat or two.
Tropical storms and hurricanes: Across Florida, the hurricane season extends from June through November. Over just the past decade, Jacksonville residents experienced runoff from Hurricane Irma, Hurricane Matthew, and Tropical Storm Beryl. Make sure your new home has hurricane protection and that you have an emergency evacuation plan in place.
Transportation options
Jacksonville provides its residents with a lot of land to cover. Depending on your needs, you may want four wheels, two wheels, or zero wheels to commute across the city. Let's hit the road with Jacksonville's top transportation options:
Driving
There's no biking, walking, or skating around it—cars are simply the best way to maneuver Jacksonville living. With the city's sprawling map and water bodies, a car simplifies life in Jacksonville.
With that said, cars do come with drawbacks. If you're living in a more urban neighborhood (like Riverside or Springfield), you'll need to budget for parking. Also, traffic along Jacksonville's main highways can become jammed around rush hour.
City public transportation
Are you living near the city center? Or do you want to cut your commute costs? The Jacksonville Transportation Authority (JTA) is a robust and dependable public transportation system for the city, with options like:
Buses: With over 50 routes, the JTA bus lines serve almost every major area of the city, from southwest Oakleaf to Neptune Beach. Express buses between major locales (like TIAA Bank Field and the Jacksonville Airport) are speedy options for regular commuters.
Rideshares: On the Beaches, residents can book a ride on the Beach Buggy app for free. It's the easiest way to jump between Jacksonville's many shoreline communities. Riverside Avondale also operates its own free rideshare service called Tuk'n Ride.
Water transportation: Planning to watch the game downtown and dine in San Marco? With the St. Johns River Taxi, the destinations are only a hop, skip, and a jump away. Additionally, you can take the St. Johns River Ferry to bring you and your car out to the beaches, sans road traffic.
Walking or biking
Certain Jacksonville neighborhoods are walkable or bikeable, such as Riverside Avondale and Springfield. However, these options won't work for most of Jacksonville. The city simply doesn't have enough bike paths, and distances are too long between neighborhoods.
Jobs and industries
For young families and professionals, one of Jacksonville's most alluring qualities is a strong and varied job industry. Currently, the city has a 5% unemployment rate (lower than the national rate, 6.1%), and private businesses have added 49,800 jobs over the last year.
If you're seeking employment, look at Jacksonville's top industries:
Military: At its heart, Jacksonville is a military town. The city is home to Naval Air Station Jacksonville, Naval Station Mayport, and the Florida Air National Guard. Over 30,000 active-duty members and 20,000 Jacksonville citizens are employed by the military, making up 17% of the city's economy.
Banking and finance: Most outsiders don't know that Jacksonville is a major financial hub of the Southeast. With three Fortune 500 companies and over 62,000 employees, the banking and finance industries play a large role in the city's economy.
Tourism: Like most Florida cities, Jacksonville loves tourists—they fuel the city's culture and economy! On average, Duval County (Jacksonville's home) annually receives 22 million out-of-towners that create a $3.8 billion industry.
Food, art, and recreation
It's more than a beach town—Jacksonville is also a cultural gem of Florida and the entire Southeast. As a resident, you're privy to an incredible scene of eats, creative works, and outdoor activities.
Food
Blending the casual and elegant, Jacksonville's top restaurants harmonize with the area's many cultural influences, from French to Cuban to Southern American. Freshly caught local seafood, of course, is the main draw (seek out the Mayport Shrimp dishes across town).
Art
Outside Florida, few know of Jacksonville's thriving contemporary art scene. Between its outstanding museum collections and local art walks, Jacksonville is sure to fill your creative cup with these attractions:
Recreation
If you're a hiker, camper, or simply a nature lover, then you're in luck—Jacksonville is home to the largest urban park system in the country. Between its 400-plus parks, you can explore beloved spots like:
Alongside its parks, Jacksonville is also a U.S. golfing capital. The city holds over 70 top-tier courses, and the PGA Tour even has its headquarters in Ponte Vedra Beach.
Love your Jacksonville home with Landing
With its diverse urban life and rich natural beauty, Jacksonville is befitting of almost any lifestyle (so long as you like warm weather).
If you're hoping to join this vibrant Florida city, Landing has the easy solution. Search through our amazing living options in Jacksonville and find your home for the next month, three months, or year—no long-term leases, extra deposits, or applications necessary. Browse our available furnished apartments in Jacksonville today!