Your Guide to the 10 Best Road Trips From Miami
Miami, Florida, is known around the world as a fan-favorite destination in and of itself, checking all the boxes for those who live there—from its beautiful beaches and fabulous restaurant scene to its seemingly endless list of attractions. Vibrant coral reefs perfect for snorkelers, divers, and glass-bottom boat tours? Check. Stunning architecture, impressive museums, and a buzzing art movement? Check. Airboat tours, kayaking, and all types of outdoor adventures? You bet!
Ask anybody who has ever lived in South Florida, and they'll tell you that you can spend an entire year without leaving Miami-Dade County and not run out of things to see and do. However, one of the best things about living in the area is that you're only a few hours away from some equally thrilling destinations and attractions. There are so many options for fun weekend getaways, road trips, or day trips from Miami, like colorful Key West and the Florida Keys, laid-back Fort Lauderdale and Fort Myers, surf capital Cocoa Beach, and the theme parks of Orlando.
No matter what type of adventure you're in the mood for, you'll find plenty of exciting destinations worth visiting on day trips or multi-day itineraries, each with its own top things to do. To help you make the most of your time living in Miami, Florida, we've compiled a list of fun, must-try trips from the city, including:
The Florida Keys
Orlando
Space Coast
Palm Beach
St. Augustine
The Everglades
Marco Island
Fort Myers
Bimini
Daytona Beach
Let's get started!
1. Sun-filled weekend getaways to the Florida Keys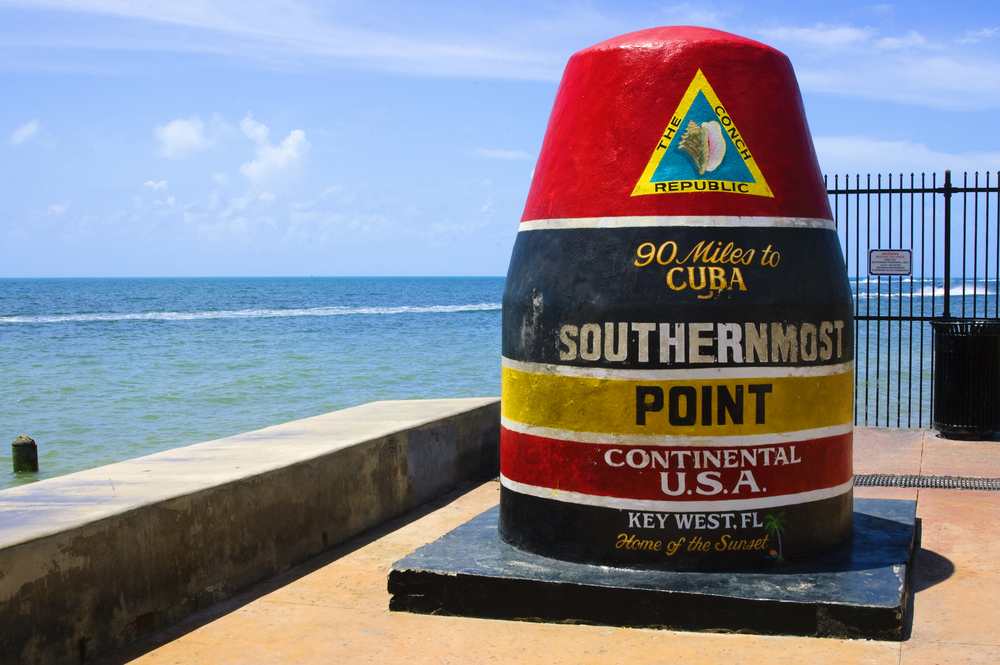 The Florida Keys are hands-down one of the top vacation destinations in the state of Florida among Miamians and out-of-towners. The most popular spot along this beautiful chain of islands is, of course, Key West, the southernmost isle in the Florida Keys and home to all kinds of fun things to do.
You can reach Key West from Miami by driving along Highway One—also known as the Overseas Highway—which offers some of the prettiest scenery in the state. Once you reach Mile Marker 118, you're officially in the Florida Keys. The entire road trip from Miami to Key West takes about three and a half hours, and the views are so spectacular that you'll likely wish it took a little longer.
Because there's so much to see and do in the Florida keys, weekend getaways are preferable to a Key West day trip. And, if you have a few days to spare, you can add stops in Key Largo and Islamorada to your Key West road trip, both beautiful islands with postcard-pretty bays, emerald mangroves, and great fishing.
Another great thing about weekend getaways to Key West is that you don't need to arrive with a detailed itinerary across several days. The Keys are best known for their great boating, snorkeling, diving, and fishing thanks to the area's crystal-clear waters. You'll find plenty of companies selling guided walking tours, renting kayaks and jet skis, and offering reasonably priced boat tours right in Mallory Square. This is also the site of a few unique museums—including the Key West Shipwreck Museum, the Key West Museum of Art and History, and the Mel Fisher Maritime Museum. If you fancy a trolley tour around town, head to Old Town Trolley Tours on Rose Lane, right next to the Key West Aquarium.
There's plenty more to explore in the Florida Keys if your itinerary includes multiple days, including lots of RV parks if you're into van life or camping.
Tips From a Landing Member
"Our last big trip from Miami was a drive down to Key West, one of the most beautiful road trips in the country. We stopped at Robbie's on the drive down to hand-feed the giant tarpon, which was absolutely insane."
— Madison Liston Gomes, "How We Spent Three Months Living in Miami"
2. Fun-filled road trips to Orlando
Orlando, Florida, is another top trip option if you're looking for a great way to spend a few days outside Miami. Best known as America's theme park capital, Orlando is home to a laundry list of attractions, including Universal Orlando Resort, Walt Disney World Resort, and SeaWorld Orlando, among others. Additionally, many of these theme parks offer special discounts and promotions for Florida residents, which means you'll likely enjoy savings while living in the Sunshine State.
The road trip from Miami to Orlando takes about four hours, depending on traffic. All you have to do is follow I-95 and Florida's Turnpike northwest—it's practically a straight shot from there. Because the drive there and back is on the longer side, most Miamians will tell you it's better to spend at least a few days there in order to get the most out of your Orlando visit. This is especially true if you want to hit multiple theme parks during your trip.
3. Take a day trip from Orlando to the Space Coast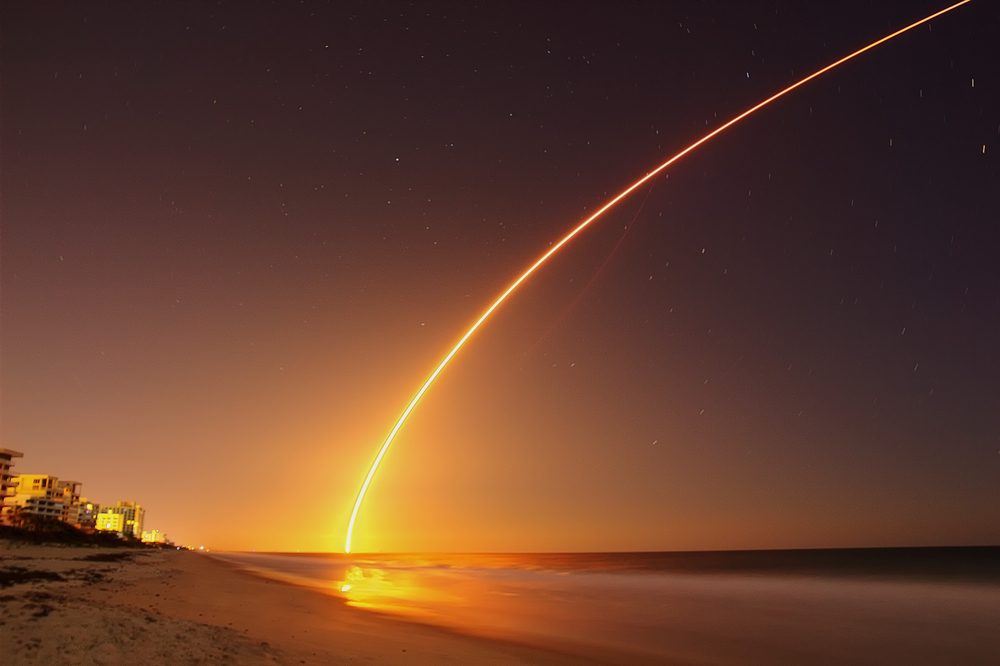 If you're able to tack an extra day onto your Orlando road trip, consider a side trip to Florida's Space Coast. The drive between Orlando and Cape Canaveral is about 55 miles and takes around an hour, making it an easy day trip. This area is a top-rated tourist destination, and you'll quickly see why once you arrive.
The most famous attraction here is the Kennedy Space Center Visitor Complex, where you can view the iconic Space Shuttle Atlantis. Cape Canaveral is also a popular departure port for cruises from Florida's west coast. And of course, it's your gateway to plenty of beautiful, family-friendly beaches that offer some of Florida's best surfing and a more low-key vibe than action-packed Miami Beach.
Along the Canaveral National Seashore, you'll find Playalinda, a local favorite that was rated "Quietest Beach" by TripAdvisor and earned a spot on USA Today's list of Top 10 Florida Beaches. Cherie Down Park, located between the Cocoa Beach Pier and Port Canaveral, boasts many amenities that are open to the public, like bathrooms, showers, and free parking. Of course, one of the best-known shores along Florida's Space Coast is Cocoa Beach, the ultimate spot for those who want to brush up on their carving and boogie-boarding skills.
4. Easy day trips from Miami to Palm Beach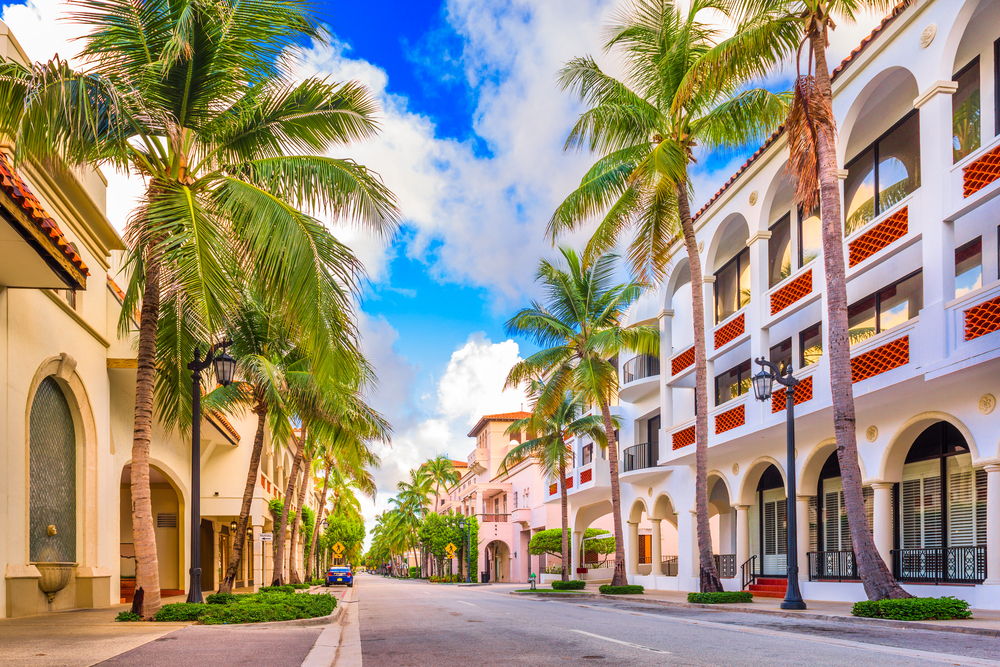 If you're a golf lover, Palm Beach doubles as a great place to get in plenty of time on the green and at the beach. This picturesque island is just over an hour away from Miami by car—it's hardly a road trip, and you can even ride the Brightline high-speed rail there if you prefer not to drive.
Palm Beach is home to stately Gilded Age mansions and unique historic landmarks, like the Flagler Museum, which is housed in Henry Flagler's former home. It also features an abundance of golf courses, including Florida's oldest golf course, the Ocean Course at The Breakers. Meanwhile, Peanut Island Fishing Pier is a great place to cast a line and enjoy the spectacular sea views—plus, state residents don't need a license to fish.
If you need some retail therapy, head to Worth Avenue for plenty of high-end boutiques, art galleries, and quaint cafes. And, if you're flexible on the timing of your Palm Beach day trip, aim to visit during early December for the celebrated Palm Beach Food & Wine Festival. It's one of the top things to do in Palm Beach and draws visitors from all over the country year after year.
If you're looking for a bit more energy during your day trip to Palm Beach, all you have to do is cross three bridges and you'll enter West Palm Beach on the mainland, home to lots of great restaurants and buzzing nightlife. At CityPlace, you'll find theaters and plenty of shops, and Clematis Street is home to many of West Palm Beach's liveliest bars and pubs. There are lots of hotel options for any budget here, too, if you fancy turning your day trip into an overnight stay.
5. History-fueled road trips to St. Augustine
If you don't mind a longer trip—five to six hours of driving, in fact—St. Augustine is a great place to visit while you're living in Miami or Miami Beach. It's been dubbed America's oldest city, and you'll certainly feel it in the charming cobblestone streets and beautiful Mediterranean-style architecture that has come to characterize this seaside town in northern Florida.
One of the best ways to get a feel for the city and its Old-World appeal is to take an Old Town Trolley tour, which you can sign up for right on San Marco Avenue. There's also the Lightner Museum, which showcases pieces celebrating art, history, architecture, and design in the former Hotel Alcazar, commissioned by Henry Flagler during the Gilded Age.
If you're a wine lover, head to the San Sebastian Winery, located just a few blocks from the city's historic downtown. There, you can enjoy plenty of delicious award-winning wines, as well as fascinating behind-the-scenes tours and free tastings.
Because the drive from Miami to St. Augustine is significant, we recommend visiting the city as part of a weekend getaway or multi-day trip. Plus, with a little more time, you'll be able to fully immerse yourself in St. Augustine's beauty and history, which spans more than four centuries.
6. Adventure into the Everglades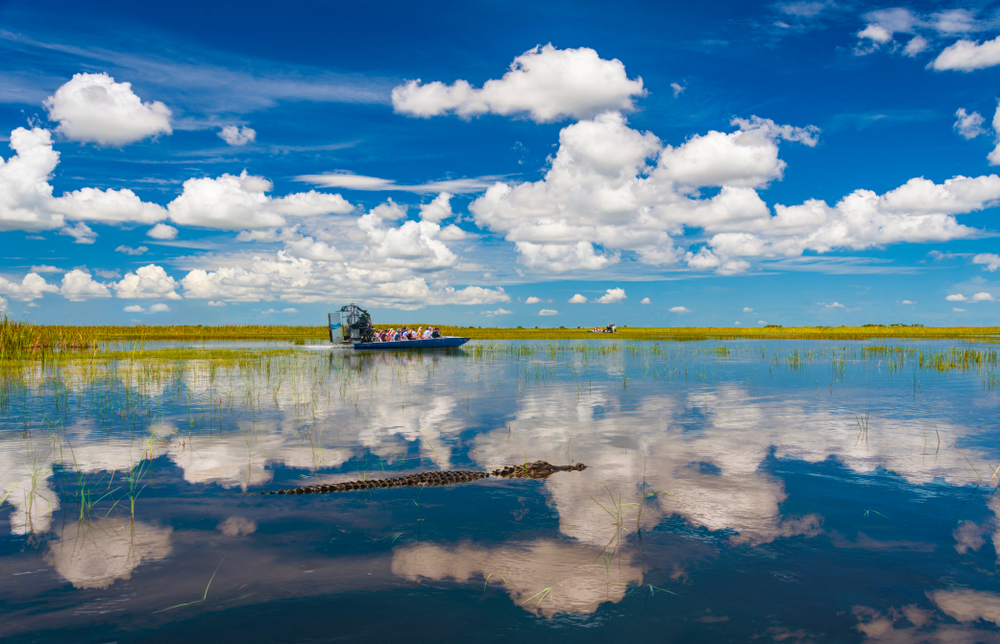 One of the Sunshine State's biggest draws is Everglades National Park, a wetlands preserve encompassing more than 1.5 million acres along Florida's southern tip. As the biggest subtropical wilderness in the U.S., the Everglades is a must-visit destination for anybody living in South Florida.
There are several different ways to experience this one-of-a-kind natural wonder, depending on your interests. One popular attraction is the park's airboat tours. Everglades Safari Park offers several tour options starting at $39 per person, but there are many different tour companies to choose from.
If you like to hike, the Everglades boasts an abundance of walkable and bikeable trails, from short interpretive rambles to longer wanders. Everglades National Park has entrances in three different cities, but the one closest to the Greater Miami area is the Shark Valley Visitor Center.
Everglades National Park is 40 miles away from Miami, meaning you'll drive for about an hour if you don't hit traffic.
7. Enjoy boat tours, beaches, and golfing on Marco Island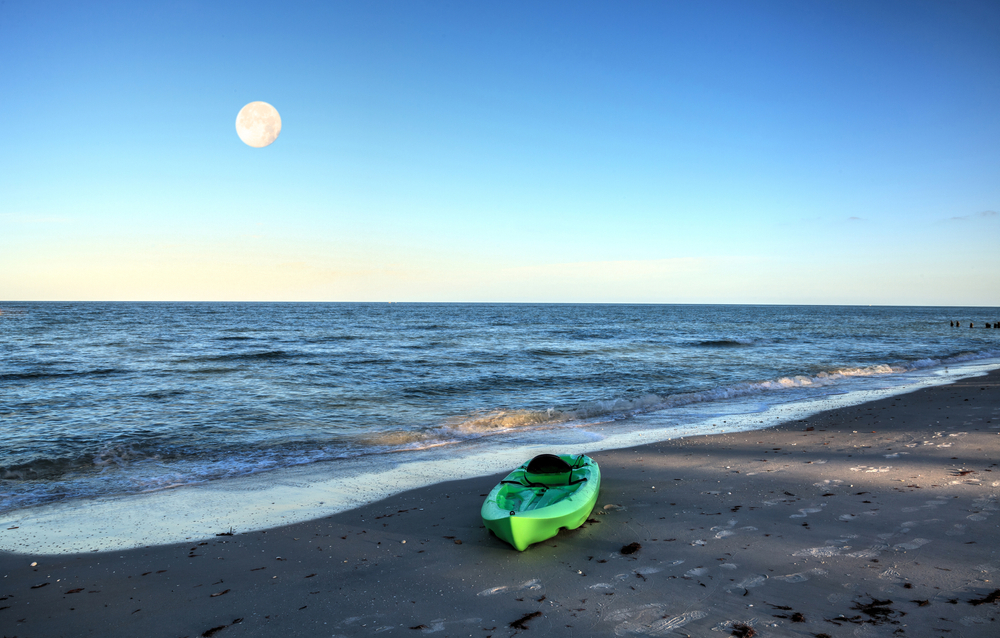 Florida's Gulf Coast is known for its tranquil, jade-colored waters and sleepy coastal towns, like Marco Island. This barrier island is connected to the mainland by bridges and is home to stunning sandy beaches, high-end resort hotels, a network of highly rated golf courses, and even a tidal lagoon.
Kayaking is a favorite activity here among nature lovers, as you can paddle around deserted barrier islands and lush mangroves while spotting all kinds of native wildlife. There are plenty of Everglades kayak tour operators in the area that will gladly set you up with a guided experience.
If you're looking for a kid-friendly beach experience, head to Tigertail Beach or Sand Dollar Island, considered among the best spots to soak up the sun in the area. Tigertail is home to a beautiful, must-see lagoon that's great for kids to splash around in.
If you're a golfer, you'll have your pick of courses on or within driving distance from this small, scenic isle—The Rookery at Marco, Eagle Lakes Golf Club, and Royal Palm Golf Club in Naples are fan-favorites.
8. Enjoy laid-back coastal vibes in Fort Myers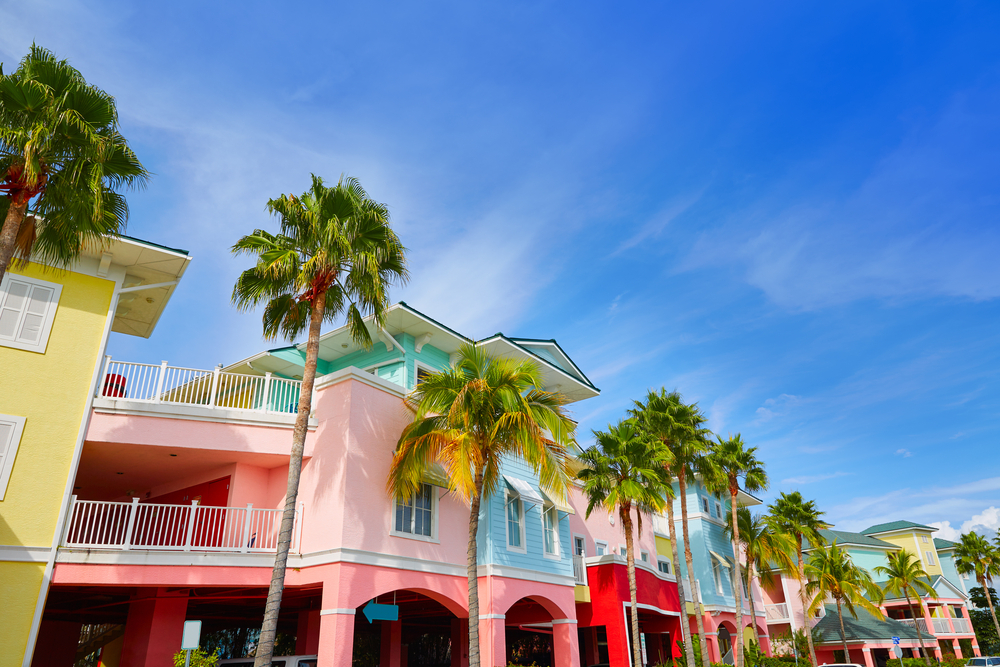 About an hour north of Marco Island is Fort Myers, home to Florida Gulf Coast University. A trip to this charming coastal city offers all the laid-back fun of a college town, plus access to stunning beaches, great fishing, a vibrant bar scene, and plenty more fun things to do. If you're looking to party, spring break is a great time to plan a road trip from Miami to Fort Myers. For a more low-key vibe, visit during shoulder season—that's typically the summertime when the weather is hot and the snowbirds are away.
Booking a dolphin cruise to Big Carlos Pass is a popular activity here. Sight Sea-R Cruises offers boat tour options during the day and at sunset. If you're chasing thrills, try a parasailing excursion and enjoy the breathtaking sea views from high above. Or, get to know the city's spooky past during a haunted history tour.
The road trip up from Miami to Fort Myers takes about two and a half hours along I-75. You can totally make this a single-day visit instead, but spending a few days here is definitely better.
9. Sail to Bimini by ferry
Most Miamians will tell you that taking the ferry to Bimini in the Bahamas is something of a SoFlo rite of passage. The ride itself takes just two and a half hours from Port Everglades in Fort Lauderdale to this picture-perfect tropical isle, making it easy to do as a quick one-day trip if you're short on time. Of course, if you can extend your trip to a several-day itinerary, you'll have more time to immerse yourself in the natural beauty of Bimini—namely, its crystal-clear waters and sugar-white shorelines.
Bimini's bar scene is also great, and it really comes alive after the sun goes down and the streets fill with the sounds of steel drums and reggae beats. This is a snorkeler's paradise, so one of the best things to do during your day trip is to grab a mask and explore the coral reefs offshore. If you're into scuba diving, you'll find lots of tour outfits to choose from offering diving trips offshore and around nearby islands.
10. Plan a day trip to Daytona Beach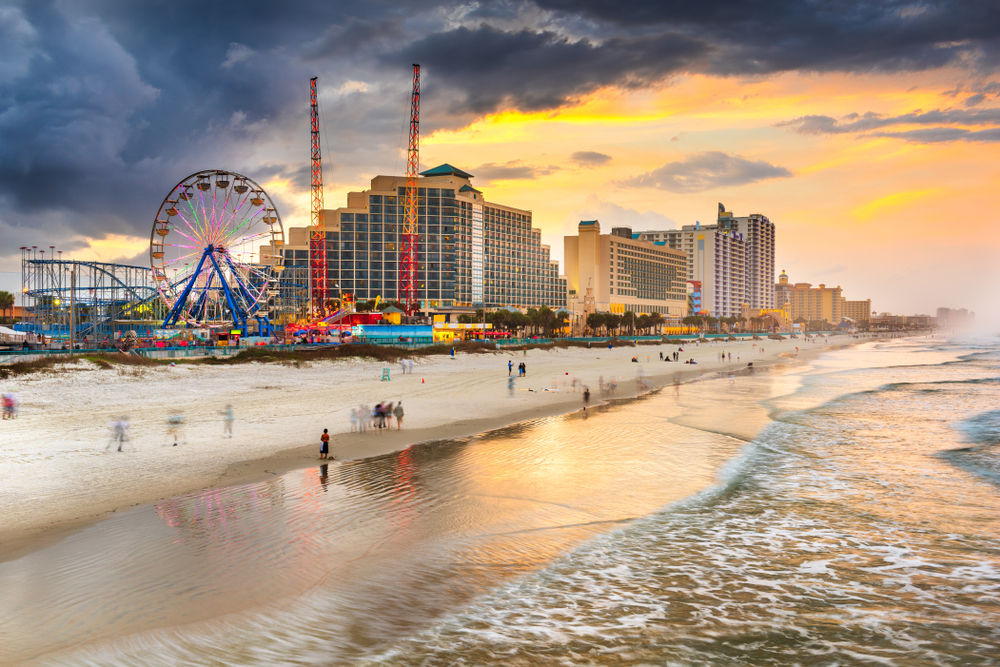 A four-hour drive from Miami north along the turnpike and I-95 will bring you to bustling Daytona Beach, one of the best day trips for anybody craving a beach getaway with a little more action than some of the state's quieter coasts.
Daytona is best-known for its relationship with NASCAR—the Daytona International Speedway hosts the Daytona 500 NASCAR race every February. The sand along the shore is also hard-packed and driving is allowed in designated areas, making it easy to transition from road trip to beach day without even unpacking your car. And, just steps away from the jewel-bright waters of the Atlantic is the iconic Daytona Lagoon water park, which has laser tag, water slides, and go-karts.
Without a doubt, Daytona makes for the perfect kid-friendly trip thanks to all the thrills it offers, but adults will also have a blast here—especially around spring break, when partygoers flood the area.
Thinking about moving to Miami?
Considering a South Florida lifestyle? Keep these getaways and road trips in mind as one of the many benefits of living in Miami or Miami Beach. And, if you're looking for an apartment in Miami, consider renting from Landing, which offers fully furnished apartments with flexible leases in the city's best neighborhoods, giving you the perfect home base to explore Miami and the rest of the Sunshine State. Learn more about what a Landing membership can do for you!