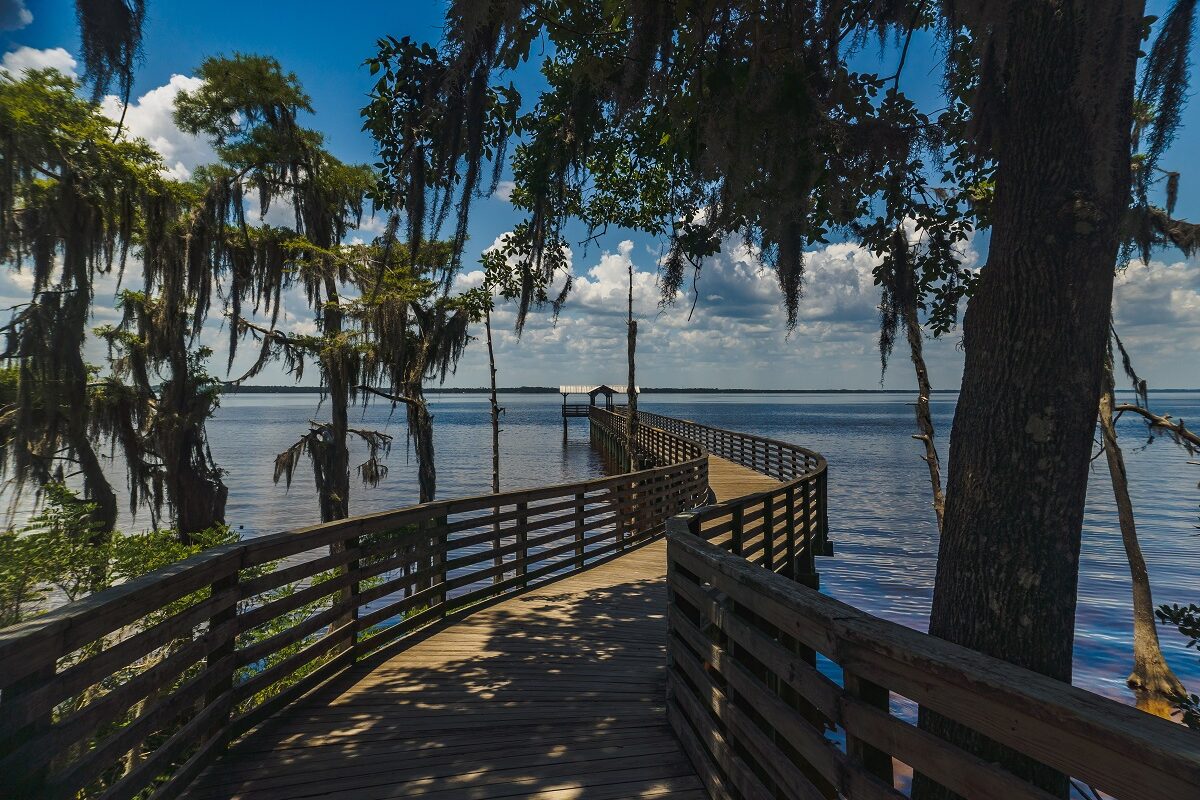 Fun Things to Do in Jacksonville, FL
Few know that Jacksonville is actually Florida's biggest city, both in population and land size. Even fewer know that this oceanside metropolis has one of the best recreational and cultural scenes across the entire southern United States.
Thinking about moving into one of Landing's furnished apartments in Jacksonville? Do you love the great outdoors, care for innovative local art, and swoon over beach-friendly weather? Jacksonville has all of that, and more. For locals new and old, here are some fun things to do in the city if you are moving to Jacksonville:
Bask on the beaches
Splash onto the art scene
Dig a fork into Jacksonville cuisine
See the parks, marshes, and glades
Bask on the beaches
For almost everyone living in Jacksonville, there's a star attraction that outshines the rest—the beach. In Jacksonville, you can choose from over 22 miles of white-sand gorgeous beaches to get your ocean fix. From Atlantic to Ponte Vedra, here are the top surf-side activities across Jacksonville's best beach towns:
Atlantic Beach
Neptune Beach
Jacksonville Beach
Ponte Vedra Beach
Atlantic Beach
At the top of Jacksonville's ocean shoreline, you'll find the historical Atlantic Beach. Packed with nature reserves and outdoor activities, it's the most laid back of all the Jacksonville oceansides:
Atlantic Beach Golf Club: Master your hole-in-ones on the esteemed golf courses at the Atlantic Beach Golf Club. Between group games and a full event calendar, this club is a great summit for new locals to meet long-time residents.
Adventure Kayak: Whether going with a friend, a workgroup, or solo, kayaking is one of the best ways to view Atlantic Beach. Call Adventure Kayak for easy rentals and day trip guided tour options.
Jack Russell Park: A popular local hangout, Jack Russell Park has enough amenities to please any crowd—everything from tennis courts to baseball fields to a skating park.
Neptune Beach
Since the early 20th century, Neptune Beach has been Jacksonville's residential oceanside town. However, the shores come alive on weekends when city locals drive in to join the fun:
North Florida Fishing: Deep-sea fishing is a quintessential Florida experience. Catch the likes of seatrout, flounder, and redfish with North Florida Fishing off the Neptune Beach shores.
Pete's Bar: For a taste of history and some ice-cold drinks, head to Pete's Bar. This local watering hole has been serving Neptune Beach residents since 1933, annually catering for its illustrious Thanksgiving celebration.
Jacksonville Surf and Paddle: Whether you're ready to surf or gently paddle along the waves, this cutting-edge surf shop has the gear and courses to help you catch on.
Jacksonville Beach
With a lively boardwalk and plenty of activities for family fun, Jacksonville Beach provides ample opportunities to get in a little fun in the sun:
Beaches Museum: With over 100 years of history, Jacksonville's beach towns deserve their own museum. Learn about the marine life and international cultures that form these distinct oceanside areas.
UNF Seaside Sculpture Park: Giant skeletons, pinwheels, and lanterns are just a few of the topsy-turvy exhibits you'll see at the UNF Sculpture Park.
Cradle Creek Preserve: The newest park in Jacksonville Beach, Cradle Creek has gorgeous elevated boardwalks to overlook the city's Intercoastal Waterway.
Ponte Vedra Beach
Consider Ponte Vedra the ritzy sister of the Jacksonville beach family. This area's private resorts, gorgeous golf courses, and luxurious architecture make for an impressive sight alone. Check out:
Mickler's Landing: When by the ocean, hang out on the beach! Mickler's Landing is a low-key yet gorgeous beach with distinctive pink sand (not to mention, it's dog friendly).
Bird Island Park: With intricate gazebos, statues, and garden florals, Bird Island Park complements the high beauty of Ponte Vedra Beach.
Island Girl Cigar Bar: In this old-fashioned cigar bar, you'll feel as if you've time-traveled 60 years back. Locals love the daily happy hours and patio events.
Splash onto the art scene
With a younger population than most Florida cities, Jacksonville has a robust artistic culture. To fill your creative tank, stop by these renowned and hidden-gem art scenes across the city:
Cummer Museum of Art & Gardens: Norman Rockwell, Whitfield Lovell, and Mildred Thompson are just a few famous names you'll see in the Cummer Museum. Don't forget to stop by the breathtaking gardens, too!
Museum of Contemporary Art: On the cutting edge of today's art world, the MOCA brings exciting exhibits (like their Techno-Intimacy addition) and community events to Jacksonville natives.
Riverside Arts Market: Need a new candle to light up your apartment or a unique bag to carry home fresh produce? The Riverside Arts Market holds dozens of local artisan and craftsmen stalls to support Jacksonville's art scene.
Dig a fork into Jacksonville cuisine
Jacksonville's food scene is a kaleidoscope of cultural history, blending the area's Floridian coastal, Latin, and American Southern cuisines. Get a taste of local culture with some beloved eateries in each category.
Seafood
Don't miss the daily Atlantic catch. Jacksonville's seafood is outstandingly fresh, especially when prepared by these restaurants:
Marker 32: A five-star institution, Marker 32 isn't afraid to play around with Jacksonville's excellent aquatic offerings. Try the broiled or fried oysters, steamed mussels, or seared scallops.
Julington Creek Fish Camp: For a casual but finger-licking-good meal, take on a seafood platter at Julington Creek Fish Camp (the fresh shrimp and grits are the way to go!).
Matthew's Restaurant: In the San Marco neighborhood, Matthew's blends French and Mediterranean flavors for an upscale meal that's never too stuffy. Try the grouper for dinner, or stop by early for a charming happy hour.
Latin cuisine
Dominican, Mexican, and Cuban tastes are just a few pan-Latin influences that feed Jacksonville's culture and people. Start with these restaurants to sample the city's international flavors:
Mambo's Cuban Cafe: Tostones, plantains, empanadas, and other Cuban delights fill the budget-friendly yet delicious plates at Mambo's.
Salento Colombian Steakhouse: This neighborhood staple sticks to its tried-and-true Colombian staples. When at Salento, it's only right to try the gooey arepas and perfectly grilled steak.
Tequila's Town Mexican: Fun, vibrant, and delicious, Tequila's Town has the high-quality Mexican staples you crave—everything from sopes to chimichangas.
American South
Culturally, North Florida is a little more aligned with its northern neighbor states. Many of the best restaurants in Jacksonville celebrate that influence with their own spin on Southern cuisine:
Ida Claire: Funky and spirited, Ida Claire is the down-home locale to get your soul food fix. Biscuits, blistered greens, and grits fill a killer menu of Southern favorites.
Southern Charm: Grilled, roasted, and spit-fired barbecue is the name of Southern Charm's game. It's all grub and no fuss at this casual joint.
The Bearded Pig: Pulling from Texan BBQ techniques, the Bearded Pig Pig has a traditional barbecue menu (pulled pork, ribs, etc.) that packs a big punch.
See the parks, marshes, and glades
Stunning beaches are just one part of Jacksonville's natural beauty. This city holds the largest urban park system in the nation, with a combined 80,000 acres of certified parkland. Strap on your hiking trail boots and start exploring Jacksonville's many forests, wetlands, and curated parks.
National parks
Magnificent in size and beauty, the Timucuan Ecological & Historic Preserve is Jacksonville's pristine national park. This 46,000-acre expanse includes popular sites like:
Between its miles of wetlands and woods, you can take your pick of outdoor activities at Timucuan—everything from canoeing to hiking to fishing. Plan for at least a half day (if not a whole weekend) inside this nature-lover's paradise.
State parks
Outside of Timucuan, Jacksonville boasts equally impressive state parks. As part of the Talbot Island State Park network, these Florida treasures are worth a full day:
Fort George Island: Memorializing 5,000-year-old Native American settlements, Fort George Island is both historic and gorgeous. After visiting the 1920s boathouse, take a sailboat or canoe out onto Clapboard Creek's opening.
Big Talbot and Little Talbot Islands: While technically islands, these marshy areas are more connected than isolated. Come for the Timucuan Trail, birdwatching, and seashell-filled shores.
Yellow Bluff Fort Historic State Park: Located more inland, Yellow Bluff is a half-park, half-preserved Civil War camp. You'll feel frozen in time while exploring the real fort buildings and stone monuments.
City parks
To get a glimpse of nature, you don't even need to leave Jacksonville's borders. Taking a stroll through the city's own parks is one of the best ways to explore Jacksonville's 500 neighborhoods:
Klutho Park: With a mind-bending sculpture walk, Springfield's Klutho Park is like an outdoor art museum with additional tennis courts and a picnic area.
Jessie Ball DuPont Park: Home to the famous 250-year-old Southern Live Oak tree, Jessie Ball DuPont Park is a cute Southbank stop for citizens to rest and admire the St. Johns River view.
Huguenot Park: Across the St. Johns river opening to the Atlantic Ocean, you'll find Huguenot Park on a picturesque peninsula. This beachy park is the only city area where you can drive directly on the sand.
Journey to Jacksonville with Landing
To those who can't decide between city and outdoor life, Jacksonville says, "Why not both?" Cosmopolitan culture meets gorgeous nature across Florida's largest city, giving locals a never-ending roster of enjoyable activities. Plus, with the low cost of living in Jacksonville, you'll actually be able to experience all the city has to offer!
Want to experience the unique Jacksonville lifestyle? Let Landing take you there. With our flexible leases and no-fee apartment deals, you can land a home in Jacksonville that fits your needs. Say goodbye to complicated contracts, and hello to stress-free beach life. Check out our apartments in Jacksonville today!