A Local's Guide to the 16 Best Beaches in Miami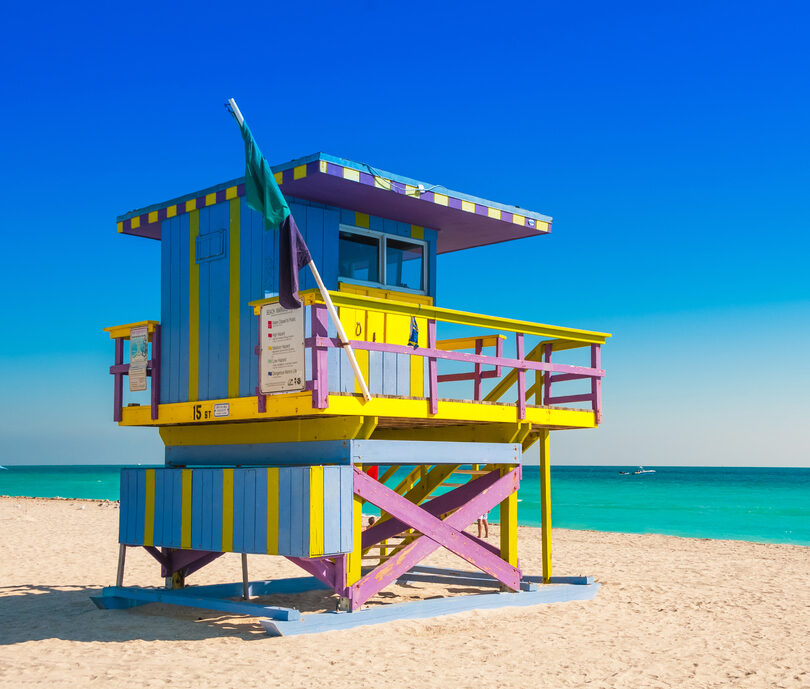 Miami, Florida, is known for many things—a buzzing nightlife scene, incredible bars and restaurants, a vibrant melting pot of cultures, and, of course, beautiful beaches. Surrounded by water on three sides, Florida is a paradise for beach lovers. Whether you're looking for great people-watching, a naturalist-led experience, a chilled-out vibe, or the perfect spot to bring your four-legged fur baby, living in Miami unlocks access to hundreds of miles of fine white sand, coastal mangroves, and clear, turquoise-blue waters.
From lively Miami Beach to posh Sunny Isles Beach and beyond, you can easily fill every weekend in South Florida with plenty of fun in the sun. To help you save time on researching which shores to visit, we've rounded up the top beaches in Miami, with insider tips on where to find them, what kind of vibe to expect, and any amenities on offer. Here are our picks for the best beaches in Miami, including:
South Beach
Lummus Park Beach
South Pointe Park
Crandon Park
Haulover Beach
North Beach Oceanside Park
Bal Harbour Beach
Bill Baggs Cape Florida State Park
Virginia Key Beach Park
Matheson Hammock Park Beach
Hobie Beach
Surfside Beach
Oleta River State Park
Sunny Isles Beach
Homestead Bayfront Park
Fort Lauderdale Beach
Let's get started!
1. South Beach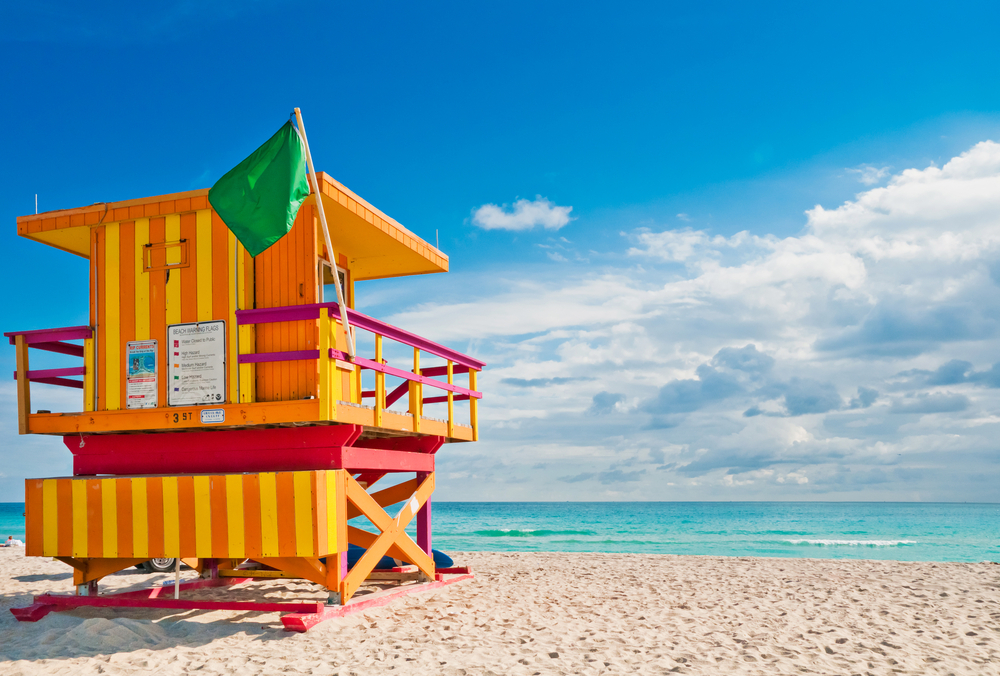 Encompassing the southern tip of the island that is Miami Beach, South Beach is the ultimate spot for people-watching and anyone who is looking to see and be seen. You'll find a mix of locals and tourists posted up along its two-mile waterfront, which is peppered with hotels from Ocean Drive to Collins Avenue.
You won't find any free amenities here—most people bring their own towels, chairs, and umbrellas—and parking can be expensive and difficult to find unless you arrive first thing in the morning. That said, some hotels offer day passes that allow non-guests to rent loungers and use the property's facilities. In fact, the site ResortPass.com allows users to search for day passes at hotels in specific cities.
South Beach typically has lifeguards on duty from 9:30 a.m. until 6:30 p.m.
2. Lummus Park Beach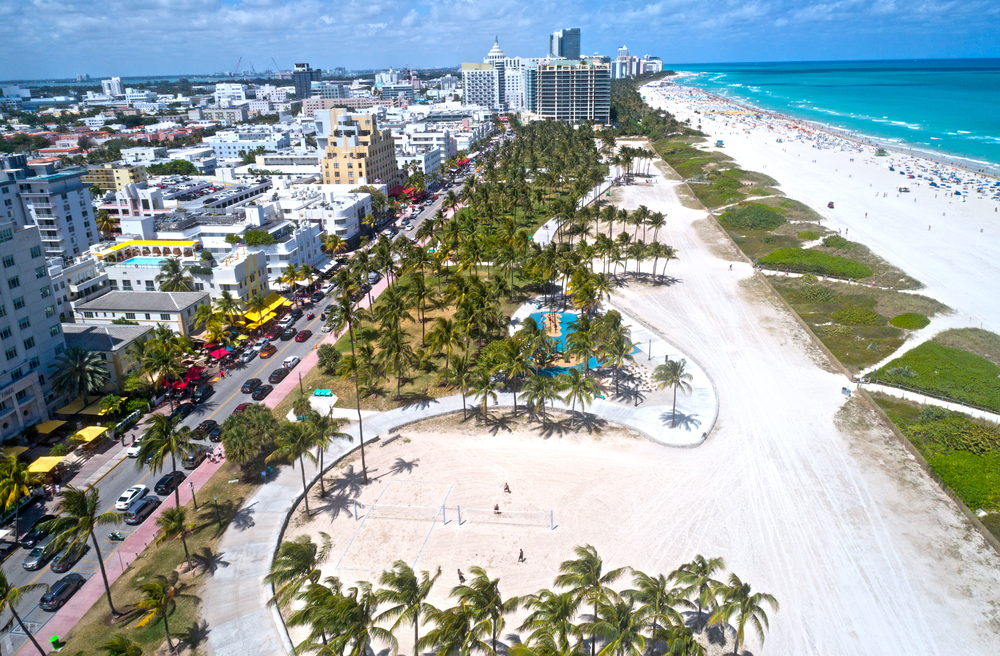 If you're looking for a slightly more low-key, family-friendly vibe while still enjoying the energy of Miami Beach, head to Lummus Park Beach. Part of the South Beach neighborhood along Ocean Drive, Lummus Park offers a slew of unique features you won't find along the area's more touristy shores.
Encompassing 10 full city blocks from 5th Street to 14th Place, it boasts two playgrounds for kids aged 2–12, shoreside volleyball nets, two outdoor gym areas, and several unique art installations and sculptures. Lummus Park also offers more amenities than nearly any other spot on Miami Beach—you can rent chaise loungers and umbrellas, take advantage of changing facilities, and rent skates or bikes to get some cardio in on the boardwalk.
3. South Pointe Park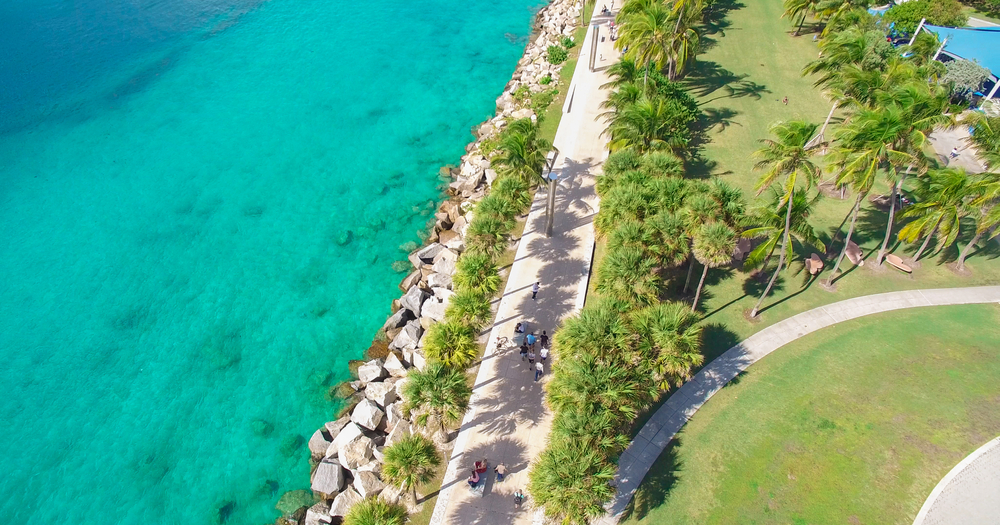 Another favorite among the South Beach crowd is beautiful South Pointe Park. Nestled at the southernmost tip of Miami Beach, it features plenty of green spaces and breathtaking views of the downtown Miami skyline, the Atlantic Ocean, the stately mansions on Fisher Island, and the cruise ships that sail in and out of PortMiami.
Beach-goers can access the beach directly from the park, and there are plenty of walking trails, palm-shaded benches, and areas for picnics and barbecues. South Pointe even has a little "bark park" on the western side where dog owners can bring their furry friends to enjoy some off-leash fun. Those visiting with little ones will love that South Pointe Park is home to a jungle gym and a playground with motion-activated water features.
If you're here to enjoy the beach, there's no need to bring your own gear—umbrellas and beach chairs are both available to rent.
Landing Member Pick: South Pointe Park!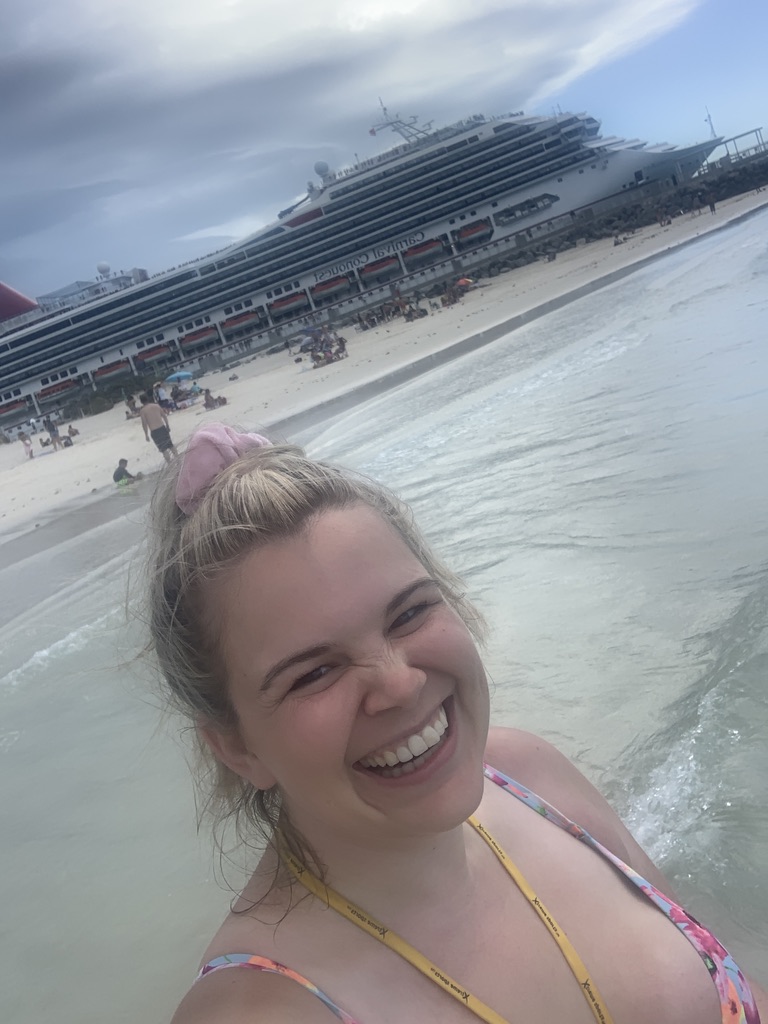 "This is the one beach we kept coming back to—and not just because it was 15 minutes from our Landing. Swimming in the ocean with a massive cruise ship towering over you is such a cool feeling and a unique experience. We used the CruiseMapper website to find opportune beach times."
— Landing member Madison Liston Gomes
4. Crandon Park
If you head toward Key Biscayne, you'll reach Crandon Park Beach, a favorite spot among locals from all over South Florida (and hands down one of the best beaches in Miami). It's uniquely located on a barrier island within Biscayne Bay and offers a one-of-a-kind environment with protected wetlands, a fossilized mangrove reef, and a lovely lagoon-like beach where you can soak up the sunshine and enjoy refreshing dips.
Crandon Park also offers walking and biking paths, a tennis center with 27 courts, an amusement center for little ones, skateboarding zones, and several water activities, including paddleboarding, snorkeling, and windsurfing. Guests are welcome to reserve cabanas, kayaks, and kiteboards at the beach's North Concession on a first-come, first-served basis. No need to bring snacks, either—Crandon Park offers onsite kiosks serving grab-and-go bites and refreshments.
"Crandon Beach Park made us feel like we were on a private island. If you want a beach day that leaves you feeling relaxed, refreshed, and recharged, this is the spot."

— Madison Liston Gomes, Landing Member
5. Haulover Beach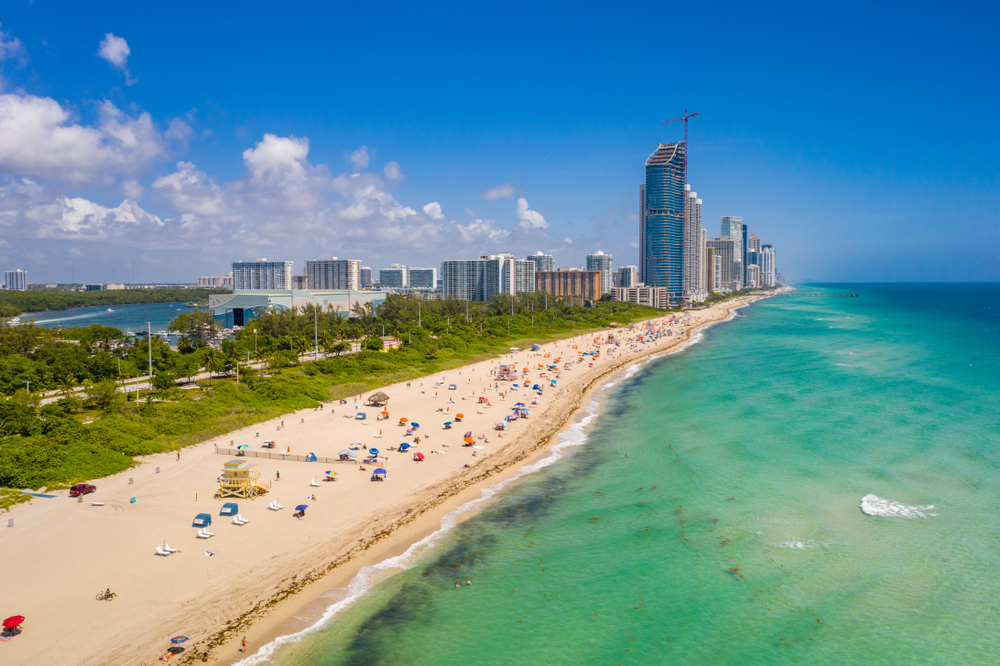 Located North of Miami Beach between the jewel-bright waters of the Atlantic Ocean and the Intracoastal Waterway, Haulover Beach is a mile-and-a-half-long stretch of sugary white sand and gentle waves. A great option for families, Haulover frequently hosts arts-and-crafts workshops and offers plenty of room to unwind and have a picnic. There is also a dog park, a nine-hole golf course, a tennis center, and a small onsite shop.
One of the things Haulover is most famous for is its clothing-optional section on the northern end of the beach—keep an eye out for signs that will let you. know you're getting close!
6. North Beach Oceanside Park
Many South Miami and Miami Beach locals would say that the best beach in Miami is North Beach Oceanside Park. Like Haulover Beach and Lummus Park, the vibe here is low-key and laid-back. The park is located between 78th Street and 87th Street in Miami Beach and features a tranquil stretch of palm-shaded shoreline watched by lifeguards.
North Beach is also one of the largest parks in the area, with ample grills, picnic tables, and pavilions, making it a go-to spot for group get-togethers. The park even has an outdoor fitness course with workout stations and a North Beach Bandshell that hosts frequent concerts. If you have a dog, you can take advantage of two big dog parks located at the northern tip of the park. Street parking around North Beach is pretty cheap and accessible, too.
7. Bal Harbour Beach
Another Miami Beach mainstay, Bal Harbour is one of the best beaches in Miami for those looking to level up the luxe factor. This ritzy neighborhood has long lured celebrities, A-listers, and influencers with its tranquil shores, upscale resorts, and elevated shopping. One of the most luxurious areas to live in Florida, it's also home to a spectacular stretch of shoreline that feels a world away from the bustle of South Beach.
There are no public facilities or lifeguards along this beach—most amenities are only available through nearby resorts.
8. Bill Baggs Cape Florida State Park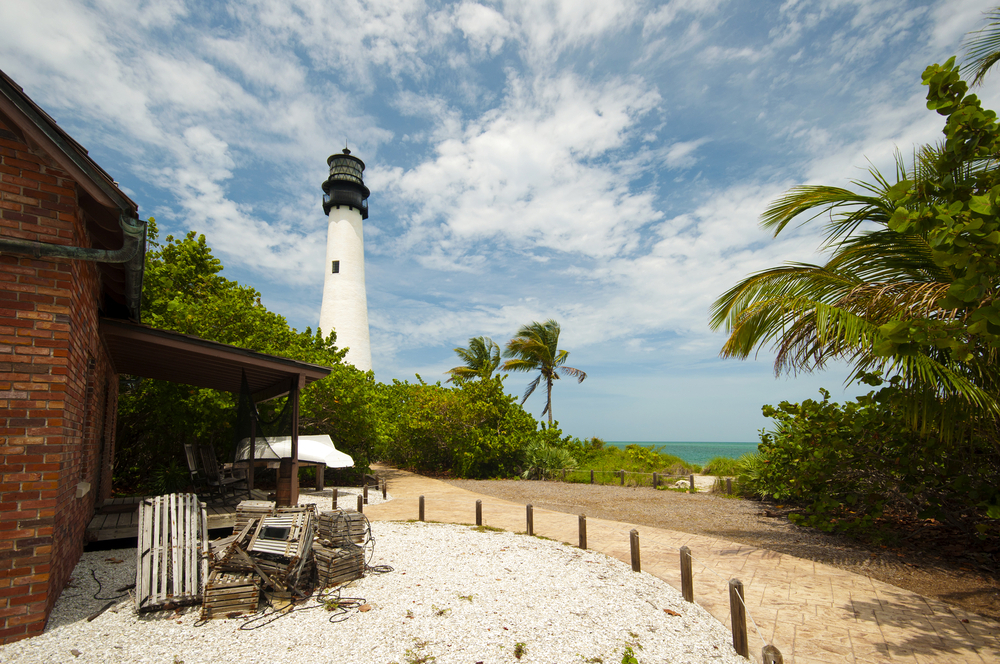 Conveniently located at the southern end of Key Biscayne, just 15 minutes from downtown Miami by car, Bill Baggs Cape Florida State Park is the perfect option for outdoor enthusiasts and those looking for a quiet, sun-kissed day shoreside.
You'll never run out of things to do here—there's a beautiful lighthouse that offers spectacular views (it's also the oldest structure in the county!), multiple concessions where you can grab tasty bites and drinks, bicycle rentals, free wheelchairs, and over a mile of pristine beach. Leashed pets are also welcome within certain areas of the park.
This park also offers bikers over a mile of paved bike paths to explore at any point during your beach day. And, if you're arriving by boat, you can anchor overnight in No Name Harbor for a fee. There are also two great options for dining within the park once you've worked up an appetite: Boater's Grill and Lighthouse Cafe.
9. Virginia Key Beach Park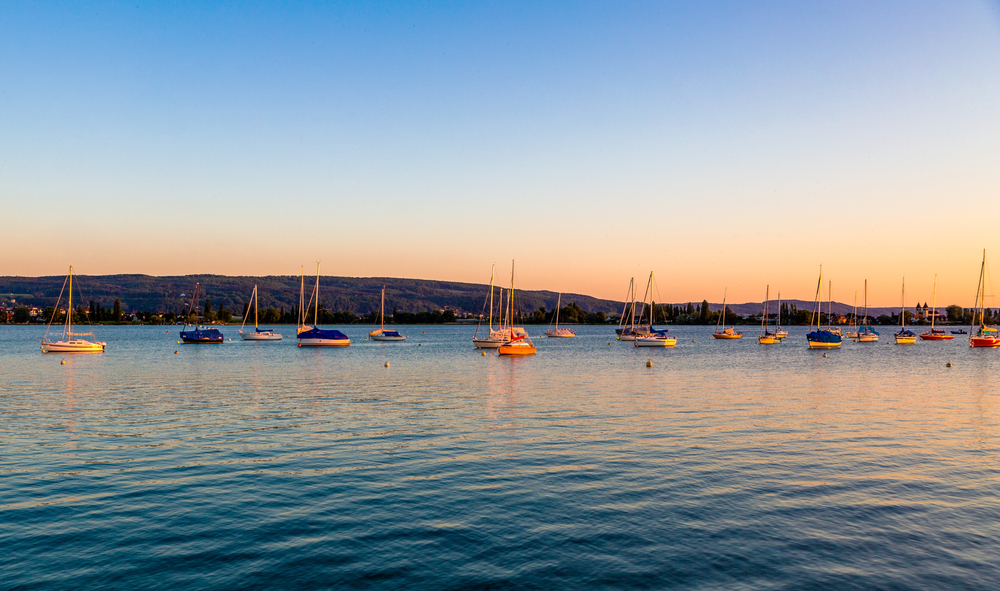 Another great option in Biscayne Bay less than a mile from downtown Miami is Virginia Key Park, a beautiful hidden gem dubbed one of Miami's prettiest beaches by visitors and locals alike. The mile-long waterfront features calm, crystal-clear waters and is hemmed on the opposite side by a nature boardwalk and wildlife-rich trails. You'll have plenty of photo opportunities here, from the beach's lovely antique carousel to one of the biggest mangrove wetlands in Florida.
Lots of guests who visit choose to rent a kayak or join a moonlit paddleboarding tour. You can also take advantage of the park's many grills and picnic areas during your visit.
10. Matheson Hammock Park Beach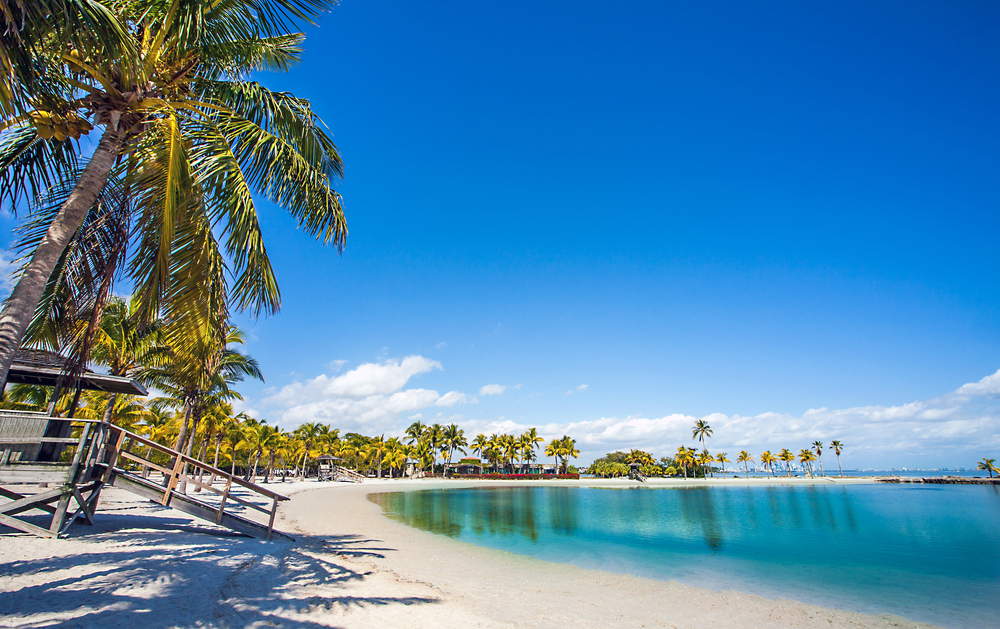 If you haven't already guessed it, Key Biscayne is a winner when it comes to great beaches and coastal parks in this part of Florida—and Matheson Hammock Park Beach is another of our favorites. Just south of picturesque Coral Gables, this park is a sprawling 630 acres of lush mangroves, hardwood forests, manicured gardens, and a pretty waterfront.
The calm waters and shaded shoreline of the park's manmade atoll pool are a fabulous spot to kick back and soak up the sunshine. And, the onsite marina on the north end of the park offers rentals for paddleboarders, canoers, and kayakers. There are also plenty of picnic areas and pavilions with charcoal grills, benches, nature trails, and even a playground for kids.
11. Hobie Beach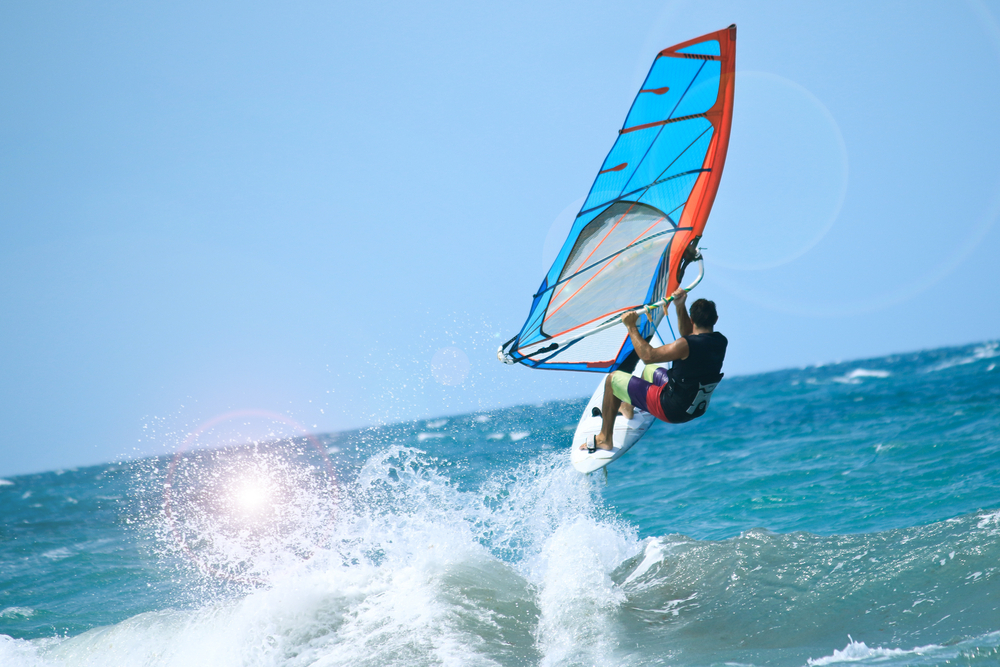 Hobie Beach is also known as Windsurfer Beach because it's one of the best places in town to master the sport. The beach is located just off the Rickenbacker Causeway toward— you guessed it!—Key Biscayne. You can rent a board from an onsite concession stand and hit the water, or sign up for lessons.
Hobie Beach is also a dog-friendly beach, as the water is shallow and the currents aren't too strong. Sunset is a great time to be here, as you can soak up dazzling views of the downtown Miami and Brickell skyline. Plus, parking is free!
12. Surfside Beach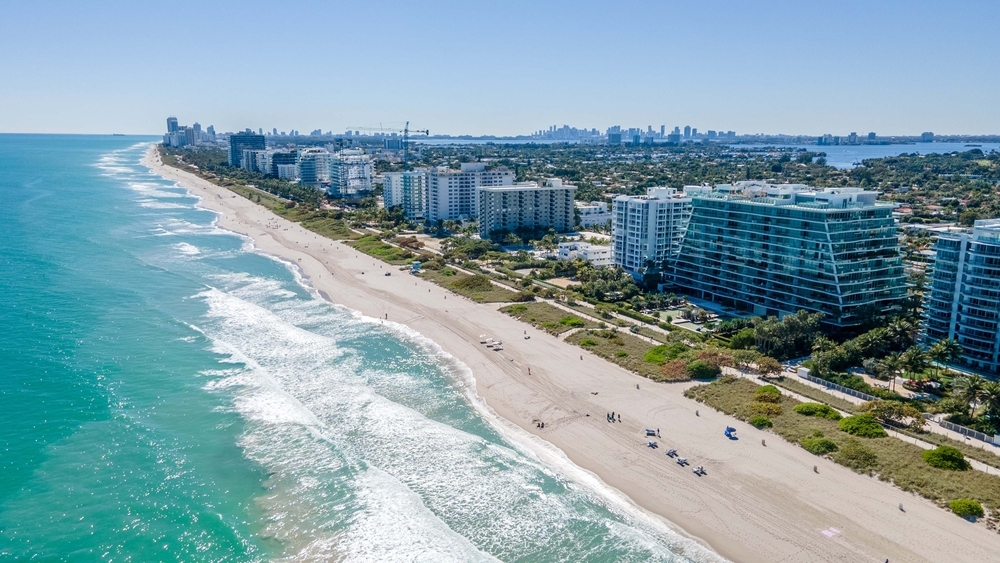 We're heading back to Miami Beach for another quiet, laid-back favorite: Surfside Beach. You'll find this local gem between Bal Harbour and the North Beach area of Miami Beach. The town of Surfside is small, community-driven, and dotted with retro condos and charming cafes and delis. The beach here is beautiful and so quiet it feels almost like one of the secluded shores that run along Florida's sleepy west coast.
Parking nearby is usually easy to find if you arrive early in the day, and there's often plenty of space to set up umbrellas or chairs close to the water. The beach area also has a beautiful boardwalk with biking and walking trails that offer stunning sea views.
13. Oleta River State Park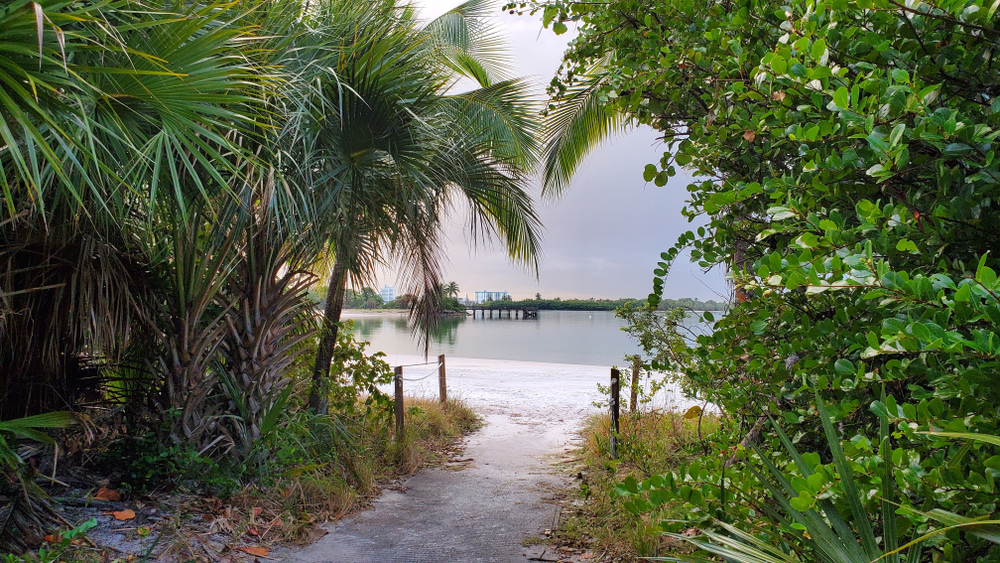 If you're looking for more than a nice beach day, consider heading to Oleta River State Park. Located in North Miami Beach, this huge, 1,000-acre preserve offers something for every outdoor enthusiast, including paddleboarding, kayaking, hiking, biking, camping, and swimming.
As Florida's biggest urban park, this area is teeming with vibrant flora and fauna year-round. It's also home to a peaceful bayfront beach with crystal-clear water where you can take a dip and cool off after a hike along one of the park's three miles of natural trails.
If you're into fishing, you'll find a small pier located on the southern end of the beach. The waters around it are rich with snapper, snook, and mullet.
14. Sunny Isles Beach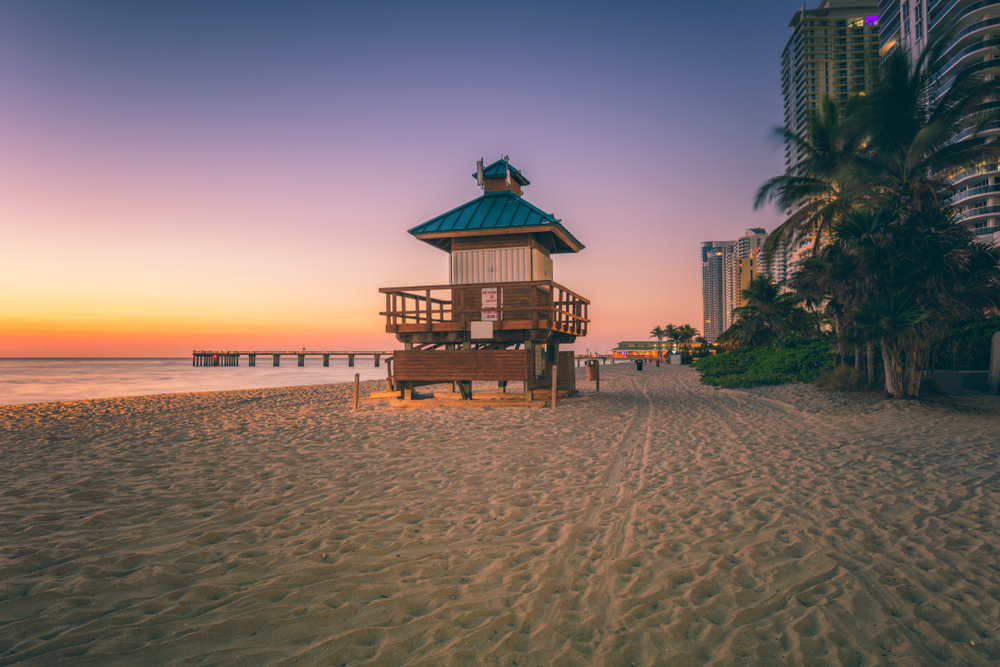 With a vibe that falls somewhere between Surfside Beach and Bal Harbour Beach, the two-mile-long stretch of Sunny Isles Beach is a great option for a posh yet understated beach experience. The coastline is home to lots of expensive high-rises and nice hotels, and it's no surprise why—the waters here are calm, clear, and great for snorkeling, swimming, and diving.
The nearby Newport Fishing Pier is a wonderful place to grab a bite, cast a line, or just enjoy the lovely views and sea breezes. As with most of Miami's nicer beach areas, it's wise to arrive early if you're hoping to find a good spot in a lot close to one of the beach's many entrances.
15. Homestead Bayfront Park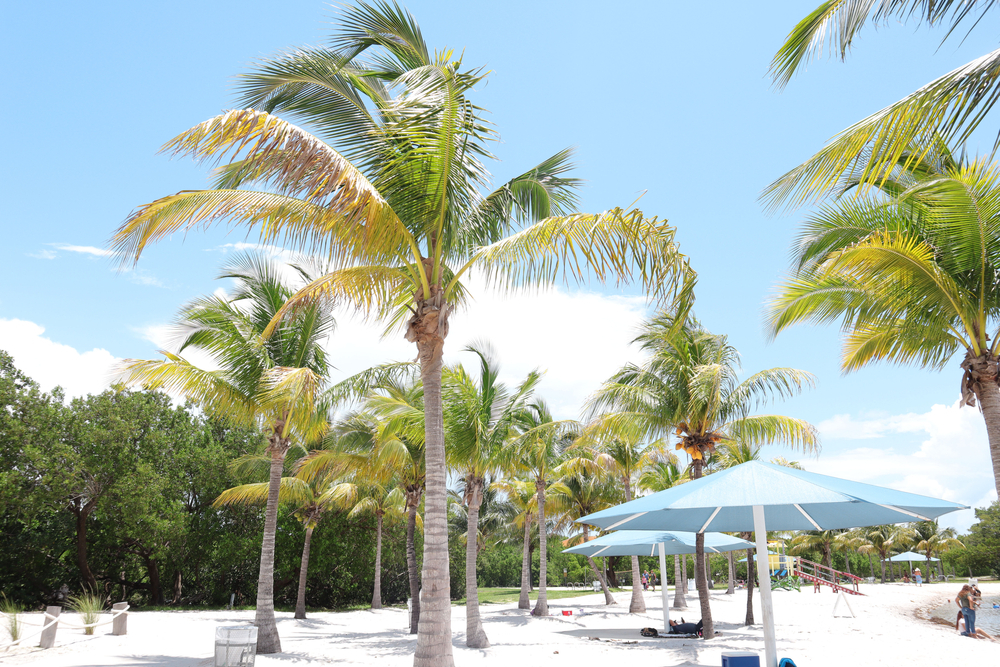 Sometimes referred to as a gateway to the Florida Keys, Homestead Bayfront Park is a peaceful little hideaway close to the coral reefs of the Florida Keys Marine Sanctuary and Biscayne National Park. You'll find a natural atoll pool and beach here with tranquil, shallow waters favored by families with small kids. There's also a restaurant onsite called La Playa Grill Seafood Bar where you can grab a bite in between dips.
The park charges a $7 entrance fee on weekends and a $7 car fee (reduced to $5 on weekdays). Flotation devices aren't allowed on the beach, but the waters are so calm and clear you'll hardly need them.
16. Fort Lauderdale Beach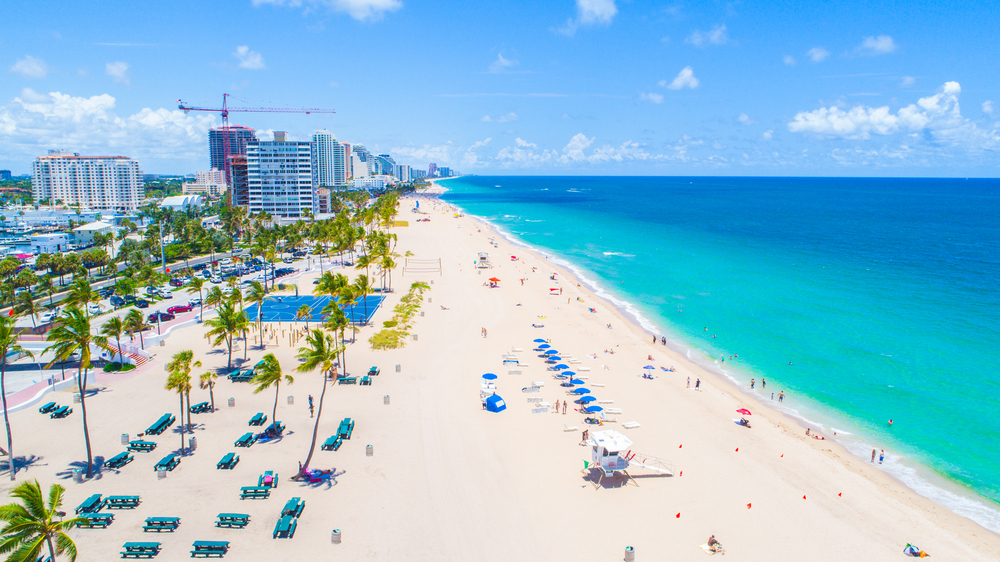 If you've exhausted the beaches around Miami or just want a slight change of scenery, head about an hour toward Fort Lauderdale Beach in Broward County. Fort Lauderdale Beach is just as buzzy and lively as South Beach, yet with a more laid-back vibe. Less glitzy and posh than its popular sister shore to the south, it draws college kids, families, and older beach-goers to its golden sun-kissed shores.
The boardwalk that runs parallel to the ocean is lined with lively restaurants, bars, and cafes. It can be a challenge to find parking if you don't arrive early, as the entire waterfront gets busier as the day wears on. Come first thing in the morning to score a spot in a nearby lot and bring your own towels, chairs, and umbrellas.
Thinking about moving to Miami?
When you live in Miami, a great beach is always within easy access. To help make your time in the Magic City even better, Landing offers fully furnished apartments in Miami with flexible leases that let you stay as long as you'd like and explore South Florida's incredible beachfront scene. Learn more about what a Landing membership can do for you today!