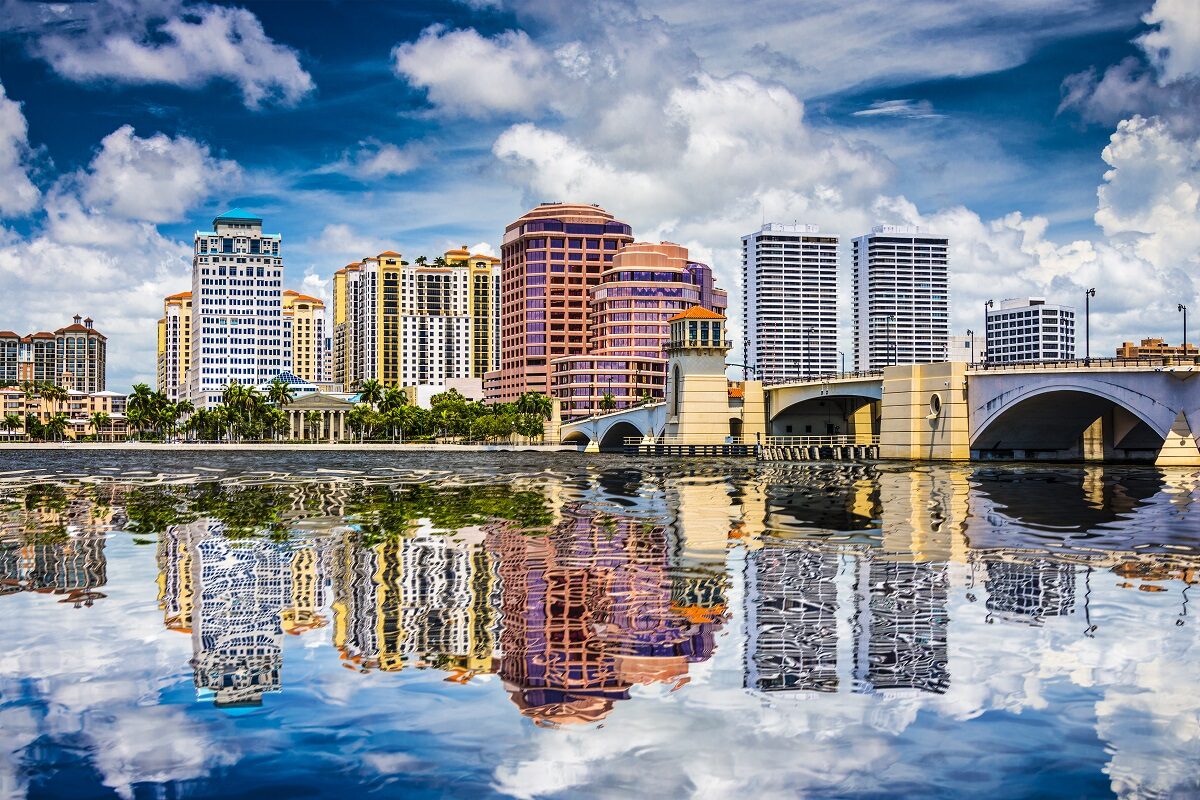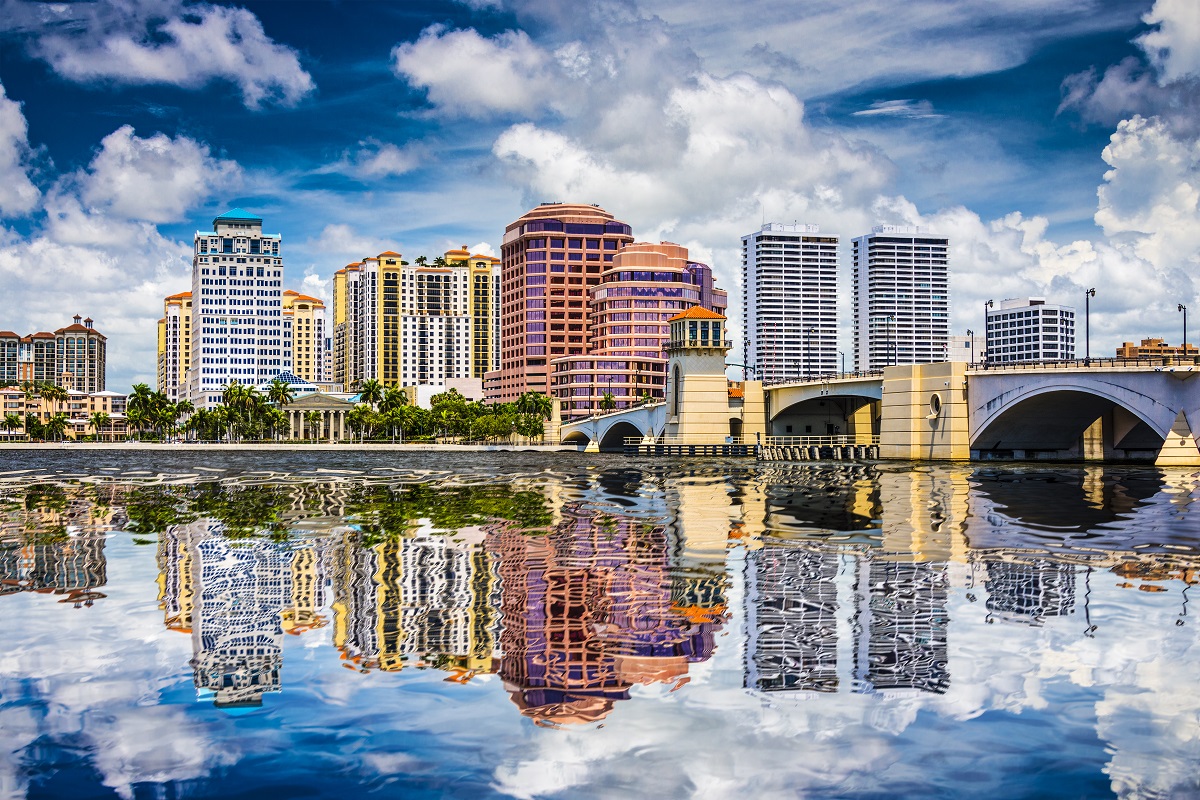 What to Know Before Moving to West Palm Beach
Sitting just along the Intracoastal Waterway across the way from Palm Beach is West Palm Beach, an urban paradise like no other. From the arts at CityPlace to the fine cuisine along Clematis Street, this city offers those who live there all the benefits of a large city in a small package.
Moving to a new city can be daunting. Other than looking for a local moving company and choosing the right neighborhood to live in, you're probably wondering what's in store for you. Where will you eat? What will you do? In this guide, you'll learn all the ins and outs of moving to West Palm Beach, including:
An overview of West Palm Beach
West Palm Beach demographics
Transportation in West Palm Beach
West Palm Beach weather
The cost of living in West Palm Beach
Local cuisine in West Palm Beach
Let's get started!
An overview of West Palm Beach
West Palm Beach (WPB) is one of South Florida's oldest communities. If you're moving here and have never had the opportunity to explore all it has to offer, then you'll want a rundown of its most compelling sites before moving into your apartment in West Palm Beach. Here's what those who live in this South Florida community know:
It's not just a place for the retired: WPB is known for its young, urban centers, with fantastic restaurants and wine bars.
It's filled with art and culture: The community has a thriving arts and entertainment district complete with an opera house, ballet, symphony, and the Norton Museum of Art, the largest art museum in Florida.
It's luxurious: It's a short drive away from the affluent Palm Beach island, and you don't need a hotel room to enjoy the events and restaurants at famous Hollywood-destination hotels like The Breakers.
It's bustling with events: The Intracoastal Waterway is full of things to do and places to browse. The Waterfront hosts a farmer's market on Saturdays and yearly events like Sunfest, Florida's largest waterfront music festival. Plus, you're only an hour and a half from exciting Miami!
West Palm Beach demographics
The residents that make up a city can be just as important as the sights, smells, and attractions. Here are some important statistics to help answer your questions about living in West Palm Beach:
West Palm Beach has a population of 111,955, with nearly 1.5 million people located within Palm Beach County.
The city is primarily white (58.23%), with its second largest population consisting of individuals who are black or of African-American descent (roughly one-third of the city).
The city's median age is 39.5 and is getting younger each year as more and more young professionals start moving to this FL spot.
Transportation in the city
Palm Beach County has a variety of great public transportation options, with trains, trolleys, bikeways, and buses to access local attractions and beaches. Most neighborhoods in the area offer shuttles as well.
However, you'll want to consider bringing a car with you, since the weather can become too humid to comfortably navigate public transportation during the summer months. Just make sure it has good air conditioning!
Otherwise, if you're looking to skip the drive, travel further, or take advantage of the cooler days, the city has a variety of public transit systems and passes you can consider. Take a look at some of the options below:
Tri Rail: If you need to fly out of the Miami International Airport, this regional passenger train runs from Mangonia Park through WPB and to the Miami airport, with numerous stops along the way.
West Palm Beach Trolley: The trolley is a free option that runs throughout downtown with three lines: yellow, green, and blue. With these routes, you can access Clematis Street, CityPlace on Rosemary Avenue, and even the Virgin Trains and Tri Rail stations.
Palm Tran: The Palm Tran is the regional bus system that services stations throughout Palm Beach County. The downtown station is next to the Tri Rail and also connects with local Amtrak and Greyhound Bus stations in the area.
West Palm Beach weather and climate
West Palm Beach residents will find their summers balmy and winters mild. In the summertime, July and August are often the hottest months.
Average temperatures reach about 83 degrees Fahrenheit. Winter temperatures rarely dip below 66 degrees, meaning you'll probably see the population swell from the snowbirds moving back to their winter homes.
Thanks to the Gulf Stream, the aptly nicknamed Orchid City is blessed with wonderful year-round weather, allowing you to take in all of the local parks, nature reserves, and beaches. In other words, you won't need to pack a winter coat after moving here.
With that said, there are a few things worth noting so that you're prepared for the South Florida climate:
Buy a nice umbrella and raincoat: Summers in the city are warm and wet, and it's not uncommon to experience a sudden thunderstorm in the middle of the day. These storms usually bring quick torrential pours, so you'll get soaked if you're not prepared.
Be one with nature: No matter where you're moving to, Florida summers bring out the bugs and the beasts. Florida is a flat, watery lowland, so mosquitoes are to be expected, along with the famous Florida alligator. Be mindful when traversing near Palm Beach lakes.
Prepare for hurricane season: Hurricane season runs from June to November, and most hurricanes occur during the months of August through October. It's recommended to read up on hurricane preparedness and listen to local guides and weather experts to best handle potential storms and floods.
Cost of living in West Palm Beach
If you're looking to move to West Palm Beach, you'll be surprised to find that with all the stunning shops and coastal water lines, the area is fairly affordable to live in. The city is only 10.1% above the national average, making it one of the least expensive beachside destinations in the country. 
Florida is also one of the few states that do not impose a state income tax, allowing you to spend more of your money as you please. For more details, here's a further breakdown of what you can expect to spend in the West Palm area:
Rental costs: The area has a variety of rental types to choose from, with options for affordability and luxury. The average monthly rent falls somewhere around $1,862 for a typical 953-square-foot apartment. You'll be hard pressed to find any apartment lower than $1,000 a month. But with lower living costs in the city, the difference makes up for itself.
Healthcare: Healthcare in the area doesn't come cheap. Florida ranks 49th in the nation for access to affordable healthcare, meaning one of your most expensive costs for the city will be your insurance.
Food and utilities: Both food and utilities are less expensive in the area than the national average. Utilities average to be about $176 per month, while the average restaurant meal falls around $15.
Transportation: Not only does Palm Beach County have a variety of transportation options to choose from, but its services are cheaper than the rest of the country. With so many connecting routes, public transportation in town is effective and affordable.
In total, the average cost per month—including utilities, leisure, food, travel, and rent—totals around $2,633. And, with the average salary per month falling around $3,293, you'll have plenty of extra dough to spend and enjoy the community.
Local cuisine in West Palm Beach
There are a lot of fun things to do in West Palm Beach, and one of them is trying out the local cuisine. Wondering if you'll fit into the nightlife and local scene? From the waterfront to the downtown area, the WPB's young professionals attract some of the best bars, restaurants, and dives in town.
Before you move, you'll want to familiarize yourself with the favorites. Here's just a taste of some of the local must-see spots to wine and dine:
The Blind Monk: Ranked as one of the best wine bars in the country, The Blind Monk offers tasty dinner options, wines, beers on tap, and upscale charcuterie boards. Amid the natural charm, you'll be able to share a drink while listening to live music or viewing some of the silent films that play every night.
Sloan's Ice Cream: Sloan's looks like it belongs straight out of Willy Wonka's chocolate factory, with a whimsical storefront right in the heart of downtown. Their menu is full of classic flavors and experimental joys that have even attracted the rich and famous.
Havana: You can't experience the southern Florida coast without experiencing great Cuban food. Havana on South Dixie Highway is the best Cuban restaurant in the area, known for their famous sandwiches—voted top 10 in all of Florida.
Become a local with Landing
Are you already planning for your relocation to a WPB neighborhood? Then let Landing make your moving journey a success. We offer furnished apartments in West Palm Beach, with flexible lease options and no application fees or security deposits required.
Browse the best West Palm Beach neighborhoods in the area to see where Landing can take you.