Living in Tampa: 8 Pros and Cons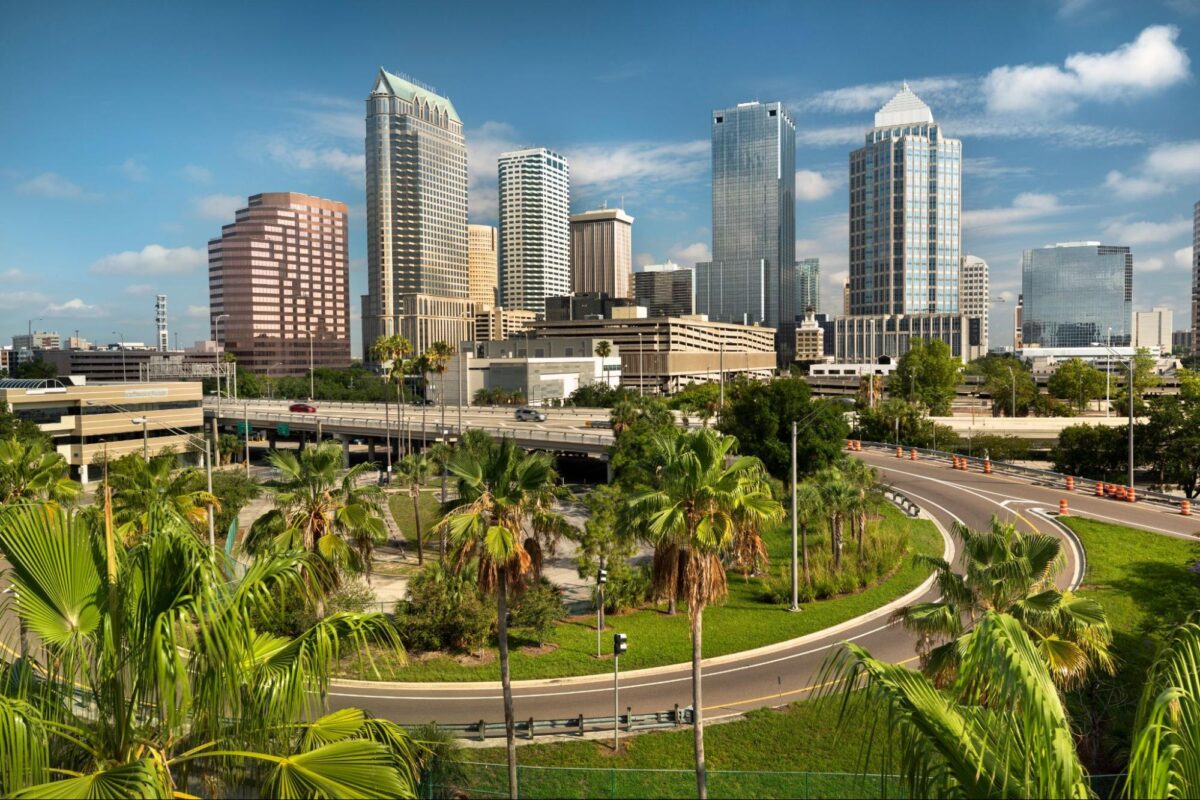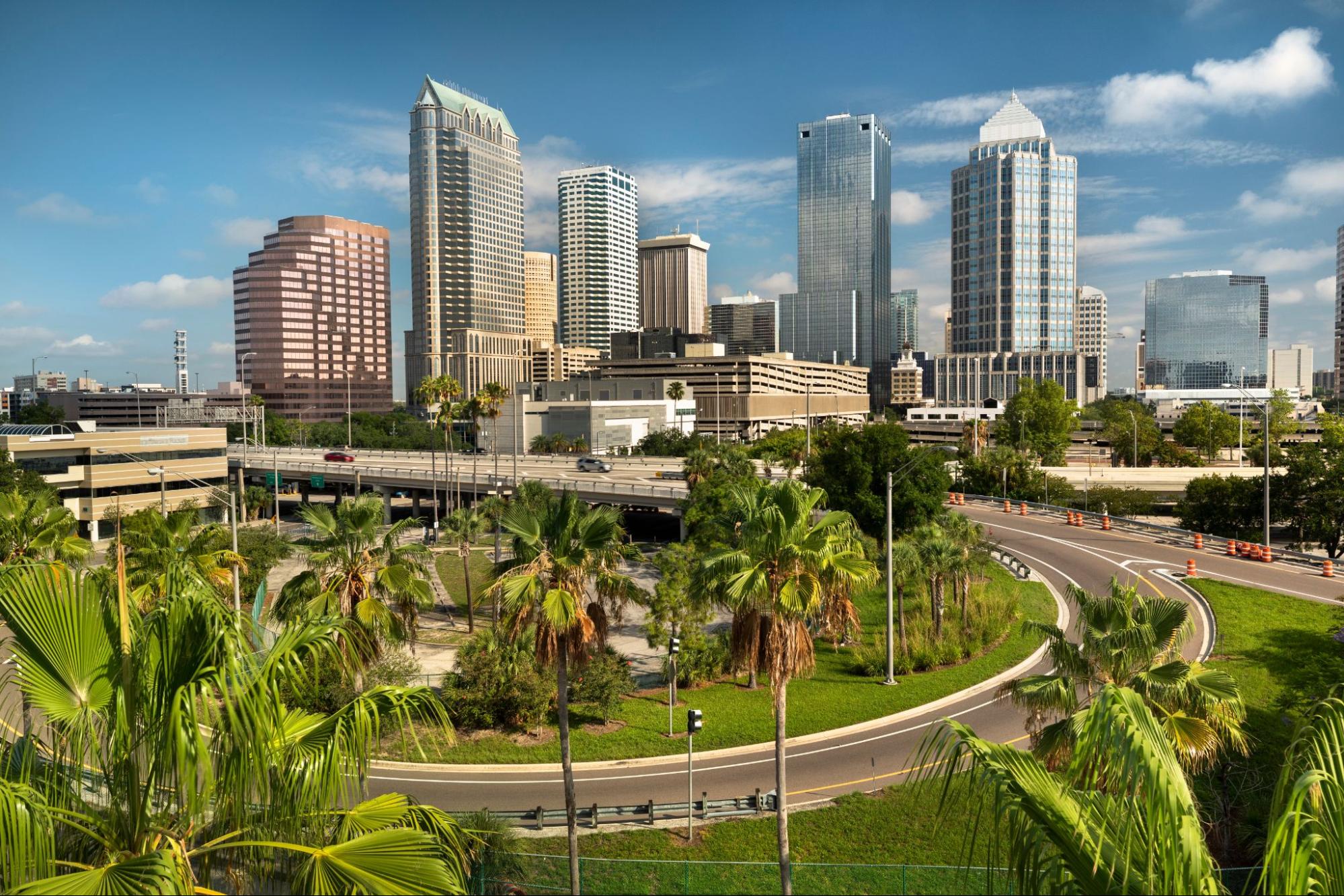 Perched on the hem of the Tampa Bay area lies the sparkling city of Tampa, Florida. With three major regions, including Tampa, Clearwater, and St. Petersburg, Tampa is home to beautiful beaches and a growing population.
Boasting waterfronts, affordability, and an exuberant cultural atmosphere, Tampa, Florida, is an increasingly attractive venue for nesting in recent years. But, like every city, this Floridian metropolis comes with its fair share of perks and pitfalls.
If you're thinking about living in Tampa, there are a few features of this city to take a closer look at. The pros and cons of living in Tampa include:
Pro: Affordable cost of living
Con: Static local job market
Pro: Plenty of parties
Con: You'll need a car
Pro: Hub for fitness fanatics
Con: Nightmare traffic
Pro: Good food
Con: Tropical storms
Without further ado, it's time to take a deep dive into the pros and cons of living in Tampa, Florida.
Pro: Affordable cost of living
The Tampa Area is becoming an increasingly popular place to nest in the past few years, corresponding with a steady though gradual climb in average rental prices and housing costs. Nevertheless, this Central Florida city's total cost of living remains affordable for most renters in the area, ranking at 5% lower than the national average.
Housing is 23% less costly than other cities in the U.S., but you should expect to shell out more when it comes to utilities. These run a bit steeper due to nearly year-round air-conditioning, with energy bills clocking in around 16% higher than other major cities.
Other than affordable housing, Florida is one of seven U.S. states with no state income tax (others include Alaska, Nevada, South Dakota, Texas, Washington, and Wyoming), making it an appealing choice for those looking to settle in the southern state.
Con: Static local job market
If you're looking to make moves in your career, Tampa may not be the top Floridian contender to settle down in. Job growth in the area has plateaued in the past three years, with a quiet 5.9% uptick in the past five.
Even so, the city has a hearty projected job growth of 42.7%, and with four major industries converging in Tampa, there's a good chance Tampa residents will see these predictions manifest.
The following sectors loom largest in Tampa, with some of the heaviest-hitting employers in the area being:
Tech: ConnectWise, TechData, Validity, AgileThought, and Accusoft
Finance: Raymond James, JP Morgan Chase, Citi Bankers Financial Corp, and Amscot Financial Inc.
Healthcare: BayCare Health System, Tampa General Hospital, Greenway Health, and Wellcare
Supply chain: Pak Mail, Jabil, and iQor
While the job market is on an incline, surpassing the country's average job growth, the city's average per-household earnings don't make the mark. Even so, single-person household earnings hover slightly above the national average, clocking in at an average of $49,590 per year.
Tampa's popularity as a vacation destination has made for thriving hospitality and tourism industries, particularly in the St. Petersburg and Clearwater areas.
Tampa's cultural vibrancy also makes for more diverse work environments: 28% of Tampa residents speak a language other than English at home, and there are plenty of bilingual jobs available for Spanish and English speakers.
Pro: Plenty of parties
If you're a fan of music, bar hopping, or being a maniac on the dance floor, you'll fit right in with the Tampa nightlife scene.
The city is home to countless festivals, including:
The Sunset Music Festival
Tampa Bay Pride Parade
Gasparilla International Film Festival
Gasparilla Pirate Festival
Shark Con
Heck, there's even a Cuban Sandwich Festival! In essence: If you like it, Tampa residents will find a way to throw a party for it.
Those who prefer a more turned-down and unwound evening will also find plenty of events to fit their tastes for entertainment.
Lovers of life's finer things can relish the complimentary open houses every Thursday evening during the Tampa Bay Museum of Art "Art on the House" events. Come springtime, the decades-strong Festa Italania serves up Italian delicacies, performances, and other activities for a taste of Italian culture.
Con: You'll need a car
Public transportation in Tampa Bay exists, but it is not for the faint of heart.
Since there's no rail service in Tampa, buses bear the brunt of workday commuters who need to get around without a car. While buses run fairly smoothly in the heart of the city, service tends to run slow and sparse at Tampa's outskirts—although this is par for the course for most U.S. cities.
Mass transit in the Tampa area can be arduous and a major drain on time, especially during rush hour, garnering a solid thumbs down among residents. In 2017, Tampa Bay Times published a lengthy report on the lack of funding and intervention from local officials.
If you need to mobilize easily, and particularly if you plan on commuting from Clearwater or St. Petersburg to Tampa proper, you should plan on having a reliable car. You'll want to factor Florida gas prices into your budget, which tends to overshoot the national average by 6%.
Pro: Hub for fitness fanatics
It should be clear by now that Tampa residents love to have a good time. Tampa is a bonafide mecca for those who thrive on an active lifestyle, from fitness enthusiasts to sports fans to world-class athletes.
Tampa is home to four pro sports teams:
Tampa Bay Lightning, National Hockey League
Tampa Bay Buccaneers, National Football League
Tampa Bay Rays, Major League Baseball
Tampa Bay Rowdies, United Soccer League
Each team has a robust fan base with unrelenting team spirit and plenty of heart, all of which embody the fun-loving, community-minded spirit of the city.
For those who want to nurture their sense of active play without all the fanfare, there are countless inventive ways to keep it moving like one only can in Tampa.
The surf-and-turf athletic lifestyle of residents includes sailing and paddle-boarding on the Floridian waterfronts, thriving track and rock climbing scenes, and even the workout play combos like PedalPub, a local pedal-powered group-bike pub crawl.
Con: Nightmare traffic
While there are many ways to get around recreationally, traffic congestion is a frequent complaint of a Downtown Tampa resident or homeowner. This is largely due to limited public transportation. Plus, the last decade's steady growth in population has caused the city's main three bridges to be routinely jammed, particularly at the dreaded rush hour.
Tampa ranks as one of the top 20 worst cities for traffic among cities in the U.S., Mexico, and Canada, with commuters spending 23% more time sitting in traffic than other drivers in the country, according to a 2019 report.
Pro: Good food
Like any electric cultural hub, one of the most delectable perks of living in Tampa is the killer food scene. Tampa is the host to many strongholds and newcomers to the local foodscape, with a broad spectrum of cuisines, flavors, and perspectives—most notably those imparted by the city's immigrant communities.
Here are a few local favorites to whet your palette:
Wicked Oak Barbeque: Carnivorous newcomers to Tampa will flock to the second coming of Tampa's favorite food truck. Owned by BBQ maestro Felix "Bubba" Flores, Wicked Oak has barely flickered during the COVID-19 surge. Crowd favorites include the Tampa Two sandwich and chicken "wangs." But, if you're in the mood for meat, everything on the menu will hit the spot.
Flor Fina: Smack dab in the middle of renowned Ybor City lies the Hotel Haya, home to the fine-dining Cuban restaurant Flor Fina. Its chef, Douglas Rodriguez, is a James Beard award winner famed for his modern riffs on Latin cuisine. While he is Cuban himself, his menu runs the gamut of flavors from around the Latinx world, fusing Cuban, Argentinian, and Spanish dishes and beyond.
Bern's Steakhouse: Bern's Steakhouse is an epicurean haven that has been around since 1956. The restaurant has one of the most sprawling wine cellars in the country and continues to uphold sterling standards for wine, steaks, and dessert. With delicacies on rotation like Baked Alaska and Framboise Macadamia, your sweet tooth alone may be reason enough to make the move to the Tampa Bay area.
Con: Tropical storms
Florida weather can be a double-edged sword. In milder months, residents are treated to buttery, balmy breezes and the sweet lull of palm trees, but when humidity and temperatures reach their summits between May and October, conditions can get uncomfortable and unsafe.
In short: There's a reason why Tampa Bay is known as the lightning capital of the world. The official hurricane season lasts from June through November, and risks of damages, flooding, and injury can make for higher than average insurance costs.
Even so, Florida's familiarity with the costs of climate unruliness has made for a dedicated front of residents, businesses, and local officials. Tampa residents maintain a positive, cooperative, and resilient attitude when it comes to preparing for storms and bouncing back in the wake of whatever fallout inclement weather may incur.
Nail your next move with Landing
Now that you've nailed down living in Tampa pros and cons, nail down a place to stay. With Tampa being an ever-popular place for newcomers to drop an anchor, moving to the city—especially from out of state—can be a competitive, convoluted process.
Landing offers fully furnished apartments in Tampa and other cities across the country to smooth out the kinks and harmonize with whatever lifestyle you're seeking. We match members to flexible lease options with no extra fees, security deposits, or extra month's rent—all completely online.
Whatever you're looking for, and whatever you're bringing with you, Landing has an apartment for you. Launch the move to your new pad with Landing today!