How to Forward Mail: A Guide for Digital Nomads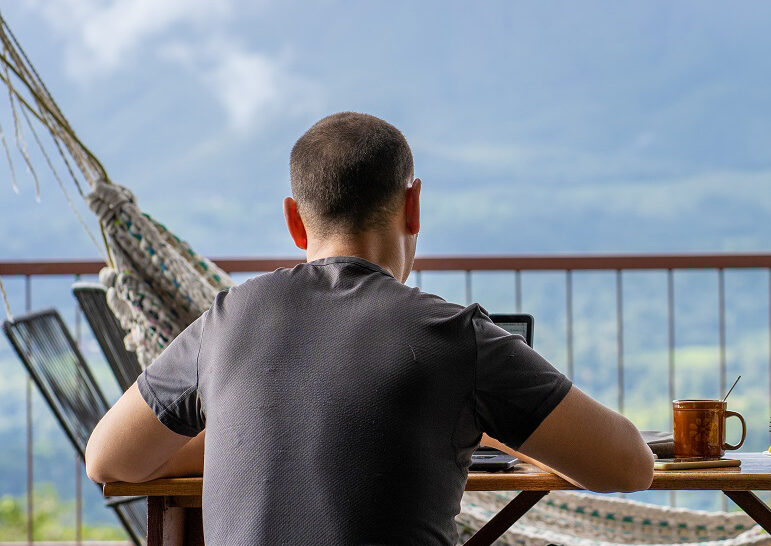 The life of the digital nomad is a desirable one—you can control your own schedule, explore different cities, and work in a new coffee shop every week. Plus, with remote work becoming more accessible, it's a more practical choice than ever before!
But before you say goodbye to mortgage payments and hello to the open road, you'll need to plan a few logistics, such as how to forward mail to your new address.
Forwarding mail to your new address is a relatively straightforward process that ensures you don't miss any important documents or bills coming your way. This guide will cover:
Do you have to forward your mail?
How to forward your mail through the post office
How to initiate premium forwarding services
How to extend mail forwarding services
Additional places to update your address
Here we go!
Do you have to forward your mail?
While many communications come through email or in-app notifications, snail mail is still a vital communication tool for government correspondence, such as IRS notices, jury duty summons, and voter registration.
To that end, forwarding your mail should be a top priority for the following reasons:
It's easy: Forwarding your mail is a relatively low-effort to-do that provides you with a sense of security as you explore new cities.

It's cheap: When you jumpstart standard mail forwarding, you can typically do it for free. However, in some cases, it may cost a little over one dollar.
It's important: While you don't get as much through the mail these days, that doesn't mean you don't get anything. Whether it's your monthly copy of National Geographic or a stimulus check, forwarding your mail ensures you don't miss any important documents.
How to forward your mail through the post office
So, how do you go about forwarding your mail to your new address? The easiest, cheapest, and simplest way to forward mail to a new address is to simply go through the post office. When you fill out your change-of-address form, the post office can start forwarding your mail within three business days.
To do this, you don't even need to visit an in-person office. Simply follow these steps:
Step 2: As a digital nomad, select a "Permanent" move if you don't plan on returning to your previous address.
Step 3: Pay a $1.10 identity verification fee.
Step 4: Complete the online form to share your new address, which includes:

Whether you are an individual, family, or business that is moving
Your contact information:

Name
Email address
Phone number

Whether your move is permanent or temporary
The date you want the mail forwarding to start
Your current address—this is the address you will want to be forwarding mail from
Your new address—this is the address you will want to be forwarding your mail to
Payment information
Step 5: Wait for an emailed USPS confirmation code, which can be used to change or modify your request.
Once you've completed your request, you're done. At this point, you will see offers for coupons you can receive at your new address. You can sign up for whatever you like, but you are not required to select any. Simply skip through to reach your confirmation page.
When you complete a standard change of address request through USPS, the following will get forwarded to your new address:
First Class Mail™ and any periodicals
Premium shipping services such as Priority Mail®, Priority Mail Express®, or First-Class Packages®
Media Mail® and USPS Retail Ground® will be forwarded, but you will have to pay for shipping from your previous post office to your new address.
How long your mail will be forwarded by the postal service is up to you. There's a permanent move option that will forward your mail for a year while you establish your new residence. There are also temporary options if you only need your mail forwarded for a set amount of time and plan to return to your previous address.
In-person change of address
If you're looking to change your address and get your USPS mail forwarded for free, you will have to go to your local post office.
Once there, ask for a free Mover's Guide packet. Inside the packet, you will find PS Form 3575. Fill this out, and return it to the clerk. You're all set, and your postal mail will be forwarded.
How to initiate premium mail forwarding services
In addition to the standard mail forwarding service, the post office also offers a premium forwarding service that affords you greater flexibility and control over how you receive your forwarded mail.
For most people, the standard service will likely suffice, but for people who rely on receiving their mail on time for business or personal reasons, the premium service may be worth looking into.
The way premium USPS mail forwarding for residential customers works is that your mail is packed up at your local post office and forwarded to you weekly through priority mail. There is also a commercial option that you can look into if you need business mail forwarded from a PO Box.
For residential addresses, the following will be forwarded using premium services:
Registered Mail® and Priority Mail Express items are immediately forwarded

Priority Mail is either immediately forwarded or held and sent with your weekly package, depending on which option is faster

First Class Mail®, periodicals, and marketing notices are forwarded weekly

Large First Class Mail, Media Mail, and USPS Retail Ground packages are forwarded for free
This is a temporary service and carries with it a one-time enrollment fee of $20.90 for online enrollment or $22.75 for in-person enrollment. You will also be charged a weekly fee of $22.75 for the duration of the premium forwarding. If you are interested in signing up, you can visit the Premium Forwarding Residential Online site or visit your local post office.
How to extend mail forwarding services
When filling out a permanent change of address form, the post office will forward your mail for 12 months. If you need more time, you can extend your mail forwarding for six, 12, or 18-month intervals. However, you cannot exceed 18 months.
This service is only available for people who choose a permanent change of address.
You can sign up for extended mail forwarding when you first set up your initial mail forwarding. There is also a form you can request in person. You should also receive an email at the eleven-month mark that will ask if you want to extend.
Prices for an extension are as follows:
Six months: $19.95
12 months: $29.96
18 months: $39.95
Additional places to update your address
Now that you know how to forward your mail, you should be all set for your digital nomad lifestyle. However, forwarding your mail is only one step you must take when changing your address.
You will also need to update your change of address with additional companies and organizations, including:
The IRS: It's best to keep your records up-to-date with the IRS. Request form 8822 from the IRS at any time to update your address to ensure you're receiving tax information promptly.

The DMV: You can drive with an out-of-state license, but if you're planning a long-term move, you should update your records with the DMV. Depending on the state, you may also have to retake your driver's test. You will also want to update your car's registration and plates to avoid future late fees.

Credit cards and banks: The last thing you want is to miss any important financial information that may affect you in the future. Most banks and credit cards make it easy to update your billing address online. Be sure to take care of this early.

Voter registration: It's important to update your voter registration so that you can take part in upcoming elections. When you change your address with USPS, they will also direct you on how to change your registration online. If your move is only temporary, you can also file for absentee voting, although requirements to qualify may differ from state to state.
Make your move easier with Landing
You should be all set to start forwarding your mail to your new address. As for where that address will be, find your perfect locale with Landing. Our network of furnished apartments and flexible leases make it easy for you to check in and out on your schedule so you can explore with ease. They are the perfect home bases for your new digital nomad life.
So, find your perfect place with Landing. And make sure your mail comes with you!