Post-Moving Checklist: 13 Things to Do After You Move to Make Your Life Easier
After much time spent searching for a new home, packing up your belongings, and attending to all the details—everything from booking the mover or the rental truck to deciding whether you should keep or donate those T-shirts stashed in the corner of your closet—it's time to move.
Moving involves much more than simply unpacking boxes at a new location, though. In fact, there's another long to-do list of post-move tasks to get settled in your new space. To ensure the process is as stress-free as possible, here's a list of 13 things to do after you move, including:
Do a quick clean
Install window AC units
Check door and window locks
Locate the trash and recycling site
Test your electrical outlets
Install or test out the smoke and carbon monoxide detectors
Set up your Wi-Fi and TV provider
Assemble or arrange the most important furniture first
Figure out the laundry situation
Change your address
Update your driver's license
Explore the neighborhood
Introduce yourself to your neighbors
Let's get started!
1. Do a quick clean
Yes, your landlord or the previous owners should have left the place in what is known in the real estate world as "broom clean." At the very least, your new home should be swept or vacuumed, and there should be nothing left behind as far as garbage or furniture from the previous tenant—unless, of course, you are moving into a furnished unit.
Cleaning a space that's empty is far easier and quicker to do than one that's filled. Even if the place looks good to your eye, it's a good idea to wipe down surfaces—especially in the kitchen and bathroom—and use a dust mop or vacuum for floors, especially if you or your movers tracked in any dirt from outside.
2. Install window AC units
Unless it's a cold winter's day or your new place already has central air pumping, it's a good idea to install window AC units before you start unpacking. If you're moving during peak moving season—typically during the warm or hot weather months—it'll only get hotter when you start unpacking in your new apartment. Take some time to cool down (or warm up, if it's the off-season) your new place so that you're comfortable as you unpack and organize your space.
3. Check door and window locks
Did your key stick in the lock? Is there a window lock that's broken or has a babyproof or childproof lock that you can't open? What about any home security system passcodes? For your safety, check all windows and doors to see that they are secure right after you move. It's important to remember to do this soon after you get to your new place so that you have plenty of time to call the landlord or a locksmith to remedy the situation that first day.
4. Locate the trash and recycling site
Moving means you'll soon have a mountain of empty cardboard boxes to recycle, along with anything else you might have to discard, so go check out where the trash/recycling area is at your new place. If you live in an apartment building, there will likely be house rules posted in addition to local laws for recycling and trash disposal. Follow them carefully so you don't risk upsetting building management or your new neighbors by putting trash or recycling out for collection on the wrong day or somewhere it doesn't belong.
5. Test your electrical outlets
Just because the first light you switched on is working doesn't mean that everything in your new house or apartment is in perfect order. To avoid disappointment later when you've realized you've set up your entire living room perfectly only to discover that the television is plugged into a dead outlet, do a walk-through of your new space and test the electrical outlets.
A simple way to do this is to plug your phone and charger cable into each outlet. If the charge battery icon comes in when you plug it into the outlet, it's good to go. If an outlet is not working, check the fuse box—it might be a simple flip of a switch that's needed.
You'll also want to check how many prongs each outlet takes. If you work from home and are due to log on the next day, you'll need time to figure out a solution if your three-pronged laptop cord can't fit in the two-pronged outlet near your workspace.
6. Install or test out the smoke and carbon monoxide detectors
In some places like New York City, landlords are required by law to install and maintain working smoke detectors and carbon monoxide detectors. If this is not the case for your new home, you should install them yourself. However, if they are indeed already installed, test them to see that their alerts are loud enough to be heard throughout the space and that the batteries are fresh to keep them powered.
7. Set up your Wi-Fi and TV provider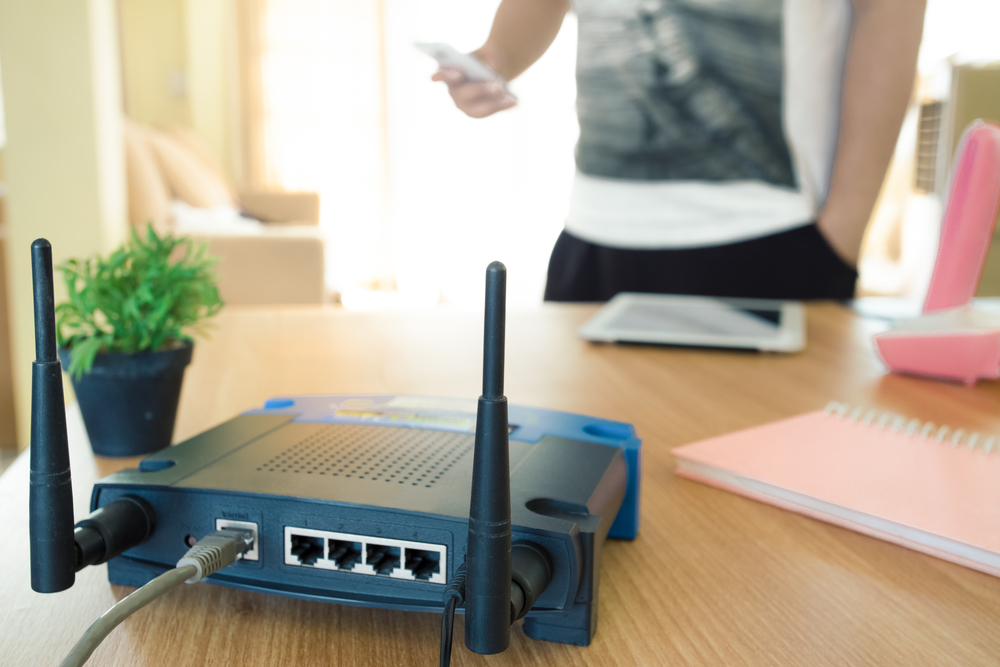 Having the free time to catch up with your favorite TV show might not come until you've unpacked the last box and settled in, but the ability to log on to the internet needs more immediate attention. Like electricity or any other utility, you'll want to make sure the account information for your new location reflects you as the new tenant for activation and payment purposes. But if you need to have a technician come out to get you up and running with internet access, you'll want to have this squared away as soon as possible within a few days after you move in.
8. Assemble or arrange the most important furniture first
You can't wait to organize your new closets or see how nicely those two new end tables look next to your couch, but don't waste time doing any of that now when the bed frames need to be assembled for your primary bedroom and the guest bedroom, or your desk needs to be in place for an early remote work conference the next morning. Not only does larger furniture take more time to put together, but it also (obviously) takes up more floor space. Arrange those key pieces first, then everything else can fall into place around them, like that colorful new wall decor you bought yourself as a housewarming treat.
9. Figure out the laundry situation
If you're moving to a house or are lucky enough to have in-unit laundry at your new apartment, you can skip this moving-related task on this list. But if you're in an apartment building with onsite laundry, you'll want to check out where you'll be spending quality time each week.
Hopefully, you won't need to worry about doing laundry the very first day you move in, but you'll still want to find out where it is and how to pay for it—for example, can you pay with cash or do you need to procure a reloadable money card? Either way, you'll want to find out soon so you're ready to go when it is time to toss in a load of laundry.
10. Change your address
This is one of those important things that should have been on your pre-move checklist because you can schedule the start date with the post office to redirect your mail well in advance. But if you've forgotten, now's the time to visit the USPS website, click on "Change My Address," and enter your new address or PO box.
Keep in mind that the USPS typically handles mail forwarding for a year, but you'll have to pay a small fee to have it extended past that time. Mail forwarding might mean that it will take longer for the post office to deliver your mail, so after you fill out the change-of-address form, you should also contact any bill payees like your credit card companies, utility companies, and insurance and health care providers so that you won't miss the delivery of any important correspondence.
Did you order something online and forgot to provide your new address? Call or go online to chat with a customer service representative at the parcel company so they can intercept the package and deliver it to your new location.
11. Update your driver's license
This might not apply if you only plan to move for the short term. But if you've signed a lease for a year or more—and even if you don't plan to do much driving—you might want to consider changing your license, especially if you're in a new state or have moved out of your current voting district in your hometown.
Check with the local DMV or RMV in your new city to see whether you need to reserve an appointment to apply for a new license, then go as soon as you are able to do so. If you plan to be an active voter in your new town, you'll want to update your driver's license so you can also update your voter registration.
12. Explore the neighborhood
Now that you've moved into a new house or apartment, you might indeed feel content to stay in and enjoy your new space, But it's still good to take a break and step out for at least a brief jaunt to check out the neighborhood in your new city or town.
If you live in a large metropolitan area, it might be quite easy to find your supermarket, bank, cafe, and even your new favorite bookstore or music shop all in a four-block radius. But if you live in a quieter part of the world, you might need to drive around a bit to see where everything is. Either way, take this initial adventure during daylight hours so that you can more easily read street signs and spot landmarks.
Recommended Blog
13. Introduce yourself to your neighbors
Introverts—and even extroverts who value their privacy—might cringe at this recommendation, but hear us out: It's the neighborly thing to do to say hello. You don't have to become BFFs with the people next door, and depending on your schedule, you might not even see them again for a while. But when you do, offer a friendly wave and a smile. It can go a long way toward fostering the community of which you have been waiting so long to become a member.
Relocation is stressful, even when you've hired professional movers or are only moving across town. Now that you are in your new place, it's time to get accustomed to your new life and routine. Follow these tips and you'll feel at home in no time.
Want to simplify your relocation even more? Check out Landing's network of furnished apartments that make it easy to settle into your new home quickly and with less stress.