Tips for Moving to Another State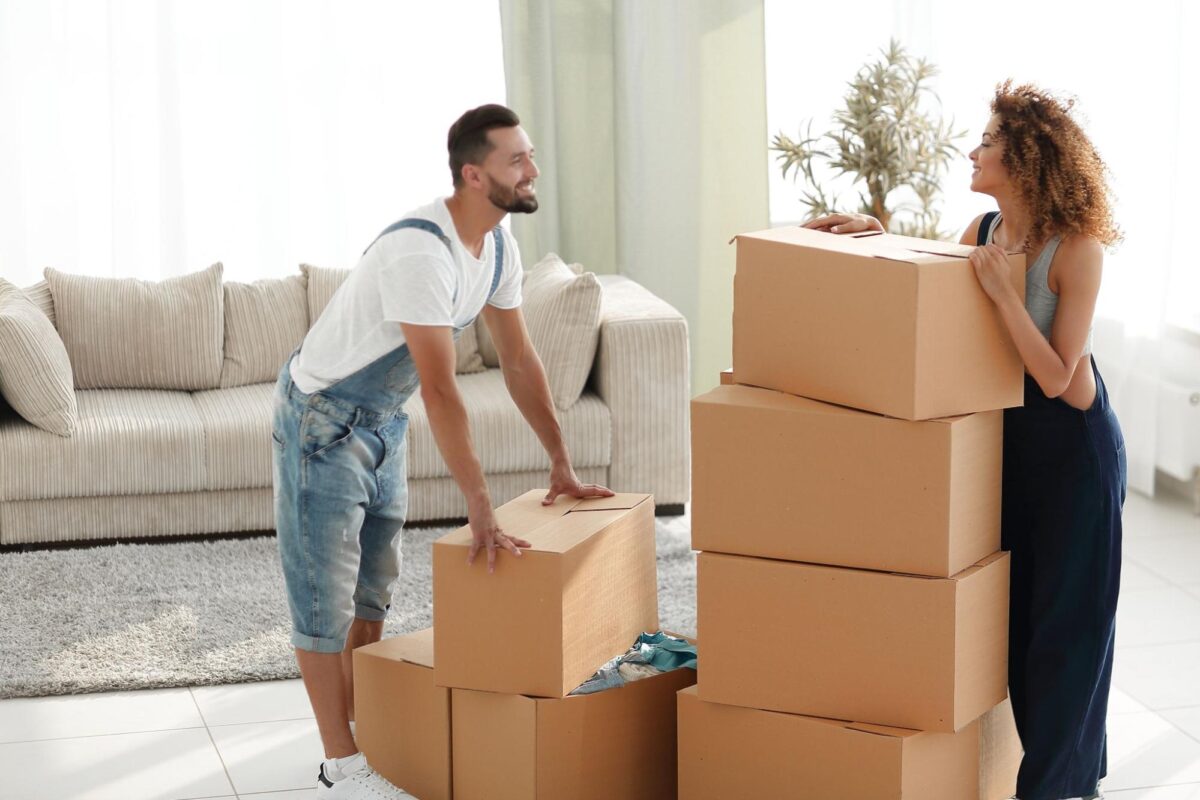 Starting a new chapter, whether in the pages of a book or of your life, can feel exciting and daunting at the same time—you're set to meet a new cast of characters, explore a new land, and maybe even study a carefully illustrated map or two.
Luckily, moving to a new state is a road often taken, and there's plenty of insight to share. If you're planning to start a new out-of-state journey, this guide will walk you through some moving tips and everything you need to know about:
How to find an apartment out of state
What to do before you move out of state
What to do when you arrive out of state
Finding an apartment out of state
This may seem obvious, but the first step to moving out of state is to find an apartment in an area you want to call home. However, geographic considerations can make it difficult (and even stressful) to fully vet potential apartments, neighborhoods, and landlords—especially if it's a new place and you're not planning a pre-move trip to scope out the area.
As such, here are some moving out-of-state tips for finding an apartment rental:
Plan a visit: If possible, you should try and visit the state and city you want to relocate to, particularly if you've never been before or haven't spent much time there. This will help you gauge the vibe and scope out potential neighborhoods.
Virtual tours: Fortunately, finding an apartment in another state is made a bit easier thanks to virtual tours. Video tours can give you a far better sense of an apartment than pictures alone. These days, virtual tours are a pretty common service offered by most rental companies.
Get recommendations: Maybe you know people in the state you're moving to, or perhaps you know people who have lived there in the past. Reach out to them. They can be a good source for information and tips when it comes to landlord and neighborhood reviews, as well as how much you can expect to pay in rent.
Tip: Finding an apartment is easy with a network like Landing, which offers fully furnished apartments in 375 cities across the country. And our flexible, short-term leases ensure that you can pick up and explore a new state with almost zero fuss.
What to do before you move out of state
The moving process can be daunting enough, even if you're simply moving across town. Finding a new apartment, packing up all of your belongings, and arranging for all the necessary logistics that moving entails are only exacerbated when it comes to moving out of state.
That said, a little planning and preparation can go a long way to make your move manageable, like creating a moving budget, packing away only the essentials, and calculating moving expenses.
Here are some tips for what to do before you move:
1. Declutter your life and pack only what you need
If you're planning to relocate out of state, it's a good idea to purge some of your belongings—whether you're donating them to a nonprofit or selling them to a friend. Packing up and moving everything you own long distances can be difficult and onerous—not to mention expensive.
To that end, before your move, start to organize your items and plan what you're planning on packing and what you'll donate. Consider starting with decluttering your:
Furniture: Bulky sofas, towering bookcases, and other large furniture items are difficult to move, especially to another state. Consider selling, donating, or getting rid of your large furniture pieces instead of packing them. Starting fresh in your new state can be easier and even less expensive. Plus, it'll give you the chance to make your new place yours with a design style you love.
Old clothes, shoes, and other wearables: Everyone has that one pile of misfit clothes—the too-small shirts, worn-down shoes, and hole-filled socks that collect with dust at the back of your closet. Why take them with you? Packing the ones you love, donating the items in good condition, and getting rid of the rest will greatly cut back on the amount of stuff you have to haul around.
Extra dishes, kitchen appliances, and household items: How many plates, glasses, bowls, spoons, and forks do you really need? Dishes are fragile and must be moved with care, and they can be heavy to lift when moving boxes to and from your moving truck. As such, consider paring down your collection to just the essentials.
2. Make a budget
An important step in planning any interstate move is making a budget, and when you're moving out of state, a budget is even more critical. If you're wondering, "How much does moving cost?" that can depend on a few factors. Therefore, it's important to calculate the moving costs and make a budget early in the moving process.
That said, it can be difficult to estimate how much your move will cost. Your moving expenses are subject to many variables, including:
How far you're moving
How much you're bringing with you from your old home
Whether you plan on moving yourself or hiring professional help
To the last point, here's what you need to know before you relocate to a new state:
What to know about hiring movers for out-of-state moves
If you're planning on hiring a moving company for an out-of-state move, know that moving out of state is considered a long-distance move, which comes with its own set of requirements, challenges, and costs. When you're looking for a moving company for your relocation to a new state, check for:
Licensing: For out-of-state moves, the moving company must be licensed by the Federal Motor Carrier Safety Administration (FMCSA). Licensed companies will have a U.S. DOT number issued by the United States Department of Transportation.
Should you choose any extra services, like full-service movers or moving specialty items, you can expect the price to go up as well. If you're looking into how to find a moving company, you can start by reading reviews and doing some research about movers in your area.
What to know about moving yourself
For some, moving on your own may be the more cost-efficient option—but it can still be quite pricey. Here's what to consider when budgeting for your DIY relocation to a new state:
Cost of renting a moving truck: According to Move.org, renting a moving truck can cost anywhere from $130 to more than $3,000, depending on how far you're going and what size truck you need. Remember, you'll also need to plan for the cost of gas and other fees associated with long-distance travel.
Cost of moving materials: Things like boxes and packing tape may seem like small potatoes compared to some of the more expensive aspects of moving. But even minor expenses start to add up, so it's important to add them to your relocation budget.
Moving by yourself may also come with some non-monetary expenses. For example, it may take more time and labor to move across the country by yourself than it would when working with professionals.
3. Set up utilities
Don't wait until you get to your new apartment to start setting up utilities like gas, electricity, and internet. Contact your new landlord to find out which companies provide service at your new home and which utilities you're required to pay.
It's recommended that you plan to start contacting the utility companies in your new state between two and three weeks before your relocation. On the day of your move, double-check with the companies to verify that the utilities have been turned on so you can arrive at your new home comfortably.
What to do when you arrive
When you arrive in your new apartment, you'll probably want to get right to unpacking and organizing. Go ahead! This is one of the most enjoyable aspects of moving into a new home—it provides you with the chance to make your apartment feel like your own.
Once you've curated your gallery wall and meticulously placed your succulents by the windowsill, there are a few other things you'll need to remember to do:
Update your driver's license: Although it can vary, most states require you to update your driver's license within a certain amount of time after your move. Check with your state's DMV to find out when you need to do that and how.
Update your accounts: From your bank account to your Amazon Prime, don't forget to update your information to reflect your new address.
Arrange for mail forwarding: Be sure to file a Change of Address Form with the Post Office. That way, any mail that gets sent to your old address will be forwarded to your new one.
Landing: Everything except the hassle
With these moving out-of-state tips and a well-crafted plan, you're set to begin your new chapter. That being said, a big move to a new state can be cumbersome. But, it can be made a whole lot easier with Landing.
How? We eliminate the burdensome factors, from sky-high security deposits to moving fees. Renting from our network of fully furnished network of flexible-lease apartments means you only need yourself and a suitcase when traveling to your new home—everything else, from furniture to toiletries to houseware, will already be waiting for you. And, our apartments are located in over 375 cities across the United States—just pick your favorite and we'll take care of the rest.
Interested in living with Landing but want some help covering the costs moving to another state? For a limited time, we are offering up to $2,500 to help you start living with Landing. All you have to do is tell us about your expected moving costs, book a flexible stay with us, and provide receipts from your move, and a credit will be applied to your account over the next 12 months. 
Click here to save money on your moving expenses.