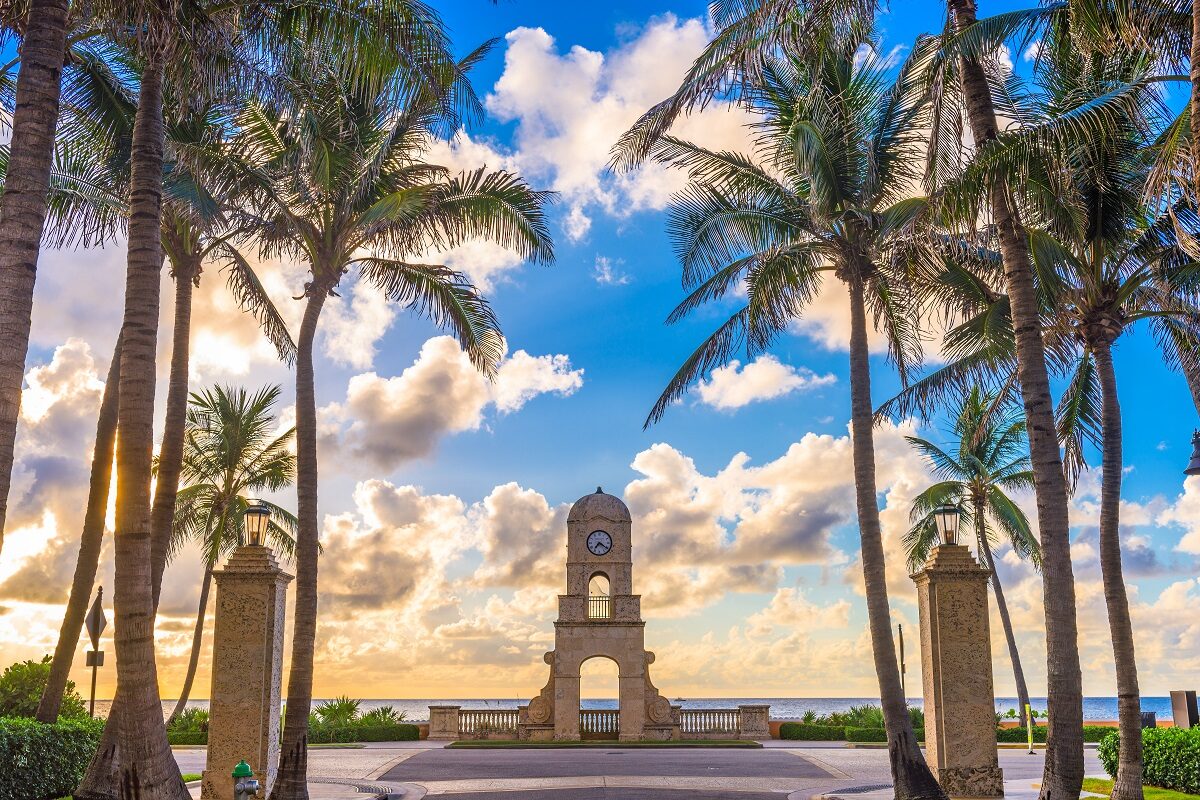 West Palm Beach Cost of Living: What New Residents Should Know
Looking to make West Palm Beach, FL, your home? With its numerous historic neighborhoods, arts districts, and sunny coastal beaches, it's hard not to fall in love with the area. Before exploring all of West Palm Beach's 47 miles of beaches, you'll probably want to do a little more digging in the sand to figure out how the area is going to shake up your bank account. 
Surprisingly, you'll find a small city that's quite affordable, despite being just across the water from Palm Beach Island, home to the rich and famous. West Palm Beach is only 6% higher than the national average cost of living, making this city an affordable coastal destination.
Keep reading to find out what budget you'll need to tackle the West Palm Beach cost of living, including:
Rent
Utilities
Transportation
Food and entertainment
Let's get started!
Rent and housing costs in West Palm Beach, FL
Housing costs tend to account for the majority of your monthly expenses, and rental costs in this Florida city can vary depending on which neighborhood you choose. Here's a breakdown of some of the rent prices you might expect across the board by living in West Palm Beach:
Studio apartment: $1,049/month
One-bedroom apartment: $1,274/month
Two-bedroom apartment: $1,578/month
Three-bedroom apartment near downtown: $2,120/month
Four-bedroom apartment outside of downtown: $2,575/month
Figuring out where to rent can be slightly daunting. If you're wondering what neighborhood to consider, check out a breakdown of some of the city's three most affordable and popular rental areas.
1. Grandview Heights
There are many fun things to do in West Palm Beach, FL. So, if you want the excitement of the city with the vibe of a quieter suburb, then Grandview Heights might be the place for you. Located just south of CityPlace, you'll be able to browse local spots like Copper Blues and City Cellar Wine Bar & Grill.
In Grandview Heights, you're not far from the action. West Palm Beach residents can go for a bike ride or play a round of tennis at Howard Park. Plus, just at your doorstep are art culture spots like Kravis Center for the Performing Arts, the Norton Museum of Art, and the Armory Art Center, where you can take classes and unleash your inner artist.
Want to know more? Check out some quick facts about Grandview Heights:
Median monthly rent: $1,292
Median age: 34.3
Cost of living: 10% higher than the city average
2. Villages of Palm Beach Lakes
Surrounding the Bear Lakes Country Club, this neighborhood is located in the west part of the city, just 20 minutes from downtown and the beach access. The Villages are surrounded by waterways and offer a variety of apartment complexes to choose from.
If you're looking for a place to get active, Perini Park has options to go swimming, practice your tennis serve, or spike at sand volleyball. The neighborhood also has retail outlets nearby, which means you won't have to travel far to pick up the necessities—or the luxuries.
Are The Villages peaking your interest? This is what you should know:
Median monthly rent: $1,219
Median age: 37.3
Cost of living: 6% lower than the city average
3. Downtown West Palm Beach
If none of these neighborhoods sound appealing, maybe you want to try living in the thick of it. While enjoying the downtown apartment complexes of WPB, you'll have access to great views of the marina, public beaches, parks, and the best nightlife in the city.
Travel down to the waterfront and enjoy Sunday concerts at the Meyer Amphitheater. Or enjoy the modern eats the city is famous for, like Avocado Grill, E.R. Bradley's Saloon, or The Blind Monk, the most popular wine bar in town.
If you're looking to live downtown, you'll have everything at your fingertips. But be prepared for the price. Here are some insights into what you can expect:
Median monthly rent: $1,374
Median age: 56.2
Cost of living: 29% higher than the city average
Utilities costs in West Palm Beach, FL
Of course, your monthly housing costs in a condo or an apartment go beyond just your rent. When you find your place to stay, you'll also need to worry about the basic utilities. While Florida ranks higher than the national average for utility costs, West Palm Beach is around 3% cheaper than the rest of the country for its basic utilities.
Want to crunch the numbers yourself? Then take a look at this quick overview of monthly utility prices:
Basic utilities (electric, heating, cooling, water, garbage): $160.98 for a 915-square-foot apartment
Internet: $70.57
Transportation costs in West Palm Beach, FL
Like most South Florida cities, West Palm Beach is designed to be convenient for cars. You should consider investing in a car for the area to help you handle the balmy Florida summers when it's too hot to walk to the local transit stations.
Just bear in mind that if you travel beyond this South Florida city, you might have to account for the expensive tolls from the Florida Turnpike.
When living in West Palm Beach, FL, you'll notice that roads are fairly easy to navigate and there are plenty of parking options, meaning you'll never struggle to find a place to park near your destination. Gas averages $2.41 a gallon, and the average car on the road costs around $23,000.
If driving isn't your thing, you'll have access to a variety of public transit to use when the weather cools. Here is a list of the transit options in the area:
Palm Tran Bus System: Buses across the city run daily from 5 a.m. to 10:30 p.m during the week. There are around 30 routes that will take you all over the city, including to other transit stations for the Trolley and Tri-Rail. Fares for general admission cost $2, making this a cost-effective way to get around town.
West Palm Beach Trolley: The trolley has three lines: yellow, green, and blue, which operate in and around the downtown area. Rides on the trolley are free, giving you access to most attractions within the city with consistent loops. Each line has its own schedule, so you'll want to check to see when they run.
Tri Rail: If you're wanting to head to other towns and cities but don't want to drive, check out the Tri Rail. If you take the entire route, round-trip from Mangonia Park to the Miami International Airport, it will cost you around $17.50.
Food and entertainment costs
Recently, the millionaires from Palm Beach have begun to migrate toward coastal and downtown West Palm Beach. Pushed out by the ultra-rich billionaires in the area, these individuals influence the nightlife and prominent food spots like Clematis Street. As a result, you'll find a mixture of expensive and affordable dining options.
Food in the area
The average meal for an inexpensive restaurant in the area averages around $15. For a mid-range meal for two, you can expect to pay $56.67 on average (before tip). If you're curious about the local culinary scene, try these affordable eats:
Lynora's: An Italian restaurant on Clematis street with a great European patio atmosphere.
Grandview Public Market: An open market with a variety of vendors from poke and gyros to pizza and American-style burgers.
Free things to do in West Palm Beach, FL
If you'd rather not empty your wallet to enjoy the city, there are a ton of options to explore both in downtown West Palm Beach and beyond. You'll find numerous festivals and events to fill your free time.
Check out this list for some of the activities you can try without spending a penny: 
Explore the Florida wildlife: This part of Florida boasts 25 natural areas, with free admission to explore the region's subtropical ecosystems. For 365 days a year, you'll be able to explore more than 31,000 acres of preserved natural resources—you might even spot some local fauna!
Take to the beach: It'd be criminal to not try out some of the city's pristine beaches and take advantage of this city's amazing year-round weather. Along these beaches, you'll find a number of bike trails, parks, and centers to enjoy. Nearby beaches like Delray Beach, Ocean Reef Park, and Carlin Park offer free parking next to the public access.
Listen to live music: Some nights, you'll be able to see live concerts at the waterfront—or the block parties hosted along Clematis Street. If you'd like to join in the celebration, local bars like Hullabaloo and Camelot are great places to grab a drink.
Take the leap with Landing
Convinced that West Palm Beach, FL, is the perfect place for you, but still want to find an affordable furnished apartment? Let Landing guide you to the best furnished apartments in West Palm Beach.
When you become a Landing member, you can find thousands of furnished apartments across the country. You'll also be able to control your renting destiny—no application fees, deposits, or long-term leases required! Start living with Landing and find the perfect West Palm Beach home for you. Browse our apartments in West Palm Beach today!