The 8 Pros and Cons of Living in New York City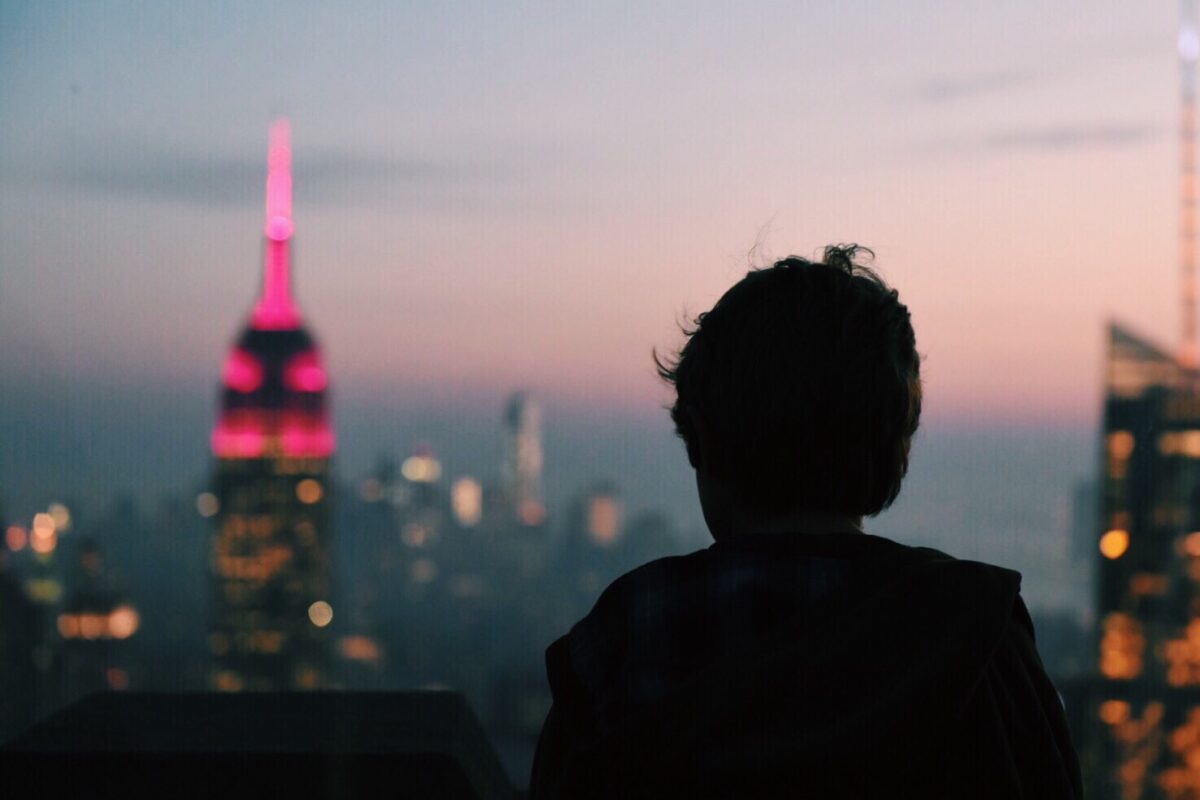 So, you're planning on making the move to the city of big dreams and even bigger buildings—a place where anything is possible, and there's a bodega on every corner. New York City!
In a city of 8 million people, it's no surprise that living in New York comes with plenty of perks. With that said, there are a few things newcomers should look out for when moving to the Big Apple.
Before you find your forever home here, let's take a look at the pros and cons of living in New York, including:
Pro: Jobs
Con: Say goodbye to your car
Pro: Nightlife and entertainment options
Con: Noise
Pro: Schools
Con: Cost of living
Pro: Networking opportunities
Con: Weather
Pro: Jobs
Whether you're looking for your big break, or simply a cushy office job in a high-rise building, New York City is the place to be.
U.S. News rates NYC a 7 out of 10 on the job market index, due to its many job opportunities and thriving economic industries. Some of NYC's biggest markets currently include:
Financial services: When you think of New York, there's a good chance Wall Street is one of the first things that come to mind. In a city known for investment banks and day trading, it's no surprise that financial service jobs in Manhattan are in high demand.
Healthcare: This city is home to hundreds of highly rated hospitals, health clinics, and healthcare firms. While the healthcare industry is booming across the U.S., it never hurts to be in a metropolitan hotspot when looking for a new job.
Professional and technical services: Lawyers, mechanics, marketers, and more—if you can think of a professional or technical service, NYC has hundreds of job opportunities waiting to be filled by qualified people.
Retail: One of the city's biggest attractions is its retail market. From the world-class luxury designers on Fifth Avenue to the shopping center at Columbus Circle, you'll have plenty of options when searching for a retail position (and the hefty price tags are great if you're making commission).
Manufacturing: NYC is known for its fruitful manufacturing industry, particularly in the fields of software engineering, railroads, computer products, and video games.
Education: New York City is filled with public and private schools with teaching opportunities and is also home to a number of the country's top colleges and universities.
New York City also offers a $15 minimum wage, so even the city's entry-level positions are favorable compared to other parts of the country.
Con: Say goodbye to your car
This one is interesting because it could really go either way. Some New Yorkers revel in the fact that they don't need a car. And in a city where bars and nightclubs are open until 4 a.m., having reliable public transportation can certainly be a plus.
That being said, NYC's public transportation isn't always 100% reliable. If you're making the move to this bustling metropolis, be prepared to deal with late trains on a regular basis. This can be particularly frustrating for those who live in boroughs outside Manhattan. Trains headed to Queens, Brooklyn, and the Bronx can be difficult to catch, especially during late nights and weekends.
Of course, if you find yourself living in a more suburban area, there may be a possibility of owning a car. In this case, you'll need to do some research on street parking in your neighborhood in order to avoid getting a ticket (or worse, having your car towed).
Pro: Nightlife and entertainment options
Speaking of bars and nightclubs staying open until 4 a.m., read that again.
If you're looking for a lively hotspot that's anything but boring, the city that never sleeps is going to be your best friend. Say goodbye to having last call at midnight and asking a friend to drive you home. In New York City, you'll never run out of places to go on a Friday night.
If nightlife isn't your thing, don't sweat it. New York is filled with fun activities all hours of the day. Some of the best ways to pass the time in New York City include:
Sunbathing in the green spaces at Central Park or Brooklyn Bridge Park
Bowling and playing ice hockey at Chelsea Piers
Ice skating at the world-renowned Rockefeller Center
Seeing comedy shows in the East Village
Sightseeing on the Staten Island Ferry
Enjoying a Broadway musical in Manhattan
Seeing a baseball game at Yankee Stadium or Citi Field
Con: The noise
While New York is a great place for endless fun, it also comes with its fair share of noise. While the outer boroughs offer some quiet streets, New Yorkers living in more populated areas will need to get used to the late-night noise.
Since bars are open so late, you can expect to hear the hustle and bustle of partygoers all hours of the night. If you're not a night owl, we recommend steering clear of apartments on busier streets. In Manhattan, pretty much any street that ends in "avenue" is going to be noisy. Astoria, Queens, and Williamsburg, Brooklyn, are also neighborhoods to avoid for people who don't want to deal with the noise level.
As for suburban neighborhoods, it's important to note where the above-ground trains are. These can be even louder than tipsy locals walking home at night.
Pro: Schools
As noted above, New York City has a thriving educational system. In fact, some of the best colleges and universities in the world call this city home. So, whether you're looking for a top-notch journalism course from NYU, or you want to learn about fashion from renowned experts in the field at the Fashion Institute of Technology, here are some of the top schools to choose from:
Columbia University
NYU
Cooper Union
Pace University
The New School
Baruch College
Fordham University
Pratt Institute
Barnard College
Fashion Institute of Technology
Hunter College
Con: Cost of living
It's no secret that NYC is expensive, but did you know that it's actually the most expensive city in the country? New York City's cost of living is a whopping 154% higher than the national average. While the city does offer a higher minimum wage than most areas of the country, it can still be difficult for these numbers to break even.
The New York housing market is one of the biggest factors in its high cost of living, with a median home value of $606,000. For reference, the national median is only $217,500. With a majority of New York residents renting their homes rather than owning them, the high cost of living doesn't stop there. The median rent in NYC is $1,443—well above the national average of $1,062. And if you're moving to Manhattan, you'll likely fork over even more.
Pro: Networking opportunities
When living in New York City, you're among the doers, thinkers, and dreamers of the world. If you're an entrepreneur or looking to join a company that aligns with your values, there's no better place than the big city to make a name for yourself.
Additionally, some of the biggest names in tech, financing, marketing, and journalism call New York City home, including:
American Express
Adobe
Droga5
Condé Nast
That means those with big dreams can find big opportunities to match. Additionally, there are various in-person and virtual networking events to help residents connect with groups of professionals based on their interests, industries, and demographics. Using resources like Eventbrite or Meetup, burgeoning professionals can find a community of like-minded doers looking to climb the corporate ladder. Plus, meet-ups are a great way to find local favorites throughout the city!
Con: The New York weather
New York is a northeastern city, so don't expect 365 days of sunshine. Winters in NYC are cold and windy, and long avenues surrounded by skyscrapers often create wind tunnels that can be difficult to walk through.
In the summer, NYC's weather scales tend to tip the other way. Heat and humidity gets trapped easily in the city, with subway vents and street grates practically radiating heat into the air. Once you get in the subway station, the heat is often even more unbearable. Fortunately, most subway cars have air conditioning in them—so you'll at least be rewarded for your time waiting in the heat!
Navigate the NYC housing market with Landing
Finding the right apartment in NYC can be tricky, and lugging heavy furniture to a fourth-floor walk-up is even worse. Fortunately, Landing is here to help.
Landing is an elevated way to find your next home. We offer hundreds of furnished apartments in New York City, so you can find the right apartment to meet your needs. With flexible leasing options, Landing members can test the waters before making a full commitment.
While knowing the pros and cons can be helpful when moving, actually living there is the best way to experience a city. Find a Landing and start your NYC adventure today!
Still trying to figure out which part of New York City to call home? Check out our blog, "Your Guide to the Best Neighborhoods in New York City."