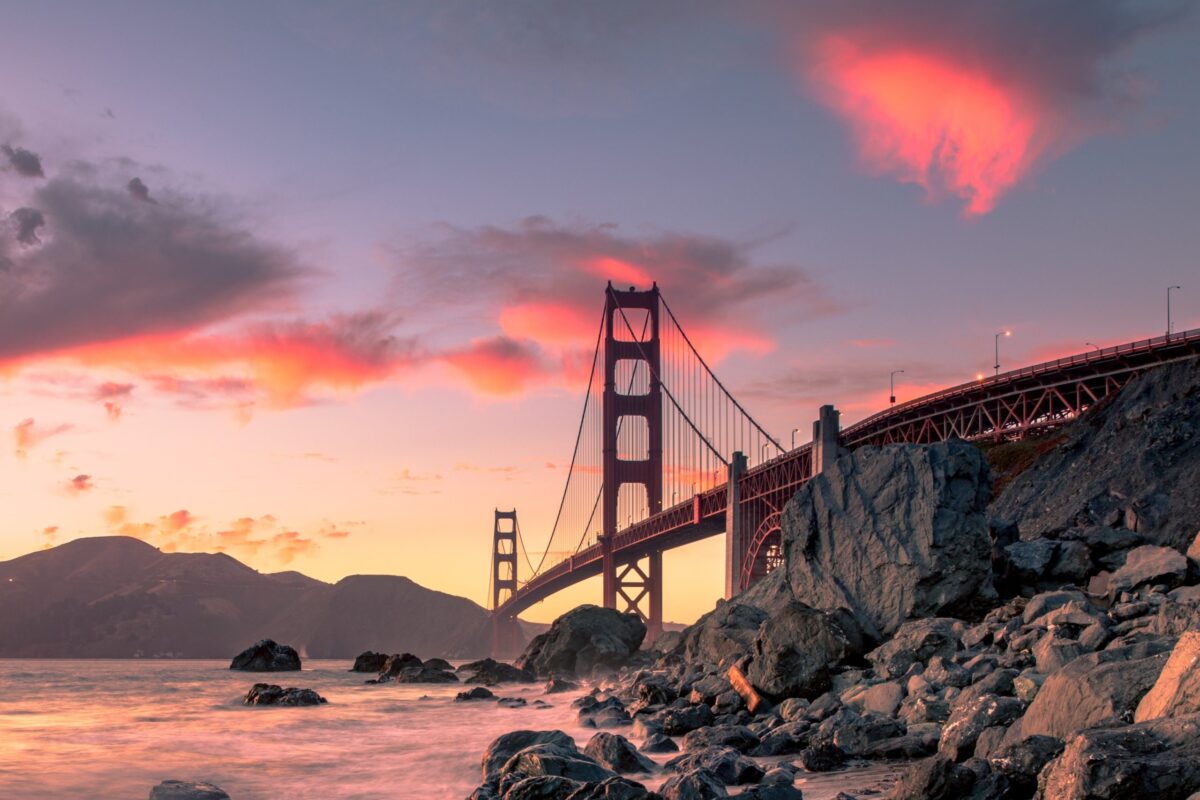 The Pros and Cons of Moving to San Francisco
When it comes to your dream West Coast adventure, living in San Francisco is a can't-miss opportunity. With a bustling cosmopolitan population of nearly 900,000, a thriving foodie culture, and a reputation as one of the most dog-friendly cities in the country, this metropolitan area towers above all the rest. 
Before you jump on the next flight to NorCal, urban living also comes with its fair share of advantages and disadvantages—and it's important to understand the full scope of what you'll experience before you make the big move to the Golden City. 
To settle in with maximum ease, this trusty guide will explore the pros and cons of moving to San Francisco to help you get a glimpse into the NorCal lifestyle, including: 
Pro:

Public transportation

 
Con:

Traffic 

Pro:

Variety of neighborhoods

Con:

Rent prices

Pro:

Mild weather

Con:

Morning fog

Pro:

Natural spaces

Con:

Wildfires

Pro:

Job opportunities

Con:

Tax rates 
Let's get started!
Pro: Public transportation
When you're living the digital nomad life or navigating a period of transition, the last thing you want to do is figure out your car situation. The beauty of San Francisco is that with the city's far-reaching public transportation, you'll be able to get along just fine without your own vehicle. 
In particular, San Fran offers the following public transit options by land and sea: 
BART

: Running from the East Bay into the city,

Bay Area Rapid Transit

, known as BART trains, will be your standard, go-to transit option if you choose to live outside the metropolitan area.

Buses, cable cars, and trolleys:

Hop on the

PresidiGo

, a free shuttle moving between the Transbay Terminal, Embarcadero BART, Union Street/Van Ness Avenue, and the Presidio. Or, take the cable cars and trolleys, known as the Muni Metro, up and down the famed hills of the city. 

The ferry:

Whether it's a scenic weekend journey to Sausalito or a client visit in Oakland, the

San Francisco Bay Ferry

offers numerous daily and weekday-only routes to get you to your destination.
Con: Traffic
Bringing your car means that you'll have access to even more of San Francisco's surrounding areas such as Napa Valley and Point Reyes National Seashore on your days off work, but if you intend to drive it regularly for daily trips and errands, chances are you'll be sitting in a lot of traffic. 
To avoid peak traffic times, many people choose to stay at home if they can during rush hour:
7:30 a.m. to 9 a.m.

4:30 p.m. to 6:30 p.m. 
To avoid long travel times, avoid bottleneck points like the split between Highway 101 and Interstate 280.
Pro: Variety of neighborhoods 
Resembling a bright, charmingly askew patchwork quilt, San Francisco comprises a diverse set of smaller neighborhoods ranging from the posh, upscale Pacific Heights to the tech-heavy Silicon Valley to the quaint Russian Hill area with its smattering of Victorian homes.
This means that you'll have plenty of options when it comes to finding the perfect neighborhood. For ideas on how to audition the areas on your shortlist, consider the following: 
Take advantage of the easy walkability and hip nightlife around SoMa by strolling around from cocktail lounge to speakeasy.

Go for a long run in Mission Bay for splendid waterfront views. 

Spend an afternoon in Hayes Valley people-watching in chic cafes and treating yourself in upscale boutiques.
One of the benefits of San Francisco's diversity is that it lends itself to the city's thriving food scene. From cheap eats to chic cafes to cosmopolitan cuisines, you'll be able to explore an eclectic array of international cuisines.
Con: Rent prices
Notorious for its sky-high cost of living, the city's rent prices are among the nation's highest. A one-bedroom rental will cost you $2,850 on average, with upscale neighborhoods such as Potrero Hill, Pacific Heights, and Nob Hill costing even more. 
Pro: Mild weather
When the beach is right on your doorstep and the city offers a generous amount of outdoor space, there's no better news than the city's year-round mild temperatures. Not only do warmer temperatures allow you to explore the city with ease, but you can also move to the West Coast at any point in the year without having to plan around icy snowstorms.
With average lows in the 40s during the winter months and average highs barely reaching 70 degrees in the summer months, San Francisco's temperate climate is perfect for a morning run or bike ride, no matter the season. 
Con: Morning fog
Any San Franciscan will tell you that fog is practically a way of life in the city. While the mystique of a foggy morning can be charming for some, the low visibility might also prove a hassle, especially if you are commuting or spending a morning at the beach. 
The good news is that the San Francisco Bay Area is not foggy all year round. Fog mostly congregates during the summer due to a mix of the area's cool ocean air and hot inland temperatures.
Pro: Natural spaces
From beaches and greenways to golf courses and views of the Golden Gate Bridge, San Francisco's outdoor offerings can't be beaten. Residents can also explore the city's storied past through its natural offerings—for example, a day trip to the Presidio will transport you back to the days when it was once a military reservation. Locals can also hike along the Ecology Trail to reach the Fort Point National Historic Site.
You can also explore the following Bay Area locations to get your outdoor fix: 
Pristine parks

: With plenty of parks in the city to choose from, you'll soon find your favorites. When mapping out your favorite outdoor spaces, don't forget to visit the 17-mile

Crosstown Trail

that runs diagonally through the metropolitan area.

Seaside fun

: Catch some waves at Ocean Beach in the Outer Sunset Neighborhood before relaxing at Golden Gate Park. Or, if you're feeling adventurous, try out the tides at Fort Point instead. If you're not a surfer, head over to Marina Bay for a relaxing walk by the ocean and clear views of the Golden Gate Bridge. 
Con: Wildfires
Wildfires are a well-known risk in the areas surrounding San Francisco, which can lead to smoky skies and poor air quality. Fires are mostly a problem during the summer months when dry spells and limited rainfall combine with higher temperatures. 
To protect yourself from adverse effects, consider the following tips: 
Pro: Job opportunities
The Bay Area's job market is sizzling. It's the site of 25% of the country's job creations, and in 2021, job totals in the city increased by 5.9%. If you're a digital nomad honing your skills and craving flexibility, there's no better place than San Francisco to expand your network and find your next exciting career opportunity.
More specifically, the city is a mecca for tech careers and is home to a variety of companies, including:
New startups with flexible work cultures and thriving communities of young professionals

Venture capital firms and notable banks in the bustling Financial District 

Large corporate employers dominating the internet and software industries 
Beyond the tech scene, the Bay Area is also home to diverse professional industries in:
Sustainability

Biotech

Tourism 

Fashion 
Additionally, with various large universities nearby, taking a class and learning a new professional skill has never been easier for young professionals looking to expand their skillsets. 
Con: Tax rates
If you thought high rent costs were the end of it, think again. San Francisco ranked No. 6 on the list of counties paying the highest state and local taxes in 2021. If you're planning on making San Francisco your home, keep in mind that you'll be responsible for the following: 
California state income tax, which operates on a sliding scale of

up to 12.3%

San Francisco county sales tax,

which is  8.63%

and applies to products from your must-have morning coffee to your new pair of hiking shoes to hit the trails at Glen Canyon Park. 
Landing: Short-term living from coast to coast
If you're planning to pack up your essentials and make the move to San Francisco's iconic hills, waterfront views, and eclectic food scene, let Landing be your guide.
We offer fully furnished apartments and flexible short-term rentals in San Francisco's best neighborhoods. Whether you need a pet-friendly apartment or you have your heart set on living in Marina Bay, our top-notch customer service is ready to help you find an apartment that meets your unique needs. 
Join the Landing network today, and start your journey tomorrow. Browse our apartments in San Francisco!