Your Go-To Guide for Moving to Seattle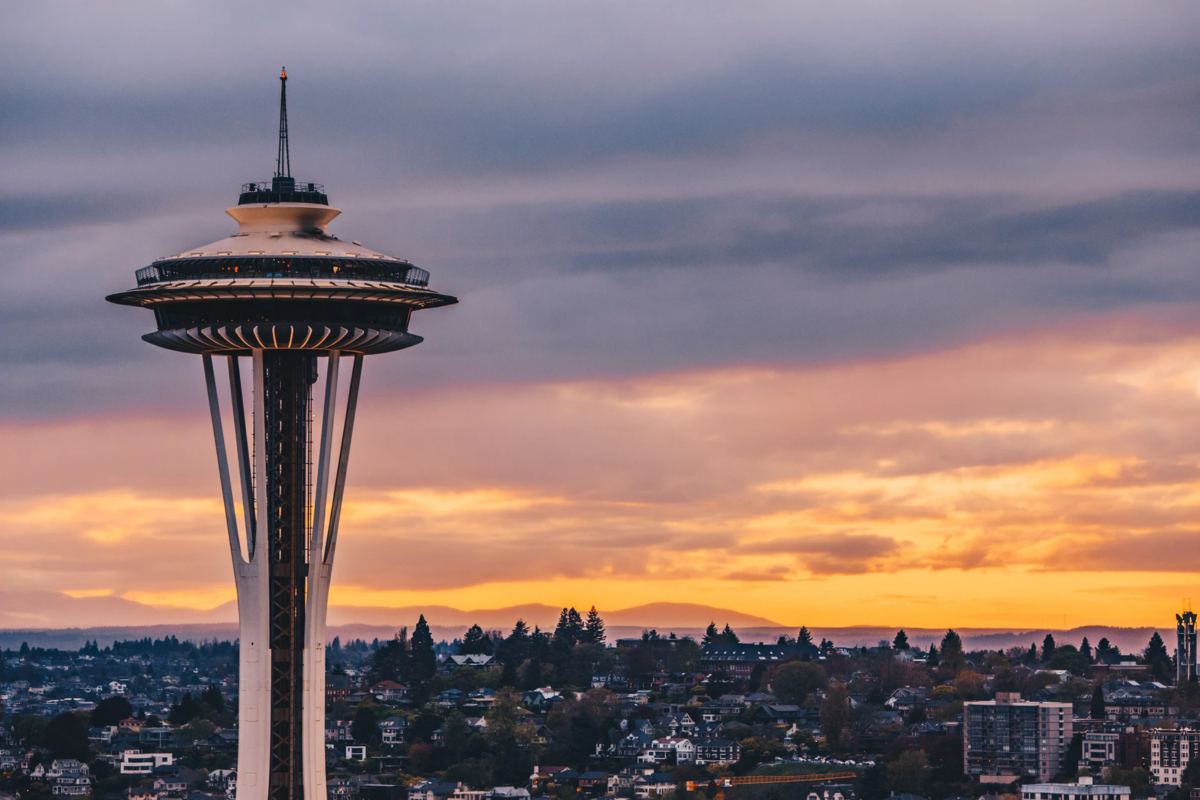 A new city is exciting. It's an adventure just waiting to begin. But moving there? Well, that's a lot easier said than done.
If you're lucky enough to have the opportunity of moving to Seattle, Washington—the bustling heart of the Pacific Northwest—you're probably a lot more excited about living there than you are about moving there. With a number of things to do and a variety of furnished apartments in Seattle to choose from, you might feel overwhelmed.
Take the stress out of relocation with this ultimate guide to moving to Seattle.
Step 1: Find the right neighborhood
There are many pros and cons of Seattle but one of its most enticing features is its variety of nice neighborhoods. Seattle is full of diverse and lively neighborhoods, each with its own unique personality. But how do you choose just one with so many housing options? Think about what you're looking for in a new location, and you'll make the right choice. From trendy spots to neighborhoods with natural wonder, check out this quick Seattle neighborhood guide organized by culture and lifestyle:
Hip and trendy:

Seattle's neighborhoods are perfect for young professionals looking for something fresh and funky.

Fremont

,

Pioneer Square

, and

University District

are known for charming independent shops and boutiques, the trendiest new restaurants, and an abundance of arts and culture including museums, galleries, and theaters.

The busy city life: If you're looking to be in the heart of a bustling urbanscape, check out one of Seattle's many commercial districts. South Lake Union has become one of Seattle's most active areas while still maintaining a trendy neighborhood feel. Queen Anne is home to the famous Space Needle, as well as myriad shops, restaurants, green spaces, and apartment buildings. And of course, you can't go wrong with downtown Seattle, the city's major metro area where nothing is out of reach.
Natural beauty: The Pacific Northwest boasts stunning natural landscapes and lush greenery. If you're in search for something a little more quaint and idyllic—with the amenities of city life still within reach—consider Ballard. Ballard residents enjoy a close proximity to the water and a vibrant foodie scene. Waterfront is just steps from the bustling Seattle pier. Or, for a charming seaside escape a bit removed from the city, you can't go wrong with Bainbridge or Bremerton.
Put together, Seattle's neighborhoods give the city the perfect balance between trendy, lively, and picturesque. With so many housing options, you're sure to find a Seattle neighborhood that you love.
Step 2: Sample Seattle's best neighborhoods with Landing
While it may be fun and even a bit bohemian to arrive in your destination city with nothing but a suitcase and a free spirit, it can make settling down a little more difficult. Instead of couch surfing or paying pricey hotel rates while you apartment-shop, plan ahead and start living in your favorite Seattle neighborhoods with Landing.
With fully furnished apartments in Seattle's trendiest neighborhoods, Landing offers a chance to sample Seattle life as you apartment-hunt sans stress. These stylish apartments are stocked with all the essentials you need to settle in comfortably on day one, without the hassle of long-term leases, deposits, or the never-ending search for the perfect place to live. With flexible leases, a simple application process, and locations all over the city, you'll go from Seattle-newbie to Seattle-local in no time.
Step 3: Learn all about your new city
Rain boots? Check. Trench coat? Check. Travel mug for delicious Seattle coffee? Double check. Before relocating to Seattle, discover what makes the city unique so you can plan accordingly.
Weather
Seattle is famous for its coffee, gorgeous natural beauty, and of course, its rainy days.
Contrary to popular belief, it doesn't actually rain that much in Seattle—it just rains often. Despite averaging 156 days of rain per year (and only 71 days of sun), Seattle rain only amounts to 37.7 inches of actual water. You can expect to be just a little bit wet a lot of the time, especially in the fall, winter, and spring months.
Depending on where you're moving from, you may have to make a slight upgrade to your wardrobe. If you don't have them already, add rain boots, a reliable rain jacket, and an umbrella or two to your packing list. Pick up a backpack, messenger bag, or briefcase that is, at the very least, water-resistant, or you'll spend half your time waiting for things to dry out.
When it's not raining in Seattle, you can enjoy its temperate climate. In Seattle summers, you can expect a warm but not hot 72°F and in the winter, you'll see average temperatures of 53°F, getting as low as 37°F in the coldest part of the year. Investing in pants, long-sleeves, and light jackets or sweaters would be your best course of action to face Seattle weather.
Transportation
With some of the best places to work in Seattle, you'll want to live close to your job. Once you've decided which Seattle neighborhood to settle in and know where you'll be working, you can figure out the easiest way to navigate the Emerald City.
Overall, Seattle residents are fairly reliant on their cars and freeways, with the number of household cars in Seattle reaching nearly 457,000 out of a population of 744,995. However, public transit is a popular way to move throughout the city. Surveys show 49% of downtown Seattle workers take the bus, rail, or passenger ferries to work.
According to a new study from WalletHub, Seattle has the best public transportation in the country, scoring well across accessibility, safety, reliability, and resources. Despite its impressive scoring, however, many locals warn that Seattle's public transit systems are not very new-user-friendly. Be sure to research your travel options and familiarize yourself with the routes you'll use regularly. Below are Seattle's public transit systems:
Link Light Rail:

This rail system is a high-speed train line that hits most of the major stops, from the University of Washington to Pioneer Square to the Sea-Tac airport and back again. Pay using your easy-to-use, reloadable ORCA card or cash. Link Light Rail helps you avoid the bustling traffic into and out of downtown Seattle at rush hour.

Bus service:

Along with a rail system, Seattle offers a comprehensive network of bus routes. You can choose between the RapidRide and the DART Service. RapidRide offers more frequent and more comfortable travel options. DART Service has the flexibility of performing occasional off-route deviations upon request in addition to its fixed route. The Night Owl bus service runs limited loops until 5:00 am. The city also offers increased transportation during special events.

Seattle Streetcar:

Seattle Streetcar is a modern streetcar line system that connects at various convenient points to the Link Light Rail, the Amtrak, and Metro Transit buses. Both the First Hill Line and the South Lake Union Line offer consistent transit options within the city, arriving every 10-15 minutes. According to

The Seattle Times

, many locals lament the service's congestion and reliability issues, but the system is generally easy to understand and navigate.
While these are the more common and conventional public transit options, Seattle has even more travel services to choose from, each with their own perks and usages.
Pronto, a Bike Share program with stations throughout the downtown Seattle area

Water Taxi—which is a bit like a bus system, but using boats for Seattle's waterways—with two distinct daily routes

Rideshare, a free online self-serve ride-matching tool to find a carpool in your area
Food
Seattle has a truly thriving culinary scene. This coastal city has no shortage of indie restaurants, markets, cafes, and more. Here are just a few of Seattle's most famous foodie hot spots:
Pike Place Market
There's a reason Seattle's renowned pierside farmers' market is at the top of every "What To Do In Seattle" list. For tourists, it's a charming can't-miss attraction, but for locals, it's an incredible one-stop-shop for produce, meat and poultry, remarkably fresh seafood, and the occasional treat or trinket.
D
ick's
Every city seems to have its favorite burger-and-milkshake joint, and for Seattle, that place is Dick's. Dick's is cheap, open late, and most importantly, guaranteed to satisfy your cravings. Your ability to blend in as a native Seattleite will depend on the fervor with which you suggest a midnight snack at Dick's.
Coffee, coffee, and more coffee
The Emerald City is the home of thousands of coffee enthusiasts. Beyond touting the original Starbucks location, Seattle has more coffee shops than it can handle. As you settle into your new city, venture away from your usual Starbucks brew and explore these Seattle gems.
Elm Coffee Roasters:

Trendy decor, plenty of natural light, and delicious in-house roasts will keep you coming back for more.

Seattle Coffee Works:

 Just up the street from the original Starbucks, this spot offers the usual to-go coffee bar as well as the Slow Bar, where you can learn about brewing styles and different kinds of beans. 

Besalu:

 Located in Ballard, this quaint cafe is known for its pastries, quiches, and of course, coffee that often has people lining up out the door.
Tips From a Landing Member
"When it comes to specialty coffee, Seattle is years ahead of the rest of the country. Specialty coffee drink menus rivaled the best cocktail bars I've been to, experimenting with flavor combinations I had never previously considered."
— Becca, "How I Spent Six Weeks Living in Seattle"
Taking the leap with Landing
Transitioning to a new city can be nerve-wracking, but there's no reason to leave everything up to chance. Take ownership over the things that are within your control—like with Landing's relocation housing to find a convenient, comfortable place to live—so you can worry about everything else: making friends, finding your way around, and of course, where you'll get your next cup of joe.