What Is the Average Cost of Living in Seattle?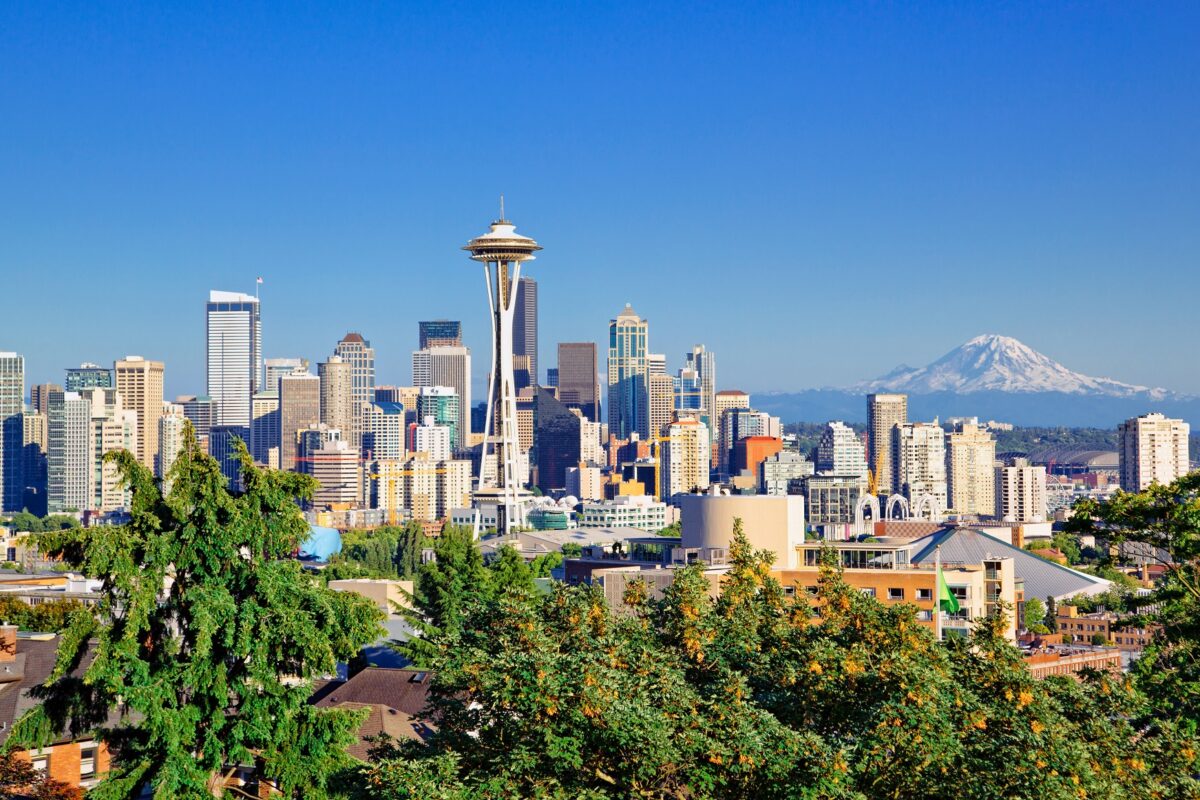 Seattle, Washington, is the largest city in the Pacific Northwest. With a healthy balance of urban convenience and proximity to nature, Seattle has become a hotspot for young professionals, families, artists, and more. 
Of course, another draw of this city is its affordable cost of living, especially compared to other major cities in the United States. If you're interested in calling the Emerald City your home but you want to make sure your budget can afford it, read on to learn more about the average cost of living in Seattle.
Will your income be able to shoulder the living expenses of Seattle? This article will cover a variety of factors that contribute to Seattle living costs, including:
Housing
Utilities
Transportation
Food
Entertainment
Minimum wage
Let's get started!
Housing costs in Seattle, WA
On the cost of living index, Seattle earns a score of 172 out of 100. And, in terms of housing, this city ranks pretty steep on the cost of living index, with a score of 309.
Since Seattle is a major metropolitan area, you can expect housing costs to be higher than its rural counterparts. That being said, this city offers fairly reasonable rental prices in comparison to many other large cities in the U.S., such as New York, Los Angeles, and San Francisco.
Here's a rundown of the average rent prices for various apartment types in the area:
| | | |
| --- | --- | --- |
| | Seattle Cost | U.S. Median Cost |
| Rent: Studio | $1,572/mo | $949/mo |
| Rent: One-bedroom | $1,634/mo | $1,048/mo |
| Rent: Two-bedroom | $1,920/mo | $1,278/mo |
| Rent: Three-bedroom | $2,627/mo | $1,681/mo |
| Rent: Four-bedroom | $3,086/mo | $1,950/mo |
Generally speaking, the average rent of an apartment in Seattle is $2,169/mo. But of course, the price of your rental property will ultimately come down to the neighborhood you're living in. Like in other states, expect properties in the metro area to be more expensive compared to the suburbs. Below are the average monthly rental costs for various Seattle neighborhoods:
Belltown: $2,294 per month
Pike Market: $2,294 per month
Central Waterfront: $2,177 per month
Seattle Central Business District: $2,155 per month
East Queen Anne: $2,064 per month
South Lake Union: $2,064 per month
Westlake: $2,064 per month
Eastlake: $2,007 per month
Lower Queen Anne: $2,003 per month
North Queen Anne: $2,003 per month
King County: $1,736 per month
Average home price in Seattle, WA
Since this city has many residential neighborhoods, it's also important to note that many Seattle residents are homeowners. In fact, about 44% of Seattleites are homeowners, while 55.7% are renters.
Pricing out buying a home? You should know that this is an expensive city to buy a house in, with the median home value in Seattle, Washington currently priced at about $854,791.
Utilities costs in Seattle, WA
In terms of utilities, Seattle scores a promising spot on the cost of living index in comparison to the national average (68.8 to 100, respectively).
Why are utilities so affordable to those living here? A couple of reasons:
Heat: Seattle has one of the most comfortable climates in the U.S., especially in terms of temperature. Average temperatures tend to stay between 37 degrees and 79 degrees Fahrenheit, which gives people living here flexibility when it comes to heating and cooling their homes.
Water and garbage: Many apartments in Seattle include water and garbage expenses into a single utility bill. In fact, the average lump sum utility bill only amounts to about $207 per month.
Internet: Depending on your specific plan and internet provider, the cost of Wi-Fi will vary from case to case. That being said, the city boasts fairly affordable internet costs, with an average of $61 per month for 60 mbps.
Transportation costs in Seattle, WA
Unlike many other major cities in the U.S., Seattle is considered a driving city. This means transportation costs tend to be a bit higher than other places, with the city earning a score of 137.5/100 in this category on the cost of living index.
The city is pretty spacious, but there are ways to avoid driving if you have to if you're living out of walking distance from your destination. Many people living in the Seattle area depend on the Seattle-King Metro and Sound Transit, with one-way tickets costing between $2.25 and $3.25. Of course, this will only be possible for residents in the more populous neighborhoods. Those living on the outskirts of the city—in places like Tacoma, Renton, Everett, Auburn, or Snohomish—will need a more reliable form of transportation to get around.
Biking is also an affordable mode of transportation in the area, with 169,000 adults currently owning a bicycle in 2019. Those planning to use ride-sharing apps in the area can expect a steep monthly price of $299 for a monthly Lyft pass.
Food costs in Seattle, WA
This city is certainly known for its food. From the Pike Place Market to the short rib Pho at Pho Bac Sup Shop, the Emerald City is a paradise for foodies. However, it's important to understand just how much your taste buds will cost you in this city.
According to Numbeo, the average price of an inexpensive meal in Seattle is roughly $18 per plate. That number jumps up to $80 for a three-course meal at a mid-range restaurant for two.
In addition to eating out, many residents choose to cook their own meals at home most of the time. These individuals spend an average of $3,792 per year on food—or $316 per month. Seattle earns a slightly higher than average grocery score of 108.7 on the cost of living index.
Entertainment costs in Seattle, WA
By living in Seattle, you've got options when it comes to entertainment. Many Seattle locals spend their weekends enjoying the cost-free benefits of the city's natural surroundings. From hiking the Discovery Park Loop Trail to enjoying the skyline at Gas Works Park, there are certainly things to do in the area that don't cost money.
With this in mind, there will be some costs if you're looking to enjoy your time in Seattle. A movie ticket will run you about $14 per person, not including snacks and drinks. Speaking of drinks, the city's hip and trendy bars may add to your tab. The average cost of a cocktail at a downtown club is approximately $13, but you can always go the cheaper route and opt for a pint of local beer instead.
Seattle is also home to a whopping 10.1% sales tax on goods and services, which newcomers will need to factor into their calculations as well.
Minimum wage in Seattle, WA
While these facts and figures can help determine your monthly costs, figuring out an exact budget will ultimately come down to your personal income and salary. Although every job is different, it's important to understand how much money the average Seattleite makes.
The city offers a substantial minimum wage of $16.69 per hour, which is well above the national minimum wage of $7.25 per hour. This number is even higher than the statewide minimum wage of $14.49 in Washington.
That being said, many residents earn much higher salaries than the city's minimum wage. According to ZipRecruiter, the average annual salary in Seattle, Washington, is roughly $70,586 a year. Keep in mind, however, that this is less than $200 more than the national average. With a much higher cost of living than the U.S. average, it may be tricky to break even if these are the numbers you're working with.
Find your next home in Seattle, Washington
Seattle may be on the pricier side, but what major city isn't? Between the music, the restaurants, and the gorgeous natural surroundings, there are plenty of reasons over 700,000 people call this Northwestern city home—and with Landing, you can be one of them.
Landing makes it easy to find short-term rental properties in cities like Seattle. With flexible leasing options, fully furnished apartments, and even pet-friendly options, it's never been easier to find a new home that meets your needs.
Get started on your next adventure today with Landing! Browse our Seattle apartments for rent here.