What Does a Concierge Do?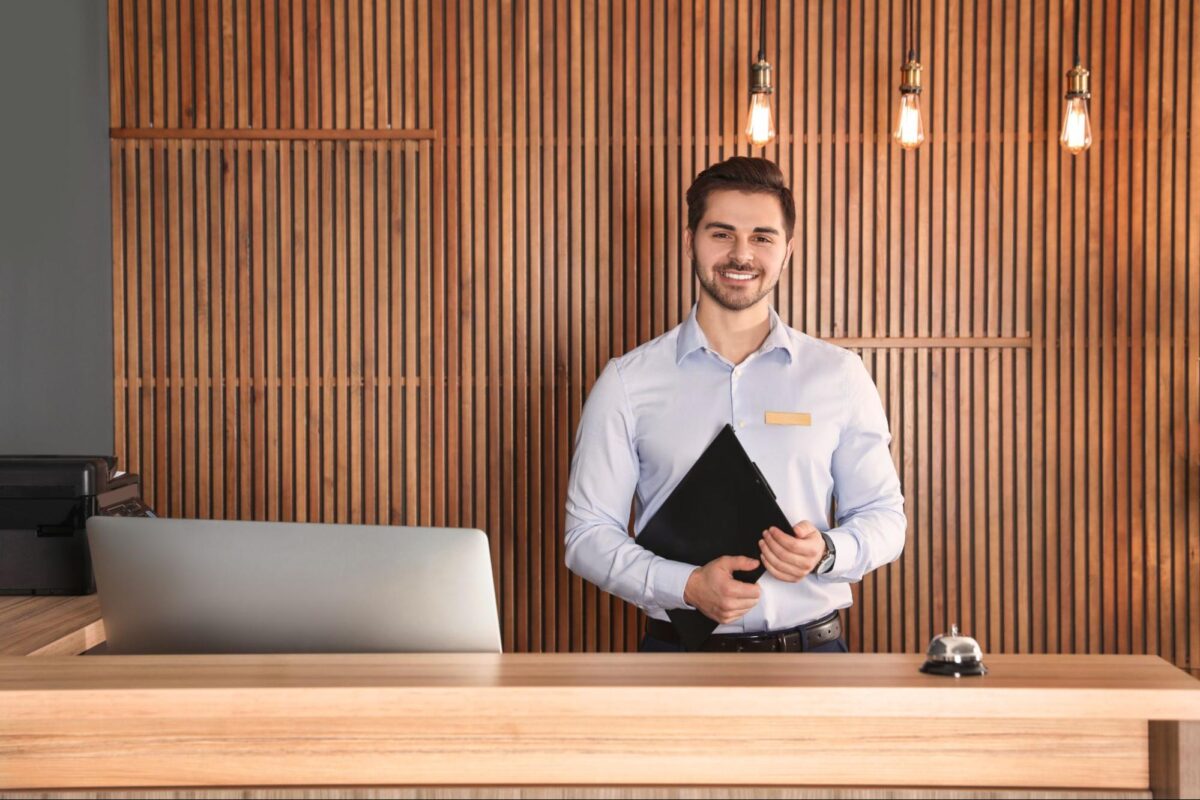 When you stay in an all-inclusive apartment building, there are a lot of people who work hard to make sure your stay is as enjoyable as possible. From the doorman to the cleaning crew, it takes many hands for the community to run smoothly.
Yet among these essential positions, one role in particular takes on extra significance when it comes to directly managing the resident experience: the concierge. Residential concierges are the genies of apartment living—just tell them what you need, and with a nod of the head and a few clicks and clacks of the keyboard, your wish is granted.
But what does a concierge do, exactly? The short answer is concierges do a little bit of everything. From making dinner reservations to facilitating mail deliveries, residential concierges make it their business to anticipate any and every need of their residents. Here's everything you need to know about what concierges do, including:
What is a residential concierge?
What are the responsibilities of a residential concierge?
Benefits of living in an all-inclusive apartment community
Let's get started!
What is a residential concierge?
In the hospitality industry, a concierge is someone who manages all aspects of a resident's experience. Sometimes called "guest service representatives," it is their responsibility to ensure all residents feel welcomed, valued, and taken care of at every point throughout their stay.
Residential concierges act as essential liaisons between the resident and the establishment. They exhibit and promote the company's values and, in many ways, act as the face of the company when it comes to resident communication.
What are the responsibilities of a residential concierge?
Residential concierges manage a variety of responsibilities. It's the job of the concierge to manage resident satisfaction, handle any issues and complaints, and fulfill various needs.
While there are many types of concierges—hotel concierges, hospital concierges, office building concierges—residential concierges are positioned to provide an all-encompassing set of amenities to the residents of an apartment building. Rather than being specialized, the services they provide are nonexclusive. 
What does a residential concierge do?
Many apartment buildings offer concierge services for their tenants. Traditionally, these services were perks offered in only the most luxurious of dwellings. These days, however, concierge services are becoming a more and more popular amenity in all-inclusive apartment buildings.
In general, residential concierges manage a variety of services and conduct a variety of duties that make residents' lives easier. Typical duties include:
Greeting residents and guests: Typically positioned at a desk near the entrance of the apartment community, residential concierges are responsible for welcoming visitors and residents as they enter. They can introduce potential tenants to the lobby, discuss apartment amenities, and provide them with information regarding available units. They may even tour the property to potential residents, walking them through common areas as well as individual units. Like a doorman, a residential concierge will also get to know each resident individually and learn their names to help provide personalized services in the future. They'll also remind residents of upcoming community events, notify them of received mail or packages, and ensure all visitors and guests are approved by the residents within the building.
Helping with day-to-day needs: Residential concierges often help with common day-to-day needs like facilitating grocery and prescription delivery and picking up and dropping off dry cleaning to residents of the apartment building. They may also help manage parking (whether you need a car towed from your reserved spot or are looking to add parking to your lease) and distribute mail. They'll also answer resident questions and answer phone calls to ensure residents and their guests are properly taken care of throughout the day.
Repair services: In some buildings, the concierge might help with small home repairs. They may also commission repair services and stay on call to let in repairmen and other technicians. Residents may also request these services through the concierge as well, who can also provide references to local maintenance companies.
Aiding with travel and entertainment needs: Many residents may be newcomers to the city. As such, residential concierges are wonderful resources to residents needing assistance navigating local public transportation, hailing a taxi cab, or finding the perfect restaurant and reservation for a date night. Additionally, many residential concierges will have brochures and local guides available with local attractions and events to keep residents informed year-round. They can even help residents secure tickets to that incredibly sought-after play that just came to town—sometimes even at a discount!
Maintaining cleanliness: A spot-free lobby, pristine hallways, and slip-free floors are essential to any well-running apartment community. In between daily tasks, a residential concierge will ensure communal areas stay orderly so residents are always coming home to a comfortable and clean environment. They'll tidy up communal coffee stations, keep furniture looking pristine, and keep the lobby a comfortable temperature. If the apartment is situated in an area that experiences winter storms, they may also facilitate snow and ice removal to help ease residents' daily on-foot commutes.
Emergency and safety assistance: In the event of an emergency like a fire, residential concierges are equipped with knowledge of proper emergency procedures to ensure residents are taken care of. They'll be able to facilitate evacuations and direct residents to nearby emergency exits. They can also assist or call emergency services in the event of a medical emergency or threat to resident safety. In addition to emergency situations, residential concierges may also verify and record residents, guests, and workers as they enter the building to monitor for suspicious activity and ensure the community is secure.
Miscellaneous services: When it comes to everyday life, day-to-day responsibilities from behind the desk can really add up. Luckily, residential concierges are the superheroes of apartment living. Whether you need your lively new puppy walked around the neighborhood while you call into your all-hands company meeting or you're looking for an expert plant caretaker while you leave the state for your beach vacation, a concierge can help you arrange the perfect provider. They're also there to accept large deliveries while you're away, so you won't have to worry about trekking down to the local post office for your new velvet sofa. Then, once you're ready to move on, a residential concierge will help you facilitate your move-out, just as they did when you moved in.
Personal assistance: In some cases, a residential concierge may even act as a personal event planner to help residents arrange birthday parties, work soirees, or family get-togethers. A concierge will connect residents to local party providers, make dinner reservations, and ensure the event runs smoothly. They may also be able to help residents schedule meetings, draft correspondence, arrange ground transportation for guests, and run any last-minute errands.
Disputes: If a resident is experiencing an inconvenience, such as a loud neighbor who continues to jam out on their guitar after quiet hours, they can direct their complaint to a concierge. The concierge will then work to resolve the issue and facilitate a solution for both parties. Just think of residential concierges like the apartment community's personal HR department.
Marketing: Residential concierges may also handle residential marketing, which includes organizing community events, curating social media content, generating email campaigns, and even maintaining the apartment building's website. They'll form close relationships with nearby businesses to increase residents' benefits and even curate a resident directory to help tenants connect and communicate with one another.
The benefits of living in an all-inclusive apartment community
A residential concierge is certainly a perk of apartment living, infusing the convenience and luxury of a hotel stay into residents' day-to-day lives. Essentially, a residential concierge can facilitate an array of comforts and conveniences, from daily greetings to pick-ups and deliveries.
However, perhaps one of the greatest benefits of living in an apartment community with a residential concierge is that they're not the only perk—all-inclusive apartments offer residents numerous amenities, including but not limited to:
Flexible leases
Furnished apartments
Cleaning services
Pet-friendly apartments and amenities
Reserved parking spaces
Limited application fees and security deposits
Flat-rate rental and utility fees
Streamlined billing
Effortless move-ins and move-outs
Community events and communal areas
24/7 assistance from community personnel
Find comfort with Landing
Like a concierge, your apartment building should provide you with a sense of comfort. For many people, apartment living is desirable because it offers a rooted sense of home while still providing a certain amount of flexibility.
Still, for some people, even a year is too long to be tied down in one place. That's where Landing comes in.
We're reinventing the way we live in apartments—in more ways than one. When you join Landing as a member, you get access to our apartments in locations all over the country—all with flexible lease terms so you can pick up and go on your timeline. And, of course, we provide 24/7 member support when you join our network.
Landing is your concierge to all things flexible living. Find an all-inclusive apartment that meets your needs today.