The 10 Best Neighborhoods in St. Petersburg, Florida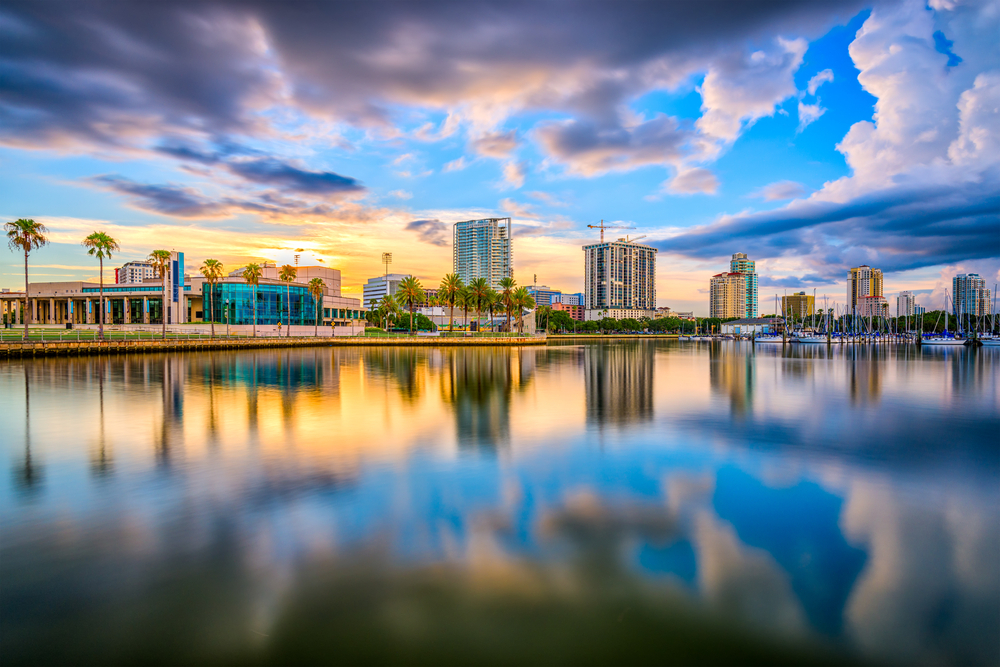 There's a reason that the Tampa Bay region continues to draw national attention to Florida's Gulf Coast. Stretching from Tampa west across the bay to St. Petersburg and north to Clearwater, the district is known for its winning professional sports teams, award-winning beaches, growing job market, lack of state income tax, and thriving arts, cultural, and dining scenes.
And then there's the weather. While the entire region enjoys mild temperatures year-round, St. Petersburg sets itself apart by averaging 74 degrees Fahrenheit and 361 days of sunshine annually. In fact, St. Pete holds a Guinness World Record for the most consecutive days of sunshine, starting in 1967 and lasting 768 days.
If you're thinking about moving to St. Petersburg, Florida, one of the first considerations is where to live. With more than 100 neighborhoods ranging from historic and classic to funky and urban (and pretty much everything in between!), this area is sure to have the right neighborhood for you.
To help get you started, here's an overview of the 10 best neighborhoods in St. Petersburg, including:
Downtown St. Petersburg
Historic Old Northeast
Snell Isle
Historic Kenwood
North Kenwood
Historic Uptown
Crescent Lake
Old Southeast
Historic Roser Park
Coquina Key
Here we go!
1. Downtown St. Petersburg
Downtown St. Petersburg, (or St. Pete as it's known to the locals), has gone through a renaissance over the past decade or so and has emerged as one of the top places to live in all of Florida. New apartment and condo buildings dot the skyline, adding to the buzz of the very walkable and bike-friendly city.
Sidewalk cafes, coffee shops, and one-of-a-kind boutiques line the streets of downtown St. Petersburg, leading down to the bay to the newly reimagined St. Pete Pier. Nearby the Pier is The Dalí Museum, housing one of the world's largest collections of Salvador Dalí's works of art, the Museum of Fine Arts St. Petersburg, Jannus Live, a popular outdoor concert venue, and Al Lang Stadium, where the Tampa Bay Rowdies play. Continue traveling south, and you'll run into the University of South Florida's St. Pete campus.
A quick walk down Central Avenue from downtown St. Petersburg will take you past myriad restaurants and stores before delivering you to Tropicana Field, where the Tampa Bay Rays play their home games.
There's plenty of green space to enjoy in downtown St. Petersburg, which boasts the third-largest urban waterfront park system in all of North America. On sunny days, you'll find everyone from families to young professionals to longtime locals and visitors at the Saturday Morning Market and out enjoying the city's exceptional weather.
The average monthly rent in downtown St. Pete is $2,700 a month for a one-bedroom apartment.
2. Historic Old Northeast
Historic Old Northeast, now affectionally referred to as Old Northeast, was established more than 100 years ago as St. Petersburg's first organized neighborhood and lies at the northeast edge of downtown St. Pete. Tree-lined streets crisscross the neighborhood, which is filled with charming bungalows and lush estates that, along with independent coffee shops and cafes, give it the feeling of being in a true community.
More than 2,500 people live in Old Northeast and have created a thriving community of families, couples, and longtime residents that hosts more than two dozen events throughout the year, like porch parties, an annual yard sale, and a candlelight tour of homes during the holiday season.
The iconic Vinoy Renaissance St. Petersburg Resort & Golf Club is the perfect spot for a visit, even if you're not staying overnight. Other outdoor spaces you can enjoy in Old Northeast include Sunken Gardens and waterfront Vinoy Park, which extends to North Shore Park, Elva Rouse Park, and Flora Wylie Park, (a popular spot for manatees!).
The average monthly rent in Old Northeast is $1,825 a month for a one-bedroom apartment.
3. Snell Isle
The Snell Isle neighborhood juts out from Old Northeast across Coffee Pot Bayou and into Tampa Bay, providing terrific waterfront views from nearly everywhere on the island. The Snell Isle Property Owners Association was first established nearly 90 years ago, in 1936, when just 20 homes were on the island. Today, just over 2,200 people, including families and young professionals, live in the swanky neighborhood and enjoy its yacht club and the Vinoy Golf Club.
Snell Isle's close proximity to Old Northeast and downtown St. Pete means the neighborhood is close to the action, but far enough away to enjoy the peace and quiet of being on the water.
The average monthly rent for a two-bedroom apartment in Snell Isle is $3,800.
4. Historic Kenwood
Historic Kenwood was once 160 acres of avocado groves back in the early 1900s and one of St. Pete's first neighborhoods for year-round residents. Now, it's where you'll find one of the largest concentrations of 1920s-era American Craftsman bungalows in the state—125 blocks, in fact!—earning its spot on the National Registrar of Historic Places.
Historic Kenwood, which sits about two miles north of downtown St. Petersburg and is easily accessible by any number of thoroughfares, is a community-focused neighborhood filled with families, couples, young professionals, and anyone and everyone with a passion for historic architecture. The Kenwood Dog Park is a terrific spot to enjoy with your four-legged friend.
This neighborhood's calendar is filled with year-round events to support the inclusive, diverse, and welcoming district, including:
Founders Day in March to celebrate the founding of the neighborhood
BungalowFest, which attracts moe than 1,000 visitors from St. Petersburg and beyond
Spooky Halloween fun
Free monthly children's events
Porch parties
Hosted dinners
The average monthly rent in Historic Kenwood is $1,595 a month for a one-bedroom apartment.
5. North Kenwood
Across 9th Avenue from Historic Kenwood is North Kenwood, which boasts oak tree-lined streets and a collection of about 1,500 homes built primarily in the late 1940s and early 1950s, along with new builds that are attracting young families and professionals.
Just like Historic Kenwood, North Kenwood is close to downtown St. Pete, along with I-275 that travels east to Tampa and south toward I-75 and Sarasota. Gulf beaches are also within a half-hour drive to the west.
The average monthly rent for a two-bedroom apartment in North Kenwood is $1,025.
6. Historic Uptown
Just north of Downtown St. Pete and west of Old Northeast is Historic Uptown, another charming neighborhood. Its tree-lined streets and envy-inducing homes will have you yearning to become a part of the growing community of families, couples, and young professionals who want to live close to the city, but with a bit more room to move.
That sense of community extends to the small and independent businesses that call Historic Uptown home, including Wilson's Book World, a family-run bookstore that's been in business since 1971, Uptown Eats, Gypsy Souls Coffeehouse St. Pete, and Flatbread & Butter, which is right across from Historic Round Lake Park, perfect for a nice walk.
Monthly neighborhood meetings are open to everyone who lives in Historic Uptown, and a series of events encourages neighbors to come out and meet each other.
The average monthly rent in Historic Uptown is $1,695 a month for a one-bedroom apartment.
7. Crescent Lake
At the heart of the Crescent Lake neighborhood is the body of water for which it's named: the 20-plus acre natural lake and the surrounding 52-acre public park. The lake and park are popular among their human neighbors, along with winged neighbors such as ducks, geese, herons, storks, pelicans, and anhingas (not to mention a family of frolicking otters!).
The highly walkable 180-acre neighborhood is just one mile north of downtown St. Pete, and its pedestrian-friendly and outdoorsy vibes appeal to pretty much everyone, from young professionals and couples to families and retirees.
In addition to the lake, the community boasts a playground, dog park, tennis courts, and walking trails. The baseball fields at Huggins-Stengel Field have seen the likes of Babe Ruth, Lou Gehrig, Joe DiMaggio, Mickey Mantle, and Willie Mays go out for a game of catch when the New York Yankees, New York Mets, and Baltimore Orioles trained at the park throughout the 1900s. The field is listed in the National Park Service's National Register of Historic Places.
The average monthly rent in Crescent Lake is $1,695 a month for a one-bedroom apartment.
8. Old Southeast
Just a mile from downtown St. Pete is Old Southeast, which features a mix of 500 historic, midcentury, and modern homes, along with stunning gardens and wide sidewalks. On the east edge of the neighborhood sits Lassing Park, a 12.5-acre linear waterfront park that's terrific for fishing, walking, or simply stopping to look out over Tampa Bay.
Old Southeast prides itself on being one of St. Pete's two artist enclaves—the other is in Historic Kenwood. Here, visual, performing, literary, and media artists who are residents of Old Southeast may live, create work, and market their art from their homes.
Each year, the neighborhood organizes a studio tour to support the artists who live and work in Old Southeast. Neighbors also support Old Southeast Market and The Chattaway, both local eateries with outdoor seating that make their homes in the neighborhood.
The average monthly rent for a two-bedroom apartment in Old Southeast is $1,750 a month.
9. Historic Roser Park
One neighbor who lives in Historic Roser Park, says, "Its historic character, hilly tree-lined drives, and friendly community spirit alone make it a great place to live." Take a walk through the neighborhood with its meandering trees and quiet streets, and you'll be sure to agree.
Historic Roser Park, which sits adjacent to downtown St. Pete, is one of the city's first "streetcar suburbs" and was designed by Charles Roser in the early 1900s (fun fact, he is often credited with inventing the Fig Newton cookie!). Roser bought 10 acres of citrus groves and surrounding plots of land in 1911 and developed the neighborhood with brick streets, wide sidewalks, and arching trees, which are still enjoyed today along with a lot of the original homes.
One longtime resident created The Historic Outdoor Museum of Roser Park, which opened in 1999 and winds along Booker Creek and along the neighborhood's streets. A series of 28 markers tell the story of Roser Park's history, and following along is a terrific way to get to know the neighborhood.
10. Coquina Key
Coquina Key sits south of Old Southeast and is surrounded by the waters of Big Bayou and Little Bayou to the west, and Tampa Bay to the east. The residents here consider themselves a part of a family-friendly, pet-friendly, nature-loving, and outdoorsy community. To that end, they enjoy all the outdoors has to offer by playing on the tennis, pickleball, and basketball courts or getting in on a pickup game of football or soccer on the fields, fishing off the docks, walking along the trail at Coquina Key Park, and sailing out of the yacht club.
Coquina Key's close proximity to downtown St. Pete and surrounding neighborhoods means that there's plenty to do out and about in the city before returning back to a quiet home with an island vibe.
The average monthly rent for a two-bedroom apartment in Coquina Key is $2,600 a month.
Find fully furnished apartments in St. Petersburg's best neighborhoods
St. Petersburg truly has something for everyone, from professional sports to dynamic arts to plenty of natural spaces to enjoy. When considering a move to St. Petersburg, take some time to research different parts of the city to find the best spot for you to lay down roots. Or, if you're up for trying out different neighborhoods before you land, you've come to the right place: Landing gives you space to do just that.
We offer fully furnished apartments throughout the best neighborhoods in St. Petersburg, along with flexible leases that make it easy to move on your terms. With this flexibility, you can take your time to find what works best for you.
Take a look at our furnished apartments in the best neighborhoods in St. Petersburg and get ready to make your move and live the sunshine life on Florida's Gulf Coast!