The Top 8 Pet-Friendly Beaches Miami Offers
Miami is famous for its many miles of stunning, sun-kissed shoreline. Whether you're living near Miami Beach, Key Biscayne, Bal Harbour, or even Hollywood, you'll notice all the beaches here have powdery, sugar-white sand, clear and jewel-bright waters, and their own unique atmosphere.
If you happen to have a furry companion with you, you'll be pleased to know that South Florida offers plenty of dog-friendly beaches and shoreside dog parks, such as Bark Beach, Bark Park, and South Pointe Park in Miami Beach, and Haulover Beach Park, which is nestled between the Atlantic and Biscayne Bay. These are just a couple of the many dog-friendly and even off-leash beaches and dog parks located near Magic City.
Here are eight of our favorite dog-friendly places in Miami to soak up the warm Florida sunshine, including:
Bark Beach
Haulover Beach Park
South Pointe Park
Hobie Island Beach Park
Beach Walk in South Beach
Dog Beach of Hollywood
Canine Beach
Key West Dog Beach
Let's get started!
1. Bark Beach in North Shore, Miami Beach
Bark Beach is a chill local favorite when it comes to pet-friendly beaches Miami has on offer. This low-key spot is located adjacent to North Shore Open Space Park—you'll see the entrance right on Collins and 81st Street.
Open to dogs on Fridays, Saturdays, and Sundays from 1:30 to 5:30 p.m., the designated area is considered an off-leash dog park. Just make sure you carry your furry friend's leash at all times while you're at Bark Beach.
Bark Beach also offers prime, pet-friendly access to North Shore Open Space Park's eight blocks of oceanfront jogging trails and picnic pavilions.
Note that dogs must be up-to-date with their required vaccines in order to access the beach and dog park, and they must have a collar and rabies tag on at all times. Owners can bring up to two dogs.
Bark Beach and the dog park is located just east of North Shore Open Space Park (8328 Collins Avenue, Miami Beach). For more information, call 305-673-7730.
2. Haulover Beach Park, north of Bal Harbour
This unique dog beach in Haulover Park is located just north of the Broad Causeway on a shoal between the calm waters of Biscayne Bay and the glittering Atlantic Ocean. Family-friendly and laid-back, it offers plenty of room for you and your well-behaved furry friend to enjoy some quality time in the sun, including bark parks for both small dogs and large dogs with benches, picnic tables, water fountains, waste containers, and poop bags.
Those who would rather spend the time with their toes—or paws—in the sand can make a beeline for the pretty strip of beach located between lifeguard towers 2 and 3. Dogs in this designated area are allowed off-leash between 8 a.m. and 3 p.m.
Haulover Beach Park is located at 10800 Collins Ave., Miami Beach. For more information, call 305-947-3525.
3. South Pointe Park in Miami Beach
Another fan-favorite dog park and one of the top pet-friendly beaches Miami has to offer is South Pointe Park. This always-lively stretch of shoreline at the southernmost tip of vibrant South Beach offers gorgeous views of the Atlantic Ocean, the glitzy downtown Miami skyline, and Government Cut, a manmade shipping channel that stretches between Fisher Island and Miami Beach.
More than just a dog-friendly beach, this 17-acre recreational area also offers pretty waterfront walking trails, play areas, and a spacious grassy dog park where your pet can enjoy some off-leash fun from dawn until 10 a.m. and from 4:30 to 8:00 p.m. Just keep in mind this area isn't enclosed with an on-site fence.
South Pointe Park is located at 1 Washington Avenue, Miami Beach. For more information, call 305-673-7006.
Tips From a Landing Member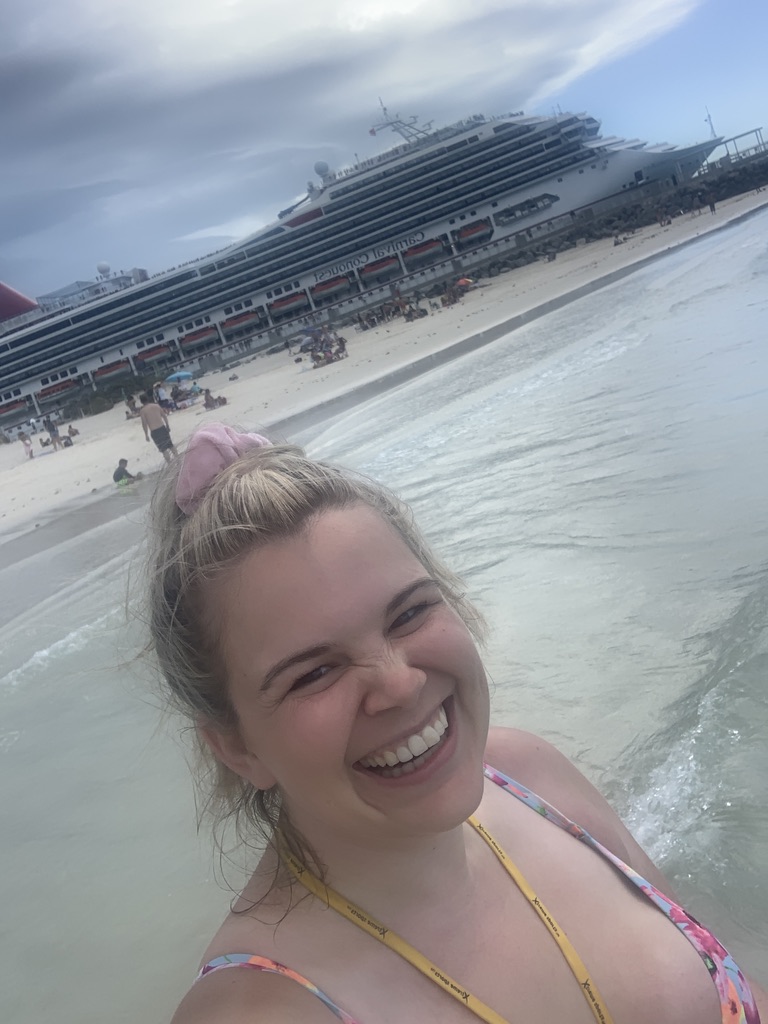 "South Pointe Beach has the classic Miami crowds, beautiful beach resorts, and art deco architecture, but what makes it really special are all the cruise ships. The Port of Miami is the largest cruise port in the world, and all of those cruise ships launch right past South Pointe Beach. "
— Madison Liston Gomes, "How We Spent Three Months Living in Miami"
4. Hobie Island Beach Park
If you've ever driven to Key Biscayne, you may have noticed Hobie Island Beach Park just off the Rickenbacker Causeway. This fun, lively, ocean-side area is great for people-watching, water sports like windsurfing and kayaking, and enjoying some quality beach time with your furry friend.
The views of the Miami skyline are great here, too. Bring a frisbee and spend an afternoon playing fetch with your four-legged bestie, or go for a dip and a doggie-paddle in the shallow, crystal-clear water.
This dog-friendly beach offers chair and umbrella rentals, bathrooms, shower facilities, and a parking lot with plenty of spaces. The beach is open from 6:30 a.m. until 8:00 p.m.
Hobie Island Beach Park is located off Rickenbacker Causeway, Key Biscayne. For more information, call 305-361-2833.
5. Beach Walk in South Beach
If you're looking for lots of action and plenty of great people-watching, nothing beats buzzing South Beach. While Miami's most iconic stretch of shoreline unfortunately doesn't allow dogs, pet owners can still enjoy the area's exciting atmosphere and beautiful views with their canine companions along the paved waterfront Beach Walk.
It starts on 5th Street and runs south toward Indian Beach Park past postcard-pretty Art Deco buildings, beautifully restored historic hotels, and palm-shaded cafes. Keep your pooch on a leash and savor the balmy sea breezes as you stroll along.
Beach Walk runs from 5th Street in South Beach to 46th Street at Indian Beach Park in Miami Beach.
6. Dog Beach of Hollywood
Venture 20 miles north of Miami Beach and you'll reach Hollywood, Florida, a laid-back, family-friendly beach town with miles of beautiful coastline. It's also home to one of the best dog-friendly beaches in Broward County.
Dog Beach of Hollywood is open Fridays, Saturdays, and Sundays from 3:00 to 7:00 p.m. November through May, and from 5:00 to 9:00 p.m. April through October. Hollywood's dog beach is leash-free, but your pup must have a current rabies tag on at all times.
Dog owners can purchase passes for the beach via credit card at the beach between Pershing and Custer Street or from the Department of Recreation and Cultural Arts. A day pass costs $5 per dog, per day for Hollywood residents and $10 for non-residents, while six-month passes go for $30 per dog for Hollywood residents and $60 for non-residents.
Dog Beach of Hollywood is located at 4900 N Surf Road, Hollywood. For more information, call 954-921-3404.
7. Canine Beach in Fort Lauderdale
Not too far from Hollywood is another great fun-loving stretch of beach with a little more action and nightlife than Hollywood. Canine Beach is 100 yards long and welcomes well-behaved dogs of all sizes for plenty of on-leash fun in the sun. This dog-friendly spot is loaded with amenities, too, like beach showers, dog bags, water fountains, and a city officer to assist with on-site rule enforcement.
This Fort Lauderdale dog beach is open Fridays, Saturdays, and Sundays, and you can buy a single-weekend permit for just $7 per dog.
Canine Beach is located at 1269 N Fort Lauderdale Beach Boulevard, Fort Lauderdale. For more information about this dog beach, call 954-828-7275.
8. Key West Dog Beach in Key West
No stay in Florida is complete without a weekend trip to the Florida Keys—and you can definitely bring your pet along for the ride! Key West, the country's southernmost tip, is home to all kinds of water sports, world-class fishing, a lively restaurant and bar scene, and one of the best dog-friendly beaches in Florida: Key West Dog Beach.
This relaxed, intimate, and locally loved dog area is a popular option among locals and visitors alike, as well as big dogs and small dogs. After getting your fill of vitamin "sea," you can head to Louie's Backyard for refreshments, delicious Caribbean-inspired cuisine, and some tasty treats for your pet.
Key West Dog Beach is located at 1500 Vernon Avenue, Key West. Just look for the sign that says "Dog Beach."
Ready to hit the sand and surf with your canine companion? Use our guide to dog-friendly beaches to plan shoreside outings throughout your time in Miami. Once you're ready to start planning your move to the Magic City, let Landing find you the perfect fully furnished, pet-friendly apartment with a flexible lease term that lets you and your pup stay in Magic City for as long as you like. Learn more about what a Landing membership can do for you today!