The Pros and Cons of In-Unit Laundry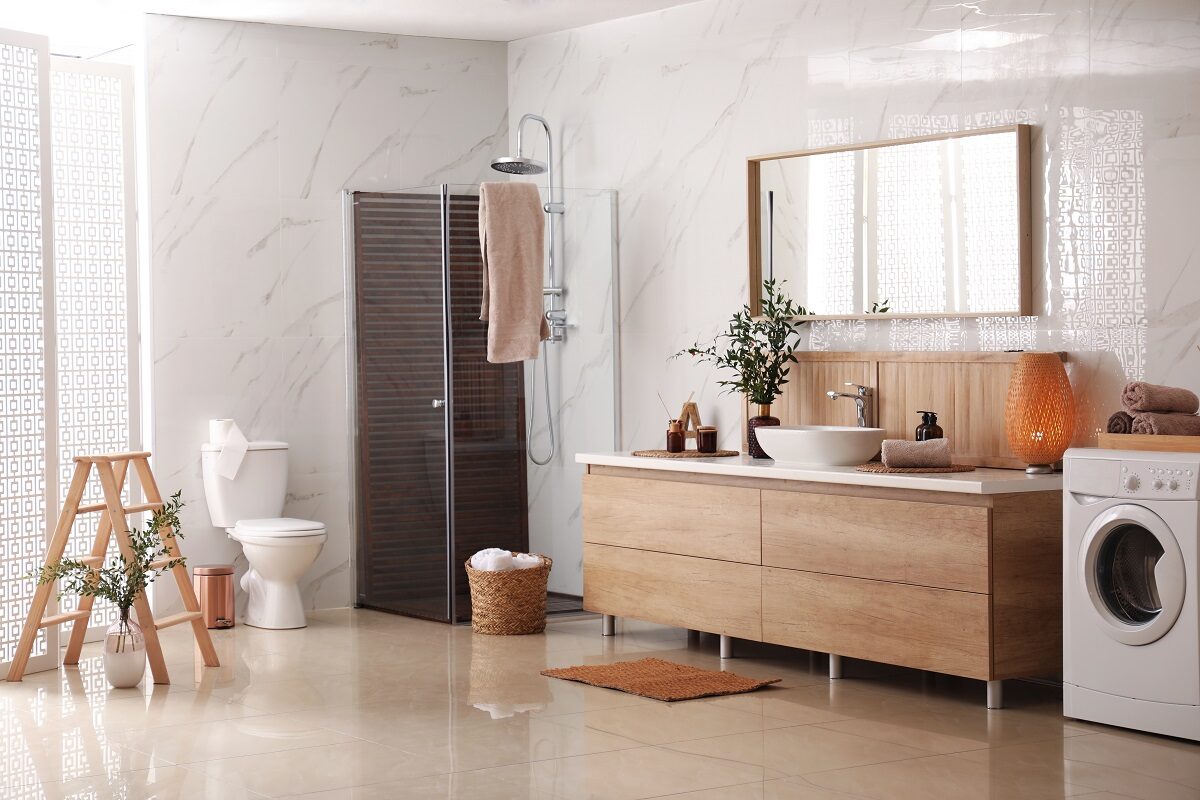 If you're on the hunt for a new apartment or home to rent, one of the things you're probably considering is whether or not you need laundry facilities in your unit. Having immediate and exclusive access to a washing machine and dryer is an amenity that many renters find desirable.
But what are the benefits of having in-unit laundry, and what are the drawbacks? Many renters want in-unit laundry because they offer ease and convenience that shared laundry rooms or laundromats don't. On the other hand, having laundry facilities in your home can also lead to outcomes that are less desirable and can often be more expensive.
This guide explores all you need to know about the pros and cons of in-unit laundry, including:
What is in-unit laundry?
Pros of in-unit laundry
Cons of in-unit laundry
What to consider before prioritizing in-unit laundry
What is in-unit laundry?
Before we get into the various perks and pitfalls of in-unit laundry, it might be useful to define exactly what in-unit laundry is.
In-unit laundry is when an apartment or other rental property includes laundry facilities like a washing machine and dryer as an amenity within the physical unit, rather than a communal room.
If you, as the renter, don't have to leave your apartment to access the machines, you have in-unit laundry. When renting, additional laundry options include:
Onsite laundry: Some rental properties might offer laundry services that are located on the premises, but not in each individual apartment unit.
Off-site laundry: Off-site laundry services include businesses like laundromats, dry cleaners, and drop-off services, which can be located nearby, but outside, of your apartment complex.
Pros of in-unit laundry
There are many benefits of having in-unit laundry for renters. From the convenience of having around-the-clock access to a washing machine to the potentially lower per-load cost of doing laundry, having in-unit facilities is a very tempting proposition for many renters and provides numerous benefits.
1. It's easy and convenient
When it comes to doing laundry, nothing beats the ease and convenience of having a washing machine and dryer only steps away from your dirty clothes hamper.
Whereas trips to the laundromat or even to the communal machines in your building's basement require planning, time, and travel, you can use your in-unit facilities whenever your schedule allows or the mood strikes, offering:
Ease: With in-unit laundry, you don't have to lug baskets, detergent, and other laundry items back and forth to the laundromat or up and down the stairs of your building. You can even use the washer as a dirty laundry hamper in and of itself and start each load when it's full.
Convenience: In-unit laundry means you can clean your clothes whenever is most convenient for you, in whatever manner works best. Save it all for an otherwise lazy Sunday afternoon, or take it a load at a time throughout the week. You also don't have to compete with other tenants for space, or wait an inordinate amount of time for someone to clear out their dryer.
2. It's more private
A big drawback of using shared facilities or laundromats is the amount of privacy you have to forfeit. Sorting and folding your delicates and unmentionables in full view of everyone at the laundromat will never not be awkward. And who hasn't left an undergarment in the dryer, only to have a neighbor find it?
In-unit laundry means you never have to hide your underwear under your bath towels or have an awkward conversation with a neighbor about your Batman-themed underwear ever again.
3. It's more secure
Adding to the privacy that in-unit systems offer is a level of security that simply can't be had when you're reliant on shared facilities. In some ways, in-unit facilities are safer—for you and your clothes.
In-unit facilities alleviate some of the threats that can plague shared facilities, like:
Theft: Laundromats and other shared facilities can leave your clothes and personal items vulnerable to theft, especially if you need to leave your clothes unattended for any amount of time.
Clothing damage: With shared facilities, there's hardly any way of knowing who used a given machine before you—or how diligent they were about emptying their pockets of items that could damage the machine and ruin your clothes.
4. It costs less per load
In most parts of the country, a trip to the laundromat will set you back an average of $2 per load. In some cities, that cost is nearly double. That means to wash and dry your whites, for instance, you should expect to pay between $4 and $8. When you consider all the clothes you have to wash, it's easy to see how quickly those numbers can add up.
For that reason, one of the biggest draws of in-unit laundry is that you don't have to deal with machine fees. Although in-unit laundry can be costly in other regards, it is usually far less expensive per-load than taking your clothes to the laundromat or using your building's shared facilities.
5. It's less time-consuming
In-unit laundry can be a huge timesaver. Once you factor in the time it takes to pack your clothes for transportation, travel to the laundromat or your building's shared facility, jostle for available machines, wash and dry your laundry, and get back home, you've spent a significant part of your day doing laundry.
If you have an in-unit system, your travel time is reduced to however long it takes you to get from your closet to your washing machine. What's more, you never have to wait in line!
Cons of in-unit laundry
Although it benefits some renters, in-unit laundry isn't all fresh linens and fabric softeners. Having in-unit laundry can sometimes be costly and even lead to unforeseen issues or emergencies, leading to several inconveniences, such as:
1. Higher rent
Because in-unit laundry is such a desirable amenity for many renters, it's not uncommon for in-unit rentals to cost more than comparable properties. Landlords and leasing agencies know what renters are willing to pay for, and they're more than happy to charge for it.
2. Higher utility bills
Although having in-unit laundry might save you from scrounging around for loose change whenever you need to wash a load, it's not likely you'll see those same savings on your utility bills.
Depending on rates in your area, running your washer or dryer twice a week is likely to tack between $100 and $200 onto your utility bill per year. If you're among the 31% of people who claim to do laundry every day, you'll love the convenience of in-unit laundry—but it could cost you up to an extra $700 per year.
3. Damage potential
Whenever you're dealing with an appliance, there's the potential that something could go wrong. With washers and dryers, in particular, there's always the risk of:
Water damage
Flooding
Fire hazards
When it comes to protecting yourself and your possessions, the benefits of in-unit laundry might not be worth it.
4. Maintenance and repairs
When your machinery does go haywire, you'll need to have someone out to fix it. Depending on your lease, the cost of the repairs may be covered by your landlord. In this case, you'll be responsible for scheduling a service appointment, but you won't have to pay the repairman.
However, in some cases, landlords can hold tenants responsible for minor repairs, including washers and dryer maintenance. Be sure your lease clearly stipulates what's expected here.
5. Takes up space
If you're renting a small apartment or home, you might find that in-unit laundry is more in the way than anything else. Nothing dampens the thrill of a private washer and dryer than when the machinery takes up the space that would make an excellent breakfast nook.
What to consider before prioritizing in-unit laundry
When deciding whether or not to check the box for "in-unit laundry" on your daily apartment searches, consider the following:
Your personal laundry needs: If you only do a few loads of laundry a couple of times a week, in-unit laundry might not be necessary. Conversely, if you like to keep your clothes clean throughout the week, in-unit laundry can provide you with an added level of convenience you wouldn't otherwise have.
Your budget: If you aren't worried about boosting your utility bills, then you have less to worry about when it comes to in-unit laundry. Likewise, the immediate savings of not paying per load might be appealing.
Landing: Wherever you go, there we are
Whether you prefer in-unit laundry or a trip to the laundromat, Landing has the rental solution that's right for you, wherever you are. At Landing, we take the stress out of renting by making it easy for you to find great furnished apartments in over 375 cities throughout the U.S.
What's more, our app makes it easy to pay rent, schedule repairs, and cleaning, and manage your reservations, all in one easy place. At Landing, we believe in bringing the rental market to you, so you can continue going wherever life leads. Browse our available apartments today!