The 8 Best Quiet Beaches in Miami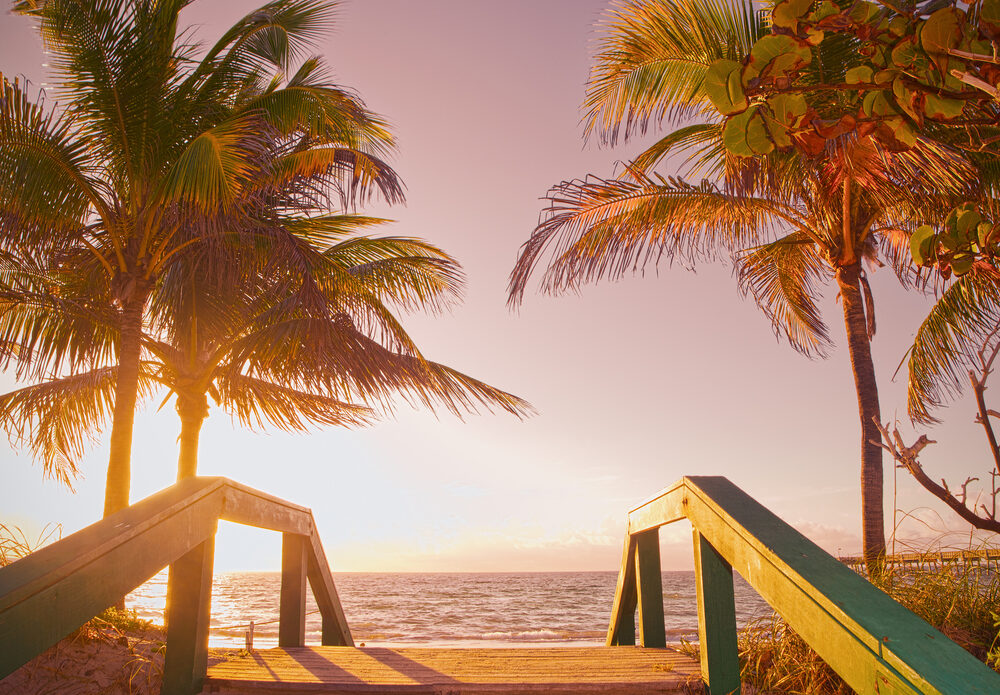 Florida has no shortage of beautiful beaches with fine, powder-white sand and calm, crystal-clear waters. In the areas around Miami, you'll find miles and miles of pristine coastline, from Crandon Park and Key Biscayne all the way up to Bal Harbour and Fort Lauderdale. And, while all the beaches here in the southern reaches of Florida are postcard-pretty, each one has its own vibe and atmosphere.
South Beach, for example, is known for its lively party scene. Locals and tourists alike flock to it year-round, pitching tents, blasting music, and living it up before hitting the nightclubs that line Ocean Drive and Collins Avenue. If you're looking for great people-watching and plenty of action, it doesn't get better than South Beach.
However, if you're craving a quieter, more secluded Miami beach day without the crowds, you'll have to venture a bit further afield. There are definitely plenty of tranquil, under-the-radar spots in Miami that make for a lovely and quiet beach getaway—you just have to know where to look.
We did the heavy lifting for you, so you can go straight to planning your perfect low-key beach day. Here are some of the top quiet beaches in Miami, including:
Bal Harbour Beach
North Shore Beach
Matheson Hammock Park
Historic Virginia Key Beach Park
Hobie Island Beach Park
Sunny Isles Beach
Crandon Park Beach
Bill Baggs Cape Florida State Park
Let's get started!
1. Bal Harbour Beach
Located in one of Florida's most exclusive neighborhoods, Bal Harbour Beach is one of the best-kept secrets in Miami. The playground of millionaires and billionaires, it's a stone's throw from the luxurious and high-end Bal Harbour Shops and a slew of fine-dining restaurants.
Staying at a nearby resort or beach club can be expensive, and because the beach offers so few public parking spots, visiting via car can also be a hassle. If you can get dropped off by a friend or taxi (or if you don't mind trying your luck at parking), you're in for a treat. The beach here is quiet, the waters are calm enough to swim in, and there's plenty of seating available for use close to the sand.
2. North Shore Beach
Nestled between bustling Miami Beach and laid-back Surfside is North Shore Beach, a beautiful strip of white Florida sand and turquoise water next to the lush and sprawling North Shore Open Space Park. Beloved among locals but still under the radar among tourists, North Shore Beach has a quiet, laid-back vibe you won't find in many of Miami's mainland beaches.
Rental umbrellas are available, so you don't have to lug your own gear, and there are lots of great local eateries close by when you're craving a bite to eat. If the weather's nice, you can go for a stroll along the eight-mile boardwalk that connects this tranquil haven with its buzzier sister, South Beach.
3. Matheson Hammock Park
If you're based in or around the Coral Gables or South Miami area of South Florida, you should definitely check out Matheson Hammock Park. This family-friendly beach is frequented primarily by locals who live nearby, so you don't typically have to worry about the loud crowds that characterize other places, like South Beach.
Because it's sheltered against aggressive surf, Matheson Hammock Park is a great option for a kayak or paddle-boarding session—you can rent both on-site. This quiet, peaceful beach is also home to a man-made atoll pool that offers safe, warm waters for little ones to swim in.
4. Historic Virginia Key Beach Park
Though it's just a quick drive from Miami-Dade's downtown and financial district, Virginia Key Beach feels a world away from the hustle and bustle of city life. Located on an 863-acre barrier island on beautiful Biscayne Bay, this historic stretch of Florida coastline has been drawing sun-seekers since 1945.
Beachgoers can enjoy well-kept walking and biking paths, a vintage carousel train ride, plenty of food vendors close to the parking lot, and an abundance of picnic benches and tables.
Pro tip: Though Virginia Key rarely gets crowded, you'll see even fewer people out on the sand if you visit during a weekday.
5. Hobie Island Beach Park
If you're looking for an option that is quiet and also dog-friendly, Hobie Island Beach Park is one of the best secluded beaches in South Florida for people looking for dog-friendly beaches in Miami. Located just off the Rickenbacker Causeway, it's a favorite spot among watersport enthusiasts because conditions are typically great for windsurfing and jet-skiing.
The shallow waters are calm enough for kids and pets, though, so you can confidently enjoy dips with your little ones or canine companions. What's more, Hobie Island Beach Park features some of the prettiest views of the downtown Miami skyline.
6. Sunny Isles Beach
Drive about 40 minutes north of Miami Beach along the Florida coast and you'll reach Sunny Isles Beach. Just south of Fort Lauderdale, this captivating, palm-fringed stretch of sugar-white sand and glittering high-rises is one of the best secluded beaches in the area.
Because this neighborhood is just outside the buzz of Miami proper, visitors get to soak up dazzling views of the Atlantic Ocean while enjoying plenty of space to unwind and savor the peace and quiet. Sunny Isles Beach offers sunrise yoga on the sand, as well as bike rentals and kayak rentals for those who want to get in some exercise during their visit. If you're into fishing, hit up the nearby Newport Fishing Pier.
Another reason locals love Sunny Isles Beach is its proximity to mom-and-pop restaurants, unique boutiques, museums, and so much more, so you have plenty of ways to spend your day once you've gotten enough sun.
7. Crandon Park Beach
Crandon Beach is a popular spot among Miami beach-goers on weekends, but if you visit during the week, you can avoid the crowds and enjoy all the breathtaking natural beauty this beach and the surrounding park have to offer. Crandon Park itself encompasses 800 acres in Key Biscayne's Bear Cut Preserve, and its two-mile beach is often ranked as one of Florida's best.
You can kick back on the sand and enjoy the sunshine or kayak through the area's lush mangroves. The surf here is usually calm and the waters are warm year-round. The park offers barbecue grills, picnic tables, and volleyball courts, along with beach chair rentals and umbrella rentals.
Tips From a Landing Member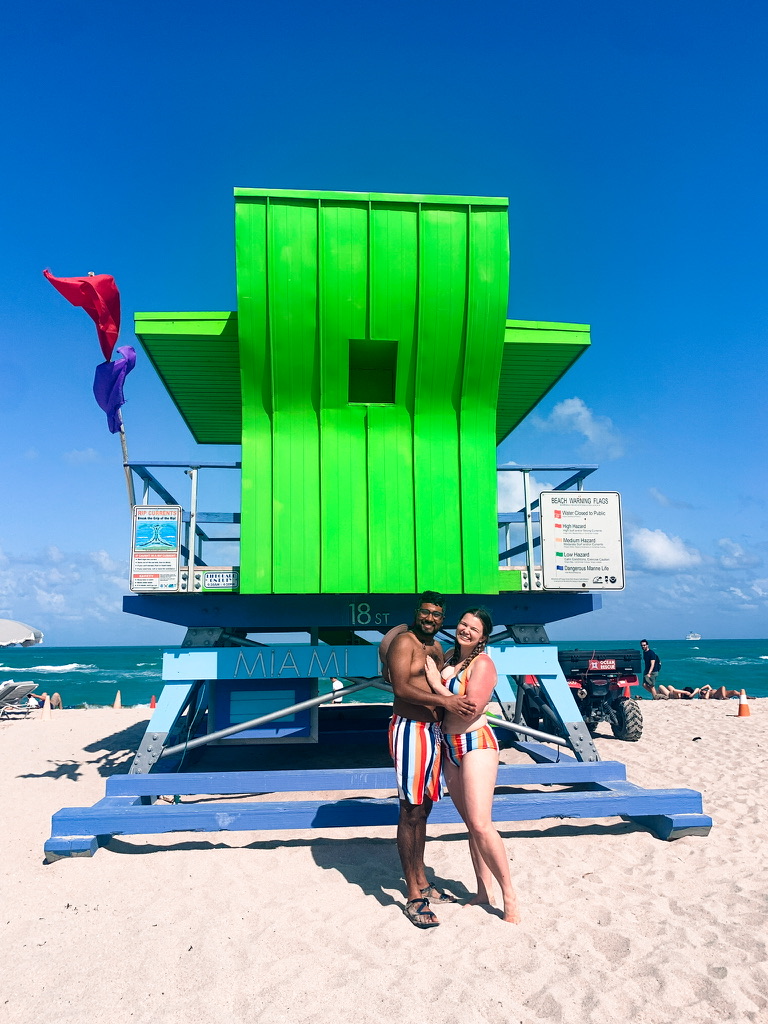 "Crandon Park Beach made us feel like we were on a private island. This quiet beach is clean, and there is plentiful parking, barely any crowds, and so much natural beauty. This oasis used to be part of the largest coconut plantation in the country, so there are palm trees everywhere."
— Madison Liston Gomes, "How We Spent Three Months Living in Miami"
8. Bill Baggs Cape Florida State Park
Just an eight-minute drive south of Crandon Park is Bill Baggs Cape Florida State Park, another peaceful beach with a picturesque lighthouse, lots of picnic space, and miles of beautiful coastline. This secluded Miami gem occupies the southern third portion of Key Biscayne and offers something for every beach-goer.
Go for a swim in the calm, clear waters, enjoy snacks on the windswept dunes, or hike to the historic lighthouse perched just over the jewel-bright waves. In addition to miles of nature trails, a shower station, a restaurant, and dog-friendly areas, Bill Baggs Cape Florida State Park boasts some truly spectacular Miami sunsets, so plan to stay until dusk if you have time. Weekends can get busy, so visit during the week for a bit more privacy.
These are just some of Miami's top secluded beaches — there are plenty more tucked away in various neighborhoods throughout South Florida, including areas in Miami's mid beach and north beach, like Surfside and Bayshore. In fact, you could spend several months living in Miami and go to a different under-the-radar beach every weekend if you wanted to!
After the perfect beach day, come home to the perfect place to live. Landing offers fully furnished apartments in Miami with flexible lease terms—many just a quick drive or bicycle ride from some amazing quiet beaches. Browse our available apartments here!