The 8 Best Cuban Restaurants in Miami
Miami, Florida, is home to a large Cuban community that spans generations. Just ask anybody who has ever lived in South Florida—all you have to do is spend a couple of months here and you'll quickly become familiar with all kinds of Cuban food. Think hearty ropa vieja, golden-fried croquetas, Cuban sandwiches pressed with Swiss cheese, pickles, and savory ham, and flaky buttered pan cubano, which is Spanish for "Cuban bread." And, of course, there's the iconic cafecito, a Cuban coffee served in a tiny plastic cup that packs more of a punch than any energy drink or the strongest espresso.
Cuban culture, tradition, and history have such a strong presence in Miami that it's hard to go very far in the city without coming across a restaurant, cafe, cantina, or bar that serves crazy-good Cuban cuisine and cocktails. For instance, in Hialeah, you'll find Miami's largest community of Cubans and Cuban-Americans, making it a safe bet for delicious Cuban fare. South Beach also has several noteworthy sandwich shops and deli-style cafes that make a mean media noche, another popular Cuban sandwich that was once popularly served as a late-night snack in Havana's nightclubs.
No matter which Miami neighborhood you visit, there are plenty of dependable options for amazing Cuban food throughout South Florida and even up into Broward County. This guide outlines some of the best Cuban restaurants in Miami, including a few local gems only the savviest visitors know about, including:
Versailles Restaurant
La Carreta
Puerto Sagua Cuban Restaurant
Havana 1957
Cafe La Trova
Havana Harry's
El Imperio de la Comida
Islas Canarias Restaurant and Bar
Let's get started!
1. Versailles Restaurant
Though it's named after a French palace, this long-standing Miami-Dade institution is one of the best-known Cuban restaurants in the world. Located on Calle Ocho, just south of Little Havana, Versailles is so iconic that it trademarked the title, "The World's Most Famous Cuban Restaurant."
Since 1971, Versailles has served up delicious Cuban cuisine, including classic entrees like ropa vieja, vaca frita, picadillo, and lechon asado. The restaurant also has a ventanita, or a quick-order window, where you can grab a hot cafe Cubano, a warm and flaky guava pastry, some perfectly breaded ham croquetas, or a basket of warm Cuban bread to go.
Details: Versailles Restaurant is located at 3555 Southwest 8th Street, Miami.
Tips From a Landing Member
"We recommend the guava cheese pastelito (flaky pastry) and empanadas at the Versailles bakery, the super-strong colada (large Cuban espresso) at the ventanita, and the "Imperial Rice" with chicken, saffron, veggies, egg, and mayonnaise at the restaurant."
— Madison Liston Gomes, "How We Spent Three Months Living in Miami"
2. La Carreta
As far as legacy and authenticity go, La Carreta is right up there with Versailles for wow-worthy Cuban food served for breakfast, lunch, and dinner. You'll find all the staples here, too, as well as some of the best flan, palomilla steak, and Cuban coffee in the entire city.
That said, convenience is what really makes La Carreta a top contender for the title of best Cuban food in Miami. This locally loved chain offers several locations throughout Miami-Dade County, including Calle Ocho, Bird Road, Fontainebleau, and Kendall. There's even a La Carreta at Miami International Airport!
Details: La Carreta has multiple locations throughout the city. Visit its website for more information.
3. Puerto Sagua Cuban Restaurant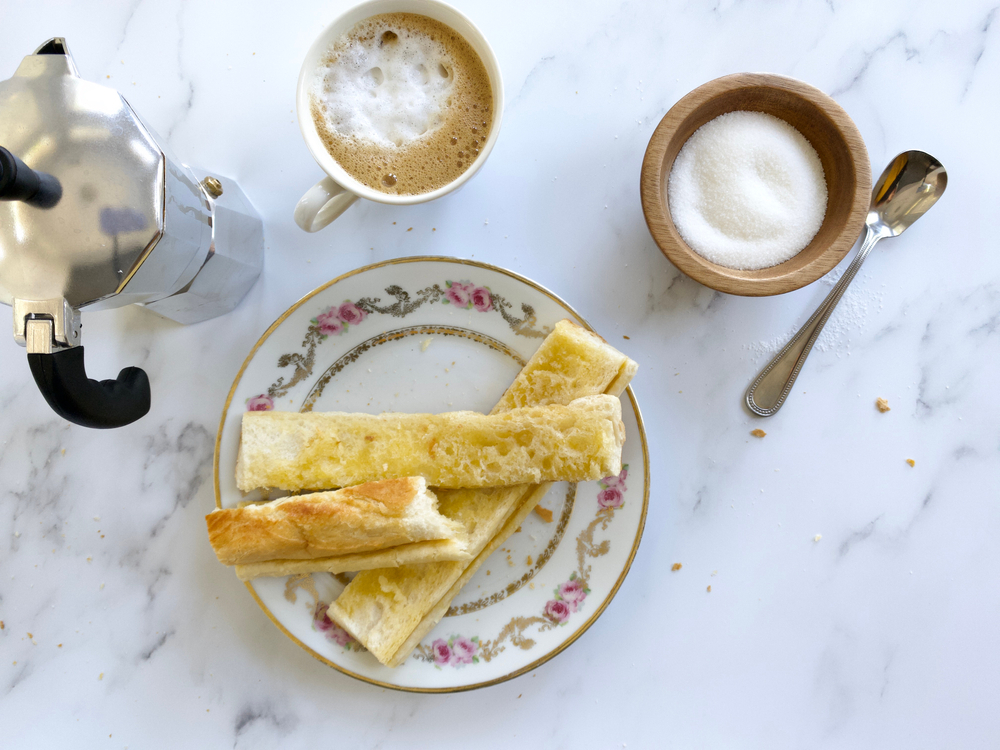 If you're looking for authentic, mouth-watering Cuban food on South Beach, nothing compares to Puerto Sagua. Since 1968, this always-buzzing local favorite has been serving up Cuban cuisine all day long in a cozy, fuss-free setting that's open from 7 a.m. until 11 p.m.
This restaurant is well known for its Cuban sandwiches, buttery Cuban bread, sweet fried plantains, ropa vieja with white rice, and great selection of seafood (the friend whole snapper is a must-try dish!). If you just need a quick pick-me-up and aren't looking to dine in, order a cafe Cubano to go. No matter how tired you feel, a few sips will put some pep in your step.
Details: Puerto Sagua Cuban Restaurant is located at 700 Collins Avenue, Miami Beach.
4. Havana 1957
As its name suggests, Havana 1957 does a fantastic job at transporting diners to Cuba during its golden years. With four locations in South Beach and one in Pembroke Pines, it offers tasty Cuban fare whether you're living in Miami-Dade County or Broward County.
If you like seafood, start with their shrimp cocktail or share their Cuban combo with croquetas, bite-sized pork fritters, crispy yuca, and plantain chips. Each location also offers a weekday happy hour from 4 to 7 p.m. with great deals on mojitos, Cuba Libres, and most importantly, their happy hour truffle yucca, which is so good, you're going to want seconds.
What's more, diners here are sometimes treated to impromptu entertainment like live music by salsa bands and dance classes, all set against a beautiful backdrop of nostalgic memorabilia from mid-century Cuba.
Details: Havana 1957 has multiple locations in the area. Visit its website for more information.
5. Cafe La Trova
Located in vibrant Little Havana, Cafe La Trova offers a Cuban-inspired atmosphere that's as transportive as Havana 1957. James Beard Award-winning chef Michelle Bernstein crafted the menu, which spotlights Cuban fare with an elevated, global twist.
Cafe La Trova serves up four types of croquetas, all of which have earned rave reviews from guests, including jamon Serrano with fig jam, spinach and feta with orange marmalade, mushroom risotto with truffle aioli, or Maine lobster with saffron aioli. The cocktails here, dreamt up by famous cantinero Julio Cabrera, are world-class. Make sure to try the Mojito Criollo and the classic Hemingway Special.
Live artists perform onstage at Cafe La Trova Sunday through Tuesday from 7 to 10 p.m., Wednesday and Thursday from 7 to 11 p.m., and Friday and Saturday from 7:30 p.m. to midnight. If you happen to stop in on a Friday or Saturday night, stick around until midnight, which is when La Trova's back-room watering hole, *80s 305 Bar, opens up. The hidden gem features its own unique menu of cocktails in a room decorated to take you back to Miami during the infamous party-loving 1980s.
Details: Cafe La Trova is located at 971 SW 8th Street, Miami.
6. Havana Harry's
If you happen to be in postcard-pretty Coral Gables when you're struck by a craving for a Cuban sandwich or other Cuban-inspired eats, head to Havana Harry's. This contemporary restaurant offers a head-spinning menu of delicious Cuban food and scores major points for having some of the best Cuban bread in the neighborhood.
Havana Harry's has made a name for itself with its shareable, over-the-top mariquitas, which come topped with Cuban-style ground beef and creamy melted cheese. Drop by for lunch, dinner, or a piping-hot shot of midday Cuban coffee.
Details: Havana Harry's is located at 4612 S. Le Jeune Road, Coral Gables
7. El Imperio de la Comida
If you're new to Miami and want to immerse yourself in Cuban culture—especially its cuisine—get to know Hialeah. Located northwest of Miami proper, this neighborhood has the highest percentage of Cuban and Cuban-American residents of any U.S. city. Cuban heritage and pride run deep here, and you can taste it at the many local restaurants.
One of the best in town is El Imperio de la Comida, which aims to bring guests homestyle Cuban cuisine in its most authentic form. Breakfast here consists of eggs and Cuban bread, generously buttered Cuban sandwiches, and creamy cafe con leche. Dinner spotlights heartier fare, with rotating specials that range from fricasé de pollo (chicken fricassee) to boliche (a pot roast dish from Cuba). Pair every bite with salted yucca, white rice and beans, and mariquitas, and cap off your meal with a decadent homemade flan.
Details: El Imperio de la Comida is located at 1325 E 4th Ave, Hialeah.
8. Islas Canarias Restaurant and Bar
Islas Canarias Restaurant and Bar claims to have the best croquetas in Miami—and many locals will agree! But beyond these delicious finger foods, it also serves up some world-class Cuban pastries, entrees, and appetizers. Islas Canarias has been family-owned and -operated since 1977, serving guests Cuban dishes crafted from family recipes passed down through generations.
Start your day here with a lip-smacking Spanish omelet or Cuban cornmeal tamales, or end it with some sweet and creamy dulce de leche, Cuban-style French toast, or tantalizing bread pudding with guava. In addition to the main restaurant on Southwest 26th Street, Islas Canarias also has a bakery, cafe, and restaurant located on Southwest 137th Avenue.
Details: Islas Canarias has two locations in Miami.
Explore the best Cuban restaurants in Miami by living with Landing
Is your mouth watering yet? Incredible Cuban food is always within reach when you live in South Florida. Find the perfect place to savor it all with Landing, offering fully furnished apartments in Miami with flexible lease terms that let you stay in town for as long as you like. Make moving to Miami easy and browse Landing's apartments today!