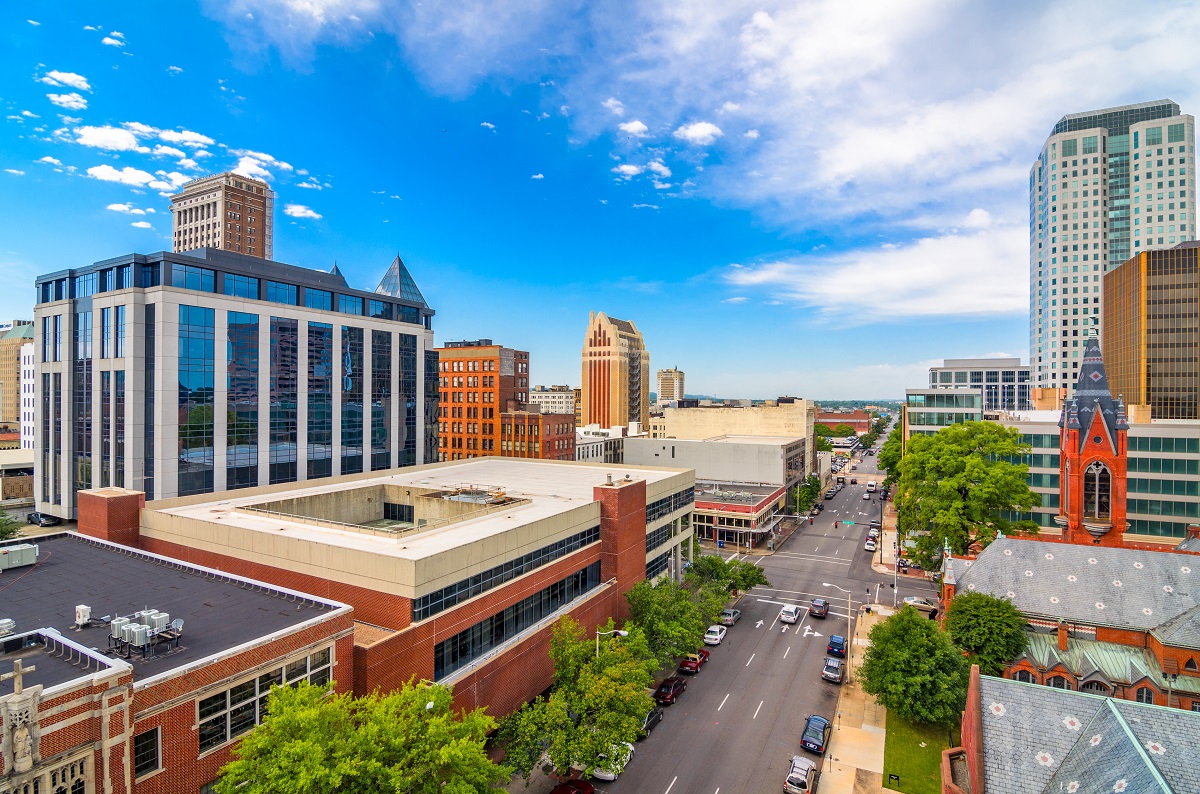 Neighborhood Guide: Where to Live in Birmingham
Whether you call it Birmingham, The Magic City, or Pittsburgh of the South, Alabama's most populous city is a thriving destination. First an industrial hub for iron and steel production, the metropolis is now home to over 200,000 people, including families, professionals, and retirees. There are also hundreds of furnished apartments in Birmingham as well.
Thinking about moving to Birmingham AL? Landing is here to help. Read on for our best tips and insight about where to live in this southern city. Cue the best neighborhoods in Birmingham!
What are the best neighborhoods in Birmingham, AL?
With historic districts, two universities, a bustling city center, a promising job market, stunning natural scenery, and many sought-after suburbs, the metro area has lots of excellent places to live. It also has a bustling city centre as well as lower-than-average rent compared to similar cities, not to mention there are a lot of fun things to do in Birmingham. Find a rundown of the best neighborhoods in Birmingham, Alabama below.
Highland Park
Named one of America's Great Places in 2011 by the American Planning Association, Highland Park is a historic Birmingham neighborhood with a lot to offer. The hilly, wooded area sits just a couple of miles from the Business District and is one of the city's most diverse communities.
It's home to about 6,000 people who live in fully furnished apartments, condos, turn-of-the-century houses, and newer homes in some of the community's recent developments. With lots of bars, eateries, and coffee shops, Highland Park has an urban feel that attracts many young professionals.
Forest Park
Forest Park is the perfect balance of urban and suburban, with a mix of residential areas, parks, restaurants, and bars. Its 4,000 residents have quick access to the city's main interstates, making it easy to get to the airport or Downtown Birmingham.
While the schools aren't rated as high as some other Birmingham districts, Forest Park is generally considered a good neighborhood for families. The area is home to many young professionals as well.
Vestavia Hills
Vestavia Hills is a small city in Jefferson County. With just over 34,000 residents, it has a balanced mix of renters and homeowners. The suburb is viewed as not only a top area to live in Birmingham, but also one of the best in the entire state of Alabama.
With highly rated public schools, low crime, close proximity to Wald Park, and several noteworthy places to eat and drink, the community appeals to families, couples, professionals, and empty-nesters alike. Vestavia Hills is also home to the Summit, a 1 million-square-foot lifestyle center and creative hub.
Downtown
Roughly 3,000 people reside in Birmingham's downtown area. The mixed-use district is a grid of mid-to-high rise commercial buildings, lofts, condos, and streetcar lines with expanding retail and restaurant offerings. This neighborhood attracts mainly couples and young professionals.
Lakeview
Birmingham's Lakeview District is a somewhat quiet yet notably trendy pocket of downtown. Set within walking distance of the Civil Rights Institute, the arts and culinary districts, and the Birmingham Museum, this historic community has much to offer. Residents and visitors enjoy Lakeview's hip nightlife venues and dining options too.
Parkside
Parkside is a newer community with a modern, sophisticated vibe. Located close to downtown, the development offers central access to the entire city. The walkable neighborhood is also home to Regions Field and Railroad Park and right by the Central Business District, Five Points South, and the University of Alabama at Birmingham (UAB).
Mountain Brook
Mountain Brook is another suburb with a little over 20,000 residents. The upscale community has mostly single-family homes, though there are some luxury apartments and condos as well. Thanks to low crime rates, top-tier public schools, many excellent parks, and attractions like the Birmingham Zoo and Botanical Garden, this is a great place for families with kids.
Crestline Heights
Crestline is home to about 3,000 people, including retirees, families, and young professionals. The village is technically part of Mountain Brook, though it's often viewed as its own community. Many residents live within walking distance to the public schools and their nearest grocery store.
Red Mountain
Home to the sprawling Red Mountain Park in the Ridge-and-Valley Appalachian region, Red Mountain is one of the best neighborhoods in Birmingham. The community has some of the city's most expensive real estate, as well as top-rated dining and retail destinations.
With great schools, park access, and the Discovery Place Children's Science Museum, Red Mountain's family-friendly offerings are a plus for people with younger kids.
Southside
Southside is a relatively small neighborhood in Birmingham with under 1,500 residents. This diverse and vibrant hub has many cafes, restaurants, bars, and parks, and it's located near UAB. Most of the young professionals and college students who live in this urban mixed-use community rent their homes.
Five Points South
Located in close proximity to Birmingham's nightlife hub and the UAB campus, Five Points South is home to many students, university employees, and young professionals. The urban neighborhood was named after a five-way intersection, which provides its 9,000 residents with convenient access to many parts of the city.
Greystone
Set in the Appalachian foothills and surrounded by stunning greenery, Greystone is one of Birmingham's safest and most sought-after neighborhoods. The upscale planned community has some of the best golf courses and country clubs in the metro area, plus lots of parks, a lake, shopping, and dining options. It's perfect for retirees, empty-nesters, and families of all ages.
Homewood
Switching back to the suburbs, Homewood is one of the metro area's highest-rated communities. Its 26,000 residents enjoy close access to the amenity-rich Soho Square, excellent cafes, restaurants, and boutiques, plus some of the best hiking and biking trails in the city. The public schools are great too.
Hoover
Hoover is a nearby town with a population of nearly 85,000. Residents enjoy a dense, suburban feel and appreciate the community's many parks and green spaces. The fast-growing suburb is known for its golf courses, the Moss Rock Preserve, and the mixed-use Riverchase Galleria development. With so much to offer, Hoover appeals to families, professionals, couples, retirees, and everyone in between.
Trussville
Trussville is a suburb of Birmingham with roughly 22,000 residents. With ample greenery and numerous parks, the primarily residential small town has a rural feel. It grew by upwards of 500% between 1980 and 2010 and is still one of the fastest-growing areas in Jefferson County. 
Getting to Birmingham is a relatively easy commute, either by car or public transportation. This attracts many professionals who work downtown and in other parts of the city proper. Trussville has some of the best schools in the Birmingham area as well, appealing to families with school-aged kids.
How to choose the best Birmingham, AL, neighborhood
When considering a move to Birmingham, Alabama, it's important to research different neighborhoods—especially if you're unfamiliar with the area. It is also important to remember to research living in Birmingham Alabama pros and cons. If you're not quite sure which community will fit your needs and taste, you can "try before you buy" with Landing.
With furnished apartments in Birmingham, flexible terms, and all the amenities you need, Landing is changing the way people rent apartments. We have beautiful rentals all across the city, including the top-rated neighborhoods we mentioned above. You can get a feel of the area while you explore the city without being locked into a lease or mortgage.
The move-in ready apartments from Landing have premium furnishings and all the essentials and accommodations you need to settle in. This takes the pressure out of moving to a new city and allows you to save time and money while you get to know the area.
Browse fully furnished apartments in Birmingham, Alabama or get in touch with us at Landing to learn more about our modern renting experience.