Moving to Dallas: Your Relocation Guide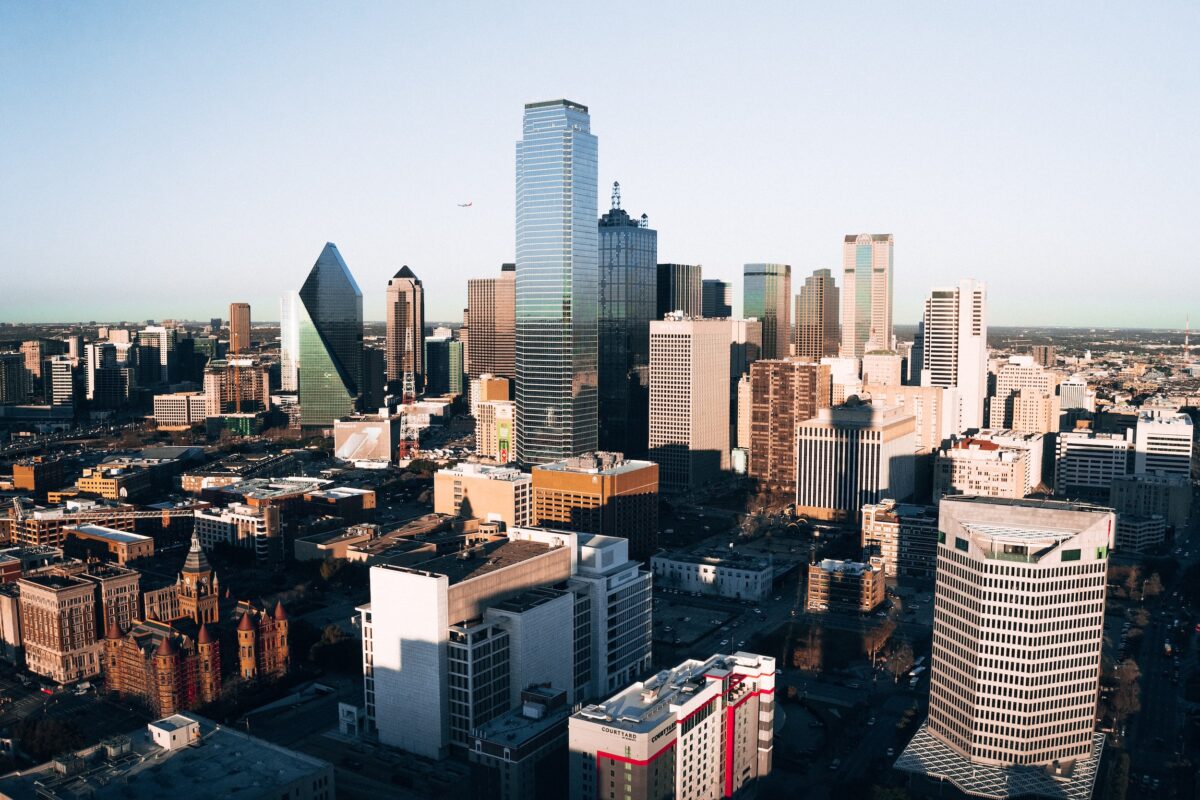 Dallas, Texas, seems to have the perfect blend of big-city anonymity and homegrown hospitality. So, whether you're looking to get lost in the heart of a massive metropolitan area or to place roots in a welcoming neighborhood, there's something to satisfy just about everyone's needs.
Moving to a new city is surely something to be excited about, but you're not alone in feeling a tad overwhelmed, too. How will you get around? Will it be a good fit for your lifestyle? What neighborhood checks off all of the boxes?
In this guide, you'll find out everything you need to know about moving to Dallas, Texas. So, all you need to worry about is bringing your suitcases and an appetite for adventure. Everything else will be taken care of below, including:
Dallas at a glance
Weather and climate
Transportation
Cost of living
Demographics
Entertainment and nightlife
Best neighborhoods
Let's get started!
Dallas at a glance
If you've never been to Dallas before or have only passed through on a weekend getaway, you'll want to start off by getting a better feel for the size, shape, and seasons of the city. Here are a few basic facts to help get you acquainted when moving to Dallas:
It's a buzzing place to start or build your career. According to the Bureau of Labor Statistics, it's got one of the highest percentages of job growth per year (2.4%) among several metro areas in the U.S. Some of the city's biggest employers? Bank of America, AMR Corporation, and Texas Health Resources, Inc.
Dallas is the third-largest city in the state of Texas, trailing only behind Houston and San Antonio, respectively.
Dallas weather and climate
Lovers of sunshine and warm weather will thrive in Dallas, a city with a humid, subtropical climate. Average temperatures in the summer months range from 81 to 86 degrees Fahrenheit, offering plenty of opportunities for pool days and popsicles—although an air conditioning system will probably be your best bet for staying comfortable indoors.
Winters, on the other hand, are quite mild. So, if you're an avid skier or snowboarder, you may have to search elsewhere for snow-capped mountains and outdoor winter sports venues. The coldest months tend to be from December to February, with temperatures averaging around 45 to 50 degrees Fahrenheit.
Relocating to Dallas: Everything you need to know
You're looking forward to exploring everything that Texas has to offer, but it still might be a bit of a change from what you're used to. So, how does Dallas compare to your current city and what are its one-of-a-kind treasures?
Keep reading to learn everything you need to know about relocating to Dallas.
Transportation
If you plan to bring a car with you to Dallas, you'll fit right in. Residents often make their way around the city and its surrounding suburbs by car—a major convenience for some despite some traffic congestion.
However, if you'd prefer to skip the hassle of keeping a car in the city, you may find that the Dallas Area Rapid Transit (DART) provides all the rail and bus services you need to get where you want to go. Also available in the Dallas area are an array of popular ridesharing services such as Uber and Lyft.
Cost of living
This Dallas relocation guide would be remiss if it did not mention a few essential details regarding the cost of living in this part of the country. For those curious to work out the details of their finances here versus in another city, here are some important facts you'll want to know:
According to Nerd Wallet, the median salary in Dallas is around $42,000 a year.
There is no income tax in the state of Texas, which, of course, should equate to keeping more money in your wallet. However, property taxes and the slightly higher sales tax in this state (8.25%) are likely to balance things out.
For young families interested in purchasing a home in Dallas, they're likely to find that the average cost for a three-bedroom, two-bathroom home is about $400,000.
Demographics
Aside from factors like work opportunities, access to green space, or the dining scene, a large part of what makes a city stand out is the people who inhabit it. How important is diversity to you when it comes to moving to a new city? What does the demographic makeup of Dallas look like? Here's a look at a few noteworthy statistics from the United States Census Bureau:
In terms of race, Dallas is a predominantly white city (62.7%), with the second largest population consisting of residents of Hispanic or Latino descent (41.8%).
The median age in the city is 32 years old, and the population is split quite evenly between males and females.
The population continues to grow year after year in Dallas, and it's home to many English speakers (56.4%) as well as Spanish speakers (37.9%)
Entertainment and nightlife
Wondering if Dallas will be able to keep up with your insatiable thirst for mingling, creative cuisine, and all things entertaining? Leisure and nightlife activities may not be the only factor to consider when changing locations but it's certainly something you'll want to keep in mind.
Here's a sampling of what might keep you busy on a Saturday night or weekday socializing:
Sloane's Corner: One of the top-rated eateries in the entire city is Sloane's Corner, located just around the corner from the Dallas Museum of Art. Not only are they serving up tasty New American fare, but they've also got an enticing medley of cocktails. It's a perfect meeting spot for a night out with friends!
Fiction Coffee: Whether you're stopping by for your daily caffeine fix or have plans for a laid-back afternoon coffee date with a new love interest, Fiction Coffee is happy to host. If it's classic espresso drinks you want, that's precisely what you'll get. What's really turning heads, however, is their rotating selection of Fictional Drinks, such as the Secret Garden Latte with espresso, milk, lavender, and chamomile. Contrary to what this specialty menu suggests, these creative cups of joe are real—and really good.
Revelers Hall: If you're the type of person who'll find any excuse to go see a live show, the city of Dallas will not disappoint. It's lined with music venues of all shapes and sizes, many of which schedule artists for nearly every day of the week. Revelers Hall is located south of the city center in a neighborhood called Kidd Springs, but it's worth making the trip out to pair your Pinot Noir with a side of new-artist discovery.
Not quite convinced yet? Don't forget that Dallas is no stranger to sports. Here you'll have plenty of opportunities to cheer on the home teams like the Mavericks and the Cowboys. Plus, this city is home to the largest arts district in the entire country. Whether it's opera, architecture, or art galleries you love, you won't be left unsatisfied.
Best neighborhoods
You already know by now that the old adage that "everything's bigger in Texas" holds true when it comes to the city of Dallas. It is huge, in fact, and perhaps a bit difficult to get a good handle on what part of it is right for you. The good news is that there are plenty of personality-filled neighborhoods in Dallas to choose from. Finding your fit really comes down to what's important to you.
Here's an overview of a few captivating corners of the city you might want to keep your eye on:
Uptown Dallas: Uptown Dallas is a flavorful concoction that's been shaken up with all of the unique ingredients the city has to offer. It provides close proximity to work and leisure spaces, local boutiques, theatre, and even a quiet place to walk your dog (or yourself) at Cole Park or Katy Trail.
M Streets: For a bit of a quieter atmosphere that still has plenty of bars, shops, and eateries within walking distance, head north of the city center. Here you'll find the neighborhood of M Streets, ideal for families, young professionals, and anyone smitten by the charm of Tudor-style homes.
Oak Lawn: Just outside of Uptown Dallas is the region called Oak Lawn, a kaleidoscopic mix of country western dancing, drag shows, and thrift shops. It's LGBTQ-friendly, affordable, and packed with eclectic eateries, cocktail lounges, and plenty of green space.
Making a home in Dallas with Landing
Wherever you end up, a change of environment should bring more delight than dread. Although moving to a new place is bound to bring about a blunder or two, let Landing help make the transition for you go as smoothly as possible.
Get excited about what corner of the city you plan to call your own and how you hope to explore it from the inside out. As far as the living space itself, that'll be in the hands of the Landing experts. They'll connect you with furnished and even pet-friendly apartments throughout the city of Dallas in which you'll be able to live for as little or as long as you like.
Browse our available fully furnished apartments in Dallas!