The 14 Best Neighborhoods in Orlando, Florida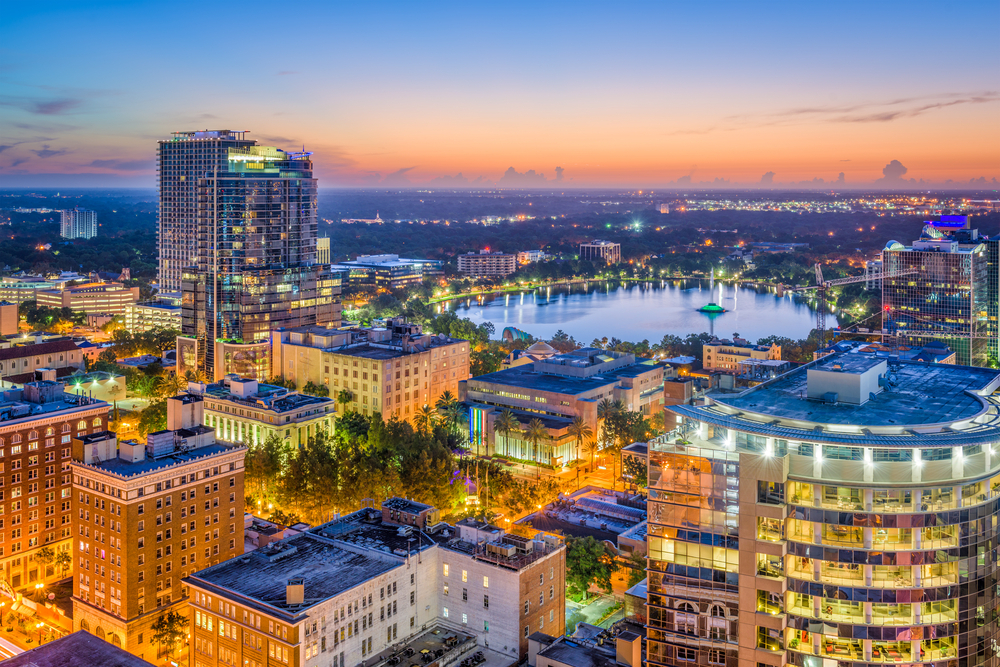 It often seems like there are two types of people who move to Orlando, Florida: Those who adore theme parks, and those who seek only warm weather and a laid-back lifestyle. The truth is way more nuanced: Orlando is a rapidly growing metropolitan area known for its tourism and also targeted slivers of technology and aviation.
The Orlando metro area is spread wide, with the City of Orlando being known as a savvy, green-oriented metropolis. It's so diverse that it labels a dozen Main Street districts to help set each apart. Beyond city limits, county neighborhoods add residential options, as do independent towns and small cities in all four directions. Orange, Osceola, Seminole, and Lake counties are all part of Greater Orlando, with new communities sprouting up in all areas. The population skews young here, too, with retirement communities mostly on the fringes of Central Florida.
Thinking about living in Orlando? Depending on your age, lifestyle, and interests, you'll have easy choices as to the best areas in Orlando to live in. To help, here is our guide to the 14 best neighborhoods in Orlando, Florida, including:
Lake Nona
South Eola District
Winter Garden
Windermere
Winter Park
Curry Ford West
Celebration
Audubon Park Garden District
Baldwin Park
Creative Village
Mills 50
Dr. Phillips
SoDo
College Park
Let's get started!
1. Lake Nona
For the wellness-oriented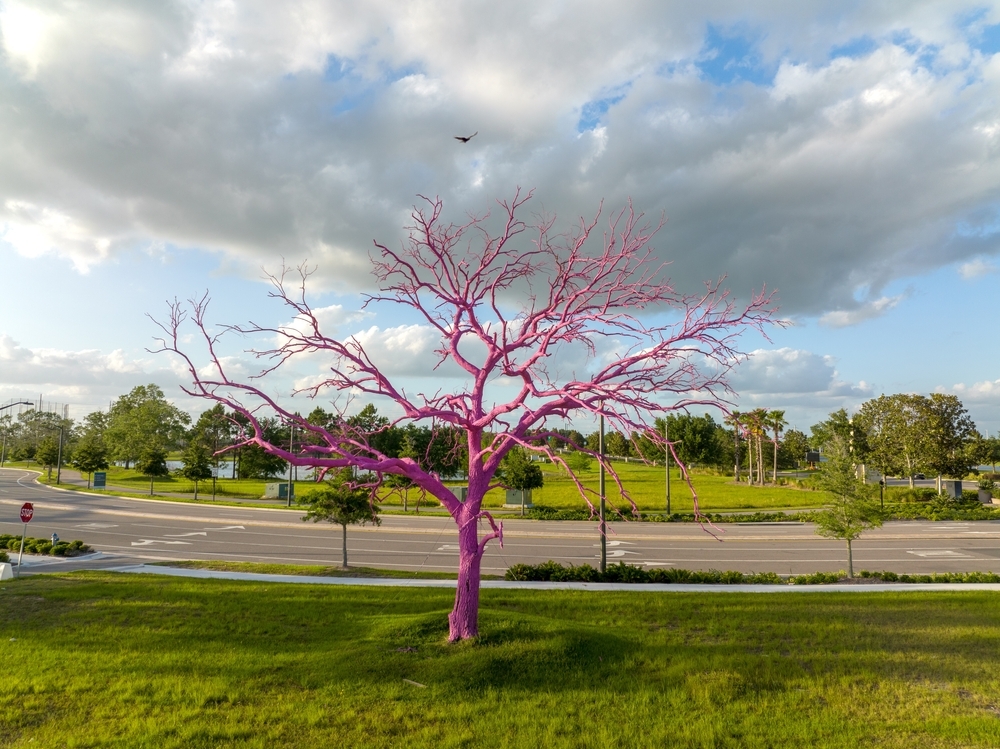 Out near the Orlando International Airport, Lake Nona is a shiny new beacon in Central Florida. Technically part of the City of Orlando, Lake Nona incorporates both wellness and technology into just about everything.
Lake Nona Town Center is at the heart of town. It has restaurants, the one-of-a-kind Wave hotel with an outdoor sculpture garden, and the recreational hub Boxi Park, which opens at select times with food stalls and a performance stage.
Lake Nona is home to the country's largest U.S. Tennis Association's National Campus, a research-oriented Medical City, and a 130,000-square-foot fitness center with a yoga area designed by Dr. Deepak Chopra.
The Lake Nona neighborhood also has autonomous shuttle buses, performs wellness studies of residents, and hosts an annual Impact Forum conference that attracts leaders in health, medicine, and technology. The area's parking garages double as public art, too—when lit up at night, one shows a visual representation of the DNA of a Valencia orange; the others display messages written in binary code or Braille.
2. South Eola District
Offers city living and a lake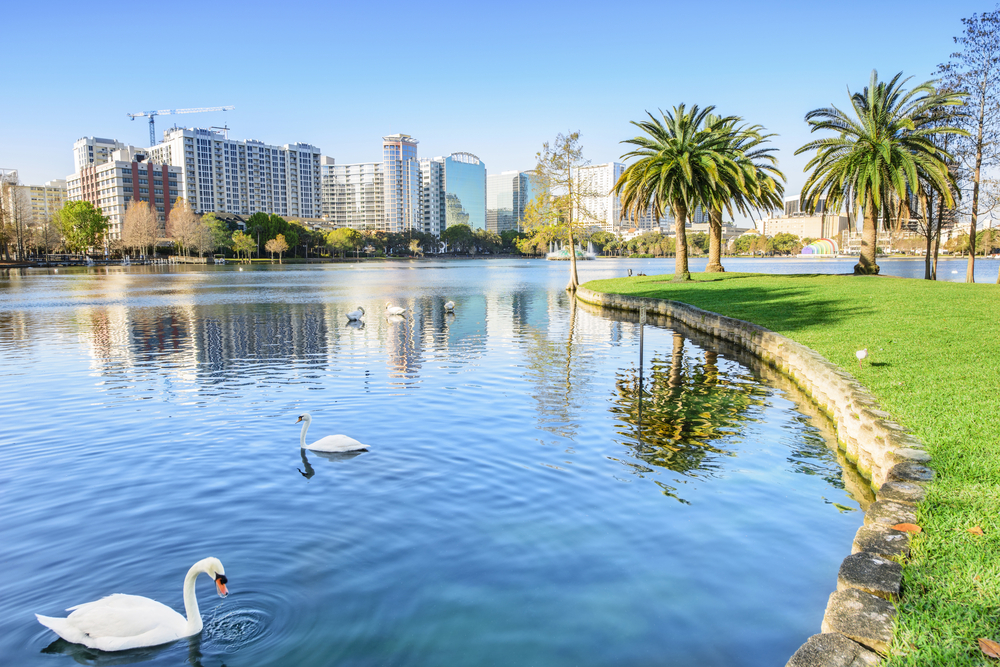 If you're looking for a sassy urban vibe, situate yourself in the South Eola District, which melds into Thornton Park. Lake Eola is the heart of it all. Hip urban hikers, stylishly attired corporate types, and families with dogs cross paths while circling Lake Eola, which has the iconic Linton E. Allen Memorial Fountain in its center. On the water, you'll find swans (and swan-shaped rental pedal boats!) and on land, you'll come across beautiful sculptures of birds and of a reclining woman.
The area is also home to the Walt Disney Amphitheater, which features open-air performances, and a Sunday farmers market where locals buy groceries and handicrafts. Adjacent Thornton Park is one of downtown's original LGBTQ+-friendly areas.
About 30 years ago, the community started transforming rundown houses into lovely domiciles along red-brick roads. Historic homes house some locals, but chic high-rise condos are especially coveted in the area, with many offering trendy restaurants on the street level. Residents of the adjacent neighborhoods faithfully support local businesses here, including a few salons, a handful of boutiques, and some one-of-a-kind restaurants to dine at.
3. Winter Garden
Embraces its citrus heritage
Thirty years ago, Winter Garden was a shabby little hub for shipping citrus by rail. Residents invested in the downtown strip, Plant Street, and the area has since evolved into a vibrant center for Americana. Boutiques and restaurants inhabit storefronts that used to house groceries or hardware, and new buildings are constructed in the same old-timey red brick style. Wholesome singers entertain outdoors on Friday evenings, while kids play on oversized swings.
The West Orange Trail runs through Plant Street, attracting runners, cyclists, and walkers. Plant Street Market, a food hall with its own brewery, is a family-friendly gathering spot, and the Saturday Winter Garden Farmers Market is among Florida's largest. Plant Street is occasionally closed off for parades and festivals featuring plants, music, or chalk art.
Homes in Winter Garden range from budget-level apartments to restored historic houses, attracting young couples and older adults who want walking access to the entertainment and amenities this part of Florida has to offer.
4. Windermere
Has a split personality
Windermere is two towns in one. Its core is a sleepy mile-long village with deep ties to Florida's citrus history. To the west, you'll find "Winder-near," one of the area's fastest-growing communities. It's a mini-metropolis of brand-new housing subdivisions, apartments, condos, townhouses, strip malls, hospitals, and churches sprouting out of land that until recently held groves.
Windermere means "among the lakes," and a small clutch of independently owned businesses lines its Main Street. Beyond, leafy tree-lined dirt roads have a mix of humble decades-old bungalows, flashy new mansions, and an eclectic collection of oddly mismatched middle-class homes—all side-by-side. The whole area hugs the shores of various lakes, many of which are connected by scenic canals.
Citrus farmers, theme park executives, and parents seeking an old-fashioned home base congregate here. They gather at the weekly Windermere Farmers Market, monthly food truck meetup, annual Fourth of July pancake breakfast, and frequent activities, like a 5K, 10K, or PetFest.
Downtown Windermere is located within commuting distance of all three major theme park complexes in Orlando, so housing prices downtown tend to be on the high side. The newly built western area just north of Disney World isn't technically within town limits but shares the town's name and ZIP code and has a huge range of housing at all price levels.
5. Winter Park
Has a wealthy New England vibe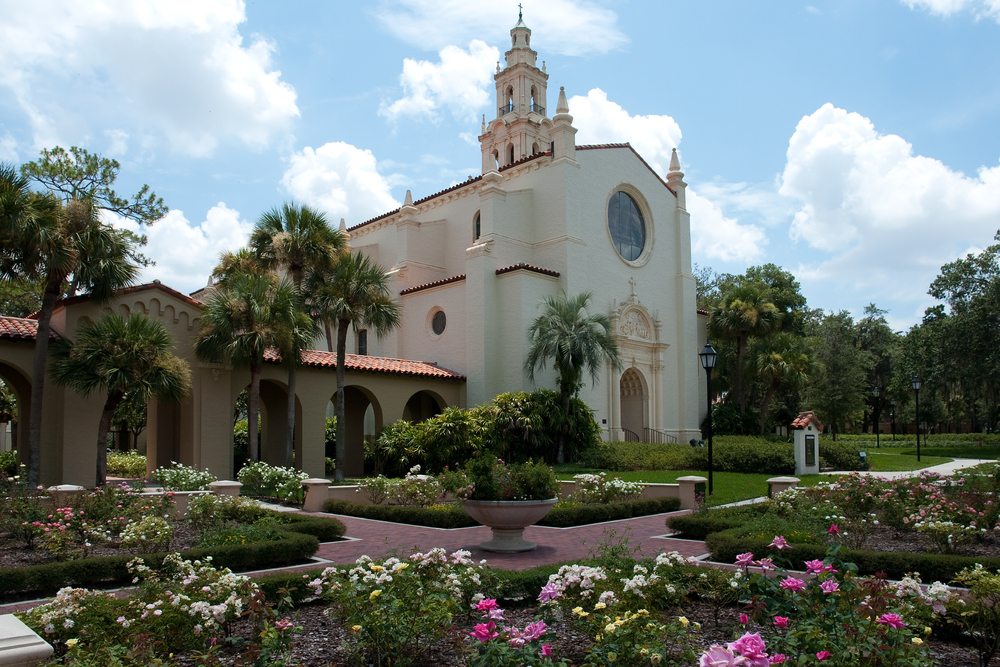 Back in 1887, Winter Park was designed to be a warm-weather retreat for monied northerners. Today, the sprawling community is a cultural hub just north of Orlando. Corporate bigwigs live in personable lakefront homes along tree-lined, New England-esque red brick roads. The most popular main drag, Park Avenue, is lined with upscale boutiques and cafes with sidewalk seating. Stylish Rollins College students and tailored country club moms stroll side by side here, with everyone coming together for occasional events in Central Park, such as two large fine-art festivals every year.
Even locals often find themselves perusing the art of Louis Comfort Tiffany inside the Charles Hosmer Morse Museum of American Art. They also join visitors at the hour-long Scenic Boat Tour, which scoots along a chain of lakes and gives locals a glimpse of the waterfront side of the area's attractive homes.
Winter Park isn't only for the wealthy, of course. Bungalows, apartments, and modest homes fill streets that spread out in every direction. Hannibal Square is dedicated to maintaining affordable housing, while more modern apartments surround the Winter Park Village mall.
6. Curry Ford West
Makes the old feel new again
Curry Ford West is at once a hotspot and an old-time middle-class Orlando neighborhood that organically looks vintage. While Charlie's Bakery & Creamery, Clemons Produce, and the Swiss House clock repair storefronts have met basic family needs for decades, their neighbors around Curry Ford Road are on fire. Food halls, breweries, and hipster restaurants dot the western-mile section, dubbed the "Hourglass District" after a local lake.
Throughout the area, look for new and repurposed buildings housing a coworking space for artists, tattoo houses, and a mix of unfussy realtors, wellness providers, and coin laundries. The mix of plain and on-trend bring the bearded and tatted to tables next to Orlando's hairstylists, journalists, and schoolteachers. Residents here are from a mix of cultures, all supporting creative residents. Curry Ford has a regular Way Out West Night Market for local vendors, plus a period fair for youngsters selling their homemade wares. The community also has other regular events, including the Dress Like a Dad Pub Crawl.
7. Celebration
Celebrates old-fashioned America
In the late 1990s, Disney started developing the town of Celebration. The goal? To be a New Urbanism community with a downtown, parks, and homes all in price ranges designed for neighborhood interaction. For example, houses are close to the sidewalk and often have porches so a "howdy-doo" takes place naturally.
Twenty-five years later, Celebration met all of those expectations, although Disney bowed out along the way and prices are on the high side for the area. Today, the town has more than 11,000 residents, along with additional shopping areas, schools, and services. Technically, it's located in Kissimmee, a historic Old Florida city surrounded by cattle ranches.
Celebration offers the best of both worlds: The houses look old-fashioned, yet their interiors have open kitchens, plenty of electrical outlets, and other modern amenities. It's also a quick drive south from Disney World!
8. Audubon Park Garden District
All about what's local
Ironically, Audubon Park was once given the Best American Main Street Award, even though it lacks a quaint hub. Instead, this tight-knit community revolves around Corrine Drive, a dowdy street lined with a couple of strip malls loaded with indie businesses such as a long-time jeweler, small florists, and a "bead lounge."
Locally sourced and made food is king in the Audubon Park Garden District. East End Market was the region's first food hall, and artisans have popped up nearby to provide hand-crafted pâtés, donuts, ramen, and vegan chicken tenders, for starters. Plus, the original Kelly's Homemade Ice Cream is here.
Roam the streets to find simple homes and rather grander ones, especially as you head north toward Winter Park. This area is anti-showy—residents are far more likely to talk about the birdhouse-filled Songbird Park and nearby 50-acre Harry P. Leu Gardens botanical garden, than their fancy possessions.
9. Baldwin Park
Has historic charm with contemporary comforts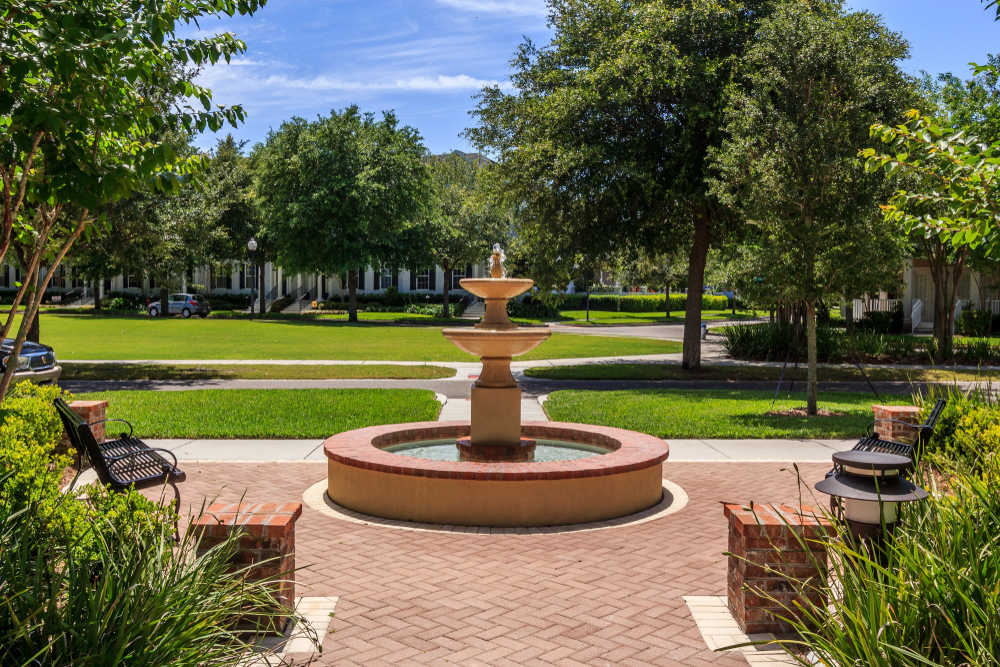 Keep heading east, and you'll see stately classic American homes replacing Audubon's plainer ones. Built atop a one-time military facility, the planned community was designed to look conservative and picturesque. High-rise apartment buildings and high-end houses hug New Broad Street, a lively street where young professionals sip wine, snack on Asian rolled ice cream, and exercise at trendy fitness facilities.
Downtime in Baldwin Park involves bike rides along Cady Way Trail, strolls around Lake Baldwin and Lake Susannah, and visits to the area's 200 acres of park space, including the shady Lake Baldwin Park and its sandy waterfront area. Families also frolic in the public pools, including one at the Greek revival-style town hall.
10. Creative Village
All about tech
Creative Village is actually brand-new! The City of Orlando knocked down its long-time arena and used the land to create a center for technology. The self-described "mixed-use, transit-oriented, urban infill neighborhood" is home to offices for the video game maker Electronic Arts, a tech-oriented extension of the University of Central Florida with Valencia College (including UCF's graduate-level video game design program!), and the Luminary Green park.
As Phase 1 was completed in August 2022, Creative Village had a mix of lodging, including 260 mixed-income apartments, 701 market-rate apartments, and facilities for 640 students. Phase 2 is currently in the works, so watch for more growth in the future.
11. Mills 50
A crossroads for Asian fare and LGBTQ+ living
The first thing you'll notice about Mills 50 is that it embraces all things Asian-American. From a hub where Mills Avenue meets SR 50, you'll see Asian restaurants in every direction, including Vietnamese, Lao, Korean, and Thai food, along with creatively filled Chinese bao (buns) and the upscale Filipino specialist Kaya. From groceries to accountants to salon supplies, it's all clustered here.
And that's only the start! Mills 50 is a hub for the LGBTQ+ community, where the Zebra Coalition supports youth and their families. You'll also find art in unlikely spaces here, as local creators paint dumpsters, exterior building walls, and even utility boxes in inspiring designs.
Folks of all stripes live in Mills 50's neighborhoods, which include Lake Eola Historic, Park/Lake Highland, and Colonialtown North and South. Most live in houses, but modern apartments have joined the area in recent years. Depending on the locale, residents might be within walking distance of Orlando's Loch Haven Park, filled with museums and theaters. Beyond that, there are residential areas, pretty little parks, and small, serene lakes in all directions.
12. Dr. Phillips
A mixed, mostly upscale Orlando area
Dr. Phillips is a crossroads in many ways, making it an ideal home base for many Orlandoans. Named for a long-ago citrus farmer-turned-philanthropist, the suburb's series of upscale strip malls along Sand Lake Road caters 50/50 to locals and visitors. That means it's loaded with restaurants, from fast-casual independent spots with good-quality kebabs to high-end establishments for corporate dining—and a whole lot of interesting offerings in between. From ramen and sushi to Portuguese, South American, and Indian fare, you can discover an entirely new cuisine every day.
You'll also find just about any service you need within those open-air, outdoor malls, from UPS offices to banks, cigar shops, jewelers, and Pilates studios. Collections of medical offices are located nearby on Turkey Lake Road, and this area is within easy commuting distance to Lockheed Martin, the International Drive tourism and nightlife corridor, and all three major theme park complexes. Along Apopka-Vineland Road, churches, mosques, a synagogue, and many other houses of worship greet worshippers. Between them, the spacious Dr. P. Phillips Community, Bill Frederick, and Shadow Bay parks offer trails, playgrounds, fishing, tennis, and pavilions.
Homes of all price ranges surround Sand Lake Road, also known as Restaurant Row. Multinational residents gather in communities with simple small homes, as well as country club mainstays (including the renowned Bay Hill) with lakefront mansions. Townhomes and apartments are plentiful, too.
13. SoDo
Blends new and old in an ace location
South of Downtown ("SoDo") in Orlando refers to a diverse area below the main Orlando Health campus. Its Orange Avenue and Michigan Street center supports interesting small businesses and services, such as Foreign Accents' home furnishings, the personable Hungry Pants cafe, and entertainment including Timucua, a small, reasonably priced concert hall (inside a home!) nearby that draws a broad range of musicians for intimate concerts. Artsy elements such as artist-painted utility boxes add color to the otherwise neutral architecture in this highly rated neighborhood.
SoDo's housing is as varied as its population. The area boasts some of the oldest Orlando neighborhoods, with homes in the Lake Cherokee, Lake Davis, and Greenwood areas listed on the national registry. Modern apartments complement these homes, and the rental market in the area is strong and in high demand due to SoDo's proximity to large employers, downtown Orlando, highway ramps, light rail, and other neighborhoods.
14. College Park
Has a strong sense of community
To see the true College Park, step into its Publix supermarket, with a Deco-esque exterior sign that looks unchanged since its 1966 debut (although it was actually installed following a 1998 rebuild). There, you'll see small talk aplenty, as residents of this tight community's bungalows, luxury homes, and modern apartments are bonded in a warm old-time way.
Along meandering Edgewater Drive, you'll see buzzing cafes next to vacant storefronts next to stalwarts for vintage furniture or apparel. Some things never change, like the one-way streets named for bastions of higher education, and a cycle shop that never quits. Bonus: American author Jack Kerouac wrote here for a bit in the late 1950s, and his former cottage is now a writer's retreat.
A few minutes away is the Packing District, which is sprouting up out of the ground as a mixed-use development with a 3,500-unit residential hub, and the 4Roots Farm, which will be a state-of-the-art educational institution centered on agriculture and reduced food waste.
Moving to Orlando?
You can create any life you like here—snow-free, of course. From stately century-old houses, basic bungalows, just-built high-rise apartments, subdivision condos, and townhomes, the choice is yours. Whether you want to live in downtown Orlando or explore other parts of the city, start with a fully furnished apartment from Landing in any of these best neighborhoods in Orlando. We'll give you a flexible lease so you can move on your terms. Learn more about becoming a Landing member today!