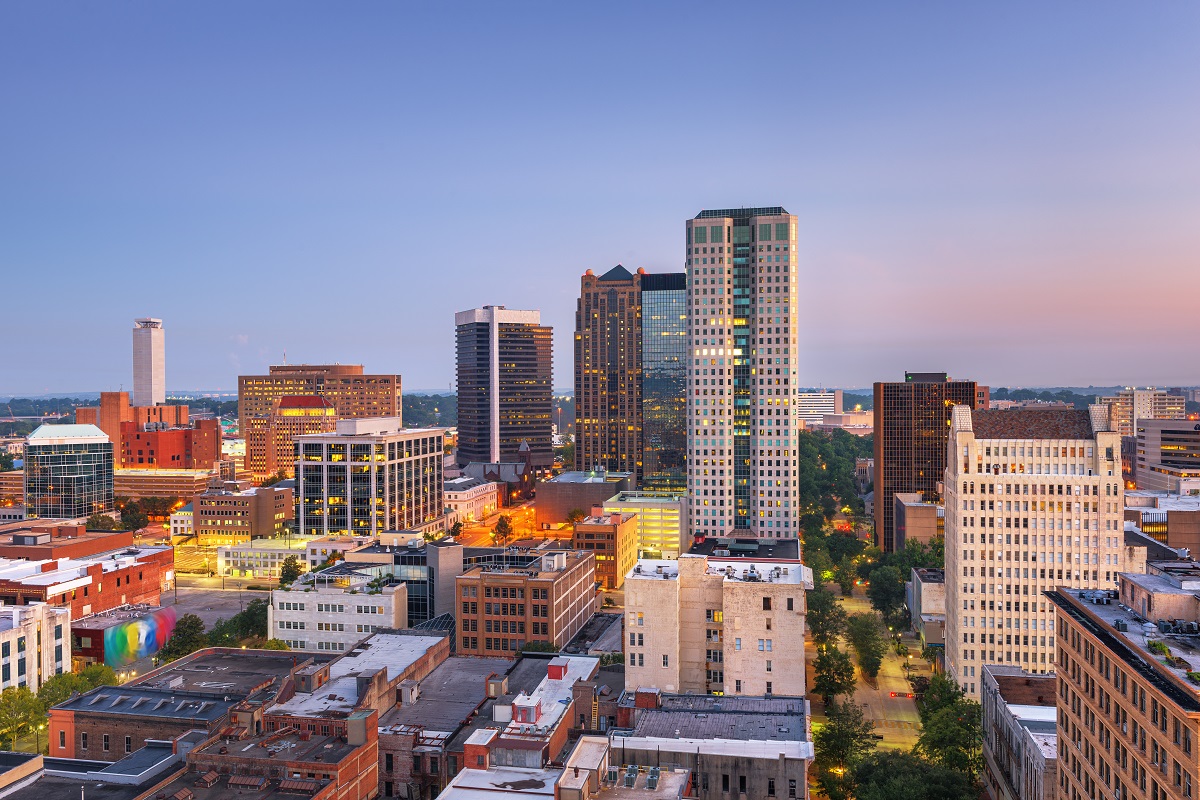 Living in Birmingham Alabama Pros and Cons
With a population of over 200,000 and more than one million people living in the metro area, Birmingham is Alabama's largest city. Set in the foothills of the Appalachian Mountains, the growing metropolis has a stunning backdrop of the natural world. From the Tennessee River, the Birmingham Museum, to a downtown coffee shop, there is something for everyone to enjoy.
If you're thinking about moving to The Magic City, you've come to the right place. Landing can take some of the pressure and uncertainty out of relocating or finding a furnished apartment in Birmingham. It might be helpful to consider the pros and cons of residing in Birmingham before making a decision, and we're here to break them down for you.
12 pros and cons of living in Birmingham, Alabama
The north Alabama city was initially an industrial hub, which is where it gets its other nickname, Pittsburgh of the South. However, in recent decades, it's grown into one of the best places to live, work, and explore in the region. Like all metro areas, living in Birmingham, Alabama has its pros and cons.
Pro: Low cost of living
Living costs in Birmingham are about 9% lower than the national average, with a cost-of-living index of around 74. Things like groceries, utilities, transportation, and healthcare are generally wallet-friendly.
The median home listing price is roughly $170,000. This is substantially lower than real estate in many other mid-sized cities in the U.S. Though listing prices spiked by a little over 13% in the past year, housing costs are still roughly 14% lower than average in the U.S.
Renting in Birmingham is affordable, too, and renters take up about half the share of occupied homes in the city. Apartments go for about $1,050 on average. 
If you're thinking about moving to Birmingham but aren't sure which neighborhood you'd like to live in, it is important to do your research and decide the best neighborhoods in Birmingham based on your needs. We encourage you to check out the modern rentals from Landing. We have fully furnished apartments with flexible terms and lots of amenities.
Pro: Amazing Southern food
If you love authentic southern cuisine, you'll appreciate the food offerings in Birmingham. From crispy fried chicken, barbecue ribs, and pulled pork to homemade biscuits, grits, and greens, there's much to enjoy in the city's many eateries.
A few of the most noteworthy joints that serve southern food include SAW's Soul Kitchen, Dreamland Barbecue, and Jim 'N Nick's BBQ.
Con: Unpredictable weather
Since Alabama is located in close proximity to the Gulf of Mexico, the southern state is generally warm and can get incredibly muggy. Summers tend to be long, hot, and humid, while winters are usually short, wet, and relatively cold.
The weather can be unpredictable too. One day, you might have a torrential downpour, and the next, you could experience sweltering heat. Besides hot temps and rainfall, humidity in Birmingham changes drastically as well. From May through October, the weather can range from relatively humid to avoid-going-outside muggy.
Another thing to keep in mind is storms. Tornados and hurricanes sometimes make their way through Alabama. While they're more common—and usually more intense—in the southern part of the state along the Gulf Coast, Birmingham isn't immune. The city sees its fair share of thunderstorms too.
Pro: Some of the country's best college football 
Home to the University of Alabama at Birmingham (UAB) and Samford University—not to mention Auburn (AU) just a couple of hours away—the city is known for its college football. Whether you're a fan of the Bulldogs, the Tigers, or the Crimson Tide, there's plenty to cheer for when it comes to Alabama football.
Pro: Many higher education institutions
Even if you're not big on football, you can still take advantage of the area's ample higher education offerings. Greater Birmingham is home to one of UAB's main campuses, plus three private colleges, including Samford, Miles, and Birmingham-Southern.
Then there's Miles Law School, Cumberland School of Law, and Birmingham School of Law, as well as two community colleges. Whether you or your loved ones are interested in studying law, medicine, dentistry, or engineering, you'll find a program either in or near Birmingham.
Pro: There's lots to do!
The city of Birmingham is full of things to do, places to see, and areas to explore. During the day, you can hike or bike Red Mountain Park, have a picnic at the Botanical Garden or Railroad Park, play a round of golf, pick up some local fare at Pepper Place Saturday Market, or head to one of the city's many museums. If you are looking for fun things to do in Birmingham, you have come to the right place!
If you have kids, you can spend some time at the Birmingham Zoo or the family-friendly McWane Science Center. After sunset, grab dinner at one of the city's many highly rated restaurants or food trucks. Then you can catch a show at the Alabama Theater or live music at Saturn.
Con: Some destinations are closed on Sundays
The metropolis has a lot to offer, but Sundays in Alabama are often viewed as stay-home days. Many businesses throughout the state aren't open on Sundays. While Birmingham has, for the most part, abandoned this tradition, it's still the case in many of the surrounding towns and suburbs.
That said, there's still plenty you can do aside from going to restaurants, bars, museums, stores, and theaters. With numerous parks, trails, golf courses, and landmarks in the city, it's not hard to find an outdoor activity to kill some time.
Pro: Lots of excellent festivals and fairs
The Birmingham area (and Alabama in general) often has cool festivals and fairs. There's the Athens Grease Festival, a celebration of fried food, and the National Peanut Festival over in Dothan. Then you've got the Opp Rattlesnake Rodeo and the Alabama State Fair, which is held at the Birmingham Race Course.
Also, though New Orleans is famous for its Mardi Gras festival, the tradition actually started in Alabama. When French settlers founded the state in 1702, they observed the event in the port city of Mobile. The annual carnival celebration is definitely worth checking out at least once.
Pro: Top-tier craft breweries
You might expect good southern food in Birmingham, but did you know the area has a lot of excellent locally crafted beer as well? There are 30 craft breweries throughout the state of Alabama, several of which are in the Magic City.
Some of the most highly rated breweries include Avondale, TrimTab, Ghost Train, Slag Heap, Cahaba, Good People Brewing, and Birmingham District Brewing Company.
Pro: Decent public transportation
Public transportation in Birmingham, Alabama is substantially better than most cities of its size. MAX Transit is an express bus system that runs every day of the week with routes all throughout Jefferson County.
Then there's Megabus, a low-fare bus offering city-to-city transit from downtown Birmingham to all over the South for as little as $1 a ride. You can also take the Amtrak train to almost any major metropolis, like New York, New Orleans, Atlanta, Houston, and even cities on the West Coast such as Los Angeles.
Many people who live in Birmingham have cars, though you can definitely get by without one. If you can't get where you need to via public transit, you can usually call an Uber or Lyft.
Pro: Great local music scene
When you think of music in the Heart of Dixie, you might think of country tunes—or more specifically, the classic "Sweet Home Alabama." What many don't know is that Birmingham has an excellent local music scene, and if twang isn't your thing, there's plenty of other genres to enjoy.
Whether you're into jazz, rock, bluegrass, EDM, or hip hop, there's a good chance you can find an upcoming event to see it live. Many bars and pubs in the city have live music, but you might want to get tickets for a show at a larger venue. Some of the best places to see music in Birmingham include Iron City Bahm, Saturn, Zydeco, and Jazzi's On 3rd.
Moving to Birmingham, AL? Find an apartment here
There's a lot to love about Birmingham, Alabama. Moving to Birmingham, AL, means you can enjoy everything the dynamic city has to offer. If you're thinking about relocating but aren't sure which area to settle down in or whether you want to buy or rent a home, Landing has the perfect solution.
Our comfortable, fully furnished apartments in Birmingham are located throughout the best neighborhoods in the area. With flexible lease terms, concierge services, seamless transfers, and all the amenities you need, Landing is a new way to live—and a new way to move. We take the pressure off relocation while you put down roots.
Your Birmingham Landing is just a few clicks away. Browse our available apartments in Birmingham today!