Landing's Kaleigh Foy Shares Her Top Interior Design Tips
This blog post is part of an ongoing series featuring Landing's Head of Interior Design, Kaleigh Foy. Check out part one, "Landing's Kaleigh Foy Shares Her Top Interior Design Trends for 2021," here.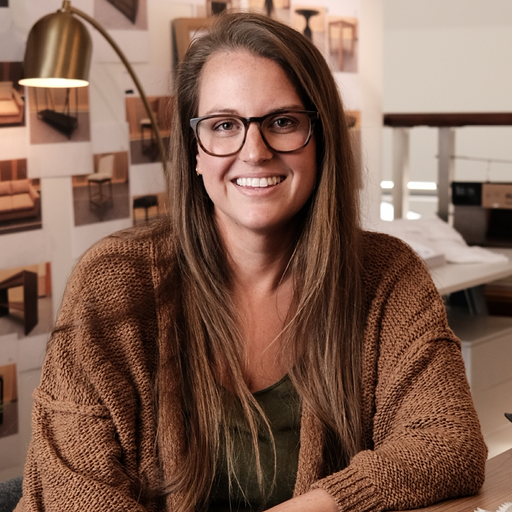 Recently, Landing's Head of Interior Design, Kaleigh Foy, was featured on Women on Top, a podcast hosted by celebrity actress Tammin Sursok and entertainment host Roxy Manning. In it, she shared her top tips for upping your interior design game.
You can listen to the full episode here, or read on for Kaleigh's top interior design tips:
Start small, and build up slowly
Many people want to get involved with interior design, but get overwhelmed easily because they don't know where to start. This is why I always recommend a layered effect. Choose a staple piece where you're going to spend the most amount of time, like a sofa or a bed, then move on to the next piece. For example, if I start with a sectional sofa or a straight sofa, that's going to affect the type of coffee table I get, and so on and so forth.
Try not to get overwhelmed by thinking that everything needs to be done perfectly all at once. Really take your time and go step by step with it. This will also let you figure out exactly what you need in your home to suit your lifestyle both now and when it changes in the future.
Focus on tones, not colors
Colors tend to throw people off, and it can be hard to know which colors work with each other and which don't. To help out with this, choose the tone you want to go with and build from that. For example, grays and blues lend themselves to a cooler color scheme , while browns and taupes, have a warmer feel,
I think people get confused when they try to match warm tones and cool tones. So, you have to ask yourself whether you want more gray in your home, or more brown. This is the same as the layering effects—you choose a tone and everything else layers with it. This doesn't mean you can't mix tones. For instance, you can still pick a yellow or a blue on the warmer side, or the colder side, to fit the tone you chose for your wall or sofa color.
Keep your quality decor intact with washable items
There are plenty of tips and tricks that you can use so that you can have a beautiful home with high-quality furniture, even when your house is a little chaotic. The market's been great lately in offering washable items, like couches or rugs. While these are particularly great for people with kids or pets, they're also wonderful for anyone who spills the occasional glass of wine! If something gets on the material, you can just pick it up, put it in the washing machine, and clean it up. Finding easy-to-clean textiles means your decor lasts longer and is better for the environment.
There's also adhesive spray that you can put on furniture if you want to keep it safe. When I used to have people over, I would actually spray my sofa with this spray that would make any liquid bead up instead of soaking the item itself.
Improve your home's flow with smaller items
I definitely believe in the "flow" of a house, and I think the biggest thing that affects a home's flow is when people's eyes become bigger than their stomach. They fill their space with large, bulky pieces of furniture that are too big for the space, or try to cram too many things into one space.
For example, your huge sofa may be comfortable, but it will overwhelm your space if it's out of proportion with the rest of the room. In this case, you can swap a massive sofa for a smaller or medium-sized sofa with a couple of chairs around it to break up the seating area.
Make sure what you're actually putting into your home makes sense and works together—just because a bed or couch is big, it doesn't mean it's the best fit for your space.
Change up your space to help your mental health
You can tell a lot about what's going on in someone's life by looking at their space. If your mind is chaotic, your home will likely be, too—and vice versa. How is the artwork placed? Are you showing family photos? How is your living room set up?
A lot of people might not understand that changing up your home can actually improve your mental health. If your space is working properly for you and you don't have to think about it, it's such a life-changing improvement—when you come home, you feel like you're in a sanctuary or your safe space, so you can just focus on your life.
Thanks again to Tammin and Roxy again for being such great hosts and for a fun conversation! Listen to the full episode to hear more about my journey into interior design, top interior design trends for 2021, and work-from-home advice. And, if you want to learn more about Landing and its approach to modern and functional interior design, check out our available homes here.