Landing's Kaleigh Foy Shares Her Top Interior Design Trends for 2021
This blog post is part of an ongoing series featuring Landing's Head of Interior Design, Kaleigh Foy. Check back next week for the next blog in the series, which will cover Kaleigh's top interior design tips.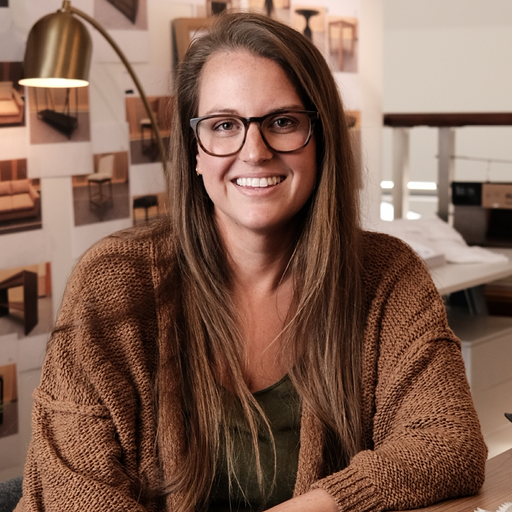 Recently, Landing's Head of Interior Design, Kaleigh Foy, was featured on Women on Top, a podcast hosted by celebrity actress Tammin Sursok and entertainment host Roxy Manning. In it, she shared her takes on popular interior design trends in 2021 and what she expects to make a big splash in the coming months.
You can listen to the full episode here, or read on for Kaleigh's thoughts on the biggest interior design trends of 2021:
Warm tones
I expect to see more warm tones, such as browns, taupes, and neutrals, sweep the interior design scene. I also think we'll see more natural textures and things that look handcrafted, meaning it doesn't look fully perfect. I think we're already seeing these trends, and we're going to be headed in this direction for a while.
More affordable furniture
Lately, there has been a trend for affordable furniture that can be easily and more affordably swapped out when it's time to revamp a room. Places like West Elm and CB2 are now selling more affordable sofas and dining room tables, which means people can keep changing up their space without breaking the bank, and they don't need to spend months and months saving up for essential pieces of furniture.
From a manufacturing standpoint, too, this is what retailers want. They stay in business when their customers find a need to purchase items every six months, every year, or every two years. It's going to be a continuing trend as we spend more and more time at home.
While the quality of these pieces of furniture might not necessarily be Landing standards, they still have to be affordable, since dropping $7,000 on a sofa is a big commitment. But, if you're spending $1,200 on a sofa, it's far more reasonable to consider changing it out every few years.
Gender-fluid interior design
Trends are definitely changing to be more gender-neutral. Gone are the days of highly masculine or feminine styles. Guys are not opposed to pink these days, and women love a beautiful leather chair—it just has to work with the space plan and design. Design trends are changing to be more gender-neutral, because people are being more open-minded about not having "girl colors" and "boy colors," or masculine or feminine elements—it's just design.
Plants … everywhere.
This is a huge trend—people love having a ton of plants in their homes, whether they're real or fake. I'm totally down for fake plants. I personally don't have the time to maintain a plant! Bringing natural elements into your home is also really great for your mental health, particularly when you consider how we've been stuck inside for so long. It's a good reminder that there's a whole world out there. We put a faux plant in every Landing home, since our members have told us they want that extra layer of accessory and that plants help promote a natural and organic feeling.
Going along with this trend of bringing an element into your home that reminds you of the outdoors, I also think the biggest change you can make is to simply open your windows. Don't have huge draperies blocking them—let the natural light come in. Of course, this also helps to maintain real plants, if you want them!
Kitchenware
Since we are staying home, more people are cooking more than ever and are obsessed with their kitchenware. Kitchen appliances, new utensils, and new dishes are a hot commodity. It's definitely a reflection of where we are in our lives. You want to have that cool mixer on your countertop or those pretty plates, because you're using them more.
Sustainable interior design
Lately, there has been a bigger push for sustainability and being green in the interior design space. There are different variables that can help you design your home more sustainably. First, investing in washable fabrics and rugs means that you don't have to throw these materials out every time you spill wine on them or something like that. Make sure your items are easy to clean and have a long lifespan so you don't have to buy the product over and over again.
When it comes to your actual products, it's also important to understand where your items come from and be aware of what you're buying. Just like you try to understand what goes into your body from a nutritional standpoint, you should seek out information on what's going into your home. If you're buying from a retailer in the U.S., where are they buying from? Who is making this for you? Being more sustainable starts at the manufacturing stage and continues throughout its entire life
Thanks again to Tammin and Roxy again for being such great hosts and for a fun conversation! Listen to the full episode to hear more about my journey into interior design, top design tips, and work-from-home advice, and be on the lookout for new blogs in this series in the coming weeks. If you want to learn more about Landing and its approach to modern and functional interior design, check out our available homes here.