Ideas for Living in a Small Space: How to Make the Most of a Tiny Apartment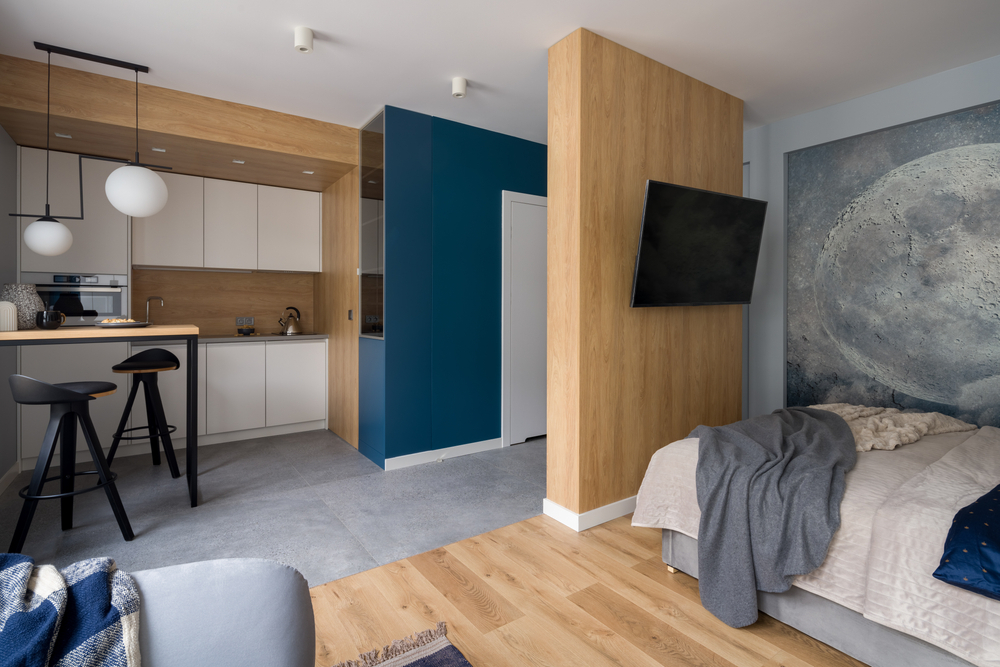 You've watched those "Tiny House" shows for years and have wondered how people managed to fit their lives, and their stuff, into a postage-stamp-sized space. Now it's your turn to see what living in a small space is like—the next place you're staying in is a tiny studio or one-bedroom apartment.
If you're worried you'll feel like the walls are closing in on you in a small apartment or that you'll be stuck pawing through boxes to find your stuff, don't be! You don't have to give up style or comfort when living in a small space. Here are a few ideas to help you maximize a small apartment:
Curate your clutter
The first rule of living comfortably in a small space is getting rid of excess clutter. You can call it "decluttering," but "curating" has a better ring to it! Curating your stuff and bringing along only the things you love and use makes it easier to live in a studio or small apartment. It will also make it a lot easier to move around if you decide to leave your apartment down the line—you won't have to break out the extra-large U-Haul each time you move somewhere new.
When curating your belongings, you can take the Marie Kondo approach and keep only the things that "spark joy," or you can follow the advice of the designer William Morris and "have nothing in your houses that you do not know to be beautiful or believe to be useful."
In other words, there's no need to carry your old college textbooks or an entire 12-person dinner set with you from apartment to apartment. If you think you'll want those items in the future, put them in storage. Otherwise, you can try donating or selling them.
Repurpose a closet
If your small space has a closet, you've hit the jackpot. Closets give you storage space, and even better, they can act as a usable area. Put a small table or desk in a living room closet and voila! You have a little study to work in. Or, if cooking lights your fire, use a closet near the kitchen as a pantry or craft a cookbook storage unit with shelving.
Love to entertain? Turn your living room closet into a minibar. Line the walls with removable, peel-and-stick wallpaper to give the space a vintage, festive feel. Place a small bar cart in there and get ready to be the host with the most.
Another option is to create a reading nook in a closet by the living room. Put a bench in the closet, pile it high with cushions and pillows, then put up shelving to line with your favorite books. Attach a plug-in light to the wall or hang a battery-powered push lamp to give yourself enough light to read.
Make your furniture work overtime
Some furniture pieces work harder than others and are perfect for a small space. One example of a double-duty piece of furniture is an ottoman with built-in storage. You get a place to put your feet up and store your blankets, remotes, or whatever else in your apartment needs a home. If the ottoman is big enough, it could even serve triple duty as a coffee table. Put a tray on top of it to hold books and drinks while you watch TV.
In a small living room, a coffee table can also serve as your work desk or dining table. A nesting coffee table has two tables in one and can double in size when you have friends over for a game night or book club. Investing in a drop-leaf kitchen table is another clever way to scale your space up and down as needed.
A bookcase doesn't have to only hold books—it can also offer entryway storage. Before you leave your home for the day, use a bookcase by your front door to stash your shoes and any odds and ends you might need, such as an umbrella, your transit pass, and your keys.
If you want to host overnight guests, invest in a sofa that folds out into a bed or a wall-mounted Murphy bed to give your friends a place to crash without making your place look cramped.
Use the walls
Walls can be your storage best friend in a small apartment. Clear floor space by hanging shelves from the walls to store your books and your knick-knacks that spark the most joy. Put some shelves up by the ceiling or in corners to make use of little-used areas in the living room.
You can also make your space look bigger and taller by adding plants to your decor. Hang them from the ceiling to pull the eyes upward. Decorating with plants also adds a touch of green to your home, making it more inviting.
Wall space can also be used to tuck away furniture and clear up the floor space in your apartment. For example, hang up folding dining chairs when you're not eating to get them out of the way. Consider using a wall-mounted, foldaway dining table or desk. When you're not eating or working, fold down the surface to give yourself some more room to move around your apartment.
Go under and over
Make use of underutilized areas in your small space, such as under your bed or over a door. Investing in a few under-bed storage drawers is a great place to store extra linens or out-of-season clothing. Over-the-door hook racks can give you space to hang towels, bathrobes, or coats in your bathroom, bedroom, or living room.
Another idea is hanging a few over-the-door hooks on cabinet doors in your kitchen to store utensils or dishtowels.
Let there be light
A tiny apartment can feel pretty confining if it's also a dark apartment. Take advantage of the natural light that streams in through your windows and make sure you have enough artificial light to illuminate your small living room, kitchen, and bedroom.
Wall sconces and floor lamps are your friends when lighting a small living room and the rest of a micro-apartment. Try hanging two plug-in sconces on either side of your sofa to create a well-lit space that's perfect for reading or working late at night. Wall-mounted plug-in lights are also perfect for bedrooms if you don't have the space for nightstands.
You can also create a mood in your small living room by hanging strings of light up by the ceiling. String lights won't be super bright on their own but can create a special touch that's perfect for dinner parties or dates. They can also provide just enough light when you're kicking back and watching Netflix.
Add mirrors to your decor
A few strategically placed mirrors in a micro-apartment do more than give you a place to check out your look before you head out the door. They can also help you maximize your living area and make a smaller space look larger.
Mirrors reflect light and open up any tiny area, and create a fake window effect in which you feel like you're looking into another room or apartment when you look into a mirror.
To get the most from your mirrors, pair them with a light source. For example, hang a mirror over your sofa and between your lamps in your living room. The light from the lamps will reflect in the mirror, making your living room look larger. In your bedroom or kitchen, try hanging a mirror opposite a window so it will reflect the natural light and make the room look bigger and airier.
Pro tip: Don't hang the mirror too high! You should be able to see yourself reflected in it. Ideally, position the mirror so its center is about five feet off the ground.
Leave some empty space
When decorating a tiny studio, keep the motto "less is more" in mind. You want to leave some empty space to give your apartment some room to breathe. That can mean anything from taking a few books off of your bookcase to moving a pillow or two off the sofa.
Striking that balance between too much and too stark can be tricky. You don't want a cluttered apartment, but you also don't want your home to look lifeless.
Play around with your furniture and experiment with your decor. It might take a few trials and errors before you find the small space arrangement that works best for you.
Looking for a new apartment?
If you want to take the complexity out of decorating a small space, try living with Landing, which offers apartments of all sizes that are fully furnished and designed to fully maximize any space you're working with. Learn more about Landing's fully furnished apartments and flexible lease terms here!