How to Transport a Dog Across the Country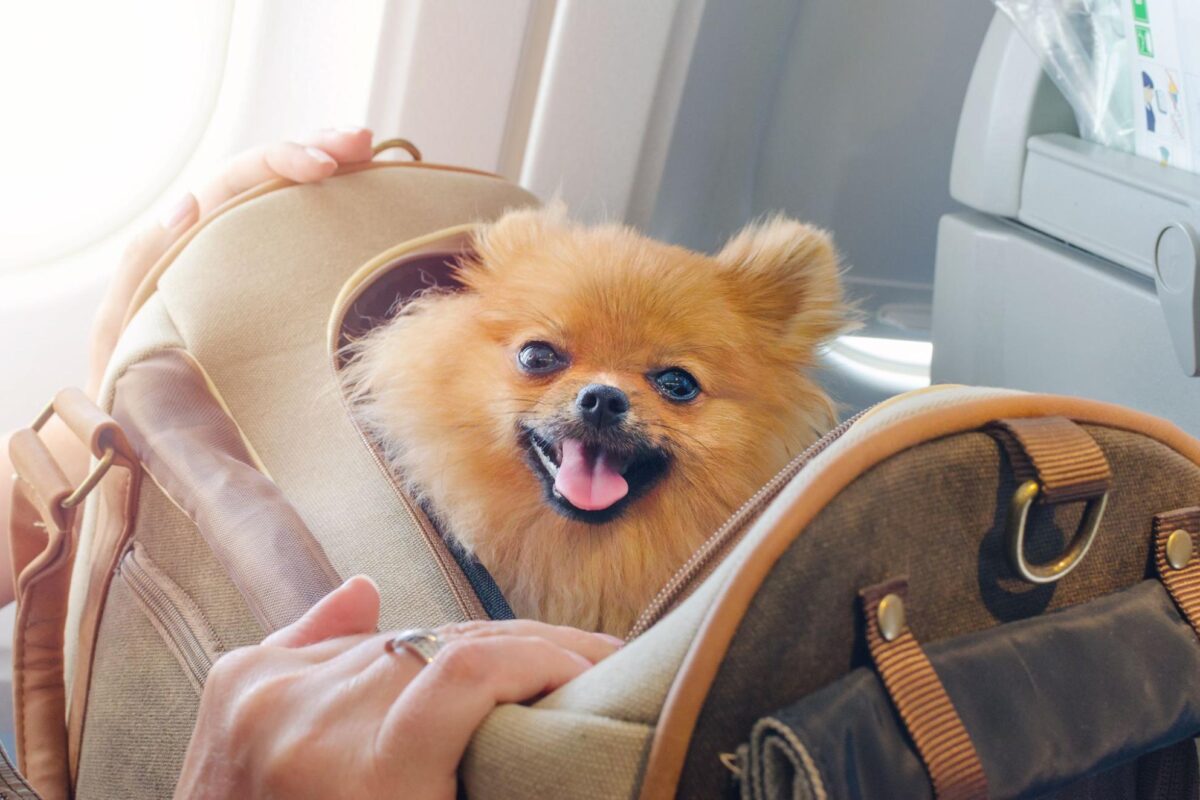 If you're considering moving across the country, you may have quite a few decisions to make—especially if you're a dog owner trying to figure out how your beloved pet will make it to your final destination. When choosing how to transport your dog, you can go by land, sea, or air, but whatever solution you choose, you want to make sure your dog stays comfortable and that you have treats or toys readily available throughout the big move.
Here's all the information you need to make an informed decision about how to transport your four-legged family member across the country if you're moving to a new city:
Roadtrip
You're always looking for ways to do more things together with your dog, whether you're hanging out at a dog-friendly restaurant or just chilling out at a dog park. But long road trips are the best way to do both with other humans or your pooch. Road tripping is often the preferred solution to minimize separation or travel anxiety that your dog may have. It will also remove your own fears, as you won't have to hand off your dog to be crated and stored away, and you'll be with them during the entire trip.
Traveling from one coast to another shouldn't be done in a day or even multiple days. Driving across the nation with your dog should be an experience within itself, and the best way to do this is to break up your trip and visit some of the nation's national parks. Give yourself some extra time before getting to your final location and plan an adventure. Who knows, maybe you could start a travel blog on your journey!
There are sights to see and events to go to in every state, and no matter where you're starting and where you're going, there is a good chance you'll be able to find dog-friendly activities. Just make sure you take plenty of breaks throughout the day and give your dog a chance to run around and blow off some steam to keep your pup tired (and your sanity intact).
What's more, you don't have to pay any pet transport fees when road tripping with your pup. At night, you could even choose to "ruff" it out at one of the secure campgrounds.
Bus
Traveling across the U.S. on a bus is a great way to see the country. It can save you money, and you can cut down on your personal carbon emissions.
If you're thinking about transporting yourself and your dog across the country in a bus, you'll need to do some research and verify what the pet policy is with the bus line. Most bus/van transportation options are transparent about allowing your beloved pets on board. If your dog is there for medical purposes or is an emotional support animal, you most likely will be able to bring your companion along for the ride.
If you've found a bus line that gives you the green light, you need to think about how the ride may affect your dog. Buses have to make lots of stops while they go from point A to point B, so the whole trip could take a lot longer than you want it to. This means you'll have to find time to stretch their legs and do their business in between stops. You'll also want to verify with the bus line whether or not you just need to leash your dog or if you have to have them put into a travel carrier.
Some bus lines may also ask that you carry proof that your dog has stayed up-to-date with their vaccinations. Furthermore, if your dog has the type of demeanor where they may get nervous or frightened by other people, you may want to look at other travel accommodations.
Airplane
Airplane transport will be the quickest transportation method, though there are a few things to consider. If you have a smaller dog, typically no heavier than 20 pounds or bigger than a carrier, you have the option to bring your small pet into the main cabin.
If your dog is too big, you'll have to take all the precautions to make sure your dog is prepared for the flight. If your dog has never flown in a plane, you may not know how they will react to the noise, air pressure changes, people, and the crate.
Additionally, according to the Department of Transportation, short-faced dogs, such as Bulldogs, are at risk while in flight. This is most likely due to respiratory and heart issues that occur with these breeds. Dog owners should also be aware of the heart risks created when dogs experience anxiety and stress, especially in older dogs.
Some health issues that pets endure have led PETA and the Humane Society to advise the pet owners not to transport their pet in the cargo hold of the airplane. When animals are transported in the cargo area, they can be exposed to extreme temperatures, poor airflow, and loud environments that may cause them to panic.
Flying can be a stressful experience for a dog of any age, but the majority of them make it safely to their new home! Remember to do your research on airline policies, consult your veterinarian, and decide what would make your dog most comfortable.
Ground shipping company
If you can't personally go on a road trip with your pooch, your safest and most affordable method to ship them anywhere in the country is via a certified ground shipping company.
TLC Pet Transport, Inc is one of the leaders in transporting dogs and animals across the U.S., and no matter what your personal needs are, this pet shipping company will be able to put you at ease. The company offers both group and private ground transport options, and in certain circumstances, the dog transportation process doesn't even require a cage.
These private transports allow dogs to ride in style in the back of minivans with their favorite toys and bed. No matter what solution is right for you, the company promises that dogs are walked every four hours. The company specializes in working with large breeds, handicap dogs, and senior dogs.
Independent contractor or friend
If you don't want to go through a large freight shipping company, you could ask a friend to travel with your dog to the final destination via car, or you could hire an independent shipping contractor through a technology company like GoShare.
Goshare advertises itself as being "your friend with a truck," and it works to help individuals and businesses connect with delivery professionals. The company works similar to Uber, but for moving cargo. Depending on the drive length, you may be able to find a willing independent contractor through the GoShare app.
Rent a boat
Okay, we know this sounds a little crazy, but hear us out! Every dog wants to be a salty dog, and there is no better way to do pet travel than via sailboat.
This method of pet transportation may take a lot longer, but it's going to be stress-free and the most enjoyable experience. If you have the money, the time, and the ocean legs, this is the way to go. If you're going up or down the coast or from Houston to New Orleans, you may want to think of renting a sailboat and a captain.
Your dog is your best friend, and they deserve to travel safely too! No matter what choice you decide, you'll want to understand all your options and your risks and make the best decision for your four-legged friend.
If you're looking for pet-friendly apartments in a new city, Landing offers pet-friendly and fully furnished apartments in over 375 cities throughout the U.S. And, as a plus, our leases are flexible and require no fees! Browse our available apartments today.