How to Find Temporary Housing While Building a Home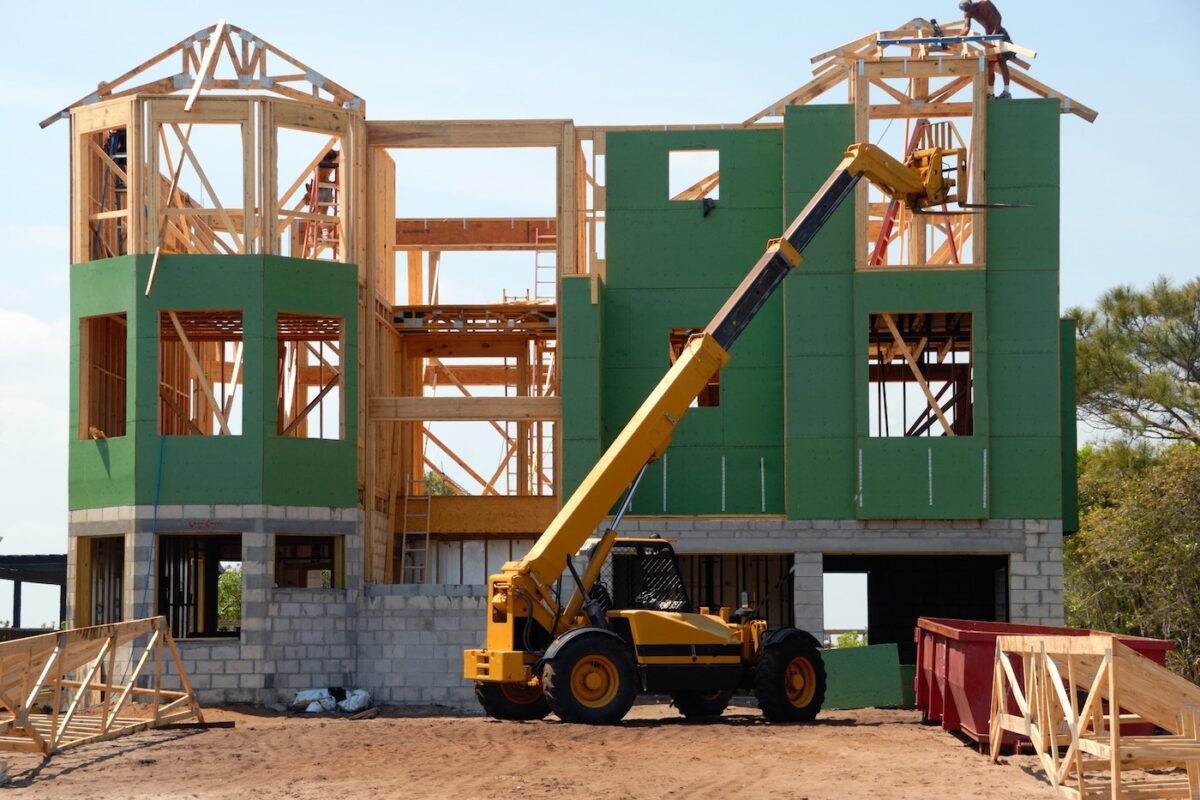 Building the home of your dreams is incredibly exciting, from planning a house tailor-made to your vision to finding the perfect spot for your new home and selecting all the trimmings and unique details that will make it special.
In fact, it's a very popular time to build right now. Bloomberg's City Lab reports that over a million new single-family homes were built in 2020 alone. But the time between laying the foundation and move-in day can be pretty stressful, as your entire life is uprooted and you'll need to find temporary housing for yourself, your family, and all of your belongings.
The good news is that you have plenty of options at your disposal when you need to find temporary housing while you build your new home. This guide will explore all you need to know about temporary housing options, including:
Options for temporary accommodations or housing during your renovation
Factors to consider when looking for temporary housing options
Preparing your living arrangement for the temporary move
Let's get started!
Options for temporary housing during a renovation
Finding temporary accommodation during a home renovation can seem like a daunting task—after all, you're uprooting your entire life for anywhere up to a few weeks to a few months. Luckily, there are numerous short-term housing options out there to meet your needs as you wait for the sawdust to settle.
1. Short-term rentals
Short-term rentals like the ones offered by Landing's network of apartments offer minimum stress with maximum flexibility and affordability. With these types of networks, you can rest easy with:
Big savings: Apartment networks like Landing don't charge you for security deposits or application fees, and you're not required to pay an additional month's rent upfront. Landing is a great temporary housing solution for anyone.
Flexibility: Housing networks offer leases from anywhere between one month up to 12 months, making it easy for you to find a place to stay for exactly how long you need it. You'll also be able to easily extend your lease if you encounter any construction hiccups.
Ease of access: Specifically, Landing is available in over 375 cities across the U.S. and provides access to a 24/7 member service to help with anything you might need during your stay.
Top-tier amenities: Fully furnished homes come equipped with smart TVs, lightning-fast Wi-Fi, premium amenities, ample storage, and thoughtful touches to make your apartment feel like home while you're renovating your own.
Interested in living with Landing as you build your new home? Browse Landing's fully furnished apartments today!
2. Hotels
Hotels are a great option if you'll need to be out of your home for only a few days. Booking a beautiful hotel in an area you've always wanted to visit is the perfect way to turn construction headaches into a luxe mini-getaway. You'll love the chance to kick back poolside, enjoy dinner courtesy of room service, or revitalize at the day spa.
Keep in mind that hotels can get pricey quickly. Consider looking into an extended-stay option if you're going to need to stay for more than a few weeks or months. Otherwise, you might be facing a hefty bill when check-out comes, in addition to your already hefty renovation invoice.
3. Sublets
Sublets involve temporarily assuming someone else's lease for a period of time while they are away and staying in their home. Subletting an apartment from a friend or an acquaintance can be a smart way to find a furnished place to stay for a few weeks to a few months at a time.
When subletting, it's important to understand that you are not on the lease and are not covered by the same protections that the original tenant is. Although subletting can be a quick solution to a temporary problem, you should make sure that you fully understand any potential ramifications or legal snafus that might come along with it.
4. RVs
Recreational vehicles or RVs can be a great way to combine temporary housing with an exciting new adventure. Long-term RV rentals can be found for as low as $50 a night and offer most of the same comforts as a brick-and-mortar home—a souped-up RV usually features a kitchen, a bathroom with a shower, a living area, and a bed.
The major benefit of an RV is the flexibility it offers—you can pick up and go at any time. You can turn this time into a chance to take that road trip that you've always wanted to. If you've always been dying to take a tour of the national parks, the National Park System offers 130 overnight camping sites where you can park your RV overnight after a day of enjoying the best that nature has to offer. If you'd rather stick close to your new home, you can also park your RV near your construction site.
RVs are a great option for single people or couples without children. However, keep in mind that you'll be sacrificing space and storage for your freedom and flexibility.
5. Friends or family
If it's a shorter stay, you can always consider asking friends or family in the area if you might be able to stay with them. The benefit of this approach is that you'll have a free place to stay while also having more time to spend with loved ones.
However, staying with friends or family is often only ideal if you're planning a short stay—you probably won't have a ton of space to store your things and you don't want to overstay your welcome! It takes an average of six to eight months to build a new home, so this is could be a long time to share space with other people.
Factors to consider when looking for temporary housing
When considering the best picks for temporary housing while building a home, it's important to factor in your unique situation. Before beginning the search, talk it over with your family or your partner and try to answer some of the following questions to determine what might be the best fit for you:
How much space do you require? Some short-term options like an RV can be very cramped, while apartment networks and sublets may offer more storage space.
Will you need to find somewhere that can accommodate your pets? Does your pet-friendly option include everything you need to make your animal's life comfortable, like a backyard or proximity to a park or a dog run?
What are you planning on doing with your belongings, like furniture, home decor, or other objects you won't be taking with you to your short-term accommodations? Will you be storing them at family or friends' homes or using a paid solution like a storage unit or locker?
Does your temporary housing offer parking, whether it's a driveway, access to a parking garage or lot, or street parking? If you don't drive, is it easily accessible by public transportation?
Does it fit the needs of all of your family members? Some options like RVs or hotels might not be kid-friendly.
Does it fit in your budget? Building a house can be expensive, and you don't want to add additional financial strain on top of that. Hotels can often be a pricier pick while staying with family or friends is free.
Preparing for the temporary move
You've settled on the temporary housing of your choice—now it's time to get prepped and ready for your home away from home!
Make a checklist of all of the things that you'll need to coordinate ahead of your move. It's easy to take all of the comforts and conveniences that our home offers us for granted, such as ample storage, familiar spaces, a full range of appliances.
To that end, here are some things to consider doing before moving day:
Storage: Figure out a plan for storing anything you're not bringing with you. You could consider renting a storage unit, storing items in a part of your home that isn't under construction, or asking friends or family if you can store your belongings in unused space on their property, like a garage or a shed.
Pets:If you're a pet owner, make sure that wherever you're staying is pet-friendly. If you're not able to take your pet, you should start looking into friends who could serve as dog or cat sitters well ahead of time.
Kitchen needs: Consider how your temporary home might affect certain parts of your day-to-day life. For housing options like RVs or hotels, you may not have access to a full-sized kitchen the way that you would in a house or apartment. Think about brushing up on some quick, easy recipes that can be made without a stove or an oven.
Commutes: If you're driving to work, make sure to map your commute out ahead of time. Your new route might be longer or have heavier traffic, so it's good to expect the unexpected, and maybe leave a few minutes early for the first couple of days.
New experiences: Have fun with it! Even though construction and finding temporary housing can feel like a stressful time, think of it as a chance to get out of your comfort zone and experience a totally new environment. Try to look up fun things around your temporary home—whether that's a restaurant you've always wanted to try, a park within walking distance, or a buzzy shopping district.
Find temporary bliss with Landing
Finding temporary housing can be an added stressor on an already too-long to-do list. Make your temporary living situation easy with Landing.
Landing takes all of the worries out of finding temporary housing. We offer fully furnished apartments and short-term leases to ensure you're comfortable wherever you land. Plus we remove the need for application fees, security deposits, or additional month's rent upfront so you can ease the strain on your wallet. Find your home away from home with Landing and browse our apartments today.