A Local's Guide to the 12 Best Suburbs in Atlanta, Georgia
Any Atlantan can tell you that a common saying in the city is, "We're full!" because Atlanta residents don't want you to know just how perfect this city is. In fact, Money even named Atlanta the best place to live in 2022! From its tree canopy to its diversity to its Southern hospitality, all eyes are on this Georgia city these days.
However, you don't need to live within city limits to feel the full effects of this city. Suburban life in Atlanta (defined by the I-285 perimeter) offers the best of big-city access and small-town charm. There are lakes, rivers, parks, and more out in the suburbs, all with easy access to the city. Metro Atlanta's total population hovers around 6 million, and it's easy to see why so many people move here and love it—whether they're in the city or in its booming suburbs.
Thinking about making a move to the Atlanta area? Here are the top suburbs of Metro Atlanta if you're considering going beyond city limits:
Sandy Springs
Johns Creek
Alpharetta
Milton
Dunwoody
Roswell
Marietta
Fayetteville
Smyrna
Peachtree City
Tucker
Duluth
Let's get started!
1. Sandy Springs, Georgia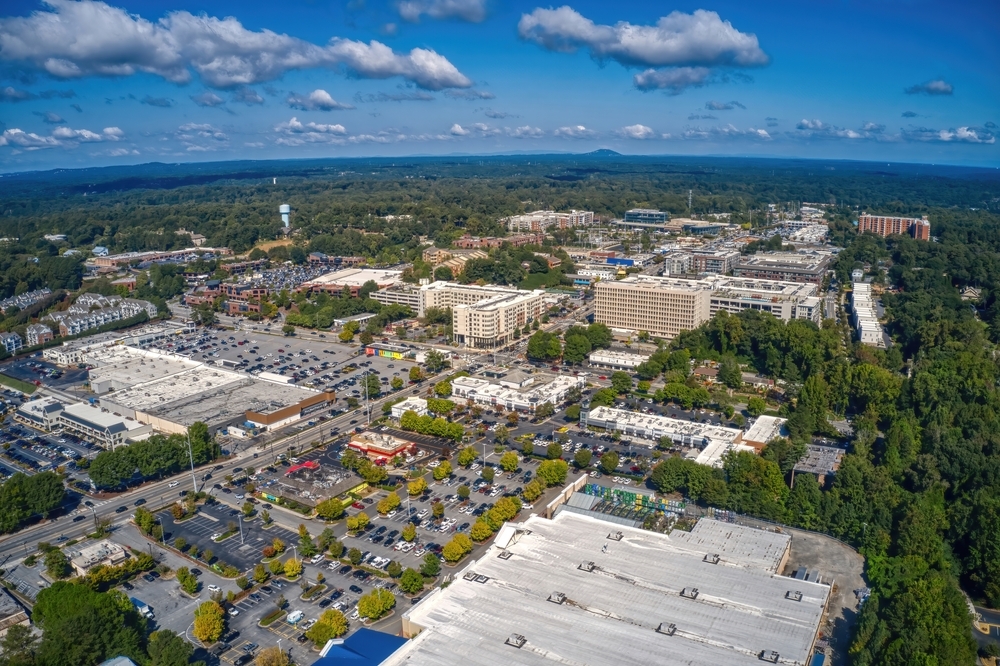 For those that like to have one toe inside the perimeter, Sandy Springs is for you. Technically stretching over both sides of I-285, Sandy Springs is home to over 950 acres of parks and natural green areas and sits about 15 miles from downtown.
While rent can be more expensive than suburbs lying farther out thanks to excellent public schools and proximity to Midtown, Downtown, and Buckhead, Sandy Springs residents get to take advantage of having easy access to both the Chattahoochee River and city living. More and more young adults are moving to Sandy Springs thanks to its relative affordability compared to city living, joining families that have known just how convenient Sandy Springs is for years.
The recent addition of the City Springs area has revitalized Sandy Springs, offering year-round events, and companies like Mercedes-Benz have even opted to call it home!
What to do in Sandy Springs
2. Johns Creek, Georgia
Located about 25 miles northeast of Atlanta, Johns Creek is the area between Alpharetta and Duluth. Many of the streets in Johns Creeks have "Ferry" in the name, as the area used to be rife with ferry crossings. It's an idyllic suburb only recently incorporated in the past 20 years.
There are excellent school systems, relatively affordable rents, and a degree of security for its residents. One of the crown jewels of the community is Newtown Park, a large green space where you can walk trails, play at the dog park, and catch live music.
What to do in Johns Creek
3. Alpharetta, Georgia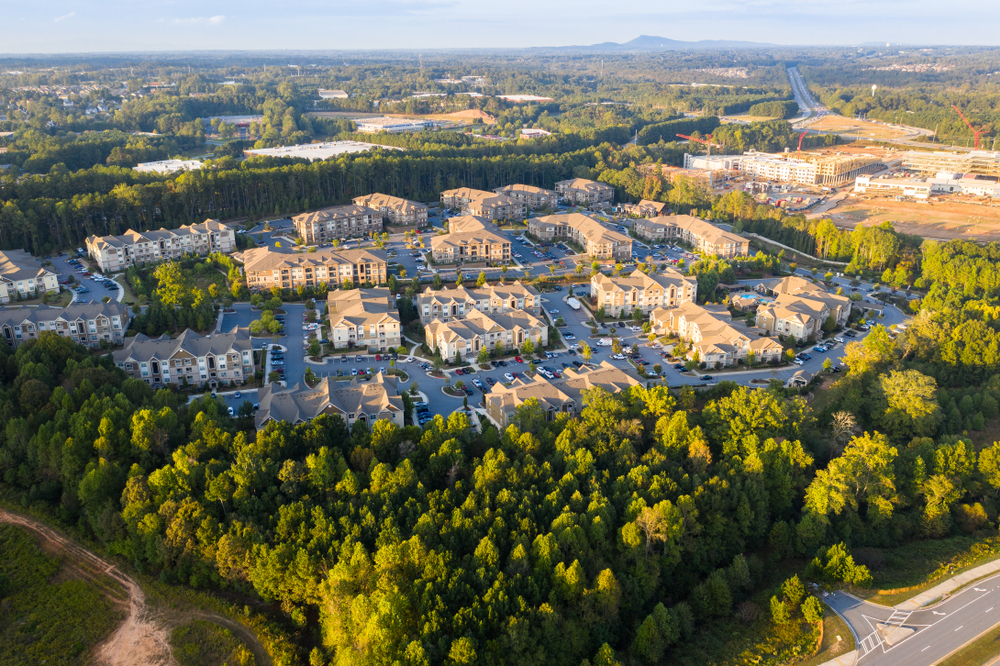 Alpharetta is a classic Atlanta suburb that has seen an explosion of development in the past 30 years. It has become a destination in its own right instead of an Atlanta bedroom community, with large corporations now calling Alpharetta home.
The cost of living can be high compared to other suburbs because of the excellent public schools, community amenities, and attractions, but many find the lifestyle so appealing that they rarely feel the need to leave Alpharetta.
What to do in Alpharetta
Shop and stroll at Avalon, an outdoor mall featuring popular stores and events
Head to historic Downtown Alpharetta for shopping and dinner in historic buildings
Catch a live concert at Ameris Bank Amphitheatre
Check out Jekyll Brewing
4. Milton, Georgia
About 30 miles north of Atlanta is Milton, which was only incorporated about 15 years ago. Historically, the area was farmland but has recently been developed into a suburb. It's not unusual to see horses out in pastures as you drive the rolling hills, as there are legitimate farms in Milton. It's been rated as having the highest quality of life in any Georgia city, and it's easy to see why once you visit. The relatively high cost of living might be offputting to some, but others will enjoy the remoteness from Atlanta.
Things to do in Milton
5. Dunwoody, Georgia
Often lumped in with neighboring Sandy Springs, Dunwoody is the area immediately outside the perimeter, to the northeast. Long acknowledged as its own city, it wasn't officially made one until 2009.
Anchored by Perimeter Mall, several major companies call Dunwoody home. It's only 15 miles from Downtown Atlanta and close to I-285 and I-85, making it ideal for a mix of young professionals and young families. Art galleries, local shopping, designer bakeries, and more make it an attractive neighborhood.
What to do in Dunwoody
6. Roswell, Georgia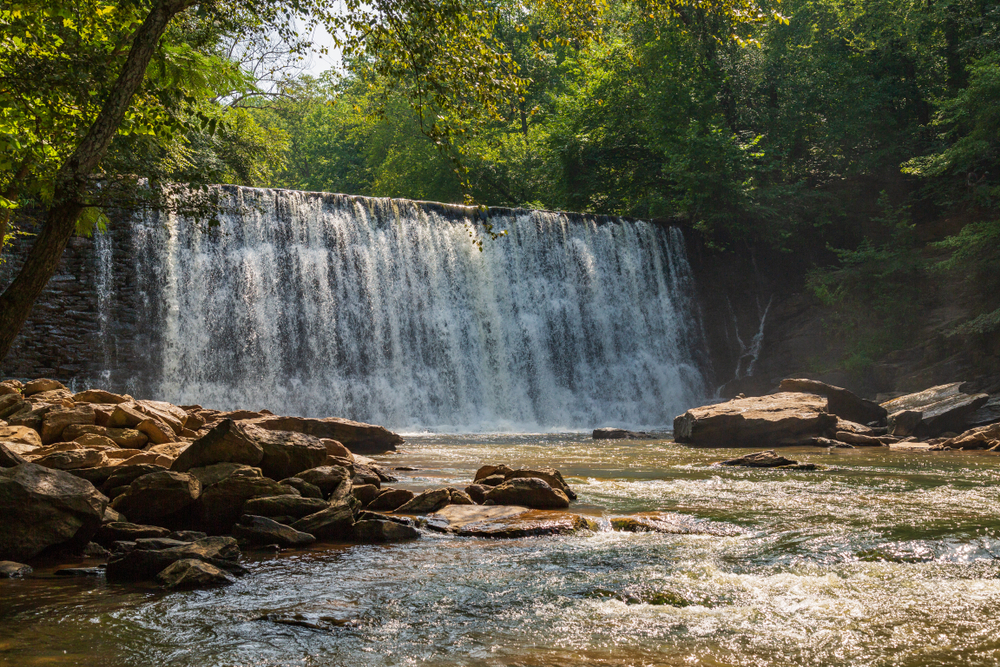 Roswell is a quaint and picturesque suburb about 20 miles north of Downtown Atlanta. It's an ideal bedroom community for those commuting into the city, but it's also a destination in its own right and has become more popular over the years, especially with young professionals who have been priced out of Atlanta or who crave a different lifestyle.
Historic Downtown Roswell is a great place to stroll for food, shopping, art galleries, and more, especially on famous Canton Street. With access to tons of nature, Roswell is the perfect place for someone who wants the pace to move a little slower than city living but who still wants tons to do.
What to do in Roswell
Walk along Canton Street, where there are many dog-friendly restaurants, bars, and breweries
Bike along the Chattahoochee or paddle it
Visit the well-preserved Roswell Mill
Take a historical tour of Downtown Roswell
7. Marietta, Georgia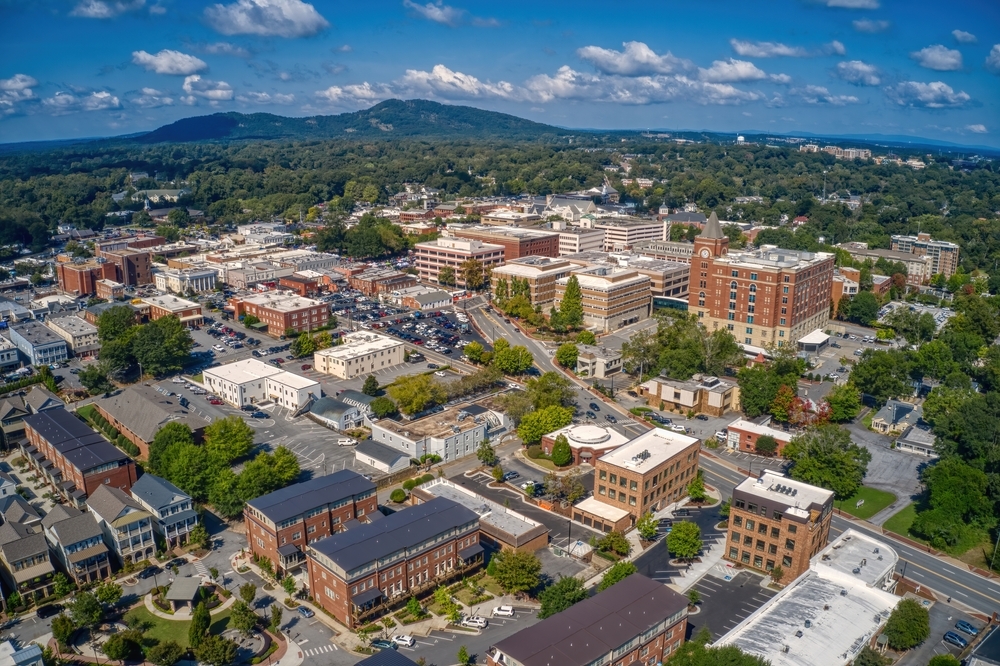 Marietta stretches from East Cobb county into the city of Marietta, covering a large swath of land with lots of options for exploring and enjoying suburban life. The city of Marietta is actually older than Atlanta itself: Atlanta was established as the halfway point between Marietta and Decatur in the mid-19th century.
Of particular note here is Kennesaw Mountain National Battlefield Park, a national park unit with almost 3,000 acres to explore. You'll also want to explore Marietta's quaint downtown, featuring breweries, speakeasies, dive bars, celebrated restaurants, and more.
The East Cobb side has lots of convenient shopping centers and top-rated public school systems to go along with its real estate, which attracts a lot of young families to the area.
Things to do in Marietta
8. Fayetteville, Georgia
About 20 miles south of downtown is Fayetteville, an up-and-coming suburb. The south side of Atlanta is less developed than the north side, offering up lots of outdoor activities, green rolling hills, and fair housing prices.
Thanks to its proximity to nearby movie studios, Fayetteville has attracted a lot of movie and television talent and behind-the-scenes professionals, many of whom live at Trilith, a planned community with plenty of greenspace near Trilith Studios. The neighborhood features popular shops and restaurants among its residences. For anyone looking for more access to the Georgia countryside, Fayetteville is ideal.
Things to do in Fayetteville
9. Smyrna, Georgia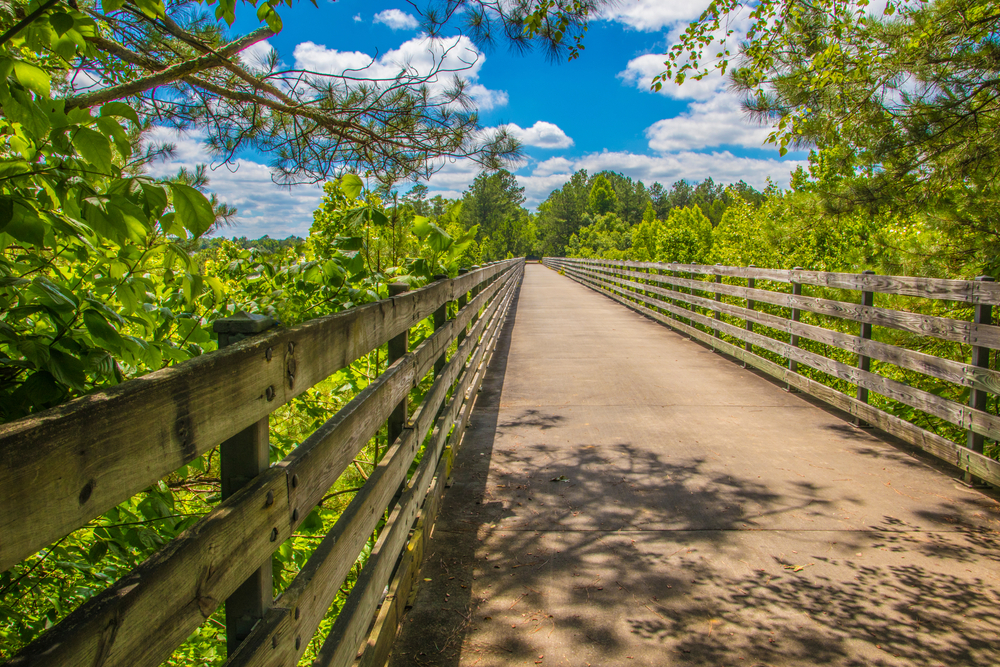 Located about 10 miles northwest of Atlanta, Smyrna is an ideal community for someone who wants both city living and suburban life. Come spring, the city is full of daffodils, which has earned it its moniker of Jonquil City.
Smyrna's affordability and proximity to other popular shopping, dining, and attractions like The Battery, Truist Park, and Vinings Village keep young professionals and young families rooted here. There are also a lot of access points to the Chattahoochee River in Smyrna, making it a hot spot for nature lovers who want to be close to a major metro area. This suburb is also conveniently located between I-285 and I-75, which allows Smyrna residents to zip between other Atlanta-area destinations like Marietta, Midtown, and more.
Things to do in Smyrna
10. Peachtree City, Georgia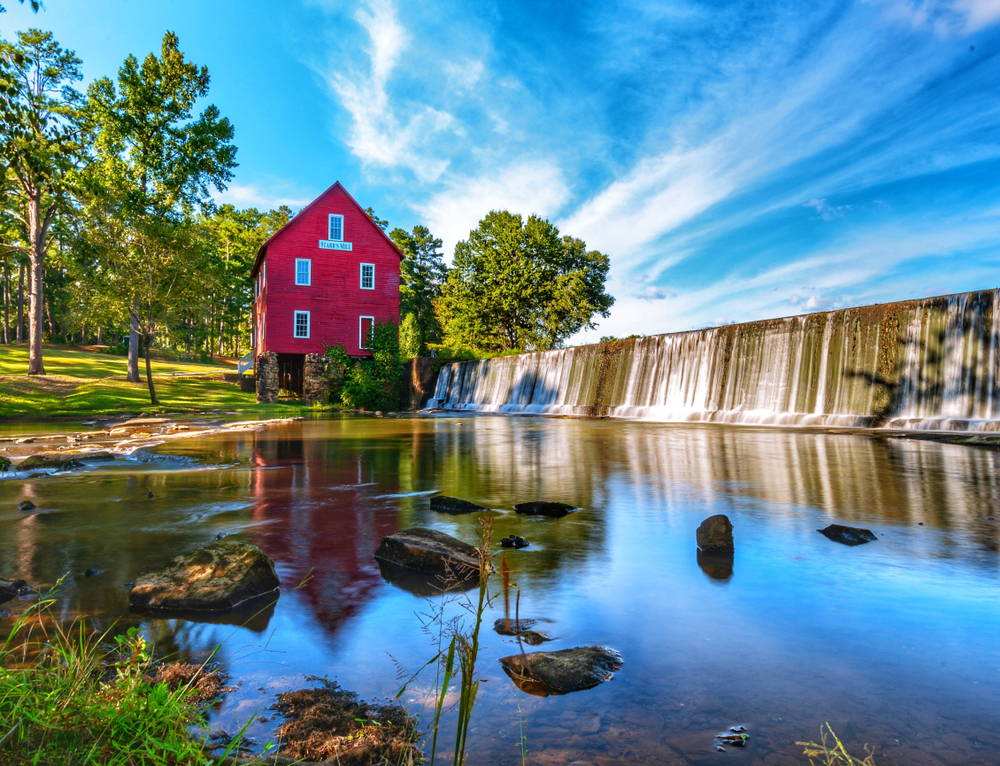 Like neighboring Fayetteville, family-friendly Peachtree City is less developed than its northern suburb counterparts, but what it lacks in development, it makes up for in charm. Peachtree City is home to over 100 miles of paved multi-use paths, perfect for zipping around on a golf cart, the city's preferred method of transportation. (It's a must-see in and of itself!)
Five villages offer residents shopping, dining, and more, with Downtown Atlanta only 30 miles away. Its quietness and affordability, plus its proximity to Hartsfield-Jackson International Airport, make it an ideal place to land.
Things to do in Peachtree City
11. Tucker, Georgia
Just outside the northeast side of I-285 in DeKalb County is Tucker, about 18 miles from downtown. It's one of the largest and oldest unincorporated neighborhoods in Georgia, and it has an established and well-preserved Main Street that anchors it, giving off small-town vibes. It is only starting to gain traction as a suburb to watch thanks to its affordability, proximity to Atlanta and Decatur, and diversity.
Things to do in Tucker
Celebrate Tucker Day, an annual festival with a parade, food vendors, artists, musicians, and more
Take a drive to admire the midcentury architecture in commercial and residential real estate
Dine at Matthews Cafeteria, a classic Southern restaurant that has been open since 1955
12. Duluth, Georgia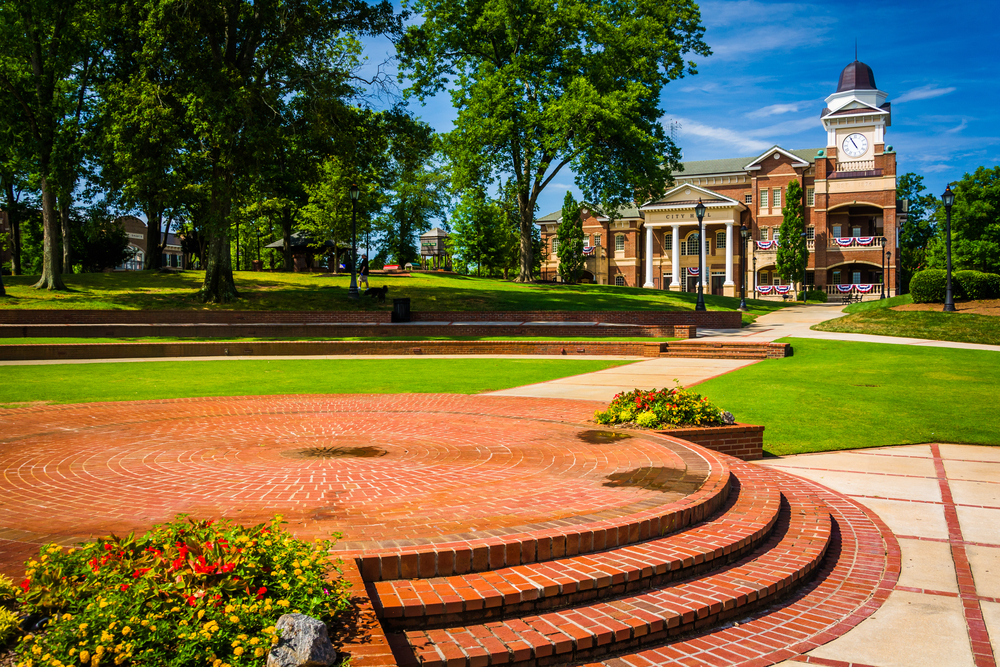 One of the many popular towns in Gwinnett County is Duluth. It's recently enjoyed gaining popularity thanks to its quaint downtown, good school systems, and diversity. Buford Highway is a corridor of international businesses, part of which runs through Duluth.
It's not uncommon to hear Mandarin, Korean, and Spanish while out and about in Duluth. The city is also known for its affordable rents, as it's about 30 miles from Atlanta's metropolitan area. For "Stranger Things" fans: Duluth is the home of Gwinnett Place Mall, where parts of the series were filmed!
Things to do in Duluth
Thinking about moving to Atlanta?
If you're thinking about making Atlanta or the surrounding area your next home, Landing offers fully furnished apartments in Atlanta, all with flexible leases that allow you to explore the area on your terms. Learn more about what a Landing membership can do for you today!