Apartment Furnishing Guide: Key Pieces of Furniture Every Apartment Needs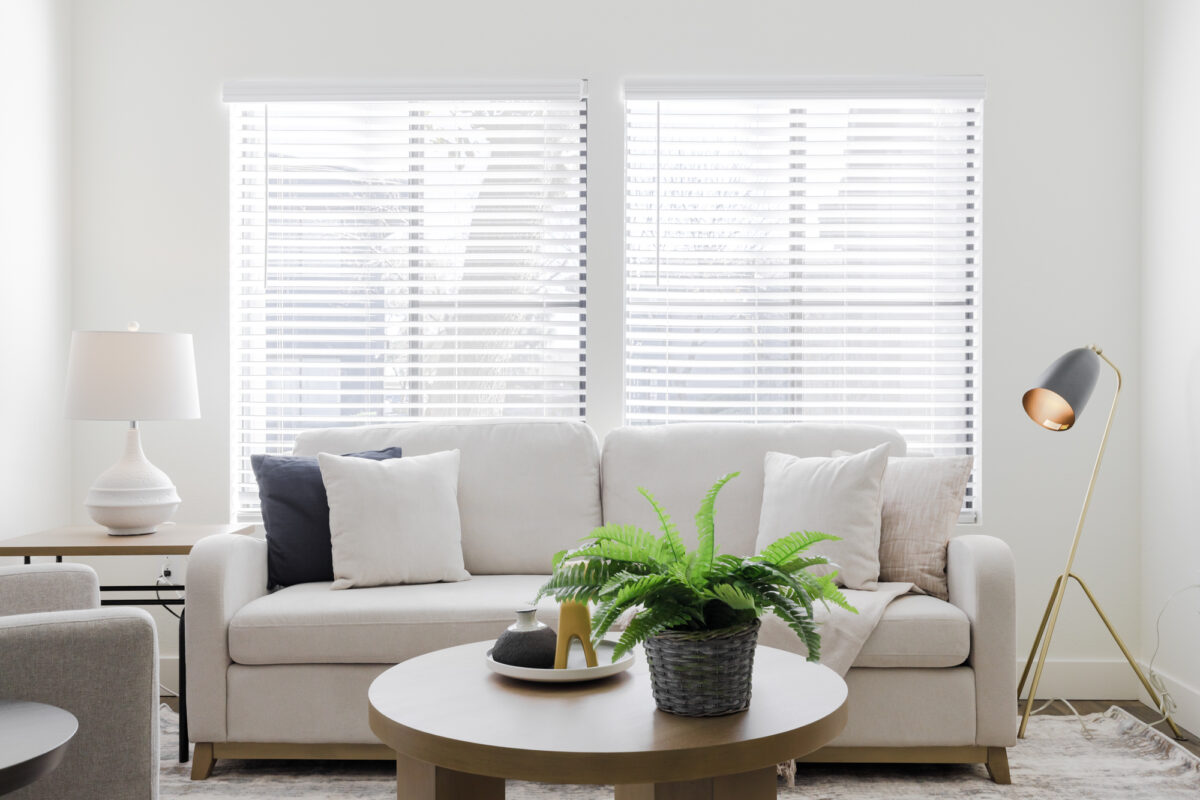 Furnishing a new apartment is a double-edged sword. On one hand, you get to put on your interior design hat and curate your dream home—but on the other hand, your bank account may not always be able to accommodate the vision of your dreams.
Before you start browsing Craigslist for a sectional sofa that doesn't look like you got it from Craigslist, you should first assess whether it's in your best interest (or your budget) to furnish an apartment from scratch.
In this guide, we'll review which items you need to furnish your apartment, what you can expect to pay when settling in, and some tips to save before you make your move. Let's get started!
Furnishing necessities: Room by room
Listmakers, rejoice! Before you go on a spending spree, it's critical to get organized and draft a to-buy list that's aligned with your budget. Before you put pen to paper to furnish your new place, keep these three tips in mind:
Know your square footage: Depending on the square footage and type of apartment you're renting, your checklist will vary. That said, there are a few items you can count on footing the bill for, like a mattress and bedframe.
Compare unfurnished and furnished apartments: Creating a list of necessary and essential furniture is key for managing your finances. By comparing the cost-effectiveness of unfurnished vs. fully furnished apartments, you can get the most mileage out of your budget.
Know what you're working with: Get in touch with your landlord or agent to ensure you don't double-purchase any furnishings that already come with your home. For instance, many apartments have pre-installed microwaves in the kitchen. If you aren't sure which amenities or furniture your new place has built-in, ask your agent to send you a list of what you can nix from your to-purchase list.
From here, you can start drafting a list of everything you need to furnish your home. To give you a headstart, here's an itemized list of the furnishings every room of your apartment needs to make for a functional home:
1. Bedroom
Here are the numbers on the average most affordable prices of some bedroom non-negotiables, courtesy of My First Apartment and Amazon's best-selling items. No bedroom should be without the following:
Queen-sized mattress: $682
Queen-sized bed frame: $250
Mattress pad: $40
Four pillows: $105
Two sets of sheets (minimum): $119.98
Duvet: $85.99
Duvet cover: $59.99
Estimated total: $1,342.96
2. Bathroom
Bathroom furnishings vary widely in price depending on quality—especially for items like bath towels and hand towels. If you're avoiding organically made products for the time being, here's an idea of what you'll be budgeting for on average to furnish your bathroom:
Towels: $29.99
Hand towels: $19.99
Non-slip bath mat: $27.95
Shower curtain: $16.99
Shower curtain rings: $8.95
Wastebasket:$22
Hand soap (set of three): $11.97
Toilet paper (set of 24): $25.18
Toilet brush and cleaner: $16.91
Plunger: $14.29
Estimated total: $194.22
3. Kitchen
If you're moving into a brand-new unfurnished apartment, it's unlikely your kitchen will have many appliances other than a fridge, stove, and (if the odds are in your favor) a microwave.
Kitchen amenities vary widely from apartment to apartment, and furnishing yours will also depend on your dietary and lifestyle preferences. In general, these are the lowest-cost items your kitchen will need to make it equipped for use:
Dinnerware set: $39.99
Silverware: $37.99
Pots and pans: $99.99
Glassware: $38.99
Mugs: $27.52
Knife set: $39.99
Spatula: $6.49
Colander: $13.95
Toaster: $29.69
French press: $34.29
Electric kettle: $27.99
Water filter: $34.99
Trash can: $59.99
Trash bags: $18.63
Recycling bags: $10.69
Dish soap (pack of three): $11.97
Wire dish scrubber: $1.76
Sponges: $11.98
Dishrags: $6.99
Paper towels (six count): $27.99
Oven mitts: $17.49
Aluminum foil: $13.41
Parchment paper: $6.29
Reusable food containers: $22.99
Drying rack: $31.99
Estimated total: $611.06
Bear in mind that many kitchen necessities are recurring purchases (e.g., paper towels), so be sure to budget accordingly.
Aside from your kitchen supplies, you'll also need some dining furnishings to enjoy your homemade meals. An average-priced lightweight kitchen set costs a minimum of $219.99 on Amazon.
This brings the total cost of kitchen and dining furnishings to $831.05
4. Maintenance supplies
Are you counting the minutes until you get to furnish your supply closet? Well, probably not. But it's a good idea to treat cleaning supplies as a necessity, since you can never be sure what state an unfurnished apartment may be in on move-in day.
Remember that cleaning supplies can be divided into two types of purchases: one-time purchases and recurring purchases. To keep things simple, we've narrowed down the supplies you'll want to have on deck from day one:
Vacuum (cheapest): $72.99
Broom and dustpan: $24.89
Mop and bucket: $32.97
Rags or microfiber cloths: $12.99
Floor-cleaning solution: $17.98
Estimated total: $161.82
Remember—these are strictly the tools you'll need to prep your floors and surfaces for any furniture you'll be moving in. Recurring charges include things like:
Disinfecting wipes
Vacuum cleaner bags
Replaceable mop heads
Multi-purpose cleaners
Toilet solutions
Tile cleaners
Glass cleaners
Laundry detergent
The average annual cost of laundry and cleaning supplies hovers around $170.28 per person—and this excludes the cost of hauling clothes to the laundromat if you don't have a washer and dryer in your building.
At a minimum, the total cost of one-time and annual purchases clocks in at around $332.14.
Apartment essentials and accents
An unfurnished apartment's non-negotiables clock in at $2,700.37. Let's move on to the apartment essentials and accents, which refer to the items you technically could live without, but forgoing them would make life a lot less enjoyable.
Room by room, let's move on to the items that will make your new house feel like a home.
1. Bedroom
Your new bed might look a bit lonely without the following pieces of bedroom furniture:
Nightstand: $99.99
Bedside lamp: $29.99
Dresser: $333.99
Clothes hangers: $19.49
Mirror: $159.99
Floor lamp: $84.48
Rug: $33.99
Estimated total: $911.91
2. Living room
While we didn't include the living room in our "Necessities" section, it would be difficult to feel at home without an adequately furnished common space for entertaining guests or vegging out in front of the next episode of "Succession."
Here are the items you're most likely to encounter when putting together your new living room:
Sofa: $429.99
Coffee table: $140.92
Floor lamp: $159.99
Side tables: $59.99
Shelving: $134.99
Area rug: $186.55
TV stand: $179.99
TV: $199.99
Blankets: $20.69
Throw pillows: $23.99
Total estimated cost: $1,537.99.
Bear in mind that this estimate accounts for some of the cheapest items available, and will inevitably vary based on your preferences in style, function, and quality.
3. Home workspace
Whether your apartment has a designated study or you've commandeered a walk-in closet to be your home office, you'll likely want to furnish your new digs with furniture that inspires focus and diligence if you're working or studying at home.
These furniture costs may include:
Desk or table: $149.99
Desk chair: $57.98
Bookcase: $62.70
Estimated total: $270.67
4. Decorations and home decor
No matter how minimalist your approach to apartment furnishing is, it's difficult to skip out on a few decorative pieces that will make you feel warm and welcome in your living space. Here are a few inviting pieces of decor you may consider investing in:
Candles
Framed pictures
Art prints
Coffee table books
Throw rugs
Remember, to mount some of these items—or hammer down that nail that keeps reemerging from the floors—your apartment should be equipped with a complete toolbox (approximately $29.99).
On average, decorating your apartment with personal fixtures will run you around $100 to $500.
How much does furnishing an apartment cost?
So, what's the ultimate cost of furnishing an apartment?
At minimum, expect to pay $5,520.94 for your apartment furniture. This, of course, excludes the cost of monthly rent, utilities, and any associated fees like security deposits you'll usually be paying up front.
Bear in mind that you may need to foot the bill for a host of other items depending on your preferences, the temperature of your location, and the built-in appliances and amenities. From space heaters to extra storage, it's possible that renting an unfurnished apartment will require you to budget for an additional $2,000's worth of supplies.
How to save money furnishing an apartment
Furnishing an entirely new apartment is a weighty financial burden for most people, but there are some ways to avert the associated costs:
Before anything else, set a budget: Renting a new apartment can be a balancing act between your whims and your wallet, but you should always lead with your budget first. When in doubt, look for apartments that work for your individual circumstances, so you aren't wearing yourself out trying to cover the overhead expenses.
Purchase used furniture: As opposed to going to a furniture store, shopping consignment or used furniture is the best way to save money on big-ticket items. Thrift shops or online markets like Facebook Marketplace are a great place to find old furniture and give them a second life. Just remember that whatever you own will need to come with you when you next move, so be sure to factor in the future costs of moving and storage before you commit to a hefty furniture purchase.
If footing the bill for apartment furnishings is out of range, consider renting a furnished apartment instead. There are myriad ways to make furnished apartments feel like home, from rearranging furniture to adding your own personal touches.
You'll be able to settle in without any logistical headaches and move to your next apartment—or your next city—without having to figure out what you'll do with your brand-new $600 sofa.
Find your perfect furnished apartment with Landing
Landing apartments are designed to feel like home—without the extra grunt work or funding involved in making one. Our nationwide network of furnished apartments come equipped with:
Fully stocked, ready-to-use kitchen and bathroom
Cozy touches like luxury linens and plush towels
A smart TV, high-speed internet, and Wi-Fi
Building amenities such as pools and fitness centers
In-app concierge services 24/7
Landing options can accommodate every kind of lifestyle, whether you're a fitness fiend or have a furry friend in tow. Save money, enjoy luxury amenities, and skip locking into a year-long lease with Landing. Browse our fully furnished apartments today!