A Local's Guide to the Best Hikes Close to Denver
Want to live in a city with easy access to outdoor adventures? Colorado has a lot of top-notch hikes close to Denver that will only take you under an hour to get to. The Front Range, the area of the foothills near Denver that serves as a gateway to the mountains, has hikes for every experience and accessibility level. Whether you're looking for stunning views or a short family-friendly trail to try, you'll find your perfect outdoor escape in the Denver area.
From easy hikes through meadows filled with wildflowers to difficult mountain summits, outdoor adventures await you on the trails of these Colorado parks:
Hiking in Colorado state parks
Colorado is home to 42 state parks, several of which offer hikes close to Denver. Some of our favorites include:
1. Golden Gate Canyon State Park
Golden Gate Canyon State Park is known for incredible foliage in the fall when the forests blaze brightly as the aspens turn bright yellow and orange.
2. Roxborough State Park
Roxborough State Park's dramatic red sandstone formations are a big draw for visitors during all times of the year.
3. Chatfield State Park
Chatfield State Park has an expansive reservoir where visitors can boat and fish, and flat, open trails with great lake views.
4. Barr Lake State Park
Barr Lake State Park is known for its spectacular birding and wildlife photography, with more than 350 species of birds being spotted here. Just be aware that bald eagles and raptors nesting near the lake can cause seasonal trail closures, turning the park's 8.8-mile multi-use loop trail into an out-and-back.
5. Cherry Creek State Park
Cherry Creek State Park is also home to a massive reservoir but is much closer to Denver. It also offers a beach and swimming area where you can cool off in the lake after your hike in the hot summer months.
6. Rocky Mountain National Park
While you'll have to drive for an hour and a half to reach Rocky Mountain National Park, it's a must-do while you're in the area. With 300 miles of hiking trails and incredible views no matter where you are in the park, it's a popular destination for hikers at all times of the year.
You'll need a National Parks Pass or to pay the daily entrance fee at Rocky Mountain National Park, and there are now seasonal timed entry permit reservation requirements if you wish to visit Rocky Mountain National Park during certain times of the year.
Looking for more national parks to visit while you're in Denver? Check out our blog post, "Top 8 Must-Visit National Parks Close to Denver."
Tips for hiking in Colorado state parks
Check the state park calendars for ranger-led themed hikes, including wildflower hikes, full moon hikes, and more. All of the parks are different, but you can find varied terrain on the trails in all of them, too. Keep your eyes peeled as you hike! You might spot an elk grazing in an open meadow or an owl taking refuge in a forested area. If you're unsure which trails are the best ones for you, talk to a ranger at the Welcome Center and ask them for recommendations based on what you're looking for.
Note that most parks allow leashed dogs on the trails, but several (including Roxborough) do not.
If you're a frequent hiker, it's worthwhile to invest in a Colorado State Parks past so you can visit any state park without having to pay the daily entrance fee. If you're new to hiking or just want to check out a park once or twice, the daily fees range from $9 to $11.
Hiking in Boulder parks
Located half an hour from Denver, Boulder is a neighboring city that is also a great place to go for outdoor recreation. One of Boulder's most distinct features is the Flatirons that jut out on the west side of town. These iconic slanted rock formations make up a part of Boulder's foothills and can be accessed from the Flatiron Vista Trailhead. In addition to the gorgeous views, you may also see golden and bald eagles, mule deer, bobcats, and even bears.
Chautauqua Trail is another popular trail that serves as a starter trail to a few other hikes in the area. We recommend getting there early to avoid the crowds!
Tips From a Landing Member
"During our stay in Colorado, I hiked the Flatirons in Boulder Open Space three times, as they were only a 12-minute drive from our apartment. Serving as the backdrop of Boulder, these trails can get pretty busy during their peak fall colors, but the views are entirely worth it (even if the incline was brutal on my lungs—it got easier on the third hike when I'd adjusted to the altitude)."
— Becca, "How I Spent Three Months Living in Boulder, Colorado"
Hiking in Jeffco Open Space parks
Jefferson County, the county west of Denver County, offers easy access to some awe-inspiring Front Range hikes. Jeffco Open Space manages 56,000 acres of preserved land, 27 parks, and 261 miles of trails that are all a short drive from Denver. Here are a few local favorites for day hikes:
1. Lair o' the Bear
You can reach Lair o' the Bear in Idledale by driving the winding scenic road through Bear Creek Canyon. Hikers can explore the 12.6-mile Bear Creek Trail that passes through three adjoining Denver Mountain Parks and stop for lunch at one of the many picnic tables near the trailhead.
Tips From a Landing Member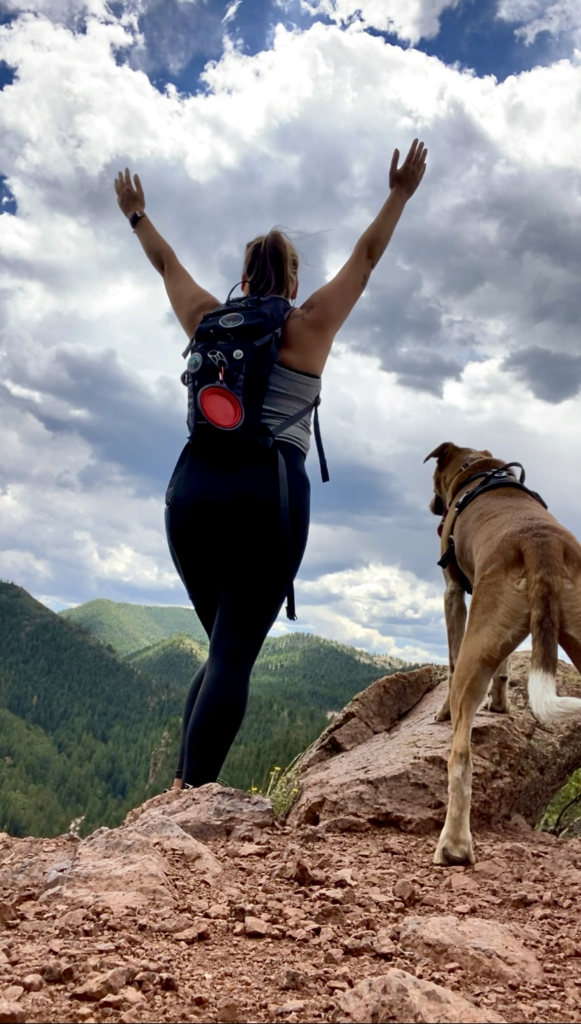 "Toward the end of the trail, you'll come across Dunafon Castle, which was built in Bear Creek Canyon back in 1941. It gives off very Irish vibes because the design was inspired by Celtic castles of the 13th century. Currently, it serves as a private wedding venue, so hikers can't enter the property. But it's beautiful to admire from afar!"
— Jess Goudreault, "The 7 Best Easy Hikes in Denver"
2. Apex Park
This picturesque spot is a popular destination for mountain biking, hiking, and horseback riding and is conveniently located a few minutes from downtown Golden. Keep in mind that trail use at Apex Park varies depending on the day—it's open for bikers only on even calendar days and hiker and equestrian use only on odd calendar days.
3. North and South Table Mountain
At North Table Mountain and South Table Mountain, you'll find 15 miles of hiking trails that climb and cross the mesas. Both North and South Table Mountain offer incredible panoramic views of Golden and the surrounding towns.
4. Centennial Cone Park
If you're looking for a nearby backcountry experience, Centennial Cone Park is a good option. Elevation gains make the 12-mile loop trail a challenge, but you'll be rewarded for your hard work with unparalleled views of Clear Creek Canyon.
Regardless of which Jeffco Open Space park you decide to visit, be sure to check online to make sure the parks are open before you head out, as they are seasonally closed for wildlife and resource protection.
Hiking in William F. Hayden Park on Green Mountain
With 2,400 acres of open space, William F. Hayden Park on Green Mountain is the second-largest park in Lakewood and a quick drive from Denver. Follow the trails to the summit of Green Mountain, which has an elevation of 6,800 feet and views of both the Denver area and the Rocky Mountains.
Choose from a challenging ascent or a more relaxing loop. Due to its close proximity to the city, the main parking lot fills up quickly, so get there early if you want a good spot.
Hiking in Red Rocks Mountain Park
Red Rocks Amphitheater, a world-renowned outdoor concert venue surrounded by gorgeous red sandstone rock formations, is located in Red Rocks Park in Morrison, a short 15-mile drive from Denver.
The 200-mile panoramic view of the city is a picture-perfect treat for hikers looking for great views without the Red Rocks concert crowds. At 6,450 feet, the 868-acre park showcases the cross between the Rocky Mountains and the Great Plains through its varied plant and animal life.
Looking for more outdoor activities during the warmer months? Check out our blog post, "The Best Things to Do in Denver Over the Summer."
Hiking 14ers near Denver
If you relocate to Denver, it won't be long before you hear someone mention hiking a "14er." These incredible mountains all have summits higher than 14,000 feet, and it's a badge of honor to hike all 58 of them. Mount Bierstadt, Grays Peak, and Torreys Peak are a little over an hour's drive from Denver.
While it's possible for newcomers to tackle these hikes, it's highly recommended that you give yourself some time to adjust to the altitude and that you prepare adequately for the trip. Wear proper hiking gear and pay attention to the weather, as it's easy to get caught in dangerous summer lightning storms. Altitude sickness is another concern, so if you feel unwell at any point on the journey, turn back. The mountains will be there for the ascent next time!
Hiking 13ers near Denver
If you want to take the road less traveled and avoid the crowded trails and summits that you can run into on 14ers, try a 13er, instead! Higher than 13,000 feet but under 14,000 feet, these mountains offer similarly jaw-dropping views, alpine lakes, and other natural features, and tend to have fewer people on them.
There are more than 600 13ers in Colorado and several in the Front Range, including Mount Sniktau, Mount Parnassus, and James Peak.
Urban hikes in Denver
You don't have to head to the mountains for a unique hiking experience in Denver—there are hundreds of miles of urban hiking trails in the Denver metro area alone!
The 9 Creeks Loop is a 41-mile trail system that circles downtown Denver via the Sand Creek Greenway, High Line Canal Trail, Cherry Creek Trail, and Platte River Trail. You'll pass multiple creeks, neighborhood parks, and rural areas and because most of the trail is flat, paved, and well maintained, it's wheelchair accessible and kid-friendly.
You can also find urban hikes in Boulder County if you want to get out of the city for a day trip.
Tips for hiking near Denver
If you're planning on heading out on one of the many hikes listed above, keep these tips in mind to make the most of your adventure:
Note the type of hike
If you're new to hiking, it's important to know that hiking trails near Denver are either considered a loop or an out-and-back trail. Out-and-back trails are, unsurprisingly, trails that go from one destination to the other. You'll need to plan to hike back, so make sure you keep that in mind as you look at trail distances to figure out how many miles round-trip you want to do. Loop trails bring you back to where you started.
The majority of the trails listed above are for day use only, but there are many areas where you can backpack or camp overnight. Before you head out to any trail, make sure that you do your research and are aware of any active restrictions.
Follow dog restrictions
Many parks in Colorado have dog-friendly trails, but some limit them due to wildlife and resource risks. Dogs must typically be kept on a six-foot leash, but check online before you go or look for signage at the trailhead. Remember to bring something to carry your dog's waste in so that it doesn't get left on the trail.
Heading out with your dog? Be sure to check out our list of the best dog parks and dog-friendly places in Denver!
Don't forget the altitude!
One important thing to note is that altitude must be considered before tackling any trail in Colorado. Denver is a mile above sea level, hence the "Mile High City" nickname, and it can take a little while for your body to adjust if you aren't used to the elevation. If you try to go too high too quickly, you'll risk getting altitude sickness. Bring plenty of water and pay attention to how you feel during your hike.
Leave no trace
When COVID-19 shut down inside activities in Denver, people flocked to the trails, which put stress on the ecosystem and natural resources. To ensure that the trails remain open, please follow Leave No Trace principles when hiking, and don't leave anything behind. (That includes dog poop and orange peels!)
Factor in the weather
Spring is mud season in Colorado, so keep that in mind when you choose where you're going to hike and pay attention to any trail terrain warnings at the trailhead. Always check the weather and be prepared with your 10 essentials in case of an emergency.
Download the AllTrails app
When trying to narrow down which specific trails near Denver you want to hike or if you want easy access to a trail map on your phone, AllTrails is a good resource for descriptions, reviews, photos, and current trail conditions reported by other trail users. Check the elevation gains before you go, bring plenty of water, and follow trail etiquette.
Hike on weekdays
Weekends tend to be more crowded on the trails, so if you want peace and quiet, take advantage of your flexible schedule and consider going during the week or very early in the morning.
Thinking about moving to Denver?
With so many hiking trails at your disposal within just an hour of Denver, you'll want to spend enough time in town to be able to tackle as many as you want. If you're planning on relocating to Denver to explore the great outdoors, Landing offers fully furnished apartments in Denver with flexible lease terms that make it easy to move to town on your terms.
No matter what kind of hiker you are, you'll find the right trail for you. Grab a guidebook, get out there, and enjoy Colorado living.
Looking for more hiking inspiration? Check out our blog post, "The 15 Best Hiking Trails in the U.S. to Check Off Your Bucket List."