Spending Three Months in Denver: 15 Must-Do Things to Add to Your Bucket List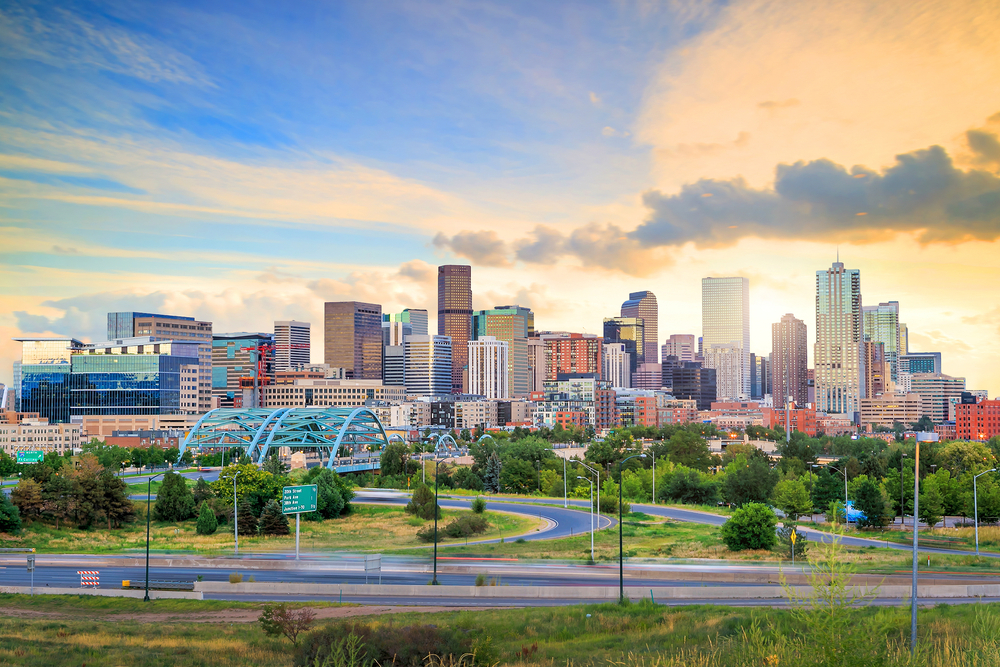 From shopping to dining, museums to galleries, amusement parks to theaters to adventurous day trips, moving to a different city opens up a world of new and exciting adventures. And if you're moving to Denver, Colorado, that world is massive. With many people now choosing to forgo the brief weekend trip in favor of immersing themselves in this beautiful city for months at a time, your bucket list can easily fill up with must-see places and must-do activities in Denver.
Looking for some help getting started? We've compiled a list of 15 activities to add to your ultimate Denver bucket list, including:
Learn about new things at a museum
Have a drink with a view
Watch a professional sports game
Take a brewery tour
Visit a distillery
Check out a festival
Go for a scenic drive
Explore the city via bike
Grab a cocktail at a speakeasy
Experience Meow Wolf
Eat on a patio at Larimer Square in downtown Denver
Stroll through the Denver Botanic Gardens
Go for a hike
Plan a day trip
Spend a day (or two!) in the mountains
Let's get started!
1. Learn about new things at a museum
Whether you're a fan of art, history, or science, there's a museum in Denver just for you.
If art is your thing, you'll be thrilled to discover the ever-growing scene in the city. With public street art, niche galleries, and world-renowned collections, Denver offers plenty of chances to see impressive works of art all over the Mile High City. Admire more than 70,000 works of art from all over the world at the Denver Art Museum in the Civic Center, or head downtown to join a drop-in tour at the Museum of Contemporary Art Denver. Its rotating exhibitions and events are perfect for meeting and mingling with other art aficionados in the area.
You also won't want to miss the murals in the River North (RiNo) Art District. Vibrant work from local artists is displayed in alleys and on the sides of the buildings, and new work is added to the neighborhood regularly.
Science lovers can spend an entire afternoon exploring the Denver Museum of Nature & Science in City Park. Check out their exhibits, or sit back and enjoy an IMAX feature documentary. And, just a few minutes away is the Denver Zoo, which houses over 3,000 animals.
Consider yourself a history buff? Take a walk back in time at the History Colorado Center in the Golden Triangle district. This museum showcases things that make Colorado unique and frequently houses innovative exhibits based on historical social movements.
Other Denver museums of note include:
Denver Mint: Take a tour to see the place that takes coin-making seriously, producing billions of coins for the American public each year.
Forney Museum of Transportation: This is one of the few places in the country to see more than 800 artifacts related to historical transportation.
Molly Brown House Museum: Tour the home of Margaret Brown, a Denver philanthropist, activist, and socialite who survived the sinking of the RMS Titanic.
Dinosaur Ridge Discovery Center: Located in nearby Golden, Dinosaur Ridge is home to a 24-foot-long trackway from duck-billed dinosaurs and replicas of claws, bones, eggs, and more. (Bonus: They're right next to Red Rocks Park!)
2. Have a drink with a view
Look west from anywhere in Denver, and you'll spot the Rocky Mountains. Several bars and restaurants in town offer the added bonus of getting to enjoy those stunning views with a delicious meal and a drink on the rocks, including:
Peaks Lounge: Located on the 27th floor of the Hyatt Regency Denver at the Colorado Convention Center, Peaks Lounge serves Colorado-themed cocktails amid enormous windows that showcase the astounding city and mountain views.
54thirty Rooftop: As Denver's highest open-air rooftop bar, 54thirty boasts delicious shareable bites and craft cocktails that pair perfectly with unparalleled views of the mountains and the city.
The Rooftop at Coors Field: If you're a baseball fan, a surprisingly amazing sunset view can be found at this baseball stadium bar.
For fantastic views of the city skyline, check out El Five in LoHi. They're known for spectacular views and food to match!
3. Watch a professional sports game
Denver is home to eight professional sports teams, including all four of the major league sports within city limits, two pro lacrosse teams, and two rugby clubs. No matter your sport of choice—football, basketball, hockey, baseball, and more—you can find your team in the Mile High City.
Wanna catch a game from one of the big four? Here's who to root for and where you can watch them win:
Football: Denver Broncos at the Empower Field at Mile High
Baseball: Colorado Rockies at Coors Field
Hockey: Colorado Avalanche ("Avs" to Denverites) at the Ball Arena
Basketball: Denver Nuggets, who share the Ball Arena with the Avs
While technically located outside of city limits and not one of the big four, the Colorado Rapids, Denver's Major League Soccer team, plays at Dick's Sporting Goods Park 20 minutes away in Commerce City.
These downtown Denver stadiums feature games or special events on nearly any given night. And, if you can't make it to a game in person, don't fret—there are a ton of spirited bars and restaurants all over the city where you can cheer on your team with other fans.
4. Take a brewery tour
Denverites love their beer, and the number of major and craft breweries in town is a testament to that. For larger breweries, Great Divide Brewing Company, Odell Brewing Co, and Denver Beer Co. are all must-visit spots. If you want to get a taste of Colorado and try craft brews from all over the state, stop by Tap Fourteen near Coors Field in the Ballpark District for its 70 Colorado craft beers and rooftop beer garden.
You can explore Denver's brewery scene by either hopping from craft brewpub to craft brewpub or by taking a private guided tour through microbreweries and brewpubs around the city. You can even head to Golden to visit Coors Brewery, the largest single-site brewery in the world!
Looking for more ideas? Check out our blog post, "Where to Find the Best Denver Breweries."
5. Visit a distillery
Beer isn't the only thing Coloradans love. Denver boasts a long list of first-rate distilleries that make for the perfect afternoon or evening activity. Beer isn't the only thing that Coloradans love. Denver boasts a long list of first-rate distilleries that make for the perfect afternoon or evening activity. For starters, Ironton Distillery & Crafthouse and Laws Whiskey House are well-known for their award-winning whiskeys, and The Family Jones has quite the roster of premium handcrafted spirits.
Check with the distillery you visit to see if you can take a tour for a behind-the-scenes look at how your favorite spirits are made.
6. Check out a festival
One of the best things about living in Denver is that you can find exciting festivals and events to go to year-round in the Mile High City. Some must-visit festivals include:
The Cherry Creek Arts Festival: Held in July, this annual outdoor festival features hundreds of artists from different mediums, interactive family-friendly activities, live music, local food, and more.
Denver Film Festival: Cinephiles love this annual festival, which is the largest film festival in the Rocky Mountain region. Come out in November for live entertainment, meet-and-greets, and screenings of incredible films from talented filmmakers from all over the world.
Underground Music Festival: Music fans won't want to miss this aptly named festival, the city's largest and longest-running weekend-long music festival that showcases lesser-known established and up-and-coming musical artists.
Stay up-to-date with what's going on around town on Visit Denver's event calendar. No matter which festival you check out, you'll have a great time people-watching and getting to see what the city is all about.
7. Go for a scenic drive
Easy access to nearby mountains and the awe-inspiring views that come with them are part of the reason so many people are making the move to Denver. If you want to take a break from the Mile High City for a few hours without having a specific destination in mind, there are plenty of mountain passes and scenic byways that take you through steep canyons, open meadows, and alpine environments.
While driving west on I-70 can be a scenic drive of its own, there are several popular scenic Colorado drives near Denver, including:
Looking for more drives to add to your Denver bucket list? Check out our blog post, "10 Scenic Drives Near Denver for Your Next Road Trip."
8. Explore the city via bike
With hundreds of miles of bike paths, Denver's massive network of trails makes it easy to get around the city on two wheels. Alternatively, you can enjoy a leisurely ride on the South Platte River Trail or the Cherry Creek Regional Trail.
No bike? No problem! Rent one and take a ride to downtown Denver, stopping at the 16th Street Mall, Larimer Square, the Dairy Block micro-district, and Union Station for delicious bike-break bites at one of the many restaurants in the area. Or, make your own art tour with a ride over to the Denver Art Museum, the Clyfford Still Museum, and the Mirus Gallery & Art Bar.
You can also head out of downtown and ride over to City Park, where you can visit the Denver Zoo and the Denver Museum of Nature & Science. Or, head south to Washington Park for a relaxing ride around its two lakes. This park is also a great place to hop off and stay for a while for some dog- and people-watching.
9. Grab a cocktail at a speakeasy
Take a step back in time to the Prohibition era with a visit to one of the city's speakeasies. Originally established to allow people to get around the laws against drinking, several have been recreated so you can add a hint of secrecy to your cocktail adventures.
You can find speakeasies like Green Russell and Williams & Graham in hotels, basements, and off side streets in the city, or head to the suburbs to check out B&GC. Part of the fun is hunting them down and bringing a small group of friends along for the surprise! (The entrance to Retrograde in Uptown Denver is a crowd-pleaser!)
10. Experience Meow Wolf
Meow Wolf is an immersive art exhibition in Denver that offers a mind-bending interdimensional experience. Known as Convergence Station, this recently opened attraction transports visitors to a neon-filled world where they can explore and be hands-on in a way you can't be at other art galleries or museums. Featuring more than 70 unique installations and rooms filled with art from esteemed local and national talent, Meow Wolf is a must-visit Denver spot.
11. Eat on a patio at Larimer Square
Located on Larimer Street between 14th and 15th, Larimer Square is a pedestrian-friendly block in downtown Denver packed with shops and phenomenal dining. Stop by one of the fancy boutiques or chef-driven, farm-to-table restaurants after your next show at the nearby Denver Center for the Performing Arts.
Keep your eyes peeled for peaks into the past—Larimer Square was the city's first designated local historic district!
12. Stroll through the Denver Botanic Gardens
One of the most relaxing places in the city is the 23-acre park that makes up the newly renovated, state-of-the-art Denver Botanic Gardens east of Cheesman Park. Take an unhurried stroll through the gardens, where you'll find plants from all over the world, learn more about botany at the Helen Fowler library, or come for one of their well-known special events like their summer concert series in the amphitheater and holiday lighting walks. Stop by their gift shop for a special memento!
13. Go for a hike
You don't have to go far for good hikes. Colorado has a lot of highly rated hikes near Denver that will take you under an hour to get to. The Front Range, the area of the foothills near Denver that serves as a gateway to the mountains, has hikes for every experience and accessibility level.
See the area's famed red rocks at Roxborough State Park in Littleton or the (you guessed it!) Red Rocks Park in Morrison (though how long you can hike depends on whether there's a concert at the famed amphitheater). Denver is also known for being close to many famed national parks to explore.
Whether you're looking for stunning views or a short kid-friendly trail to try, you'll find your perfect outdoor escape nearby.
Want to take things slow? Check out Landing member Jess's recommendations for seven easy hikes near Denver.
14. Plan a day trip
Get out of town and experience the other fun things Colorado has to offer on a day trip to nearby destinations. The Centennial State has a rich and storied history, with lots of places to explore and learn about how the state has grown and transformed into what it is today. While Denver has an incredible food and drink scene, Fort Collins and Boulder also have unique scenes worth making the drive to check out. There are hot springs to soak in, lakes to kayak on, and a ton of other epic outdoor adventures just waiting for you.
No matter the season, there's an activity you can partake in just a few hours away from the city.
15. Spend a day (or two!) in the mountains
With such easy access to the mountains, it's no surprise that heading west is one of the most popular weekend activities for locals. At any given time, you can take in breathtaking views during hikes, shred at the state's more than 30 renowned ski resorts, or disconnect from the hustle and bustle on a scenic camping trip. Check out:
The options are endless, and no matter what you choose to do, know that one-of-a-kind outdoor adventures are just a short drive away from Denver.
Make the move to the Mile High City
Thinking about spending some time in Denver? Landing's furnished apartments and flexible leases make it easy to spend a few months in Denver to enjoy everything this amazing city has to offer. With no long-term commitments and a simple move-in process, Landing ensures the only thing on your mind will be which Denver attractions to explore first. Learn more about becoming a Landing member today!