6 Apartment Bedroom Ideas to Make Your Space Really Shine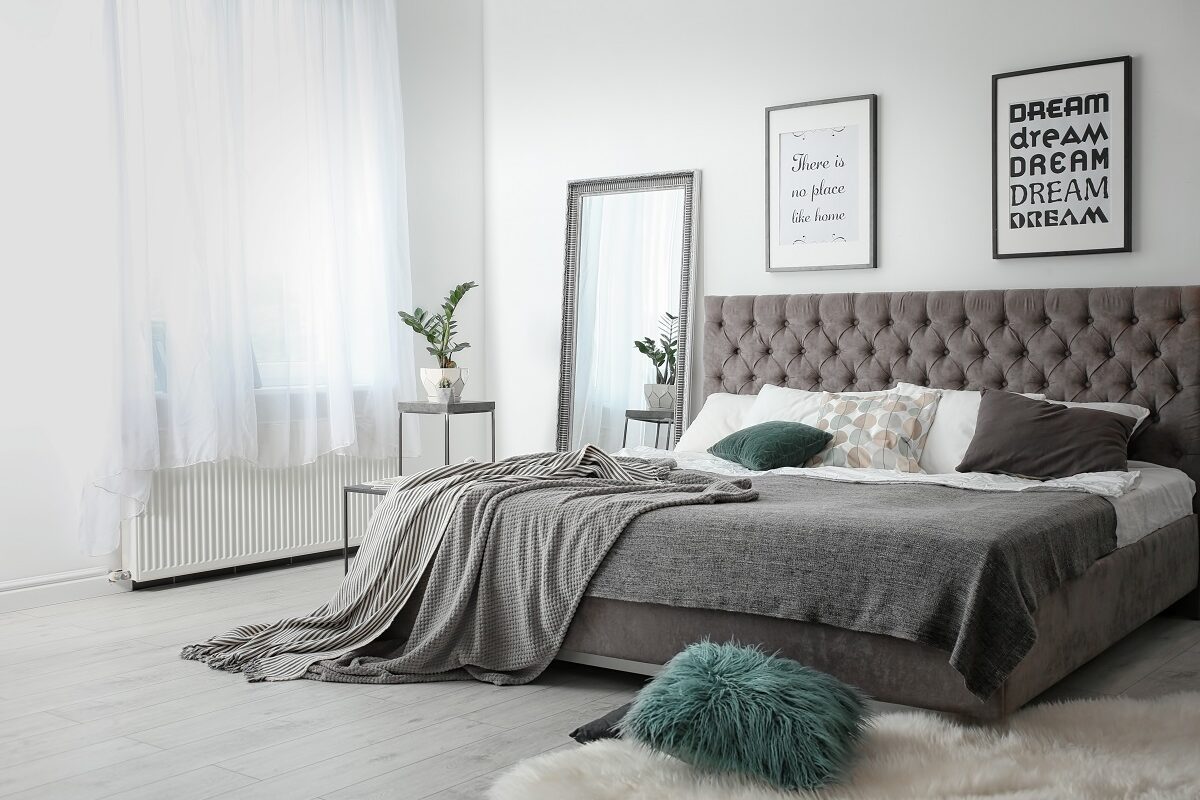 One of the most enjoyable parts of moving into a new apartment is the decorating process, and filling your bedroom with cozy elements that suit your style is essential when making your new space feel like home.
No matter what kind of room you're working with—whether it has natural light in spades or is a bit tight on storage space—there are endless interior design options to enhance your decor across various spectrums of style and price ranges.
To start getting inspired for the nesting process in your new apartment, we've assembled a list of six genius ways to make your bedroom your own, including:
Incorporate spotlights
Dress your windows
Reimagine storage
Play with space
Layer in organic elements
Decorate your floors
Let's get started!
Apartment decor ideas for your bedroom
From the ceiling to floors, let's explore six ways to decorate your bedroom:
1. Incorporate spotlights
If there's any single way to transform the mood of your bedroom, it's your lighting fixtures. No matter what type of illumination is already hardwired into your apartment, consider customizing your bedroom's lighting scheme in these ways:
Choose a centerpiece: If your bedroom comes with a lightbulb hanging in the center of the room, browse structural lighting fixtures to make it more stylish. Choose a soft ivory color for a more muted feel, or a statement color to enliven the vibrancy of your bedroom.
Use string lights: String lights are an affordable, fail-proof way of creating a softer ambiance when decorating your apartment. Soft white lights with ivory wiring give bedrooms an unexpectedly consistent and elegant glow when they hug close to the molding. For something a little funkier, look for string lights in colors like galaxy blue or shaped like pineapples, and try draping them around furnishings like your armoire or floor-length mirror. You can even sync your string lights to your phone so that you can turn them on and off without ever taking your head off your pillow!
Splurge on a candle: They may not provide all that much light, but nothing is more romantic and soothing than candlelight next to your bed. For a touch of drama in your decorating, look for wooden candle boats or candelabras that hold multiple votives and set one by your window. Or, treat yourself to a big scented candle to use as an accent piece and fill your room with your favorite scent. If your apartment building doesn't allow you to have candles, you can find fake options that look just like the real thing online.
2. Dress your windows
Never underestimate the power of curtains in turning up the dial on your bedroom decor. Some popular decorating options include:
Gauzy: While drawing the drapes is traditionally a measure of darkening your room, choosing a gossamer texture can diffuse light across your space. To give the impression of even more natural light, opt for whites, neutrals, or soft pastels with a soft drape.
Dark: Dark or richly hued curtains can ramp up the drama of your bedroom color scheme. Linen is an excellent fabric choice for curtains—it's not as severe or old-fashioned as a fabric like velvet, but it still acts as a capable light-blocker if you're sensitive to light in the wee hours.
Patterned: Not everyone has the budget or wherewithal to completely style their modern bedroom from the ground up, especially if you're also decking out the rest of your apartment at the same time. If you're working with linens, furnishings, and decorative pieces you've had since college, opting for patterned curtains is a cost-effective way to refresh your bedroom's mood without changing much else. A similar, more bohemian option is to install textured roller shades made of natural fibers like linen or jute.
Not only will curtains seamlessly update your bedroom decor, but they're also key for maintaining just a little more privacy—or loan some to the neighbor you regularly see eating Frosted Flakes in his boxers.
3. Reimagine storage
Keeping your belongings banked and organized in your apartment isn't just a chore—the way you store your stuff can be used as decor. Here are a few ways to level up your storage capacity and add some charm to your space:
Floating shelves: Floating shelves are a triple threat: They can serve as storage, a place to showcase your favorite tchotchkes, and a substitute for art and wall hangings, particularly if you're going for an ornamental style in your decorating. Most models come with brackets and screws, making installation a breeze (especially if you already have a mechanical screwdriver in your household toolbox).
Rolling drawers: Looking for extra storage space to complement your closet? Bedding units with built-in storage are popular these days, but few renters can shell out for a new bed frame and headboard every time they move. Fortunately, you can purchase rolling to slide under your bed frames, or beds stacked on top of risers. Many rolling drawers are painted or engraved with stylish accents, adding a decorative flair to your sleeping area.
Color-coding: Even when all your possessions are stored nicely in shelves, closets, or drawers, they can sometimes look disheveled if not organized with the same degree of attention. Color-coding—books, clothes, even photographs on your wall—is a great way of organizing your belongings, and it'll keep your room looking clean and polished.
4. Play with space
Whether your new bedroom is a cozy nook in your apartment or an area alongside your living room in an expansive loft, you may find yourself wanting to add interest or dimension to your bedroom without making it too visually busy. Here are a few tips for adding a twist to your space:
Room dividers: If you've furnished your bedroom and have some lingering square footage, consider introducing a room divider. Origami-inspired, Japanese room dividers are one option—they're also collapsible, which means you can set them aside at your discretion. Alternatively, you can look for shelving units with plenty of negative space and display your books, keepsakes, and memorabilia for a personal touch.
Mirrors: Mirrors are a tried-and-true interior decor hack for giving the illusion of a larger area to a small space. They work wonders for close quarters that still have access to natural light, particularly when mounted next to a window. For a more casual, bohemian look, there's no need to mount your mirror—look for tall, floor-length options with a minimalist frame and lean it up against a wall.
Canopies: Canopies or netting can be a dreamy way to cordon off your bed. Traditionally, canopies have been incorporated into the bed frame itself, but these days, there are plenty of canopies that can be hooked into the ceiling to overhang your bed. For an extra glow, try decorating your canopy with string lights that double as your bedside lamp.
5. Layer in organic elements
When in doubt, few apartment bedroom ideas can bring more life to your space than life itself—the botanical kind.
Whether your thumb has been green for a while or you're interested in recruiting the most low-stakes plants possible, here are four organic options for giving your bedroom an enchanted garden feel:
Succulents: If you're just starting to get into the plant world, there's no better place to start than succulents. Succulents, which are native to dry climates, are some of the most resourceful types of plants, lapping up sunlight and storing water in their thick, gummy leaves. Succulents should be watered as frequently as every two weeks (three weeks maximum), which makes them the perfect starter plants for gardening rookies or those in smaller spaces.
Herbs: If you think you need a backyard (or at least a patio) to grow your own herbs, think again! There are plenty of grow-it-yourself herb kits on the market that allow you to sprout your next pasta sauce garnish right in your bedroom. Whether you're nurturing rosemary or are just keeping some stems of eucalyptus in a vase, another benefit of keeping herbs in your bedroom is the lush, natural aromatics.
Trees: Make no mistake: Trees require much more work than other houseplants, and you'll want to do your research to ensure they'll be satisfied with the conditions in your apartment. If you are able to adopt a tree, however, they can be a beautiful addition to your bedroom—or any other room of your apartment. A wonderful option for first-time tree growers is the classic fig tree.
Houseplants: Any kind of houseplants you adopt from your local nursery may work for your bedroom aesthetic—the greener, the better! Just be sure to do your research to ensure your new plant baby will be content with the Vitamin D supply in your bedroom, or opt to place it in your living room or bathroom, where it might be happier.
6. Decorate your floors
No matter what kind you seek out, rugs and carpeting can make any bedroom feel cozy, lush, and lived-in. In general, low-pile rugs are easier to clean, and they tend to come in more complex patterns than soft-pile rugs like sheepskin throws.
When shopping for floor coverings, bear in mind the linens you use to dress your bed and your pillows—keeping them in the same color family will help to pull the room together. Also, be sure to buy a rug pad to ensure you don't slip and fall (or spill your morning coffee) while strutting around your bedroom.
Find a perfect apartment with Landing
Before you start digging into decor, you'll need to find your perfect apartment to start the nesting process. Decorating your bedroom just the way you like it can be a tall order—particularly if you have to furnish it by yourself.
Landing apartments are already outfitted to make your move-in a breeze, no matter what sorts of creature comforts you need to feel at home. Every space is pre-furnished with bedroom and living room items and offers amenities from toiletries to Wi-Fi. We also offer members flexible leases so that you can stay for as long (or as short) as it works for you.
Landing's network of apartments extends across the U.S., so you'll have a homey, commitment-free option no matter what city you want to explore. For a closer look at how it works, visit Landing and level up your apartment search.