5 Signs You're Ready to Move Somewhere New
Have you ever had that feeling in the back of your mind that you're meant to be somewhere else? Have you ever felt that itch to see new things, try out new surroundings, and see if you'd thrive?
If you've been wondering whether it's time to pick up your life and head to another spot, here are five signs you're ready to move somewhere new:
1. You're noticing your plans are the same every weekend
"What should we do this weekend? Same spot, same time?"
Routine can feel nice and easy. Who doesn't like being a regular at your local coffee shop where the workers know your name and your order? At a certain point, you might start noticing yourself gravitating toward your usual go-to places. You've already tried outside-the-box restaurants, you've visited all the popular tourist sites in your area a few times over, and you know your city like the back of your hand.
If you're staying in town this weekend, do your plans excite you anymore? If not, this might be your sign to take yourself and your belongings somewhere else. While it's true that a great cozy weekend at home with no plans is awesome, having the same weekend routine over and over can really put you in a rut.
An exciting part of life is having fresh ideas and things to look forward to, and maybe a change of scenery can offer that sort of stimulation—new city, new plans, new people, new things, new you. Being able to add different things to do and places to see to your calendar will never disappoint!
2. Your friends are moving away or settling down
No matter what phase of your life you are in, there will always be changes going on with the people around you. Maybe you're in your 20s and your friends decided to move to a big city for a new job. Maybe you're in your 30s and some of your friends are buying houses across the country. Or, maybe you're in your 40s and your parents decided to retire in another state. At any age, your loved ones, friends, and family can move elsewhere.
While these changes can be sad, scary, exciting, and overwhelming, they can also be opportunistic. Travel is easier than ever these days, and there's comfort in knowing it's possible to explore another city yet still always end up close to friends and family if you choose. Plus, with all of the ways you can keep in touch with people these days, being close to family and friends is no longer an obstacle to living in a city you want to try out.
Another great perk of your friends and family to new cities is that you always have an excuse to visit new, amazing places. I love being able to see my friends and have ventured to places all across the U.S., and my family will always make a vacation out of visiting me wherever I am. There's something really special about being able to gather your loved ones in a new place, share different experiences, and create long-lasting memories with those around you.
3. You're daydreaming of different weather
There are people who swear by loving all four seasons, and there are people who say they want to have the same weather every single day of their lives. What if you don't know any different, one way or the other? If you've never experienced snowfall, it might be nice to see what it's like to live in a winter wonderland come December. Or, if you've experienced all four seasons your entire life, you might love waking up on the beach every day.
Everyone has a different preference on what type of weather they desire. If you've had even the slightest wandering thought about mixing it up, you'll never know until you try!
4. You're looking to take on a new hobby
Every city is known for something, right? Nashville is known for its music scene, Park City is known for its skiing, Los Angeles is known for its film industry, and Oahu is known for its surfing. If you've ever thought about trying out a new hobby, it's sometimes easiest to move where the experts live! What better place to learn something new than a city that's made for it?
The activities I grew up doing in the Midwest were immensely different than the activities of my friends who grew up on the East Coast and West Coast. I think some people get an itch after a certain amount of time to try something they've never experienced before, but it's intimidating and tough to pursue if you're not living in a city that suits that activity. Even if you just go for a weekend getaway, it's very difficult to learn a new skill in a two-day span.
Personally, I've always had a desire to try out skiing, and it took me actually moving to a few cities with mountains nearby to actually have the nerve to check it out. I learned from the experts, took some lessons, and now it's an activity that keeps me visiting mountain towns all across the U.S. I'm already excited to see which new hobby I will take on in the next city on my list!
5. You're not done exploring
Everyone likes to have their go-to places: their favorite restaurants, their neighborhood coffee shop, their nearby nature walk, all of the things that make them feel like they're at home. Feeling comfortable is a normal human want, and it feels good to be cozy and "at home."
You may know your "forever home" or maybe you have no idea where you will end up. But life is about experiences and human connections, and it's up to us if we want to keep the exploration going.
Recommended Blog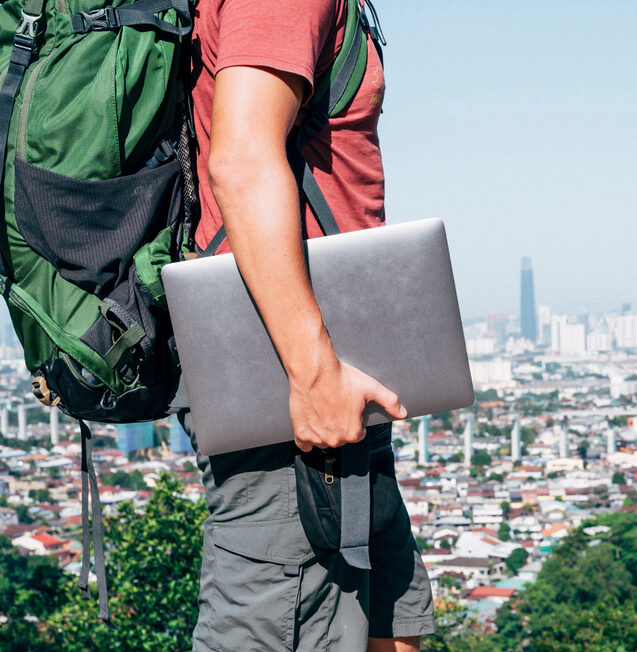 Dreaming of living somewhere new?
We live in a time where we are fortunate enough to be able to get from place to place without much trouble. Yes, exploring comes at a cost—but through Landing, this exploration is made possible with furnished apartments, easily finding a safe spot, and spending as much or as little time as you want in a new place. Now, it's time to get back out there—I think you're ready for your next move.